When faced with a TP Link Archer A7 vs A8 head-to-head, immediate thoughts are that they're more similar than different. Both support fast internet speeds and a reasonable range of connections. However, that doesn't mean that the two of them will work exactly the same way.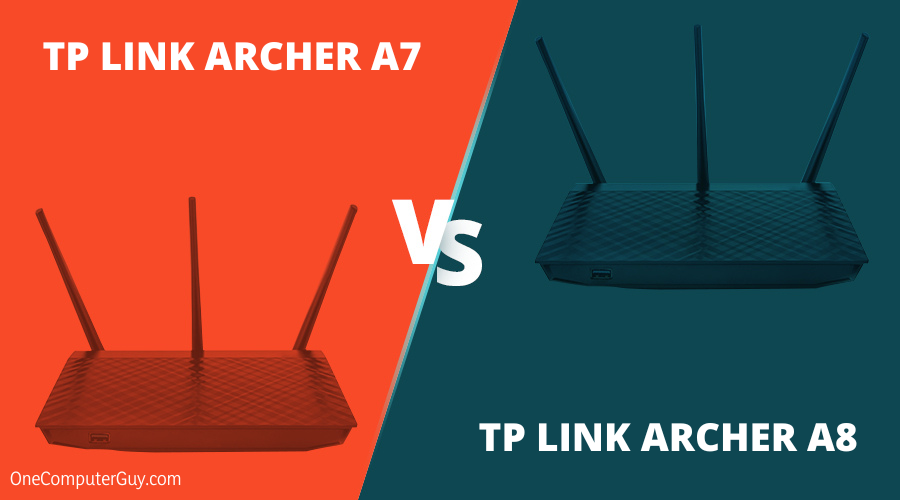 Our review team has written this complete guide to help you understand which one is best for your needs. 
TP Link Archer A7 vs A8 Comparison Table
Features
Archer A7

 

Archer A8

Wireless Frequency Bands

2.4 GHz, 5 GHz Dual-Band 

2.4 GHz, 5 GHz Dual-Band

Antennas 

3

3

Connectivity Ports

Gigabit Ethernet

Gigabit Ethernet, USB Type-A

Security 

WEP, WPA, WPA-Enterprise, WPA2, WPA2-Enterprise

WEP 64, WEP 128, WPA, WPA-PSK, WPA2, WPA2-PSK, Firewall SPI

Maximum Speed 

450 Mbps 

900 Mbps 
What Are the Differences Between TP Link Archer A7 vs TP Link Archer A8?
The main difference between the TP Link Archer A7 and A8 is that the Archer A8 packs more speed that could reach up to 900 Mbps maximum and will enhance connections across different ranges. The Archer A7 is fast enough, but not comparable to its counterpart on this basis.
– Connectivity 
Winner: Archer A8
While the Archer A7 and A8 share similar LAN and WAN ports, only the 8 has a USB Type-A port. Other options for connectivity on the A8 includes the special MU-MIMO technology commonly associated with Wi-Fi 6 routers. With this technology, the A8 gets ample help to connect to many similar network devices. 
The TP-Link Archer A8 wi-fi router also has OneMesh capabilities, which allow you to add Mesh Wi-Fi satellites to your router and expand the signal of your network substantially.
It's a simple way to expand your network range without adding extra network names as is common with standard Wi-Fi repeaters. This way, you can stay connected to the network as you roam around your home. 
– Security
Winner: Archer A8
When it comes to security, the TP-Link Archer A7 gives the A8 a good run for its money. They both have similar security protocols and standards, but the Archer A8 edges this part. Both feature parental controls and QoS, and let you select what kinds of content some devices can have access to. 
The QoS refers to Quality of Service which is prominent on the Archer A8. It's a feature that allows users to  select a handful of devices (in the case of the A8, it's three) to set as a priority for the network.
The A8 adds a Firewall SPI and other smart features to better protect your network and users from malicious sites and malware. 
– Performance 
Winner: Archer A8
With any router, you'd want a performance that enhances the efficiency of your devices while delivering a smooth and seamless connection, and this is where the TP-Link Archer A8 comes out on top.
The TP-Link Archer A8 has better speed output than its counterpart. Our TP-Link Archer A8 review revealed that some devices have better download speeds at a distance of five feet.
At more than 500 Mbps and potentially passing 1300 Mbps, it performed better than some more expensive routers. In this aspect, it outdoes the A7. However, it can get slower on the 2.4GHz frequency band. 
Pros
Good performance 

Affordable 

Reasonable coverage
Cons
Limited range 

Lacks enough connectivity options
If you want a router you can count on to support every internet connectivity in your home, this TP-Link Archer A7 is one of the best routers out there.
For its level, it gives off a reasonable performance and has a couple of connectivity options. However, we must state that there are limited customizable options on the device. It has three antennas attached to it for more signal receptions and coverage. 
There is a combination of five Gigabit Ethernet LAN and WAN ports, which means that you can connect to a third-party device to extend connectivity. With the 802.11ac configuration, the router can reach peak internet support above 450Mbps, and a range of around 80ft. It's not just a compact router, but one that is easy to install, and has a dual-band frequency. 
The 750MHz processor and 128MB RAM combine to help the router function properly. As a result, you'll enjoy improved internet speed and overall performance, even if the coverage is a bit lacking. 
Security is essential and this router is integrated with various security features, such as parental controls and QoS software. The software ensures that no one can access unauthorized websites, and also improves your connection. There's a WPS feature to help you establish a quick internet connection and several buttons for certain functions. 

Pros
Easy setup process 

Fast speeds 

More connectivity options 

Smart features/technology 
Cons
The TP-Link Archer A8 wireless router comes across as one of foremost devices from the TP-Link lineup. It can support internet speeds reaching 1300 Mbps internet connection on the 5GHz band.
Compared to the 5GHz band, the 2.4GHz internet band struggles to get a maximum internet speed of 600 Mbps. Like the router above, this A8 is designed with a glossy build and plastic construction.
It also has three non-removable and external antennas, so you don't need to worry about the setup and installation process. You'll have a USB port, LAN and WAN ports, and smart features like QoS and MU-MIMO technology.
Further, there's a multi-user mode to help you establish a simultaneous connection to produce better internet speeds. The AC Beamforming technology on the A8 goes far to improve the wireless internet coverage. 
The collective ports at the back of the router can support around 1000 Mbps internet connection. Security is at an improved level on this router, thanks to Firewall SPI, WPS, WEP, WPA, and other security systems. 

Frequently Asked Questions
1. Is the TP Link Archer A7 Good for Gaming?
Yes, the TP-Link Archer A7 comes with a dual-band connection at both 2.4 GHz and 5 GHz, which means you can enjoy a lag-free entertainment session on both bands. You can use the 2.4 GHz for simpler tasks like sending emails. The 5GHz can be for gaming and streaming activities. 
2. Is the TP Link Archer A8 a Secure Router?
Yes; security is an essential part of modern routers, and the Archer A8 is no different. Along with the Firewall SPI and other regular protocols, you'll have a secure home network free from unauthorized access and issues associated with malware. 
Conclusion
There's no denying that the TP-Link Archer A7 and A8 are two of the best budget TP-Link routers on the market.
But when you're faced with the dilemma of deciding between the two and settling for the right one for your lifestyle, the TP-Link Archer A8 is the best option. The speed, security, and connectivity options make it a valid choice in this head-to-head comparison. 
The TP-Link Archer A8 also comes with smart features like Beamforming and MU-MIMO technology. Both will make your home network stronger, more reliable, and capable of extending the beyond stated ranges.
Overall, we choose the A8 router for its performance, especially on the 5GHz frequency band. It's also affordable and easy to put together with little to no technical know-how.