A TP Link AX50 vs AX3000 comparison covers two routers that are fast, rich in features, and ideal for various applications. If you want to upgrade your current router, these two options are worth purchasing for your home and gaming setup.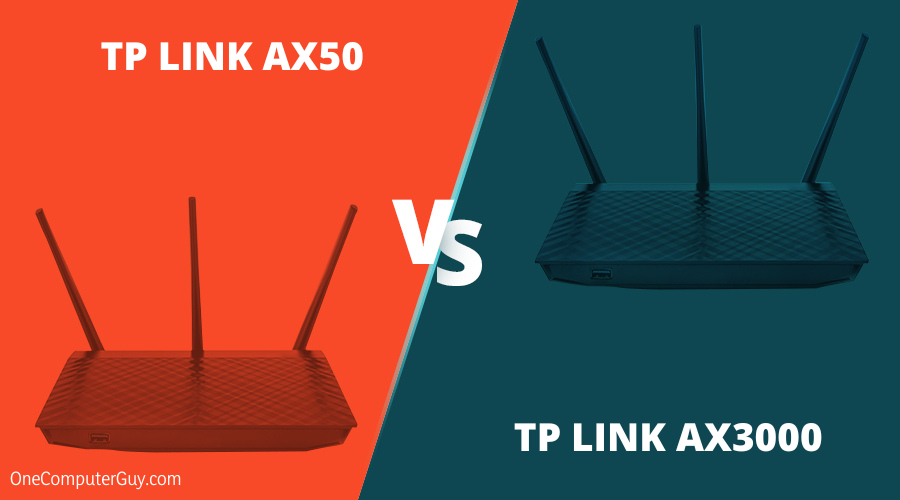 The two routers are from the TP-Link brand and Archer models, and they share quite a number of similar features, including antennas and ports for extra connections.
Our review team has put up this review to help you draw some distinctions, check out the best, and eventually make a choice that best fits your needs. 
TP Link AX50 vs AX3000 Comparison Table
Features

 

TP-Link AX50

TP-Link AX3000

Wi-Fi Technology 

Dual-Band Wi-Fi 6

Dual-Band Wi-Fi 6

Antennas 

4 Fixed 

4 Fixed

Processor 

Dual-Core CPU 

Dual-Core CPU

USB 

1x 3.0

1x 2.0

Wi-Fi Speeds 

5GHz: 2402 Mbps (802.11ax, HE160), 2.4GHz: 574 Mbps (802.11ax) 

5GHz: 2402 Mbps (802.11ax), 2.4GHz: 574 Mbps (802.11ax) 

Security

WEP, WPA, WPA2, WPA/WPA2-Enterprise (802.1x) 

WEP, WPA, WPA2, WPA/WPA2-Enterprise (802.1x)
What Is the Difference Between TP Link AX50 vs AX3000?
The main difference between the TP Link AX50 and AX3000 is that the AX50 has a USB 3.0 port you won't find on the TP-Link Archer AX3000 router. Instead, the AX3000 makes do with a sole USB 2.0 port to connect external devices or save data.
– Connectivity/Ports
Winner: AX50 
Modern routers are designed to have features that can deliver additional functions, even after a long period of use. A USB port is one of such features and comes in handy for more connections or for use with a memory stick.
On the AX50, you get a USB 3.0 port while the AX3000 carries a USB 2.0 port and other compatible external devices. This isn't just the main difference between these two routers, but a 3.0 port is miles better than its 2.0 counterpart. 
– Security 
Winner: Tie 
These two routers are cut from the same TP-Link brand, so it's no surprise that they're both the same on this level. You'll find the same parental controls, guest Wi-Fi capabilities, and security standards, including WEP, WPA, WPA2, and WPA/WPA2-Enterprise (802.1x).
However, the AX50 adds a little tweak with the TrendMicro-powered on-board security you will find on the TP-Link Archer AX3000. This slight difference doesn't change how similar their security capabilities are. 
– Wi-Fi Speeds 
Winner: AX50 
For the most part, the Wi-Fi speeds are also the same on both routers. On the 5Ghz frequency band, you'll get a maximum theoretical speed of about 2402 Mbps. The 2.4GHz band will produce up to 574 Mbps. However, what sets the AX50 slightly apart from the AX3000 is that you can use HE160-compatible devices with it. 
– Performance 
Winner: AX50
The TP-Link Archer AX50 router is an upgrade on the AX3000 and even with similar specs, the AX50 generally performs better. It makes for strong connections and optimal technologies, including Beamforming and MU-MIMO capabilities. It can get slower on the 2.4GHz band, but the 5GHz band delivers faster speeds and more reliable connections. 
Pros
Excellent speeds 

Feature-packed device 

Solid throughput and signal strength performance

Link aggregation 
Cons
The TP-Link Archer AX50 (AX3000) is a Wi-Fi 6 router designed to offer the benefits associated with Wi-Fi 6 home networks. That includes a reliable wireless connection, low latency, high speeds, and multiple connectivity options. All your devices will be simultaneously connected to the network at maximum speeds. 
The AX50 carries a mixture of reflective and matte-finish black plastic with a low and wide profile. Its build and size means it can take some space. That shouldn't matter, though, especially with the range of connectivity options available.
At the back, there are five Gigabit Ethernet ports, including one WAN, four LAN – a USB 3.0 port, and four large adjustable antennae. You can remove the antennas but you can rotate them to improve internet reception. 
Setting up the TP-Link Archer AX50 router is simple, thanks to handy apps like the TP-Link Tether, which provides detailed, step-by-step instructions for installation. It also acts as a mobile control panel once you've finished.
When you've set up the router, you can go ahead to tinker with the settings. For example, you can use the HomeCare panel to maneuver around the QoS (Quality of Service), Parental Controls and Antivirus. 
One advantage of the QoS is that it helps you prioritize bandwidth to specific devices on your network and the traffic that comes with them. That includes functions like online gaming, streaming, and regular use. 
For security, you get WEP, WPA, WPA2, and WPA/WPA2-Enterprise (802.1x) functions. However, the WPA3 is absent.
Other than those, the Parental Controls are top quality. They come with four age-specific content blocking categories pre-defined for easy use. But you can't block individual websites unless you decide to use a dedicated security software package. 
You will have to add to the TrendMicro software Antivirus tool to scan for threats. It also lets you quarantine a compromised device on your network, stopping it from infecting other devices.
Furthermore, there's a Guest Wi-Fi and IPv6 Network that include menus for TP-Link Cloud for buyers with TP-Link smart home cameras like the tpCamera and an Alexa Skill. You can use them to operate your Echo smart speakers and instruct Alexa to perform some functions. 
Performance on the TP-Link Archer AX50 is exceptional. As a Wi-Fi 6 router, it's fast and covers a wide range. With the HE160 capability, you can get speeds up to 2402 Mbps.
That's a good figure and with many devices in your home, you won't have issues with linking to the internet. Other features that will boost the performance of this device include MU-MIMO capabilities, Beamforming technology, and OFDMA connections. 

Pros
Reliable Wi-Fi and good coverage 

Good interface 

Lightweight, wall-mountable 

Multiple custom features 
Cons
No USB 3.0 port 

Fluctuating Wi-Fi connection speeds
Without a trained eye, it's easy to confuse the TP-Link Archer AX3000 for the AX50 above. The AX3000 delivers top performance too, and has enough speed for a variety of functions.
It's also a Wi-Fi 6 router, but it's also pretty thin on power and Wi-Fi specs and gives off a comparatively modest performance in testing. However, it is a sensible option to have as a home network. 
The router is lightweight, modest, and has the same number of antennas as the TP-Link Archer AX50, which are also non-removable and stick out from the back. You'll also find four usual Gigabit LAN ports and one Gigabit WAN port. There is no multi-gig port, dual-WAN, or Link Aggregation, and it has a sole USB 2.0 port for its NAS function. 
Inside, the TP-Link Archer AX3000 has an Intel Home Wi-Fi WAV654 chipset capable of delivering up to 2.4 Gbps on the 5GHz band and up to 574 Mbps on the 2.4GHz band. For comparison, many Wi-Fi 6 routers have higher 4×4 Wi-Fi 6 specs, capable of delivering higher speeds. 
The AX3000 is easy to use with its smooth web user interface you can access it through its default IP address. That is a simple guide on the mobile TP-Link Tether app you can use to set up your preferences and manage your router's settings. 
There's a built-in VPN on this router that supports both OpenVPN and PPTP protocols. It also has a HomeCare section that includes Parental Controls and QoS. The parental control feature is quite flexible and helps you block content by keywords.
You can also use it to manage internet access based on a schedule for a specific group of clients. The QoS refers to the quality of service, but don't expect built-in online protection here. 
When it comes to performance, the TP-Link Archer AX3000 proved to be reliable with good Wi-Fi signal throughout, range, and coverage. Our tests showed that the router could cover a house measuring up to 1800 sq ft.
However, the Wi-Fi coverage and speed depend on the environment and application you use the router for. But it's better than what you get on Wi-Fi 5 routers. With its typical USB 2.0 port and Gigabit connectivity, you get regular connections for external devices. 

Frequently Asked Questions
1. Is the TP-Link Archer AX50 a Worthy Upgrade on the AX3000? 
Yes; when faced with a choice of either one of these routers, the AX50 should be chosen first. Its upgraded USB port and compatibility with many modern devices make it a reliable Wi-Fi 6 router that is better than its predecessor.
2. Is the TP-Link Archer AX50 a Budget Wi-Fi 6 Router? 
Yes, the TP-Link Archer AX50 represents great value for money, offering reasonable range, fast wireless speeds, and overall stability. Other useful features are present, including support for 160MHz-capable devices and a Beamforming capability. It performs better than more expensive Wi-Fi 6 routers. 
Conclusion
These two routers from the TP-Link Archer lineup are worth having as home networks. You'll enjoy adequate speeds, wide ranges, and enough security to protect users and your devices. When it comes to choosing the best between the two of them, the AX50 is our top choice. 
The TP-Link Archer AX50 has a USB 3.0 port that offers seamless and faster performance, unlike the 2.0 port on the TP-Link Archer AX3000 router.
Also, it offers support for 160MHz-capable devices, making it a key consideration for Wi-Fi enthusiasts on a budget. It's an amazing, reliable, and powerful standalone Wi-Fi 6 router.