RT AC88U vs. RT AC3100: A comprehensive comparison from our review team does justice to these two fun devices from the Asus brand. You'll notice one key factor, though — they're somewhat the same but for some minor changes here and there.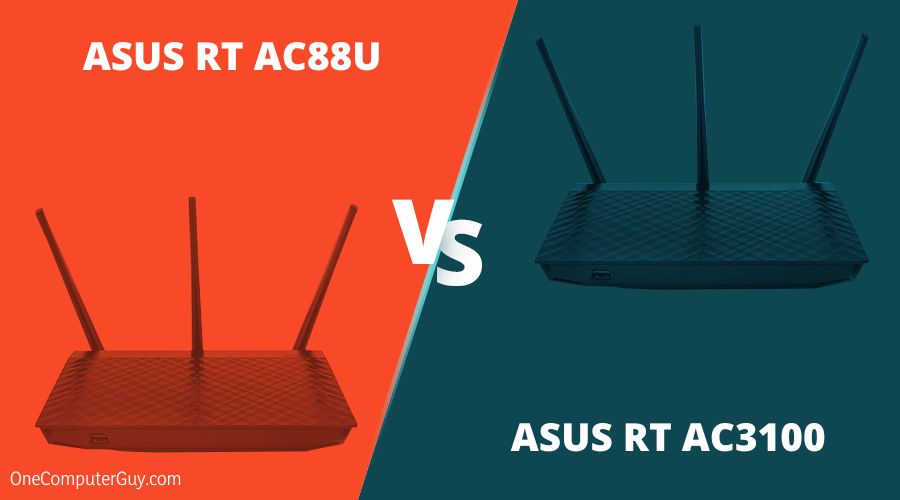 We know it's difficult to tell them apart, but we'll go under the hood for you to get a good look at their features and capabilities. Their characteristics, functionalities, drawbacks, and everything else they bring to the table is reviewed here for you to make the best decision.
RT-AC3100 vs RT-AC88U: Key Specifications at a Glance
Product 
Key Specifications 
AC88U

Frequency: Dual-band
Connectivity: Wireless, Ethernet
Processor: 1.4Ghz  dual-core
Wi-Fi Technology: 802.11ac
Ports: 8 LAN
USB: 2.0, 3.0
Data Transfer Rate: 3167 Mbps
Antenna: 4

AC3100

Frequency: Dual-band
Connectivity: Wireless, Ethernet
Processor: 1.4Ghz  dual-core
Wi-Fi Technology: 802.11ac
Ports: 4 LAN
USB: 2.0, 3.0
Data Transfer Rate: 3167 Mbps
Antenna: 4
How Does the RT AC3100 Compare to the RT AC88U?
The Asus brand has gained popularity all through the years for producing excellent motherboards and graphic cards. Asus is a juggernaut thanks to a long lineup of routers preferred by PC gamers and other network enthusiasts.
These routers are fast and offer many features. Asus has continued this trend with two top routers: the RT-AC88U and RT-AC3100. Both routers are ideal for gaming and a handful of other applications.
We call them gaming devices not because of their fancy build and designs but for their gaming-centered features such as speed, range, and MU-MIMO capabilities. As a result, they stand out in an industry flooded with many brands and routers.
The Similarities Between the RT AC3100 and the RT AC88U
However, how do these two routers stack up against each other?
The answer is that they're pretty much the same thing regarding data rates, processors, and Wi-Fi technology.
At around 3167 Mbps, the same frequency bands, wired and Ethernet connectivity, there's no telling them apart. Both of them also have ports for both USB and other types of connections. The USB 3.0 port is of particular interest because of the speed it brings.
Other than that, both USB ports are available, so you can transfer files and connect USB-centric devices. Further, link aggregation is supported via two LAN ports as long as you have a NAS to support this feature.
We'll examine both of these devices at close quarters before going ahead to choose a winner after a head-to-head comparison.
Pros
Eight fast Gigabit LAN ports
Superfast Wi-Fi throughput
MU-MIMO-enabled
Dual-Band advantage with USB port
Cons
Middling file-transfer speeds
The Asus RT-AC88U features a dual-band frequency and packs several great features coupled with being 802.11 enabled.
It also uses the famous MU-MIMO technology, which helps you work with multiple Wi-Fi clients simultaneously without affecting the bandwidth. You'll have to use this technology with a MU-MIMO-compatible device.
– Ports and USB: Get the Best From Wired Connectivity
The router is built and designed with several Gigabit LAN and USB ports for wired connections and optimal data transfer. These ports form an excellent companion for the dual-band frequency with a 2.4 GHz wireless communication standard.
– Data Transfer Speeds: Fast Connections
This Asus router is an impressive device, and speed has a huge role to play in that. The combination of the 2.4GHz and 5GHz connectivity gives rise to the cumulative 3167 Megabits Per Second.
As an AC router, you also get a Broadcom chipset that offers a feature called NitroQAM, which allows for higher bandwidths.
– Installation and UI: A Breeze to Use
When it comes to installing the RT-AC88U, installation is a breeze, thanks to its intuitive setup wizard. Power the router and connect it to PC and internet, and you'll see a web-based console with the wizard and manual configuration options popping up.
We like the multiple management features that we can add through the user-friendly web interface and smartphones. You can have access to network maps for guest network pages and adaptive QoS for bandwidth prioritization.

– Overview
If you're searching for one of the premium routers for gaming and other network-intensive applications, this  RT-AC88U is a suitable option. Although it's an impressive router, we admit that it's a bit expensive. Overall, it's fast and easy to set up.
Pros
It has a good transmission range
It has beamforming technology
MU-MIMO-enabled
Strong signals
Cons
Middling file-transfer speeds
The Asus AC3100 is a fantastic addition to any rig and comes powered by a 1.4 GHz dual-core processor, 512MB RAM, and 128MB flash. The router is also compatible with the 802.11 standards.
It can reach combined speeds of 3176mbps on its 2.4 GHz and 5 GHz bands., which is the same as the AC88U up there.
It has four adjustable antennas that feature Airadar beamforming technology, which supports data transmission at a maximum distance of 5000square feet.
The Asus RT-AC3100 also comes with the ability to support more simultaneous connections via the MU-MIMO technology.
– Ports and USB: More Wired Options
This device is built and designed with four LAN ports and two USB ports like its counterpart above. You can use them for more wired connections and file transfers.
The USB ports are 2.0 and 3.0, respectively. It's always a nice touch when you have other options for connectivity apart from the dual-band wireless frequency and 2.4 GHz communication standard.
– Data Transfer Speeds: Fast and Stable
Like many Asus routers and the one above, you get more speed on this router. The 2.4GHz and 5GHz connectivity add up to deliver a combined cumulative 3167 Megabits Per Second data rate.
The Broadcom chipset NitroQAM technology allows for higher bandwidths.
– Installation and UI: Quick and Easy
We like how easy the installation process is. It's smooth and easy, thanks to the intuitive interface from Asus. When you power the router, connect it to a PC and link to the internet, where you can complete the process with an intuitive web-based console.

– Overview
You can get a lot done with the AC3100, thanks to its fast wireless connection. You also get link aggregation which supports about 2 Gbps wired transmission to other devices.
AC88U vs. AC3100: How Similar or Different Are They?
The main difference between AC88U and AC3100 is, AC88U uses a Broadcom 1.4GHz dual-core processor, NitroQAM technology and comes with eight Gigabit Ethernet ports while with AC3100 you get four Gigabit Ethernet ports.
From our Asus RT AC3100 review, it was immediately apparent how similar it is to the AC88U. Many users brand them as being the same thing!
However, this is not entirely true, and our head-to-head of the critical features will tell you more to help distinguish these two options and select the right one for your needs.
Design
The designs on the AC88U make it a pretty good-looking router which gamers will appreciate. It comes with four removable antennas on either side and two at the rear.
Also, ports and LED indicators are distributed on the form and back end of this router.
The AC3100 offers a similar setup and design to the AC88U because it also packs four removable antennas: one on either side and two on the rear. As a result, they both offer the same design with only the red embellishment on the AC88U.
At first glance, you don't see much difference in design with those features between the two routers design-wise. The only giveaway is the red embellishment on the antennas of the Asus RT AC88U.
Hardware and Throughput Speeds
We feel there's a little more on the AC88U's hardware than on the AC3100. That's why we think it's better. Moreover, the AC88U uses a Broadcom 1.4GHz dual-core processor and NitroQAM technology.
This router can deliver an expected combined throughput speed of 3167 Mbps on both bands. The 2.4 GHz band can sustain speeds reaching 1000mbps, while the 5 GHz band can sustain 2167 Mbps maximum throughput speeds. That's the same thing on the AC3100.
The AC3100 is also a dual-band router with both 5 GHz and 2.4 GHz bands. When we tested it, the router had speedy throughput test scores just like its counterpart. For example, like its counterpart with the 5 GHz band, it can deliver speeds of up to 500 Mbps at proximity and 295 Mbps at around 30 feet.
The fact is that these two routers have similar hardware features, and both also come designed to reach a combined speed of 3167 Mbps. However, when tested, we feel AC88U can deliver slightly more speed on both its 5 GHz and 2.4ghz band.
Ports
The RT-AC88U is equipped with eight Gigabit Ethernet ports, a WAN port, a power jack, and a 2.0 USB port for good measure. There's an additional power button, WPS button, and reset buttons located in the rear of the router.
There's a USB 3.0 router as well. The port is located at the front of the router, just behind the small panel.
For the AC3100, you get four Gigabit Ethernet ports, a power jack, and two USB ports. One USB 2.0 and the other a 3.0 port, coupled with a WAN port.
Since the AC88U has four more LAN ports than the AC3100, it only means that it offers more and better connectivity options.
MU-MIMO and User Interface
A clean, user-friendly interface is available on these two routers. You'll hardly go wrong making your connections. Both use the MU-MIMO technology, which simultaneously serves multiple Wi-Fi users without messing up the bandwidth.
Its adaptive Quality of Service also means that users can prioritize online activities like gaming and 4K streaming. You can use it to assign or dedicate bandwidth to your gaming session and other applications for low latency and lag.
The MU-MIMO software is an excellent addition since you can stream multiple clients simultaneously on both routers.
Security
Security is an essential part of routers, and Asus equipped these two models with the qualities to safeguard your data and personal information. You can create guest networks and allocate bandwidth.
Securing your router is also accessible through the smart user interface. What's more, the two routers have WPA/WPA2 encryption to keep your connection safe from malware, viruses, and unauthorized connections.
Frequently Asked Questions
1. Is There a Significant Difference Between the AC88U and AC3100 Routers?
When you spot them for the first time, you're always tempted to believe that they're the same. You'll find red embellishments on the antennas of the RT AC88U, while the AC3100 is entirely black.
What's more, the RT AC88U carries eight LAN ports while the AC3100 has only four LAN ports. Those aren't major changes, but noticeable enough.
Conclusion: Which Asus Model Should I Get?
Asus router comparisons often reveal how much some models are alike because they come from the same brand. That said, the RT AC88U dual-band router is our chosen winner between the two. Sure, they both have a similar design, features, and data rate output. However, the AC88U has four more LAN ports to increase connectivity and user access.
In addition, the router has fast throughput performance, MU-MIMO data streaming, and a user-friendly interface that offers extensive management features.
However, even if you don't have some of those features on the AC3100, the AC88U betters it by a small distance. This was a close head-to-head indeed!