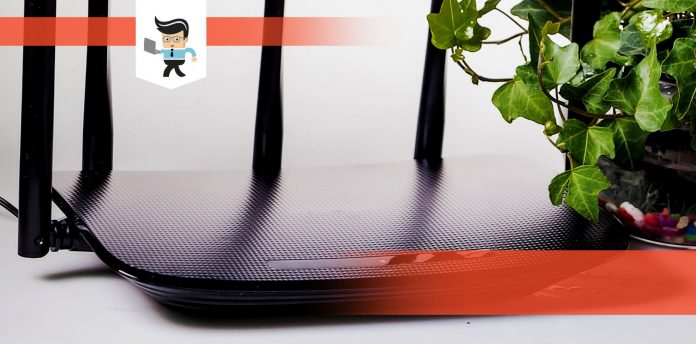 Our RBK23 vs. RBK50 comparison focuses on the unique and modern-styled capabilities of these two excellent Orbi devices. Of course, you have to be comfortable with a mesh Wi-Fi system for your home, and these two are fast and powerful options that offer the type of performance and speed rate that every user wants to see.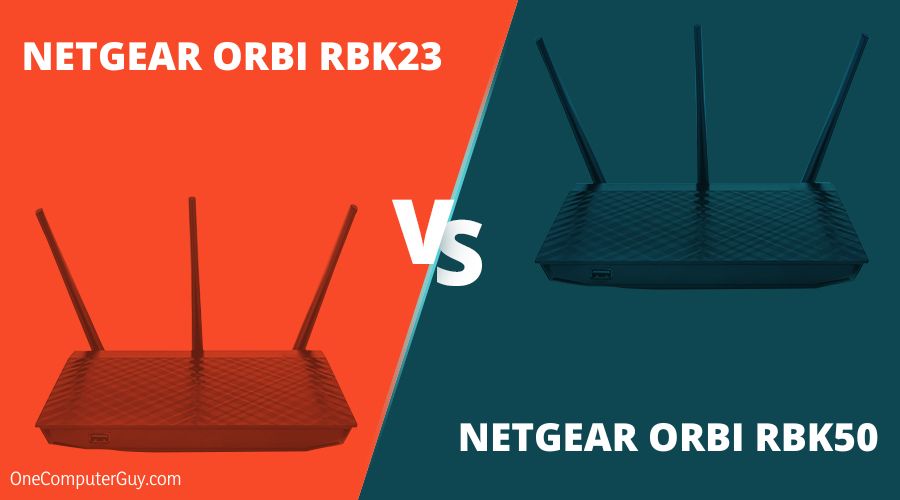 Our team has taken an in-depth look into both routers to give you a clearer picture of their components and performance in real life. Read this review to determine the right fit for your home or office needs.
A Look at the Top Specifications
Product
Key Specifications
RBK23

Connectivity: Wireless Wi-Fi
Frequency Band: Tri-band
Data rate: 2200 Gbps
Security: WPA2-PSK
Total Ports: 5
Backhaul link speed: 866 Mbps
Antennas: 4
Area coverage: 6000 ft.
No. of units: 1 router + 2 satellites

RBK50

Connectivity: Wireless Wi-Fi
Frequency Band: Tri-band
Data rate: 3000 Gbps
Security: WPA2-PSK
Total Ports: 7
Backhaul link speed: 1733 Mbps
Antennas: 6
Area coverage: 5000 ft.
No. of units: 1 router + 1 satellite
RBK23 and RBK50: Which Model Should You Go For?
If you want an optimized device that delivers incredible results while doing anything online, you need the best router that will stand up to your needs when it matters most. With these two, you achieve that by getting stable, strong, and 100% internet speed in the nooks and corners of your home.
Both routers come equipped with a mesh Wi-Fi system designed to fit in any environment and work with any internet service provider modem or modem-router. They also offer support for external devices, so if you are looking to expand your Wi-Fi, you can add more satellites to the devices and enjoy extensive coverage around your facility.
The RBK23 is a much newer model launched by Netgear to cover the needs of medium to large-sized houses. The brand also reduces some hardware components to lower the price, while the RBK50 remains a favorable unit but costs more. However, it is the best-selling kit in the RBK lineup.
Pros
  Fast Tri-band frequency
  It comes with extra ports from more connections
  Safe and secure for users
  Provides a solid whole-home Wi-Fi system
Cons
  Much smaller than other RBK routers
The Netgear Orbi RBK23 is a whole-home Wi-Fi system with the delivery of AC2200 Wi-Fi reaching up to 6,000 square feet. It can provide better 4K HD gaming and streaming even when multiple devices are connected.
There's also a Circle with Disney Smart Parental Controls, so that it's simple to manage content and time online on any device.
In addition to that, this router is compatible with all major Internet Service Providers like Comcast, AT&T, and Verizon Fios. It's also compatible with Google Assistant and Alexa. That means using voice commands to control your home Wi-Fi network.
There are extra ports for external connectivity options along with 256MB flash and 512MB memory. The ports you get include two 10/100/1000Mbps Gigabit Ethernet ports, One WAN, and one LAN port.
– Frequency Band: Smooth Tri-Band Backhaul
There's a Tri-Band frequency here: a dedicated band between your Orbi router and satellite, which frees up the other two bands. That way, you enjoy maximum speed for all your devices. What's more, the router works with all Internet providers.
It replaces your existing WI-FI router and the separate extender modem, which is required to connect to an Internet provider. It's compatible with all ISPs, including cable satellite fiber DSL.
– Wired Ethernet Ports and Wireless Network: Faster Speeds
The Orbi RBK23 specs leave nothing more to be desired for users looking for a decent router without going over the top. The device includes a wired and wireless system with a 1 Gigabit Ethernet port and AC2200 Wi-Fi which powers up to 2200 Gbps of streaming HD videos, gaming, internet surfing, and downloads.
– Security: All Connections are Safe
The RBK23 supports WPA2 wireless security protocols and includes a Guest Wi-Fi connection straight out of the box.
The router also allows users to protect their kids from accessing harmful content online via the parental control feature as well as a Pause feature that allows you to set online time limits and schedule device internet access.
As a safe and secure router, the RBK23 comes with advanced technology featuring the MU-MIMO Smart Connect for one Wi-Fi name and beamforming technologies. Netgear also includes the advanced cyber threat protection armor powered by Bitdefender, a network-wide antivirus anti-malware, fraud, and phishing ransomware security.
You can also view site history, usage, and filter websites for free.
– Installation: Only Takes a Few Minutes
The router is easy to manage. With the Orbi app, you can manage the Wi-Fi settings and test and monitor the speeds.

– Overview
If you need a pocket-friendly router that still has excellent features you can count on, this Netgear device works for you.
Pros
  Award-winning mesh Wi-Fi system
  Maintains speeds while connected to multiple devices
  Easy setup process
  Safe and secure network across all devices
Cons
Our Orbi RBK50 review features one of the best devices out there and has won more awards than others in the Netgear RBK lineup. It gives off an ultra-high-speed performance thanks to a mesh Wi-Fi system that covers your home in super-fast connections. It doesn't matter whether the devices are in separate rooms, floors, and behind walls.
The RBK50 is built and designed to maintain speed even with more devices using your Wi-Fi simultaneously, thanks to the patented Tri-band technology. It's also easy to put together like the RBK23 and has features to protect you and other connected users.
– Fast Whole Home System and Wide Coverage
With this kind of system and support, get ready for fast, secure, and reliable Internet your entire family can enjoy. With the Netgear Orbi Home Wi-Fi System, you don't need any Wi-Fi boosters or extenders.
Besides that, the router and its satellite extend the high-performance Wi-Fi to all your properties. With the smart system management of your Wi-Fi, each device's access is optimized and never interrupted.
As for the coverage, you get up to 5000 square feet of coverage all through your home. So if you have a poolside, basement, and different floors, they all get a strong Wi-Fi connection.
That's much different from routers and repeater combinations because the Orbi covers the whole home with a single Wi-Fi network and name. That way, you have seamless indoor/outdoor and room-to-room connectivity.
– Frequency Band: Tri-Band Technology
The Netgear Orbi RBK50 specs include the famed Tri-band technology so that this Orbi has a dedicated backhaul connection. That way, it's easy for the system to manage multiple network connections without compromising the speed levels. You can watch movies, play games online, make numerous downloads, and much more.
– Wired Ports and Wi-Fi Network: Faster Speeds
The RBK50 includes a wired and wireless connection with up to seven ports you can connect to. That gives you a total of 3000 Gbps to stream HD videos, download content, and play games.
– Security: Designed to Keep Connections and Devices Safe
With the WPA2-PSK and other security measures put in place by Netgear, you're safe to connect many devices. What's more, you can allow guests to access Wi-Fi while protecting your network and password. It's simple to create a network to service visitors, and Orbi handles everything else.
You'll rest way better knowing that your information, connection, and Network are safe from security breaches, viruses, malware, and network worms.
– Setup: Quick and Easy
Many reviews, such as that from the Editors' Choice by PC Magazine, suggests Orbi is a pleasure to work with. That's because it works with your current internet service provider and sets up within minutes.
You can use the Orbi app or any web browser to create your entire home's secure Wi-Fi network in minutes. What's more, you don't need personal info, account creation, or hands with the new Amazon Echo Alexa skill and Netgear's intuitive and preconfigured system.

– Overview
This device is perfect for users who don't want to use a Wi-Fi router with an extender or repeater. The RBK50 has everything you need and covers up to 5000 square feet range.
Head to Head Comparison: Which One Comes On Top?
The main difference between the RBK23 and RBK50 come from the hardware. We all know that the RBK50 ranks as the best-selling kit, but here are other features we compared:
Antenna
The RBK23 has fewer internal antennas than the RBK50. It has four while the latter has six internal antennas.
Wi-Fi Speed
Our Netgear Orbi RBK23 review shows that it carries a max combined Wi-Fi speed of 2200 Mbps (AC2200), and the backhaul band is 866 Mbps.
On the RBK50, you've got more than that with a combined Wi-Fi speed of 3000 Mbps (AC3000), and the backhaul band is 1733 Mbps.
Connectivity
The fact is that the RBK50 boasts more ports for further connections. For example, its router and satellites include four LAN Ethernet ports and seven overall.
You get less on the RBK23, which at least has two LAN Ethernet ports and four overall ports.
Conclusion
Your choice of internet router can make or break your overall internet experience, depending on what you do online. While the routers reviewed above bear some key similarities and differences in many aspects, we can't dispute the fact that they are both decent options for users looking to get an affordable device for their online tasks and activities.
Overall, we think the RBK50 slightly edges things here, especially if you are after great specs and performance. But the RBK23 is not a bad option, too, especially if you are looking to save money.