DXRacer vs. Vertagear represents a healthy challenge between two of the best gaming chair brands in the market. It's challenging to tell their qualities apart, thanks to years of creating fantastic models.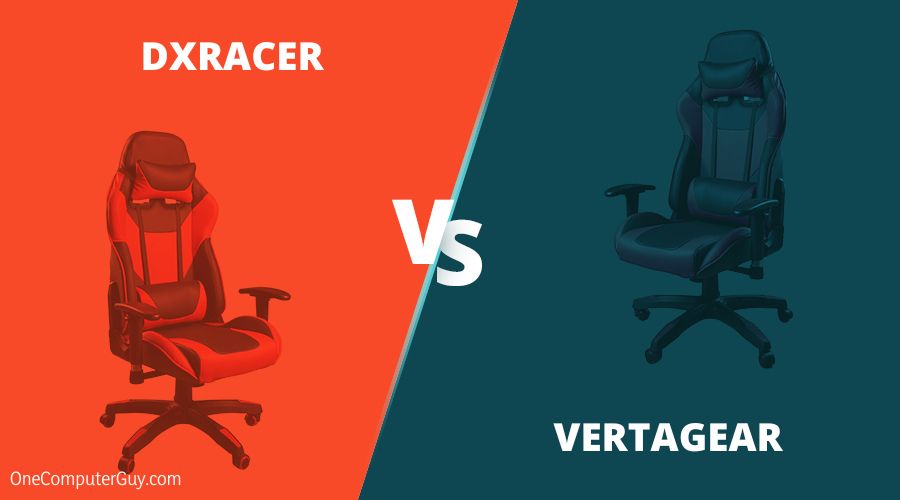 In this review, we have two exquisite models that make sense to have: the Racing Series from DXRacer and SL5000 from Vertagear. Our review team does its best to find out what separates them, with both products sporting excellent specifications.
DXRacer vs Vertagear: Key Specifications
Products
Key Specifications

Material: Leather
Frame: Metal
Max Weight: 200 pounds
Recline angles: 90 to 135 degrees
Support: Head and lumbar
Armrests: 3D adjustable

Material: Faux leather
Frame: Steel
Max Weight: 330 pounds
Recline angles: 80 to 140 degrees
Support: Neck and lumbar
Armrests: 4D adjustable
How Do These Vertagear and DXRacer Models Compare?
Gamers and many regular users know that an essential part of their setup is a chair. With one, your body gets the support it needs.
Areas such as your back, neck, and arms stay comfortable while sitting for long hours. That's why in choosing a chair, the brand name matters a lot and often shows how good the model is.
That brings us to the two brands mentioned above. The fact is DXRacer stands up there as one of the first considerations for many users. On the flip side, Vertagear is a brand many users consider as DXRacer alternatives, which says a lot about their capabilities.
If you're looking for the best between the two, you should figure out what features you need the most. For example, you might want a bigger frame, broad seat, rotating arms, breathable fabric, and so on.
The OH/RAA106 racing series chair and SL5000 have some critical features in common. They both have adjustable arms and backrests for more comfort.
Also, the chairs throw in a couple of extra pillows and cushions you can use as support while sitting. There's a disparity in maximum weight allowed, though with about a 60 pounds difference.
Whether you're on a budget or just looking for the best qualities, either of the chairs reviewed here will give you an option. Stay with our review team as we break down both chairs and how they compare to each other.
Pros
Comfortable molding foam
Ergonomic and adjustable parts
Robust and durable
Fine design covers
Cons
May get uncomfortable after prolonged use
This DXRacer gaming chair under the Racing Series tag brings a lot of good experience and genuine comfort, making the brand famous. It's a chair that has many features you can adjust and change to suit your needs. For example, you get armrests. You can move in different directions. At the same time, there's a tilt-rocking capability coupled with angular backrest adjustment.
Adjusting the height is possible and forms part of many top-notch gaming chairs. This one is not left out if you want to change the height to meet your desk level or platform. The framing of this model is exquisite and robust. You get about 2mm carbon steel rod which makes the frame provide the best support.
The frame is covered by a quality and supportive foam, which provides a comfortable and durable fit designed to boost and maintain your ergonomic posture. For the cover, you also get modern-day materials on this racing-style chair.
For example, there's a mixture of nylon cloth and PU leather upholstery. The chair is designed for extended periods of sitting, and its materials are stitched to help reduce wear and make the chair last longer than most.
– Multiple-Use Chair: Fits Many Environments
Many DXRacer chairs come with a unique style that's suitable for all environments and occasions. That's why you can use this model in your home, office, gaming situations, and for studying. It all boils down to having a comfortable experience performing any function.
– Molding Foam: Wrapped Around for Your Total Comfort
The manufacturer wraps the chair with an ergonomic and high backrest filled with quality and high-density mold shaping foam to cover the solid frame. There's an elastic leather cover designed to give your head, back, and hips the proper support to top things off. That way, you're safe using the chair for prolonged periods.
– Strong Base: Swivel in all Directions
You can swivel on the base of this chair. The 360-degree swivel completes movement in all directions, so you can reach out to pick any item close by. It also helps those who use multiple monitors for gaming and interfacing with other users online.
– Recline: Lie Down or Sit Deep in Comfort and Convenience
A recline feature is a must now because people are spending more time sitting in their chairs. With such a sedentary lifestyle, it helps to stretch out sometimes. To that end, there's a reclining backrest on this model that reclines from 90 to 135 degrees. With it, you can sit down at different angles or lie down to rest your body.
– Adjustable Armrests and Support: Stay Flexible
You can enjoy a relaxing time doing many functions when you adjust the arms and use the extra pillows. The pillows, in particular, provide more support to your head and lumbar region.
The armrests have a 3D adjustable capability. That means you can adjust them to three different directions to meet your arm length requirements. As a result, it can match different body shapes and sizes.

– Overview
This model is suitable for users who measure about 200 pounds or less. Also, it's ideal for gamers who love some added mobility on comfortable frames and covers.
Pros
Optional lumbar and neck support
Adjustable 4D armrests
Soft PU coating
High backrest
Cons
Vertagear gaming chairs don't disappoint if you count on them to stay ahead while playing games. SL5000 is one of the models to help you do that from the S-Line lineup under the Racing Series.
Like other chairs in the Vertagear lineup, the S-Line gives you three models that come with ergonomic alterations and capabilities. What's more, each model comes with a different name and has distinct color combinations and features. Under the S-Line, you can make a choice between the SL2000, SL4000, or SL5000.
The SL5000 is built to have an overall shape that aligns you with your desk and keeps you in that position throughout a gaming or working session.
Also, the backrest and sitting areas on this model use a steel frame and are filled with high-density resilient foam. That way, it's easy to sit for long hours, and when you get up, the foam quickly regroups for the next session.
The upholstery is made out of stainless and water-resistant Faux leather or PVC on the seat and backrest. That's a nice touch for gamers that have beverages around that might spill onto the chair. You can wipe the spill off without issues or any lingering dampness.
The SL5000 comes with an austere black carbon color and could fit into many gaming spots. It will also make a difference in other locations with its strong five-star base made out of metal and plastic custom racing casters.
This chair can take a lot of weight thanks to its sheer size. The chair weighs 61 pounds. That's heavy and a bit difficult to move in restricted spaces. But you get a base you can count on.
– Appearance and Design: Comfy and Beautiful
Many manufacturers have embraced the racing-style seat, but this Vertagear chair is equipped with more than that. It has arms, backrest, and seat developer to envelop the user.
As a result, it keeps you in place and spreads your weight throughout your body, rather than having it all on your lower back. That could harm you and cause long-term problems to your body. The color variants also showcase a classy chair.
– Premium Foam Padding: Comfortable Sitting
The SL5000 comes with premium foam padding over a reinforced steel frame to ensure you're stable and comfortable at all times. It also helps that you can tilt or recline the seat as you like. You can do that between 80 and 140 degrees and also use any of the five lockable positions.
For more comfort, you can use the adjustable lumbar and headrest cushions. These can be removed from the chair if you'd prefer, with a flat backrest, we strongly advise using them. Besides that, there are divots in the armrests so that your arms slide right in.
The chair also has a vented design that makes the chair breathable. It helps to keep you cool even in the hottest environments and during prolonged gaming sessions.
– Mobile Casters Armrests: Quality Movements
The 4D armrests can be rotated in or out, and there are automatic locking casters. The casters lock up whenever you sit down, so you'll never roll away from your desk while playing a crucial stage in your game. If you want more upgrades on the casters, you'll have to pay for them.
The sturdy base also provides enough robustness and support for the listed max weight. Sure, the manufacturer says there's an ideal weight limit for users set at 260 pounds.
Still, the actual specification for weight is 330 pounds. That means a lot of heavier gamers don't have to worry about breaking this chair. If you are a big fan of Vertagear's color schemes and design models, you will appreciate this one.
– Effortless Assembly: Simple Stuff
It is simple to put this chair together, and you won't get any hassles because it is a one-person installation process, thanks to the slide-in design. The casters are covered with PU for soft and smooth gliding on different surfaces.

– Overview
This chair is an excellent prospect for gamers and workers alike. If you want to customize your experiences by making various changes to multiple parts, the SL5000 is for you.
DXRacer vs. Vertagear: Head-to-Head Comparison
The main difference between DXRacer and Vertagear is, Vertagear has 4D adjustable armrests, gives you more customization options and can get up to 330 pounds max weight, while DXRacer has one of the best designs.
Whenever there's a gaming chairs comparison, it's not as easy to tell the differences when you've got two top-quality models. This SL5000 and Racing Series have a lot in common and command a host of functions. Consider this comparison between the two chairs before settling on the best for you.
Design
Winner: OH/RAA106 Racing Series
It wasn't easy selecting the Racing Series chair here as the best in terms of design. That's because DXRacer boasts some of the best designs across their expansive lineup. This particular one is designed with black and a touch of several colors. Also, you get an ideal build to fit users alongside a strong frame.
The SL5000 comes with a more than subtle design on the flip side but falls short of the OH/RAA106 Racing Series. It's a great piece of engineering and has a fantastic cover across the frame. However, we feel it's a model that stands as a ready alternative to the DXRacer OH/RAA106 chair.
Foam and Materials
Winner: Both
Both of these chairs give you versatile and, at the same time, resilient padding on the frames. In addition, the paddings feature a high-density foam that regroups after you sit down for extended periods. As a result, both can hold varying weights and sizes.
For the covers, the SL5000 can be grouped among chairs similar to Dxracer models. That's because they both rock Faux leather or PVC. The materials are strong and still offer a relaxing time. Besides, the leather material is easy to clean, while a good part of it is breathable. As such, it's easy to spend more time on the chair without gathering some moisture or feeling hot.
For the frame, you can expect the best steel and metal on both chairs. Such materials help to give stability to their users.
Adjustable Features: Customizable Parts
Winner: SL5000
Adjustable parts are the hallmarks of any modern-day gaming chair. To that end, we think the SL5000 gives you more options to tweak or change. For example, you get 4D adjustable armrests compared to 3D armrests on the OH/RAA106 model. What's more, the divots on the SL5000 add to the comfortable feeling you have with the armrests.
Both these chairs will let you recline to varying degrees as well. For the SL5000, you get to recline to an angle between 80 to 140 degrees, while the Racing Series here offers between 90 to 135 degrees of recline. The tilt capability on the SL5000 makes it the best option for resting.
Extra Support and Ergonomics
Winner: Both
One of the differences between gaming chairs to watch out for is what extra features they carry. You get a combination of extra pillows and cushions for additional support and protection on the respective models. For example, you get a headrest and lumbar cushion on the OH/RAA106 model. The extra paddings are removable when you don't need them.
For the SL5000, you get extra support for your neck and lumbar region. You can also take them out when you don't need them.
On the whole, you get quality ergonomics from both chairs geared towards improving your gaming or working experiences.
Weight Capacity
Winner: SL5000
For the gaming chairs comparison between these two brands, we have to mention the maximum weight capacity of both. For the SL5000, you get up to 330 pounds max weight from the manufacturer. That's big enough for many users. It's an advantage Vertagear models have over their counterparts.
For the OH/RAA106 Racing Series, you get a maximum weight capacity of 200 pounds. That's small in gaming terms but will fit smaller individuals and kids.
Assembly
Winner: Both
The two models on review here are easy to set up and use. Detailed information forms part of the installation process, and with them, you assemble the parts faster.
Which Brand and Model Is Better?
Both of these chairs have their merits and drawbacks. When you have to settle for either one, we recommend picking a model based on your key considerations. Look out for the features you need the most.
If you're on the big or taller side or have a longer body stature, you have to go for the SL5000. It's bigger, more expansive, has a higher backrest, and has more adjustable parts. It's the ideal chair for multiple functions.
However, DXRacer models are recognized as a better alternative to Vertagear chairs. That's the case if you're obsessed with popular brand names.
Conclusion
Gaming chairs are a wonderful invention and do their bit to keep you safe and rocking the correct posture. That's why these two brands are famous for churning out terrific models that sport industry-leading features and capabilities. As a result, it's difficult to tell them apart without a trained eye or a review like this one.
Depending on your need for a gaming chair, we think both can do a good job. However, we'll go for the SL5000, which comes equipped with superior 4D adjustable armrests and a whole lot of options to tweak or make changes as you deem fit.
Sure, DXRacer is the more popular brand, but with these two pitted against each other, our review team picks the SL5000 because of the specs it offers