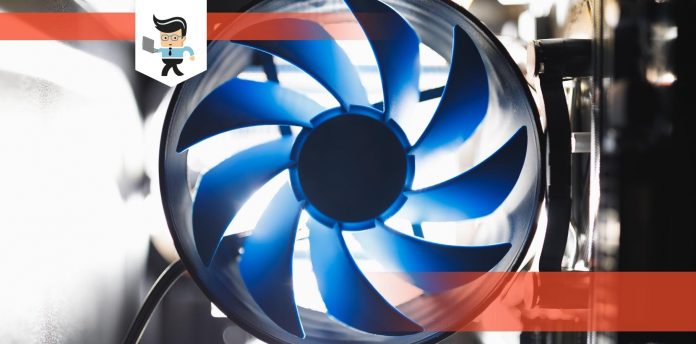 Our Cooler Master Hyper 212 EVO vs Cryorig H7 article is a detailed comparison of two coolers designed to pull heat away from your computer's CPU.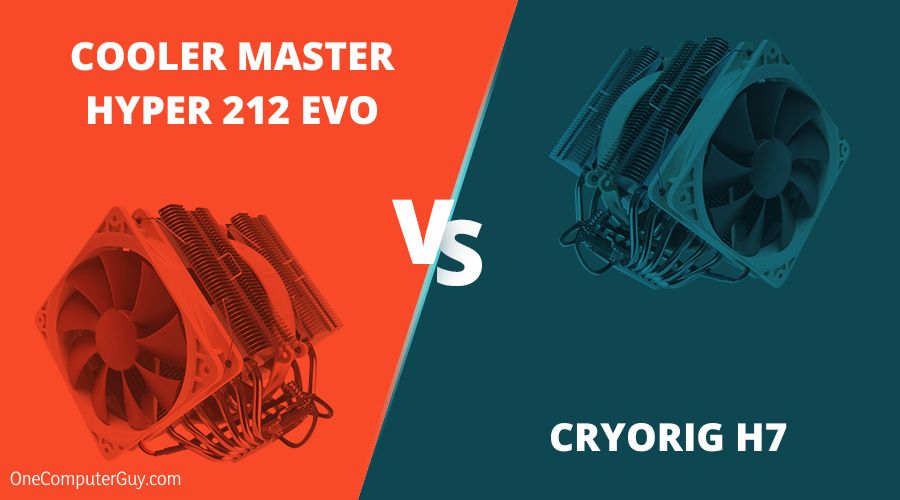 We all know how intense the heating gets when functions like gaming, video editing, code compilation, etc., are going on. You'll need a good cooler to combat such a scene, and these two are more than capable of limiting the effects of heat.
Our team has put the two devices to the test to ascertain their level of performance and how they might come in handy for you. Read on!
Cooler Master Hyper 212 EVO vs Cryorig H7: Key Specifications
Product 
Key Specifications
Hyper 212 EVO

Brand: Cooler Master
Wattage: 2.64 watts
Cooling Method: Fan/Air
Noise Level: 36 dB

Cryorig H7

Brand: Cryorig
Wattage: 140 watts
Cooling Method: Air
Noise Level: 14 dB
Cryorig H7 vs. Hyper 212 EVO: Making a Comparasion
The main difference between Cooler Master Hyper 212 EVO vs. Cryorig H7 is in the fan noise and cooler efficiency, where Cryorig H7's 14dB helps to ensure smooth and silent operations, unlike Hyper 212 EVO with 36dB of noise, which could mean a little rattling during intense operations.
Both the Cryorig and Cooler Master brands have one thing in common – they've been in the game long enough to produce models capable of fitting right in with many rigs. The two devices in the review are stacked up against each other, so we'll check them out to choose an eventual winner.
Pros
Great for taming high temperatures
Runs quietly
Cons
Large width may block slots
The Hyper 212 CPU cooler generates something of interest from many system builders who have come across it. Features such as an apt cooling ability and its form factor have earned praise and recommendations from many users.
We also feel it's an excellent option for those looking to save some money and still get the best out of their processors without damaging them. This version is competitive in most areas and against others in its class.
Build and Features
The Cooler Master Hyper 212 EVO specs feature a cooler equipped with one 120-millimeter fan, supporting PWM. That makes it capable of connecting to a four-pin connector, while the motherboard can regulate the speed depending on load and thermal activity.
However, you won't find a fan splitter included in the device, which allows for the easy connection of a second fan. So, if you're one of those users looking for a push/pull setup, you'll need to make sure you have ample fan headers available or be prepared to supply your splitter.
Unlike other coolers in its class, you won't find any RGB LED capabilities on this product. It has no thrills and frills and just focuses on the main thing – cooling your system.
We can tag this product as a CPU cooler that features a perfect balance between high- and low-speed operations. It comes with a wave-shaped blade designed to produce improved airflow.
Another credible feature in this device is four direct contact heat pipes for accelerated surface thermal transfer. There are also models of this device featuring different numbers of heat pipes. If you're a core end-user, it will be a solid choice for you.
Performance: Offers Good Cooling Quality
For many user reviews and opinions, this Cooler Master cooler performs excellently to keep the temperature down. One of the things users agree about is its quiet operation.
The noise level is pegged at 38dB, which isn't bad for the kind of output you receive. If you have enough space for it, it's an absolute steal in today's market.
However, many users have complained about blocking other slots because of their size. The large width is a little cause for concern, but it supports all modern sockets and is an excellent OEM replacement.
That's because the cooler will afford a mild overclocking experience. The quality is a given, but it doesn't work the same across AMD and Intel devices.
Setup is a smooth ride, with the mounting solution being universal and sturdy, if a bit over-complicated.
As we mentioned, this Hyper Cooler currently supports the most modern Intel LGA 1151 and AMD4 sockets, which means that you shouldn't have any problems dropping it in on top of either your i9-9900K or Ryzen R7 2700X.

Overview
From our Cooler Master Hyper 212 EVO review, this is a solid cooler option for someone looking for a well-balanced cooling performance. Other than that, some users like the performance of this CPU cooler but also complain about its size.
Pros
Has a Hive Fin system
Standard thickness and height
Powerful cooler fan
Cons
Installation can be frustrating
The Cryorig H7 Tower cooler, much like other typical coolers, has components that play vital roles in boosting performance.
When it was released, the Cryorig H7 Tower was one of the most recent additions in the market from the brand. It also features one of the most elegant coolers with an excellent functional design.
Build and Features: Designed to Limit Heat
The Cryorig H7 specs are such that they're capable of maximizing its Hive Fin technology, where the edges are bent like a honeycomb pattern that squeezes down its size, and air flows through it.
Also, the base is copper made, coupled with pipes that have a convex align feature—meaning both ends are a little higher than the middle portion. What that does is help the pipes to reach up to maximum efficiency.
This device moves away from the traditional tower cooler that features fans for regulating the airflow and keeping the surrounding at moderate temperature. Instead, it has a more reliable Quad Air Inlet System that sucks more air than fans its size.
The features are also designed to not interfere with the motherboard screws, PCI-e Slots, and memory. With the X-bar hardware mounting system, it's simple to slide it in the position so that it connects with AMD or any other Intel-compatible Socket.
What's more, the Cooler is compatible with a vast range of AMD sockets and some Intel sockets, including the LGA 115X sockets. Unlike the model of Cooler Master above, the width of this cooler won't bother you at all. It's the best fit for a compact system than the traditional 120-millimeter fan cooling towers.
Performance: Efficient Cooling Delivery
The Cryorig H7 was designed with an impressive build. That much is certain; how it performs is more encouraging for users. You get maximum efficiency from the Hive Fin technology with air flowing through the cooler to keep your system safe.
The pipes in the cooler are arranged in a "Convex-Align." The pipe at the middle is lower than the two outer pipes, which helps the pipes reach maximum efficiency. Also, the brand doesn't just opt for any fan here.
It provides a cool and relatively quiet solution to offer extra performance with its Quad Air Inlet system. The system offers channels to suck in more air than other fans of its size, with a sound level of 14 DB following that up.
Installation is good and will take about four minutes. But for newbies and some lacking basic experience, it might take a while to complete. However, the brand provides everything you need for installation inside the box.
Hardware is also durable and straightforward and uses the same gear for the compatible AMD and Intel sockets. That eliminates all forms of guesswork, hardware orientation, or the possibility of stripping things out.

Overview
If you do many intensive activities with your computer, the low noise, cool fin orientation, and airflow make this Cryorig H7 Tower a great choice. Our Cryorig H7 review shows its capability of giving you a credible performance without issues with heat dissipation.
Which Is Better?
Installation
Winner: Hyper 212 EVO
To install the Hyper 212 EVO is straightforward. The brand gives you all you need to get it right, including inserted screws and other parts.
While you'll get similar treatment on the Cryorig H7, many users aren't so lucky with the process it involves. That's because this model is a little harder to install than its counterpart.
Specs/Features
Winner: Cryorig H7 
We feel the Cryorig offers better specifications and features, thanks to a more silent performance and lower RPM, including airflow. The Cooler Master comes close on airflow, but its counterpart edges it a little.
Fan Noise
Winner: Cryorig 
From our CPU cooler comparison, Hyper 212 EVO will deliver a good fan performance, but that's not enough compared to the Cryorig. While the former gives you 36dB of noise, the Cryorig H7 performs more silently on 14dB.
Overclocking
Winner: Both
We'll settle for both when it comes to overclocking, having tested their capabilities. You'll get the much-needed quality control and stability on both devices.
The cooler Master Hyper 212 gives better value for money and is quite suitable for delivering superior performance. The Cryorig H7 marches this level of performance with its Hive Fin and heat pipes that keep things cool and normal.
Frequently Asked Questions
– Do I need a CPU cooler?
Yes. Every computer possesses a stock with adequate ventilation/cooling systems designed for that particular system. Most of them consist of a fan that draws heat away from the CPU, and some units utilize liquid coolant in addition to the fan to add efficiency and cooling power.
Additional cooling is often required when users upgrade their CPU or overclock it. The computer will generate more heat than what it was built to handle.
– How can I choose the CPU cooler that's right for me?
You'll have to consider how compatible it is for your system and whether you want air, water, or passive cooling. The fact is that liquid coolers can be dangerous to have near your rig in case of spills. If you're on a budget, using a fan or air cooler is the best option for your system. It's also effective at dissipating heat.
However, liquid coolers are more advanced and offer a cooler experience than fan-backed coolers, including those reviewed here.
Conclusion
The coolers reviewed and compared above are good choices for low configuration systems and are suitable for a budget build. They won't cost as much, particularly the Hyper 212, which is budget-friendly.
Which device will we pick?
Our review team will settle for the Cryorig H7. Between the two coolers, it offers more to users and consistently delivers top performance. However, if money isn't a sticking point for you, then you can go ahead to get AIO coolers or higher-end air coolers.