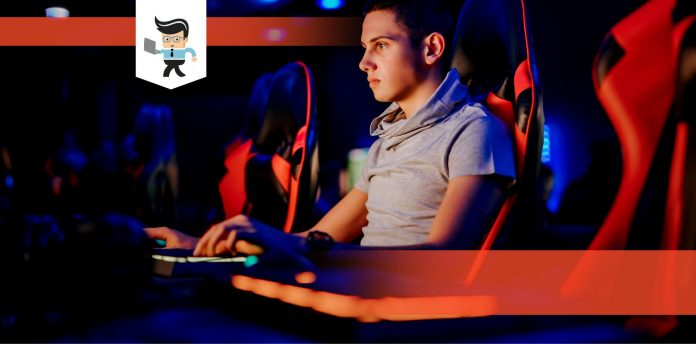 Deciding on the better model between the Vertagear SL2000 vs SL4000 is not as simple and straightforward as it seems.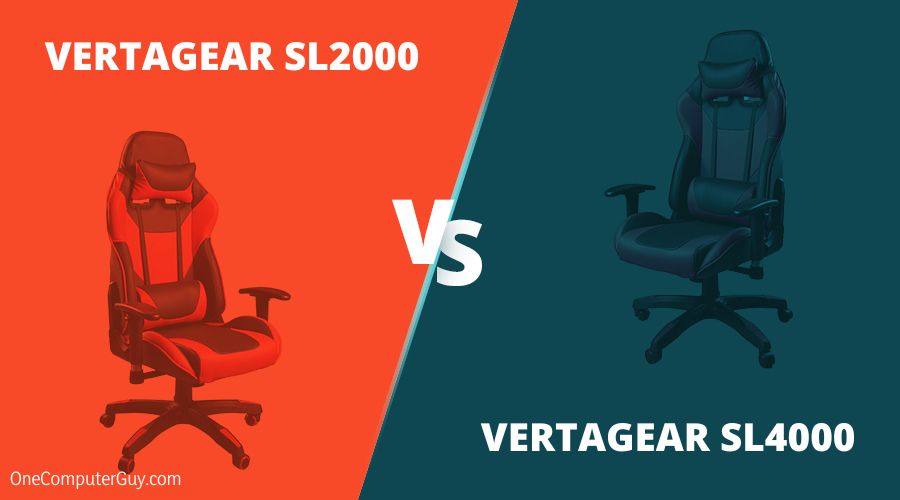 This is because both models form part of Vertagear's SL lineup, which boasts unique and modern gaming chair features—a testament to how far the brand has come in making top-quality gaming chairs.   
While their names tell them apart, that's not the only difference they share with price, capabilities, and some adjustments differing.
In this review, you'll get to learn about such differences and similarities and find out which SL model comes out on top.
Vertagear SL2000 vs SL4000: A Look at the Top Specifications
Product
Key Specifications
SL2000

Material: Faux leather

Frame: Aluminum, metal

Max Weight: 240 pounds

Ergonomics: High-Back, Lumbar

Armrests: 2D

SL4000

Material: Faux leather

Frame: Aluminum, metal

Max Weight: 200 pounds

Ergonomics: High-Back, Lumbar

Armrests: 4D
Trying To Decide Vertagear SL2000 and Vertagear SL4000 Chair?
These two models from Vertagear are some of the best gaming chairs in the market. Moreover, they're products of one of the most popular brands in the business – Vertagear, which is a California-based company. The brand focuses on delivering the best gaming chairs all over the world.
As a manufacturer, this brand has two series: the Racing and Gaming Series. You can choose from three prominent models for the racing variety, including the SL2000, SL4000, and SL5000. They all follow one after the other.
Comfort is never overstated when sitting for long periods of living a sedentary lifestyle as a gamer. These two chairs have features to help you cope with the fatigue and pains that may arise from using a terrible chair. That's why we want to find out which one is best for you or worth buying.
Every chair is unique in one way or the other, and Vertagear is no different. However, our primary focus remains on the SL2000 and SL4000 gaming chairs.
A comparison between the two will show quality materials that have more similarities than none. But a closer look reveals there's some difference in dimensions and some minor points of customization.
We like that both of these chairs are built with advanced mechanisms that focus on top-notch functionality, perfect ergonomics, and supportive comfort. To that end, let's check out each chair before pitting them in a contest.
Pros
 

Strong and reinforced heavy-duty aluminum base

 

Durable leather covers high-density foam

 

A comfortable high backrest

 

Supportive and adjustable
Cons
 

Armrests move in just two ways
Our Vertagear SL2000 review shows this chair to be very supportive and comfy for gaming. It's built with your body and posture being the first and most important consideration.

Vertagear names this chair SL2000, and it represents their first effort at constructing a gaming chair. To put it in perspective, that's like the first iPhone under Apple. The SL2000 is Vertagear's first success story within the industry, with the chair designed to protect your health.
– Adjustable: Enjoy an Optimized Gaming Experience
You can optimize your experience on this chair because it's designed to give you support and comfort. You can always assume different positions that suit your needs and improve your experiences.
– Build: Quality Seat
We like the seating on this chair because it's crafted with modern engineering. Your neck, shoulder, and back have adequate support to maintain your natural posture.
To do that, Vertagear uses premium materials that add up to make the SL2000 a budget chair. For example, the gaming chair comes covered with PVC leather. Even with that, the chair still maintains an excellent breathable feel. That's important if you spend prolonged periods gaming.
We also like that the Faux leather is durable and gives the chair a super deluxe look. With the easy ventilation from the open-cell design, you're always relaxed and comfortable.
– Solid Frame: Strong Base to Work With
We like the solid steel frame, which gives a perfect background to the high-density foam. Part of the frame includes the smooth-rolling castors to help you remain mobile while seated. Also, the chair can handle a weight limit of 240 pounds.
– Armrests: Keep Your Arms Comfortable
You can always rest your arms using the armrests, which have good padding. However, you can only move them in two places because of their 2D features.
– Ergonomics: More Support
You get more support by way of ergonomics on the SL2000 chair. It has a high backrest coupled with lumbar support for your posture.
– Overview
The SL2000 may be first in the SL lineup, but it still offers a lot. It will appeal to gamers on a budget. The chair has excellent features you can optimize for your needs.
Pros
 

Comfy and resilient foam

 

Adjustable height and lumbar support

 

4D adjustable armrests

 

Heavy-duty aluminum base for perfect support
Cons
 

Better fit for smaller gamers
We're going to start this Vertagear SL4000 review by stating how attractive the chair is. It sports ergonomic parts and adjustable components you can use depending on your needs per time. The chair is perfect for gaming or use in the office.

With the high-density foam, it's easy to spend a long time on the seat.
– Robust Build: High-Grade Materials
On the base and all through the critical areas of this chair, there's a steel frame that provides enough structural support. As a result, your chair won't be breaking down any time soon.
The base is also reinforced so that the chair can support much heavier and taller users. The covers are upholstered with PVC Faux leather which is easy to clean, breathable, and water-resistant.
As stated by the manufacturer, the recommended weight capacity is 200 pounds, but many reviewers think differently. Some state that the chair can take up to 300 pounds.
– Ergonomics: Comfy and Supportive
On the SL4000, you get additional beck and lumbar cushions to give you more support. Besides, you can recline this chair to release at up to 140 degrees. That way, you can assume a position that helps you deal with fatigue.
– Armrests: Move in Four Directions
The armrests here are just as comfortable as the rest of the chair. They have 4D capability and can move in, out, up, and down. Also, the armrests can rotate.
– High Back: Maintains Your Body Shape
At the back, there are two cutoffs on the upper backrest. With them, you get improved airflow so that you're cool while gaming or working. The Vertagear SL4000 dimensions provide a wider backrest, but the chair still feels small for many users.
– Overview
If you're looking for a high-quality gaming or office chair, this is one of the best chairs out there. You can optimize the features to suit your gaming needs while the materials are rich and supportive.
Vertagear SL2000 vs. SL4000: Head to Head Comparison
The main difference between Vertagear SL2000 and SL4000 is, Vertagear SL4000 comes with 4D adjustable armrests that can move in four different dimensions while Vertagear SL2000 comes with 2D armrests.
These Vertagear chairs carry essential features. They're also very similar since they come from the same brand and SL range. However, we have taken an in-depth look at both chairs.
Material Components
Winner: Both
The SL4000 is built and designed to carry over all the essential features that make the SL2000 such a great gaming chair. You get high-density foam, a heavy-duty aluminum base, and a "slide-in" design for the materials on both chairs.
The PVC Faux leather also covers both chairs and allows for easy cleaning and a breathable time. You won't get hot while using the chairs for extended periods. 
Size
Winner: Both
When you want specific differences in size and dimensions, you'd think that the SL2000 is better than the SL4000. However, there's only a tiny difference since the SL4000 is shorter and slimmer than its counterpart. As a result, the SL4000 fits smaller gamers more. In all, just two inches stop them from having the same height.
At the shoulder, you also get a slight difference in width. The SL2000 looks a bit broader than its counterpart here. To that end, taller gamers with broad shoulders will appreciate it.
Armrests
Winner: SL4000
We know how taking an ideal position for your hand is essential to get the most out of your gaming experiences. That's why armrests are included on gaming chairs—to keep your arms and elbows safe and supported.
On the SL2000, you get 2D armrests that are basic enough for different uses. You can only move it in two separate directions.
The upgrade we see on the SL4000 chair is that it comes with 4D adjustable armrests. It can move the armrest in four different dimensions. If you play games that require precision, the SL4000 appeals.
Conclusion
These Vertagear gaming chairs are excellent in what they were built and designed to do. They give you a good base, materials, and features to boost your performances across different activities.
The fact is that Vertagear is a quality gaming chair and has high-end comfort across all its chairs, and all you have to do is consider your height and other needs before choosing either chair.
Since the SL4000 represents the upgrade on SL2000, it makes sense to use the former for your gaming needs. For us, we think the better model here is the SL4000.
Even though it is smaller, it represents a good option for gaming and provides a refined solution to discomfort, especially during those long hours of gaming. However, if you are really looking to get something decent at the lowest price, the SL2000 is not a bad choice at all.