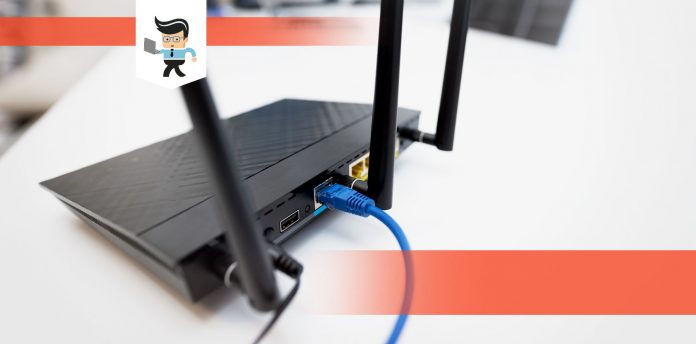 Making the right choice between the SB6183 vs. CM600 modems can go a long way to elevate your online experience and make your internet activities smoother and more efficient. With both devices coming from two brands that leave nothing to chance, Netgear creates devices you can count on for different functions, and Arris is no different.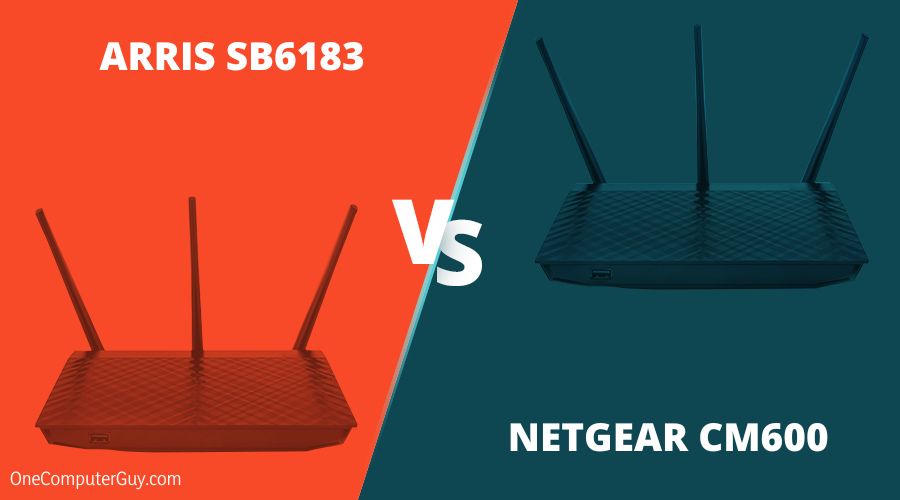 However, you have to take the time to learn about their specifications and top features before deciding on the right fit for your lifestyle. Luckily, our team has put both routers to the test to bring you an in-depth comparison between the two devices, focusing on the positives and drawbacks. Read on!
Top Specifications Outlined
Product
Key Specifications
SB6183

Brand: Arris
Downstream Speed: 686 Mbps
Upstream Speed: 131.1 Mbps
LAN ports: 1
Channel bonding: 16 x 4
DOCSIS: 3.0

CM600

Brand: Netgear
Downstream Speed: 960 Mbps
Upstream Speed: 356.36 Mbps
LAN ports: 1
Channels bonding: 24 x 8
DOCSIS: 3.0
How Does the CM600 Compare to the SB6183?
It's not wrong to say it's vital to remain connected to the internet. Too many tasks and parts of the world are linked to the internet, so you'd need the best devices to help you stay connected and get your online activities done without stress.
To that end, this review showcases two of the best modems you can use to stay connected.
Pros
  Fast Mbps download speed
  Durable
  Strong over signals and connections
  Universal ISPs connectivity
Cons
  It has very bright LED indicators
We start our Arris SB6183 review with the knowledge that it's an upgrade and faster version of the Arris SB6141, offering download speeds up to 686 Mbps and upload speeds of 131 Mbps. Other than that, there are premium features that make it worth many looks.
– Form Factor and Hardware: Nice Build and Design
The specs in this modem include a white form factor with plastic grating on the sides and top of the device. There's enough power on this device which is why it's somewhat prone to overheating.
However, Arris limited the chances of that happening with more heat vents on the device. Apart from that, it would help if you didn't place it in covers or tight spaces.
The LED lights in front of the modem aren't easy to miss. They're very bright and could get uncomfortable for those that prefer no-lights devices.
– Speed: Fast and Reliable Connections
The Arris SB6183 is a high-speed and reliable device. It's also worth knowing that it won't get deprecated in a few more years. The modem is DOCSIS 3.0 compliant, which provides dedicated services for high-speed connectivity when downloading or uploading data files.
You also get several channels, so you'd have to wait for a little for them to bond to your ISP's signal. You also get the best speeds for online gaming, streaming, and downloading while several connected devices.
However, it's normal for any modem to struggle with bandwidth when more than four connected users. The same thing happens on this modem.
– Compatibility and Connectivity: Works With Many Devices
The modem is capable of connecting and operating with new router models. Don't expect your old routers to work very well with the Arris SB6183 specs, as that could lead to jagged speed levels. Still, any router you plan on getting should be able to handle the speed on this modem.
Even though it's an Arris product, it works very well with the Netgear AC1750 because the router can handle the speeds the modem provides. The router also helps with a couple of traffic-management features. As such, the modem excels in many tasks such as online gaming and streaming.
– Setup: Simple and Straightforward
Setting up this modem is smooth and straightforward with the instructions you get. Arris makes everything more manageable when you find a router that matches this modem.

– Overview
If you download heavy files, play games, and stream multiple contents online, this modem will come in handy for you. It has a dual thread processor that improves the modem's performance and ensures it's able to stand up to your needs every time.
Pros
  Works well with multiple ISPs
  It works with any Wi-Fi router
  Easy installation and better firmware protocol
  Sleek design and hardware
Cons
The Netgear CM600 is a modem from a popular brand. As a result, it's only normal to expect the best features from it. This particular modem has a DOCSIS 3.1 cable protocol. It takes over the CM600 with specifications that make it worth the buy.
– Design and Hardware: Appealing Look
At first glance, this modem gives users a thrill thanks to its sleek appearance and design. A back case covered by a black matte finish adopts a polyhedron shape and soft rounded corners. Also, we noticed that the device is small and won't take up too much space wherever you decide to leave it.
In addition to that, it's strong enough with a weight of only 1.0 pounds and a built-in platform. With small silicone to cover its feet, you can place it on different surfaces, but you can't mount this modem on the wall. Just get a perfect angle that won't cover vents.
– LED: Sharp Indicators
Like the SB6183, you get plastic-occupied LED lights at the front of this modem to provide indicators for different purposes. That includes the status of the power, and if it's flashing red, then the modem is at risk of overheating.
A downstream solid amber indicates that one channel is locked while solid green shows two or more downstream channels are locked. Again, if the LED is blinking green, the modem is synchronizing to the CMTS and Ethernet connection. Green also indicates a device is connected at 1,000 Mbps, while amber suggests a 10/100 Mbps connection.
– Software and Firmware: Designed to Boost Your Online Experience
The Netgear CM600 specs are just as good on the inside, with the device equipped with 128 MB of RAM, 8 MB NOR flash memory, and a Broadcom BCM3384 Chipset. Unlike its counterpart here, it comes with 24×8 DOCSIS 3.0 channel bonding. To that end, it gives off a maximum theoretical downstream data transfer speed of up to 1,029 Mbps and a maximum theoretical upstream speed of 216 Mbps.
With the 24×8 bonded channels here, the CM600 is more than capable of handling a sub-Gigabit Internet speed.
– Compatibility: Works With Many Platforms
This modem works well with multiple devices and platforms, including Comcast, Suddenlink, Mediacom, Cox, Cable One, and Spectrum. However, before getting this modem, make sure it is compatible with the ISP of your choice.
– Setup: Easy, Smooth, and Hassle-Free
Getting this modem to run is easy to do with the instructions provided. You do not need any significant connection on it, and once you find a router that fits, it's time to enjoy the Internet.

– Overview
If you want a high-speed connection for multiple devices in your home, the CM600 suffices. What's more, it's compatible with devices running DOCSIS 3.0 and 2.0 protocols.
SB6183 vs. CM600 Head to Head Comparison: Which Modem Wins?
The main difference between SB6183 and CM600 is, CM600 has a downstream speed of 960 Mbps and has a channel bonding of 24 x 8 while SB6183 has a bonding of 16 x 4 and has LED lights.
Structure and design
These two modems offer designs and hardware you'd love to have. They're both built with a cover of plastic and have a cute shape. From our Netgear CM600 review, it comes with a black matte finish and polyhedron shape. There are also soft rounded corners on the modem. LEDs are part of the hardware and help you with some indicators.
The SB6183 also has some LED lights, even if some users have complained about how bright they are. However, it has many vents around the case in support of airflow, thus dealing with overheating. It also helps place the modem on a flat platform or hang it on a wall.
These modems are small, with the SB6183 weighing 1.4 pounds while the CM600 weighs 1 pound. But the CM600 isn't wall-mountable and has rubber feet to place it on a platform. Neither of these devices will take up too much space, which makes them portable and smart.
Speeds
Both modems are backed by a functional gigabit-speed potential thanks to the DOCSIS 3.0 protocol. You get a limited number of bonded channels on the SB6141, which supports download speeds of 343Mbps, which are high for people who don't have internet-intense activities.
For the Netgear CM600 vs. Arris SB6183 speed test and output, the CM600 ranks higher because of the downstream speed of 960 Mbps. Even though both offer excellent speeds, we think the CM600 is better here.
Channel Bonding
The SB6183 has a channel bonding of 16 x 4. That translates to sixteen channels for downstream and four upstream channels available for its data.
You get more than that with 24 x 8 on the CM600, meaning twenty-four downstream channels and eight upstream channels. In line with that, the CM600 is better in this aspect.
Conclusion
The SB6183 and CM600 are excellent choices as modems. They can pair well with many ISPs to give you the Internet connections you crave. They both have good download speeds, but we'll take the CM600 in our home without a doubt.
From channel bonding to a faster speed rate, the CM600 will give you a more personalized experience without sacrificing quality and efficiency.
However, we're confident that your choice of either modem will meet your needs and requirements.