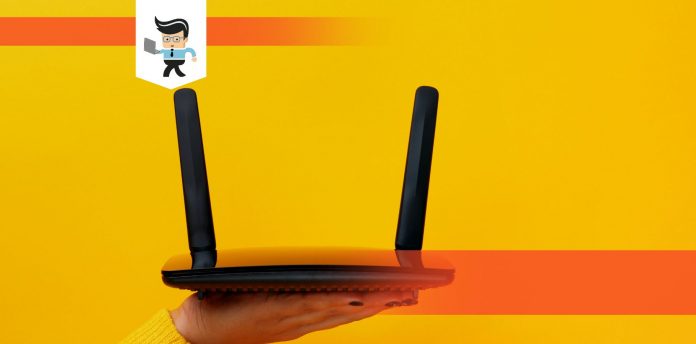 Deciding between the RT-AC66U vs. RT-AC68U routers isn't as easy as it seems, especially when you consider the fact that they are both equipped with features designed to meet the needs of the booming population of the internet users.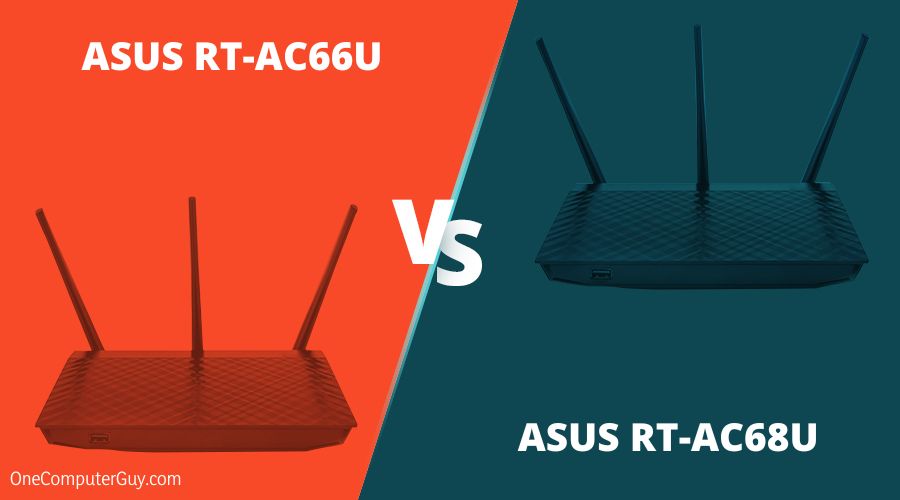 From frequency band to speed range and overall performance, both devices are built to deliver exactly what a modest internet user prefers in a wireless router without going over the top.
Our review team has tested both routers to point out vital differences and similarities between these two Asus products and help you understand which model is right for you. Read on!
Top Specifications at a Glance
How exactly do these devices come in handy for every type of user out there? What about the significant differences that you need to know before you settle for any of the two?
Let's look at the specifics.
Product
Key Specifications
RT-AC68U

Data rate: 1900 Mbps
Antenna: 3 Detachable
Security: WPA-PSK, WPS, WPA2
Frequency Band: dual-band
Ports: 5
USB: 2x 2.0, 1x 3.0

RT-N66U

Data rate: 1750 Mbps
Antenna: 3 Detachable
Security: WPA, WPA2-PSK
Frequency Band: Dual-Band
Ports: 4 Ethernet
USB: 3.0, 2.0
Asus RT-AC68U or Asus RT-AC66U: Which Model Comes Out On Top?
There are many routers in the market, with each having different technology and unique features that will appeal to a wide variety of users. As a result, many brands have done their bit to keep up with changes to make their devices faster, more reliable, and stable.
The Asus brand is one of such companies and has developed its version of AC routers to cater to different requirements from users. Two routers reminiscent of Asus's efforts are the RT-AC68U and RT-AC66U.
These two routers are a drop of water in an ocean of routers. However, they represent the class the Asus brand stands for.
Both routers are classics in the networking world and stand out even among the fierce competition. In an Asus vs. Asus scenario, we have to state that the RT-AC68U is the successor to the RT-AC66U device. That means there'll be a slight difference between them.
The RT-AC68U offers some additional qualities compared to the RT-AC66U, but it all depends on your requirements and need. Sometimes, more means less for a user and vice versa.
Whatever the case, we can't let you decide without knowing all there is to know about them. To that end, here's a review of the two and how they stack against each other.
Pros
  Superfast speed and connection
  Standard dual-band frequency
  More ports for extra connection and file transfers
  Intuitive control and user interface
Cons
  No pre-installed configuration
The Asus RT-AC68U specs make it an ideal dual-band Wi-Fi router that is built for speed for users looking for a device that will elevate their overall online experience. To that end, it delivers up to 1900 Mbps data range and also comes with Broadcom's TurboQAM.
Following the footsteps of other top brands that have adopted the 802.11ac network technology ever since its inception in 2014, Asus refines the 802.11ac technology in the RT-AC68U model to meet the demand of modern-day users.
In addition to that, the router has an 800 MHz Dual-core CPU and comes with a smart multitasking facility which enables dedicating separate lanes for both Wi-Fi and USB data. That way, it restricts the decline in speed.
– Ports: Extra Connectivity Options That Keep Things Going
The RT-AC68U wireless router comes equipped with dual USB 2.0 ports and a single USB 3.0 port. These allow you to connect seamlessly with your external devices, with the faster 3.0 port notably delivering better results and allowing you to transfer files in real-time without losing sleep.
What's more, the router also comes with four Gigabit Ethernet LAN ports, making it easier for users to stream different content at a decent speed.
There's an LED on/off button, which helps because the lights don't blink.
– Frequency: Dual-Band for More Speed
Just as we have stated in the introduction, the RT-AC68U Asus router runs on 5GHz and 2.4GHz dual-band frequencies that combine to give you a maximum 1900 Mbps speed.
There's also a 1 GigaHertz dual-core CPU which enables smart multitasking by dedicating separate lanes for Wi-Fi and USB data. The network standard also helps to boost speeds across different tasks and functions.
– Security: Shut Out Intruders
When it comes to safeguarding your vital data online, you can't be too careful, as hackers and harmful websites are always lurking around, waiting for the perfect time to strike. That's why you get the WPA-PSK, WPS, WPA2-PSK protocols to keep you and others connected safe and secure while surfing the internet.
The router's parental control feature allows you to check on your kids' activities. It also helps you manage your network via your mobile device on the intuitive ASUS router app.
Other features on this router include the AiCloud, NVIDIA GameStream Ready, and AiRadar.
One thing we didn't like with this router is the somewhat recurrent glitch on the USB 3.0 port, which Asus later rectified in the 68P variant of its AC routers. Another thing about this router is that it doesn't come with a preconfigured network configuration. That makes it a bit challenging for first-time users to set up the network.
– Setup: Smooth and Easy
When it comes to setting up the RT-AC68U router for use for the first time, you will have no problem figuring it out at all. Everything is simple, smooth, and straightforward, thanks to the ASUSWRT web-based interface.

– Overview
If you want a user-oriented router that is easy to set up and control, then the RT-AC68U is your best bet. It appeals to the unique needs of modern users and allows you to easily manage your network from your mobile device while enjoying super-fast speeds and wide coverage.
Pros
  Affordable and easy to setup
  Speedy throughput performance.
  Four LAN ports
  Robust parental controls and malware protection.
Cons
  Middling file-transfer performance.
When you are in need of a stable and secure router to meet up with your unique needs or replace an old one, the RT-AC66U review will come in handy for you. The AC66U offers solid performance, a robust feature set, and an affordable price, including a USB 3.0 port.
It is equipped with about four LAN ports and offers built-in Trend Micro malware protection and user-friendly Quality of Service (QoS).
There's also a parental control feature that allows you to restrict unauthorized users, while the Asus RT-AC68U bridge mode serves as a DHCP server that helps to automate the device configuration process on IP networks.
It also helps that the router offers support for Asus's AiMesh technology, which lets you create a mesh network by mixing different Asus router models for a fast and stable connection.
– Frequency: Dual-Band Networks
Just like its sibling above, the RT-AC66U is another Asus router with a dual-band frequency designed to boost your online experience. The 5GHz and 2.4GHz frequencies combine to deliver 1750 Mbps speed.
There's also a 1 Gigahertz dual-core CPU like other AC routers here so that you can multitask by dedicating separate lanes for Wi-Fi and USB data.
The 3×3 802.11ac Wi-Fi technology boosts the Asus RT-AC66U range for wide, responsive coverage for large homes. The coverage area is said to reach about 3,000 square feet, which is a welcome development for users looking to squeeze more performance from their devices.
– Security: Designed to Keep You Safe
This Asus device lets you monitor and manage your network with ease from your mobile device. You can do that using the intuitive ASUS Router app.
Also, the WPA and WPA2 features are there to bolster your safety and security online, coupled with parental controls that help to prevent unauthorized access.
– Setup: Straightforward With Simple Instructions
An integrated USB 3.0 and 2.0 port enables printer sharing throughout your network coupled with remote file access with AiCloud 2.0 support.
Notably, the RT-AC68U is also very easy to set up, even for first-time users. Just follow the detailed instructions, and you are good to go.

– Overview
If you need a budget-friendly dual-band router that is easy to install, feature-packed and delivers solid throughput performance, get this RT-AC66U device.
RT-AC66U vs. RT-AC68U Head to Head Comparison
The main difference between RT-AC66U and RT-AC68U is, RT-AC68U is a lot more durable, offers better performance and comes with a dual-core Broadcom BCM4709 chip.
Design
The RT-AC68U is the successor of RT-AC66U, so there aren't significant differences in terms of design. As a result, the RT-AC68U looks almost identical to the RT-A66U.
The RT-AC66U features a stylish exterior with a carbon fiber feel and is covered with a diamond-like pattern. If the three antennas that pop up from the back were absent, you would mistake it for a jewelry box.
The RT-AC68U takes the same shake pattern, although it feels a lot bolder. But the main difference is the non-detachable base.
While the RT-AC66U isn't fragile, the RT-AC68U seems to be a lot more durable. The vertical positioning also makes it occupy less space than it would otherwise. Moving from that, our review team liked the minimalistic approach of both routers, but the RT-AC68U is a little bigger.
Both routers have three detachable antennas, each of which often has a bearing on your signal and range. On top of the RT-AC66U, there are LED status lights for power, as well as the four LAN ports, WAN port, and the 2.4GHZ/5GHz radios and USB 2.0 ports.
For the RT-AC68U, the status lights are positioned in the same place and are similar, except for the different status LEDs for the USB 3.0.
Hardware
Many people aren't fixated on the design since what's inside can make a lot of difference. In the RT-AC66U, we're introduced to a single-core Broadcom BCM4706 chipset (600 MHz) alongside a Broadcom BCM53125 switch, 256 MB of RAM, and 128 MB storage memory.
With that hardware, expect Ethernet speeds to peak at 450Mbps while on the 2.4GHz radio band and 1.3 Gbps while using the 5GHz band. They all add up to the stated AC1750.
For the ASUS RT-AC68U, you get a better-equipped router that draws its power from a dual-core Broadcom BCM4709 chip that runs on an 800MHz ARM Cortex A9. The 256MB DDR RAM and 128 MB flash memory are also built-in to complement the router's performance when it matters most.
As a result, the RT-AC68U delivers a maximum speed of 600 Mbps on the 2.4GHz radio band. You get no more than 1300Mbps on the 5GHz band. That leads to the combined 1900 Mbps.
The RT-AC68U has a dual-core CPU, and the BCM4709 chipset has TurboQAM technology, which makes sure that each 2.4GHz spatial stream gets improved speed from the common 150Mbps to 200Mbps. That makes it more powerful.
Performance and Connectivity
Our Asus router comparison points to the fact that the RT-AC68U will do a lot better. Every measurement shows it has more in stock.
For example, it's superb at a maximum of 518 Mbps at 15 feet, using the 5GHz band. On the 2.4GHz band, the RT-AC68U will deliver 205 Mbps at 15 feet and a maximum of 170 Mbps around 100 feet.
The results are clear, and still, there is so much more the RT-AC68U offers. Unlike the RT-AC66U, you get the built-in 3×3 MIMO (multiple-input and multiple-output) technology and the ASUS AiRadar TX Beamforming.
With this tech, there's more focus on the router signal and sending the same to your clients in a straight line. That way, the router minimizes the interferences and increasing the signal strength. However, these two features are better suited for AC-compatible devices.
Router System Setup
The Asus brand has a reputation for being clean, stylish, and an overall easy-to-use interface. These two routers are easy to set up and have a high-quality interface. The interface is organized into three sections: the Setup Wizard, the General Settings, and Advanced Settings.
You can make changes to different aspects of the router from the setup, including the Traffic Manager (QoS), the Parental Controls, the Guest Network, and much more.
Overall, you will have no regret getting these two amazing routers up and running without going through the stress. Also, the RT-AC68U has a similar interface and the same features as the previous model, but it has a great UI. You also get the exact Network Map, Parental Controls, QoS features, AiDisk, and AiCloud features.
Conclusion: Which One Should You Get?
From all indications, the Asus RT-AC68U is the superior router. It's a smashing router right from a hardware point of view to the design and performance.
Even though you won't use every aspect of it, the router gives a great experience using VPN and QoS. The RT-AC66U is a fantastic device, but if it were so great, an upgrade in the form of the RT-AC68U wouldn't be needed.
On the whole, the two routers deliver a stable Wi-Fi signal and perform well over a wide range. We think any decision will be based on how much you can spare for either device. If you desire a budget-friendly option, then the RT-AC66U fits the bill. On the flip side, the RT-AC68U is a clear upgrade and posts faster speeds than the former.