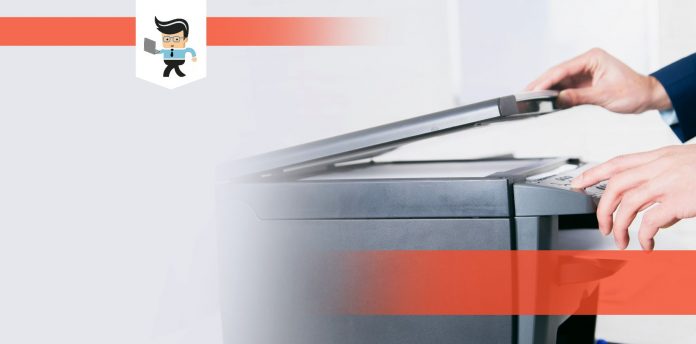 The HP Officejet Pro 8710 printer offers many useful features. Are you printing essential documents or photos? You need to know if this printer will deliver. In this article, you'll find out what the HP Officejet Pro 8710 is all about.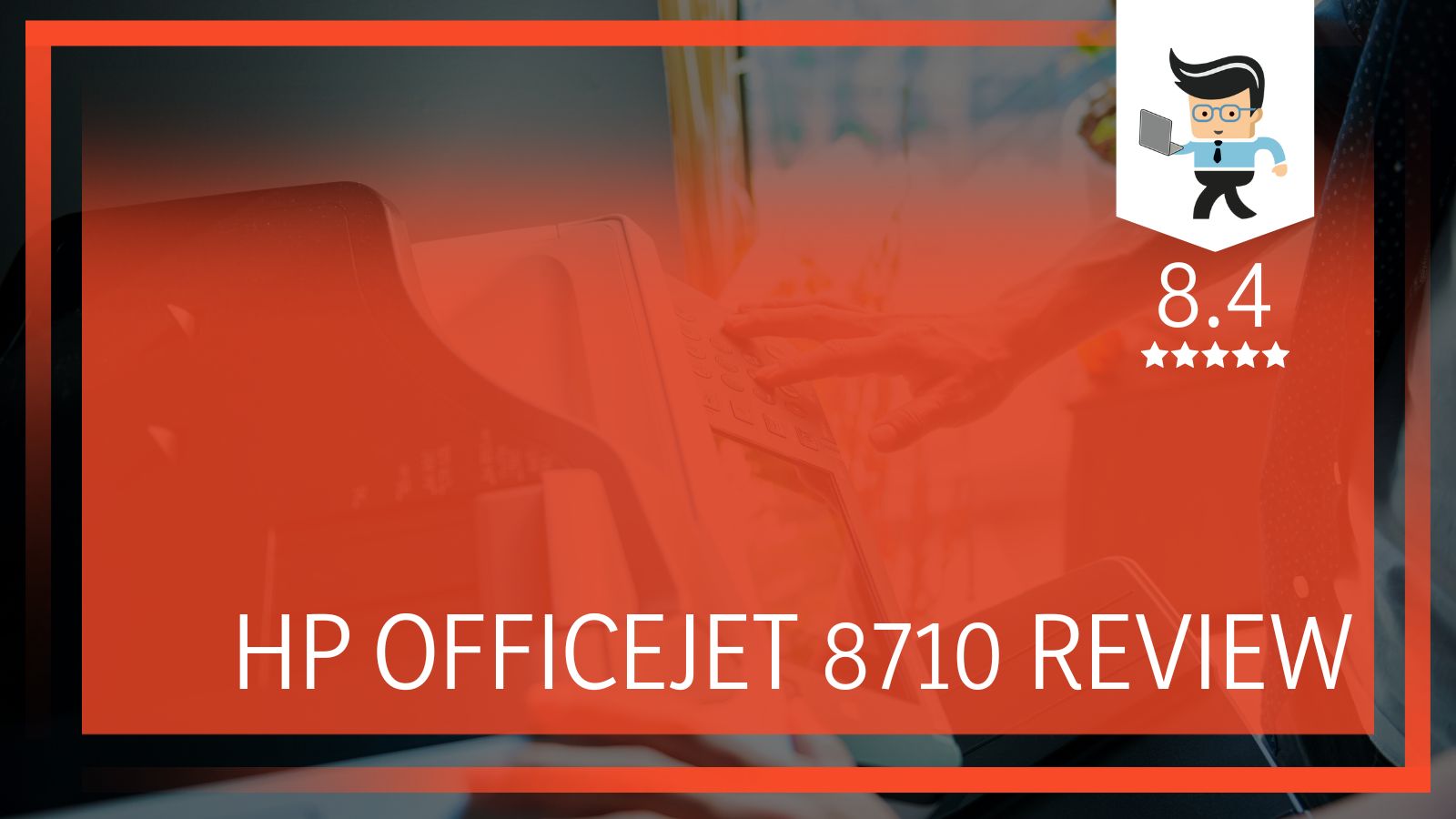 This HP 8710 printer review will show you what you need to know about this fantastic device.
HP Officejet 8710 Key Criteria
PROS
HP JetAdvantage Private Print
Quiet mode
Auto 2-sided printing
Instant ink available
CONS
No second paper tray
Complex user interface
This HP Officejet Pro 8710 is a printer with several features that will serve you in many settings. Special features that the HP Officejet Pro 8710 will give you are in the list below:
HP Officejet Pro 8710 Specs and Highlights:
• Smartphone and tablet printing
• Print speeds of 22 ppm black, 18 ppm color
• 2.65-inch color touchscreen
• 1200 dpi optical resolution scanning
– Smartphone and Tablet Printing
As a wireless all-in-one printer, you can print to the HP Officejet Pro 8710 from smartphones and tablets. There's no need for cords or cables to connect, and multiple users can be anywhere and print from their devices.
To print from your mobile devices, you need to have an app that lets you connect to the printer. You can print from your Android mobile devices using the free HP ePrint app.
If you have an Apple device, you'll need to download AirPrint. ePrint lets you regulate the scanning and printing activity in your printer. You can have an overview of all the printer ongoings in your office without having to do it on the device.
Often, you won't be right by your computer when you need to print something as fast as possible. This feature allows for convenient printing that serves you well, but when only your phone is near.
Another perk of this feature for people with kids or roommates is that they don't have to wait to use your computer. They can connect and print from their smartphones and tablets. You can print from the HP Officejet Pro 8710 from anywhere in the world once you have an internet connection.
– Print Speed of 22ppm black and 18ppm color
The printing speed is an important feature to look at in the HP Officejet Pro 8710 specs. This printer can print up to 22 pages per minute in black and white and 18 pages per minute in color. That's an impressive number for a home printer, and it's also pretty good for an office printer.

The printing speeds aren't deterred by the size of the paper, either. It supports legal-sized papers, envelopes, and more.
In several HP Officejet Pro 8710 reviews, it's praised for its ease when it comes to printing labels. If you're starting a small business selling, let's say, cookies and want to label your packages, this printer offers what you need.
– 2.65-inch color touchscreen
The HP Officejet Pro 8710 has a touchscreen that displays in color. Most competitors display only a monochrome screen.
The 2.65-inch touchscreen provides a variety of functions. You can access shortcuts that let you manage the settings of the HP Officejet Pro 8710. This touchscreen lets you manage your printing, scanning, faxing, and copying.
You can also hook up a USB to its USB 2.0 ports and print, copy, or transfer files to your flash drive.
One of the features includes printing pre-customized pages from website apps. If you're a sudoku or crossword fan, this printer can fuel your fun by printing pages ready for use. If you need graph paper to plan out your new fence, you can print the template out too.
We don't recommend the HP Officejet Pro 8710 as your first printer. It has a complicated user interface that's laden with features. Less proficient customers may find it overwhelming or confusing. It requires someone familiar with printers to handle it with ease.
The printer also runs into the problem of being too efficient. The cartridges print thousands of pages. Consumers who print one or two pages per week will hit the drawback of cartridges drying out. They won't realize any savings. The cartridges' efficiency doesn't matter if they dry out because you'll be throwing money away.
– 1200 dpi Optical Resolution Scanning
The HP Officejet Pro 8710 has a quality scanner of up to 1200 dpi optical resolution. The scanning of this printer is very efficient. It gets rid of blank pages and saves you from paper wastage. Do you often use the printer and want to manage your paper usage? Once managed, paper wastage will be one less thing for you to worry about.
Compared to laser printers, HP 8710 cost per page is 50% lower. So, the features of this printer save you money on paper as well as ink. Borderless printing allows you to maximize your paper usage by using the whole page.
The HP Officejet 8710 lets you scan to email as well. If you do digital work, you'll be able to transfer it without a hitch.
There's a 50-sheet automatic document feeder for copying and scanning. You can scan or copy several pages without standing in front of the printer and doing a manual feed.
– JetAdvantage Private Print
Since printers usually pop out pages at once, privacy is something to keep an eye on. JetAdvantage Private Print secures your data in the HP Officejet Pro 8710. It's a free cloud-based feature that allows you to store printing data until it gets validation. You can validate it at the device, like a card that proves authentication at the printer.
If you work with sensitive data that need to be private, JetAdvantage Privacy Print is for you. It will ensure that you only print pages to those you intended. You manage access to print those confidential documents as you choose. JetAdvantage isn't as useful if you're looking for a home printer unless you're trying to hide a birthday card you made.
– Quiet Mode
All the inner workings of a printer can cause noticeable sounds. The HP Officejet Pro 8710 has a quiet mode. You can activate it through the control panel touchscreen. You can schedule it to start whenever you choose.
Are you busy working late and still need to use the printer? You can activate quiet mode to avoid disturbing someone. If you're at home printing something late, this feature will serve you well, too.

The HP Officejet Pro 8710 is sturdy and long-lasting and can take processing day in and day out. This is a hefty printer with a dimension of 16.5 x 19.7 x 12.4 inches. Its bulk takes up a considerable amount of space. If you're looking for a printer that goes unnoticed in a small home, you should look at smaller models HP has to offer.
– Instant Ink
HP offers the Instant Ink subscription service that provides ink for your printer. When it detects the levels are low, it has ink delivered. This service will save you money in the long run since Instant Ink comes with discounted pricing.
Regular printer-users don't have to worry about running out of ink while printing papers. Instant ink will keep you stocked. You get to save time and stress by avoiding having to run to the store in the middle of a printing job.
With an ink palette of cyan, magenta, yellow, and black, the HP Officejet Pro 8710 has four cartridges. You don't have to restock all the ink at once but can replace the individual ones that are low. Instant ink has many plans to accommodate your preferences.
– 2-Sided printing
The HP Officejet Pro 8710 has a 2-sided automatic document feeder. Both black and white and color can print double-sided, letting you save paper and money. The HP Officejet Pro 8710 enables double-sided printing by default. You have to manage the settings if you want it to print single-sided pages.
The double-sided printing also works with faxing and scanning. It gives you loads of flexibility with printing double-sided. But the downside to 2-sided printing is that the printing speed of the HP Officejet Pro 8710 cuts in half. Single-sided printing has a rate of 22 black ppm and 18 color ppm. Double-sided printing performs at 12 black ppm and ten-color ppm. It's a much slower speed, but it still gets the job done in a decent time.
Conclusion
Whether you're in the office running off some documents or at home printing photos, you need a printer that will deliver. This printer has the capabilities that you need. It also has a variety of features that give you freedom in your printing. This all-in-one printer review recommends this printer for homes and modest offices.
If you're buying your first printer, we recommend you look elsewhere. The HP Officejet Pro 8710 is harder to manage if you're not used to working with HP printers. So are you looking for a printer with double-sided printing in all colors? This wireless all-in-one printer is for you.