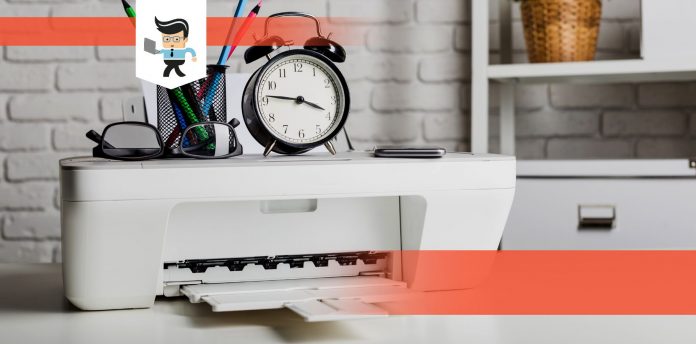 This is a Canon MF733Cdw review, where we will show you why this printer is a standout. We class it as a reliable printer that can do its tasks and work well for long periods with no significant problems.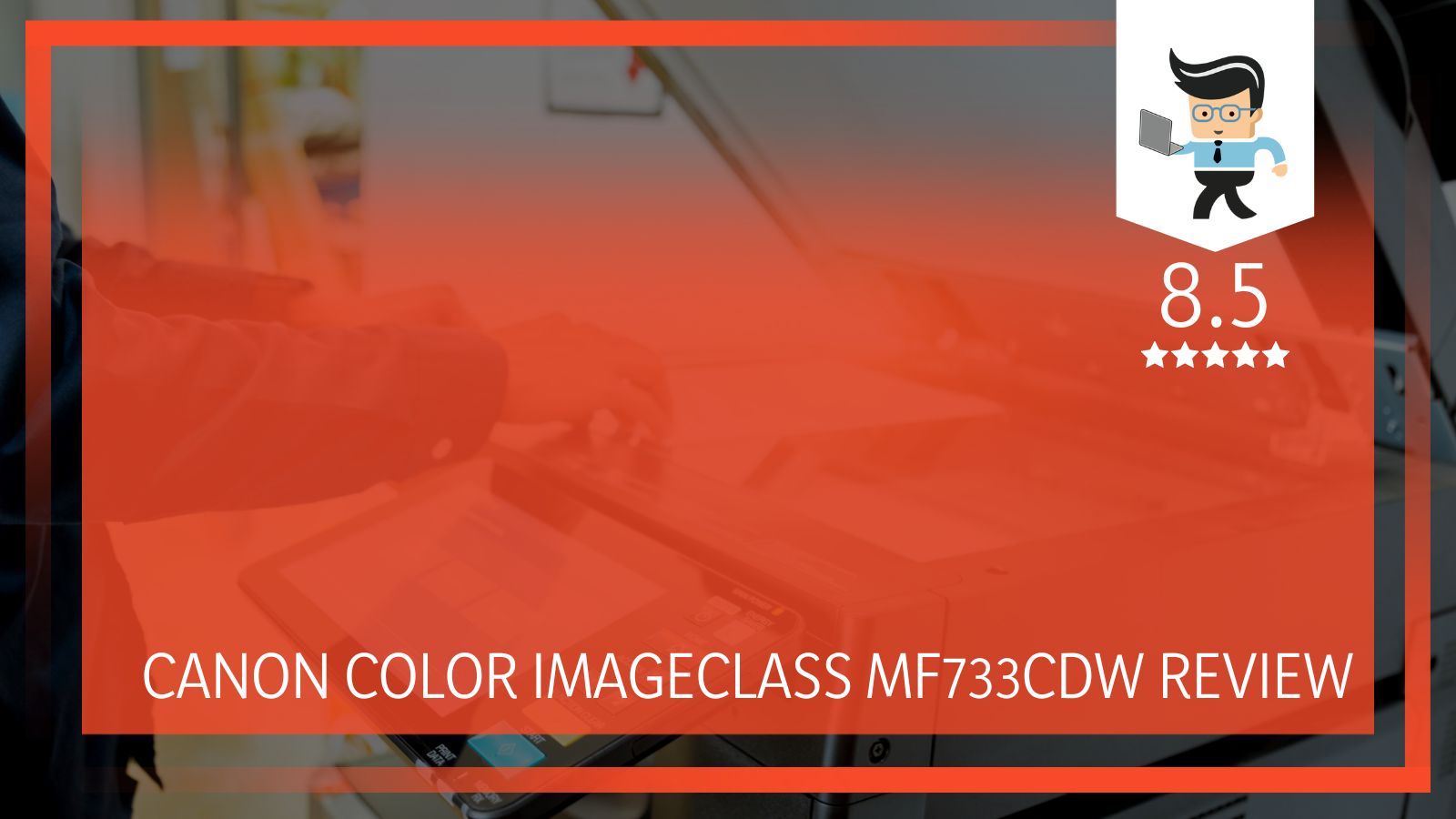 The MF733Cdw is perfect for people who need a dedicated all-in-one (AIO) printer. We'll show you why the Canon imageCLASS is dependable and how well it performs.
Product Highlights
This laser color printer works well for small work teams and is a beneficial asset for any office. In this printer review, we'll take you through the Canon MF733CDW setup. Here are some of its features:
• Mobile printing capacity
• Fast production system
• Single-pass duplexer
• High capacity toner
Canon Color imageCLASS MF733Cdw Key Criteria
PROS
Excellent Print Quality
High-Quality Scanner
Easy Setup
Energy Efficient
This laser printer works best for small teams and is a convenient asset in your office. It's not for commercial use. Canon did not design it for large workloads.
This machine has an interactive screen, which shows you the different actions you can command. In this Canon ImageCLASS MF733CDW review, we've already shown you the pros and cons of this printer. We'll now take a look at its features so you can see if it's what you're looking for:
– Mobile Printing Capacity
The Canon imageCLASS has incredible connectivity features. This all-in-one printer won't restrict you to desktops and laptops for printing because you can access it from your mobile devices. Canon has fitted it with its signature direct Wi-Fi feature. This feature will allow you to link it to your smartphone and start printing without using a router.
The printer also will not tie you to one operating system. It can sync with several operating systems, ranging from Windows to macOS.

You can connect to a PC with a USB cable or your network cable either with an Ethernet cable or Wi-Fi. You can also install Canon's app on your tablet or smartphone. It's another option for printing over your Wi-Fi network.
If you have an Android smartphone, you can use Google's Cloud Print. It also has Apple AirPrint for iPads and iPhone. So, it supports diverse mobile interfaces. It's easy to pair your smartphone with it to start printing.
– Fast Production System
Most people enjoy using this printer because of its speed. It can yield up to 28 pages per minute. It spits out the first page in nine seconds. Thus, it can serve the entire office without problems. You won't have an endless wait for other persons to finish printing before you can go ahead.
Nobody likes a complicated printer that's difficult to install. Trust us. You don't want the stress of installing drivers and other software, especially when you have print jobs waiting in the queue. For this reason, you'll be happy to have this all-in-one printer. Canon MF733Cdw setup is easy because of its very responsive interactive display.
The monthly volume of the MF733Cdw is up to 4000 pages. It can manage a large workload.
You don't have to be an expert to handle Canon MF733Cdw. Anybody who has any prior experience of using a printer will see that it's a cakewalk.
Another nice thing about this printer is its energy efficiency. There's no point in buying a printer with high power consumption. Such a printer will make you wind up paying more for electricity in the long term. That's why we love the Canon MF733Cdw image CLASS printer. It consumes very little power compared to similar printers.
This all-in-one printer only consumes 520 watts when working and 20.6 watts when on Standby. It uses only one watt in Sleep Mode. These numbers are reasonable compared to other printers in the same class.
– Single Pass Duplexer
Are you accustomed to using older machines? Maybe you've noticed that for double-sided printing, the paper had to run through the machine twice. With this laser printer, it only needs to go through once. It will print all sides with no loss of quality. This feature is timesaving, and, for a business, time is money.
The machine stops printing if the black ink runs out: you can't set it to use the remaining color ink. The primary paper tray has a capacity of 250 sheets, which is generous. The second input tray holds another 50 sheets. To use this tray, you open the front panel. There's also a space between the flatbed and the primary paper tray. This space is the output tray, and it holds 75 sheets.
Are you curious to know what quality your scan will be? Rest any document on the new printer's flatbed and see the quality and attention to detail for yourself.
Do you like having a long wait before your scan goes through? The scanning process on the Canon MF733CDW is much swifter than with most printers. It also gives you an exact reproduction of the source document. The resulting image is always clear and accurate.
The printer can scan or copy an area up to 8.5 x 11.6 inches. It comes with a 50-page automatic document feeder for printing or scanning a stack of pages. It includes OCR (Optical Character Recognition) software. This software makes scanned documents editable in a word processor program.
The imageCLASS has fax capabilities built-in. If your paper runs out, it can save incoming faxes. It can also send out faxes from a connected PC.
The three-year warranty on this printer convinced us that it's durable. You won't have to stress yourself if it needs repair during the period under warranty, once it's something that's covered. The warranty can tell the story of the printer's durability. It's a testament that once you take care of this printer, you'll have it for a very long time.
On the downside, the printer is bulky, so you can't change its position on a whim. It's a two-person job to move it. The display protrudes and takes up some room as well. The touchscreen display is five inches.
This printer measures 18.8 x 18.8 x 18.4 inches, and you'll need clearance at the top to open the lid. Unlike other printers, it also takes up a great deal of space.
Another downer is that the printer is loud. Once you buy it, you'll have to cope with noise whenever you send it a print job.
– High Capacity Toner
The Canon image CLASS MF733Cdw uses laser technology for printing. It picks up powdered toner on a roller and fuses it to the paper with heat. As we've come to expect from a laser printer, its text quality is outstanding.
Printing uses up a lot of toners, and as you print, the costs add up. The toner cartridges on this printer last a long time – around 32 months – if you follow a typical printing schedule. You should know that printing costs around 6.8 cents per page. For color prints, the price per page jumps to 35.8 cents. We estimate the running costs to be close to $1000 after two years of typical use, very high for a color laser printer.
Canon Color imageCLASS MF733Cdw toner options are plentiful. Canon's signature toner enables this printer to generate high-quality color prints. It uses cyan, magenta, yellow, and black cartridges, like most laser printers.
Who doesn't love quality prints? If you're printing an image, you'll see all the details that the picture has. We know that it's not only the central image that's important; the details matter too. If you're looking for print quality, then the Canon MF733CDW printer will astound you.

The printer produces incredible color and black and white prints. It gives you what you want without the worry of ending up with unclear images. The black and white pictures are also visible and crispy clear.
These high-quality prints will be perfect in an office environment, and both staff and clients will be more than happy. They will now have visible, well-printed, detailed documents!
– Canon MF733Cdw Specs
Canon MF733cdw Software

Specs

Bundled Software

Printer, scanner, and fax drivers, network scan and MF scan utility, Toner Status, Address Book tool

Printer Specs

Speed

Resolution

Up to 28 ppm (BW & color)

Up to 600 x 600 dpi, up to 1200 x 1200 dpi

Copier Specs

Speed

Resolution

Up to 28 ppm (up to 23 ppm for duplexing)

Up to 600 x 600 dpi

Scanner Specs

Resolution

Up to 600 x 600 dpi (optical), 9600 x 9600 dpi (software interpolated resolution)
The Canon MF733Cdw software comes on a DVD. Once installed, you will get the necessary app and drivers. Then you'll be able to use the printer, copier, scanner, and fax without any problems. You also get an electronic user manual and OCR software.
Conclusion
The features are great, as shown in this Canon MF733Cdw review, and the printer works well. You will like its speed, durability, and print quality. The printer works best for an office environment, as shown in this review. It's overkill for a home setup, and commercial use will overwork it.
This printer has low running costs, plus there's the auto-duplexing automatic document feeder. These features make this printer even more attractive. We love the MF733Cdw, but the only downsides are its loudness and bulkiness.