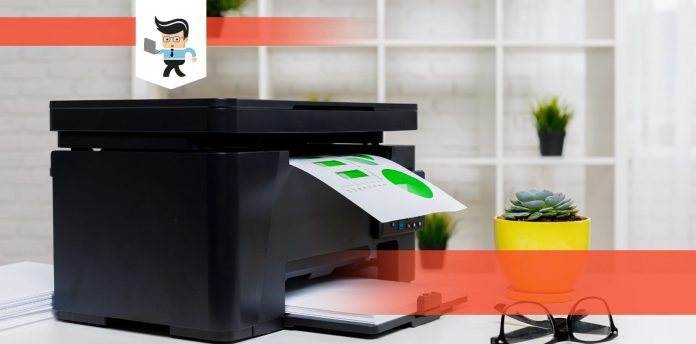 The HP Officejet Pro 9015 is versatile. In this review, we'll show you why this multifunction printer is the go-to machine for most users. Despite its small appearance, it's chock-full of handy features that will help you get the most out of your printing experience.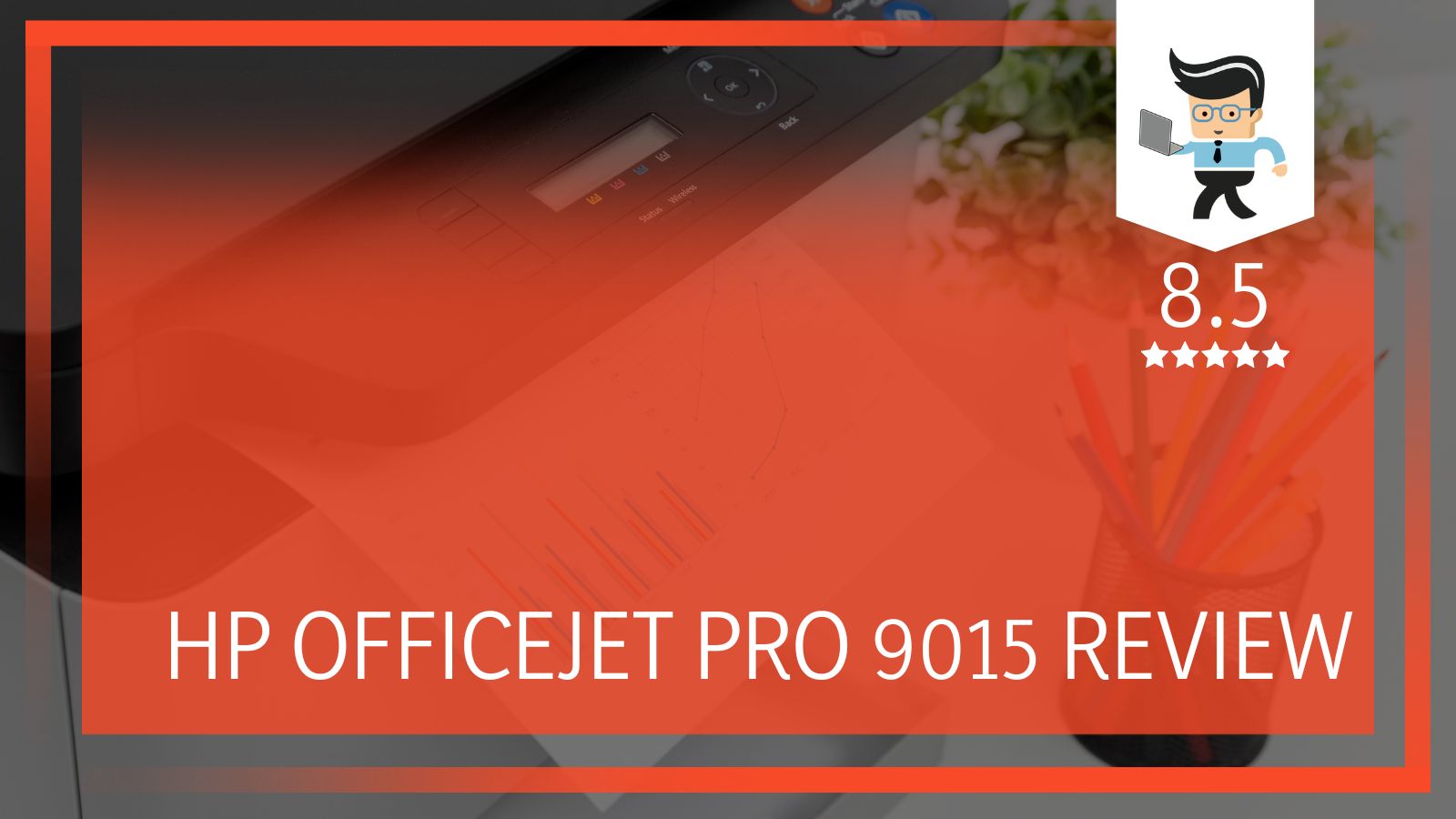 Its cost-per-page ratio for both color and black and white printing is excellent, and the cartridges will produce a large number of prints before you have to change them.
Product Highlights
The Officejet 9015 is excellent for use as a family printer. Its flatbed scanner is ideal for scanning old photos. The automatic document feeder (ADF) is perfect for your tax documents. It offers:
• Sturdy build and design quality
• Excellent cartridge yield
• Time tested scanning and printing software
• Excellent printing quality
• First-class connectivity
HP Officejet Pro 9015 Key Criteria
PROS
The fast print time for photographs and color documents
The excellent cost-per-page ratio for colored and black ink
The automatic document feeder
CONS
So-so color accuracy
Only one paper input source
– Sturdy Build and Design Quality
The Officejet Pro line is a series of all-in-one (AIO) inkjet printers. HP designed them to bridge the gap between photo and document printing. They print excellent pictures and can also roll out large quantities of documents.
The Officejet 9015 has a compact gray and white plastic body that feels durable. HP designed this all-in-one color printer for light-to-medium duty use in micro offices and small workgroups. It prints well at a good pace. Plus, you get the convenience and productivity features small offices need.
As its name suggests, the Officejet Pro is an all in one printer. So, it can scan, copy, fax, and print your documents. Over the last few years, HP has made several performance tweaks. They've strengthened the essential features of this printer.
If you want to scan large objects, you can lift the lid on the flatbed. Be careful, though. If you overextend the cover, it will come off the hinges and uncover wires. As long as the hinges remain aligned, the scanner should close without a problem. Sometimes users have difficulty getting the hinges in place. It can also be challenging to open or close the front paper tray.
On the positive side, it's easy to access the ink cartridges by opening the cover. You can also clear paper jams by lifting the top of the scanner lid.
The HP Pro 9015 has exceptional scanning features. Its flatbed scanner is suitable for fragile items like old photos or large objects such as books. The automatic document feeder is excellent for scanning paper documents such as forms. It can process up to 35 pages in a row, and the duplex scanning is a nice touch. It will fit typical letter formats, but it isn't large enough to scan tabloid pages or legal documents.
This multifunction printer has an adjustable tray that can support most paper formats. Thus, you can print on letter, legal, A4, A5, and A6 paper. You can also print on 4 x 6 and 5 x 7 photo paper. The Officejet 9015 also supports glossy paper, matte brioche, and thick paper.
The printer's dimensions are 10.9 x 17.3 x 14.8, and it weighs 20 lbs. before you start stuffing paper inside of it. It becomes bottom-heavy once you load it. When you pull out the tray, the dimensions increase to 10.9 x 17.3 x 20.5. It's suitable for small spaces like home offices or dorm tables, but it's bulkier than most compact printers.
The Officejet 9015 has an excellent color touchscreen. It's much like that of other HP printers. You can do a vertical tilt so you can see it from most angles. It has responsive touch controls that are easy to use, and they offer audible feedback. The control panel does not have navigation keys or other supporting buttons.

At 2.65 inches, the panel is somewhat small. This little display is intuitive and bright, but some icons are too small for some users to swipe or tap. You may know what to expect if you've used one of these displays on a printer or scanner before.
There's good news. Most of the programs on the control panel are also accessible via HP's embedded web server. So, you can also use your computer or another device to control the printer. You can also use the webserver to generate reports for analyzing paper and ink costs. There's also a report for measuring usage.
– Excellent Cartridge Yield
The Officejet 9015 has a unique cartridge system. You'll be able to get about 1200 black prints or 575 color pages before you need to change them. You can get a high-yield cartridge if you still need more ink. It will further extend the number of pages you can print. The maximum monthly duty cycle is 25,000, with a recommended volume of 1500 pages. This figure places the 9015 at the high end of printers in its class.
Better still, you can get an HP Instant Ink subscription. Then, running out of ink and then neglecting to buy replacement cartridges won't occur. Once your printer warns you that you're running low on ink, it will order you that particular cartridge. This printer uses one black cartridge and three color cartridges. When you have a subscription, this versatile printer becomes inexpensive to run.
All four of the major manufacturers of inkjets offer similar discount ink solutions. If you do enough printing, all four options will save you money on the per-page price of ink. A high-level subscription to HP's Instant Ink costs only around twenty dollars per month. Printing costs around 2.9 cents per page for both black and color prints.
Compare that to buying even high-yield cartridges. Each monochrome page will cost 2.2 cents, and color pages will cost 8.8 cents. With a subscription, every page will cost the same. Instant ink delivers the best value with content-heavy, colorful pages. You can subscribe to HP Instant Ink for as little as $2.99 per month, but that will give you only 50 pages.
We compared the 9015 to other printers in the Officejet lineup. The 9015 has an outstanding cost-to-print ratio. This machine is a great choice when you've got loads of forms or papers to print out. Why? Because it's so inexpensive to print black text documents. Color and photo prints are also cost-effective.
The prices of both color and black ink are reasonable compared to the cost of the printer. Most inkjet printers continue to use color cartridges for servicing tasks. So, remember that even if you only print in black, you'll still need to replace the color cartridges from time to time.
– Time-Tested Scanning and Printing Software
An AIO printer is not always necessary. Yet, it may make perfect sense, depending on your circumstances. Do you have a school-age child? Does much of your work call for scanning and copying? Then the Officejet 9015 is your best option. It works with several different devices and is easy to set up and cheap to run. Plus, it produces beautiful scans and prints.
Take a look at the hardware inside this machine. You'll see that it is precisely like that of the older generation of printers. For example, it can store 512MB of data. With that much memory, your printer can store hundreds of pages, even if they have images in color. But it also has the same capacity as printers from ten years ago. It's the same for the printer's processor and several of the other primary components.
The Officejet Pro works best for users with constant printing needs, even if it's only a few sheets per week. If you can go for weeks without printing anything, this printer would be overkill.
The 9015's printing speed is incredible. The first page out time is 13.4 seconds, and black text prints at 22 pages per minute. Color documents print at 18 pages per minute and photos at 45 seconds. Its output is much faster than that of many other inkjet printers. It will even churn out full-length reports faster than some of its all in one laser printer counterparts.
Color often lags far behind other types of documents. So, having similar speeds between the two is impressive. You can print on draft quality if you need something even faster. The quality is good enough for personal documents, and it will get you your prints as quickly as possible.
You may be wondering how much paper can fit in the 9015. Its input tray holds 250 sheets and the output tray holds 100 more. That's still before you look at the 35-page ADF.
HP made the 9015 with a fantastic set of copying and scanning features. We've already mentioned the automatic duplex scanning and printing, which saves both time and paper. The scans have standard formats, for example, PNG, JPG, TIFF, and PDF. It's user-friendly and intuitive. No sudden roadblocks will show themselves while you're doing your work.
Another superb feature of the scanner is the slide-off glass. It's easy to move documents in and out because HP laid the flatbed glass flush to the edge of the scanner. No more having to dig your fingernails into the page corner trying to pick it up.
The fax transmission speed is about four pages per second, and it can store about 100 pages in memory. Faxes have a resolution of 300 x 300 dots per inch, which already existed twenty years ago, but it's pretty fast. So, it's safe to say that the fax feature has not improved. Yet, it's still as reliable as one can expect from an HP AIO printer.
– Excellent Printing Quality
The Officejet 9015 has excellent photo printing quality. Colors are vibrant when printed on HP Advanced Photo Paper. Plus, there's no banding on the grayscale palette. Shadow areas are not very defined, but details show up well.
When it comes to regular printing, the 9015's color accuracy is so-so. This printer might not be adequate for those who need accurate colors for their work. These images are not quite consumer-grade photo-printer quality. Still, they're okay for most in-house business reports. You can even use them for some external purposes.
For black text, the print quality is near-perfect, rivaling a good color laser AIO printer. You won't see any of the fuzz sometimes related to fonts printed in ink rather than toner. The characters are legible and well-shaped, even at small font sizes. Thus, the text is adequate for even the most demanding business applications.
Prints done in black ink have a resolution of 1200 x 1200, and you get 4800 x 1200 dpi for color prints. Both figures are average and comparable to other inkjet printers.
– First Class Connectivity
This wireless printer has several connectivity options. You'll be able to connect to your devices using your Wi-Fi network via your router. Or you can use HP's Wi-Fi Direct feature. Wi-Fi Direct is a peer-to-peer network protocol. It's for connecting your mobile devices to the printer without the benefit of a network.
The Wi-Fi Direct is safe. The printer also has a secure boot and self-healing Wi-Fi. Security on the Officejet 9015 also includes a built-in firewall for controlling unwelcome traffic. Plus, you can lock and password-protect the embedded web server and the control panel. The 9015 allows you to scramble embedded web server information with SSL certificates. It's like most other business printers in this regard.
The printer doesn't offer a Bluetooth connection. Android users can connect from their mobile devices using Mopria Print Service. For iOS, you can link to it through Apple AirPrint. HP has made several improvements to how the 9015 supports mobile printing. They've also been advancing some of the best in class security features, which can be a big deal for people interested in protecting the data.
Not all these features are business-oriented. Almost anyone can appreciate a Wi-Fi network that heals itself. Such a network solves problems even before you even know you have them. It remains alert and is always in search of connectivity problems. It's perfect for staying connected to a network without running into any speed bumps. These features can help you save time, which is what the HP 9015 does best.
You can plug this printer straight into your computer's USB port. There's also an Ethernet port. This printer has a USB input on its chassis' left side, which is nice if you want to print files from a thumb drive.
The 9015 uses the HP Smart App, which provides drivers and a standard interface. It's for connecting and managing the new breed of HP printers across several platforms. Smart App allows you to start printing and scanning and make full use of the 9015 wirelessly. Now you can print stuff from social media. You can also send and receive prints directly from Cloud services like Dropbox.

With the app, you'll be able to scan and print both PDF files and photos from your phone. It's available for iOS, Android, Windows, and macOS. You'll also be able to scan with your phone's camera and send it to the printer, as well as manage your ink subscription.
The Smart App is intuitive. Still, it takes some digging if you want to try doing something advanced. You'd have to run through the different configurations and set up your print task the way you want it.
HP has come to the rescue with "smart task shortcuts" to help speed you along with jobs like those. These shortcuts work by merging individual settings into one macro key. For instance, suppose you need to print some unusual-sized envelopes. Let's say you have to do so regularly. You may need to configure the machine to get the settings just right. Now you can print all your subsequent sets of envelopes by pressing one button.
The Officejet 9015 performs just as well as any other new HP printer when it comes to wireless connectivity. With its dual-band, wireless access, the intuitive app opens the way for many mobile users.
The Officejet 9015 is not the solution if you want a cheap, simple printer. HP built this machine to a higher standard for small business owners. The 9015 has plenty to offer if you're looking for a reliable printer and that can save you time. It carries a warranty of one year from HP. The manufacturer provides round the clock online and phone support if you need a technician.
Conclusion
We disliked was the fact that the Officejet 9015 has only one paper input source. The 9015 otherwise prints well, it's fast, and its running costs are reasonable. If your small office's copy and print requirements are modest, the 9015's performance is reliable.
This versatile machine is the premier all in one printer for small business and home office use. It can help you keep up with the demands of your print schedule. It also presents your papers in style, regardless of what you're printing.