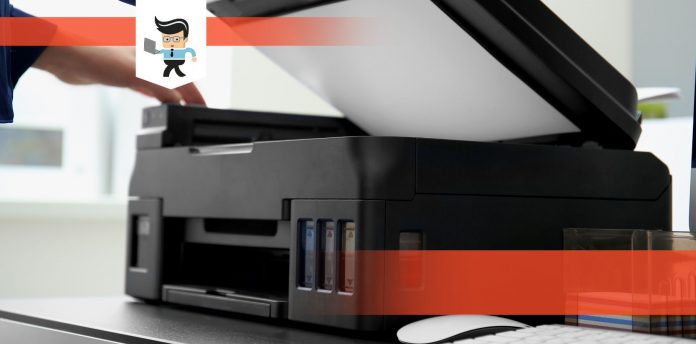 Although the Epson Perfection v370 is not flawless, it's a pretty good scanner. The use of the word "perfection" in the product name already sets the bar high.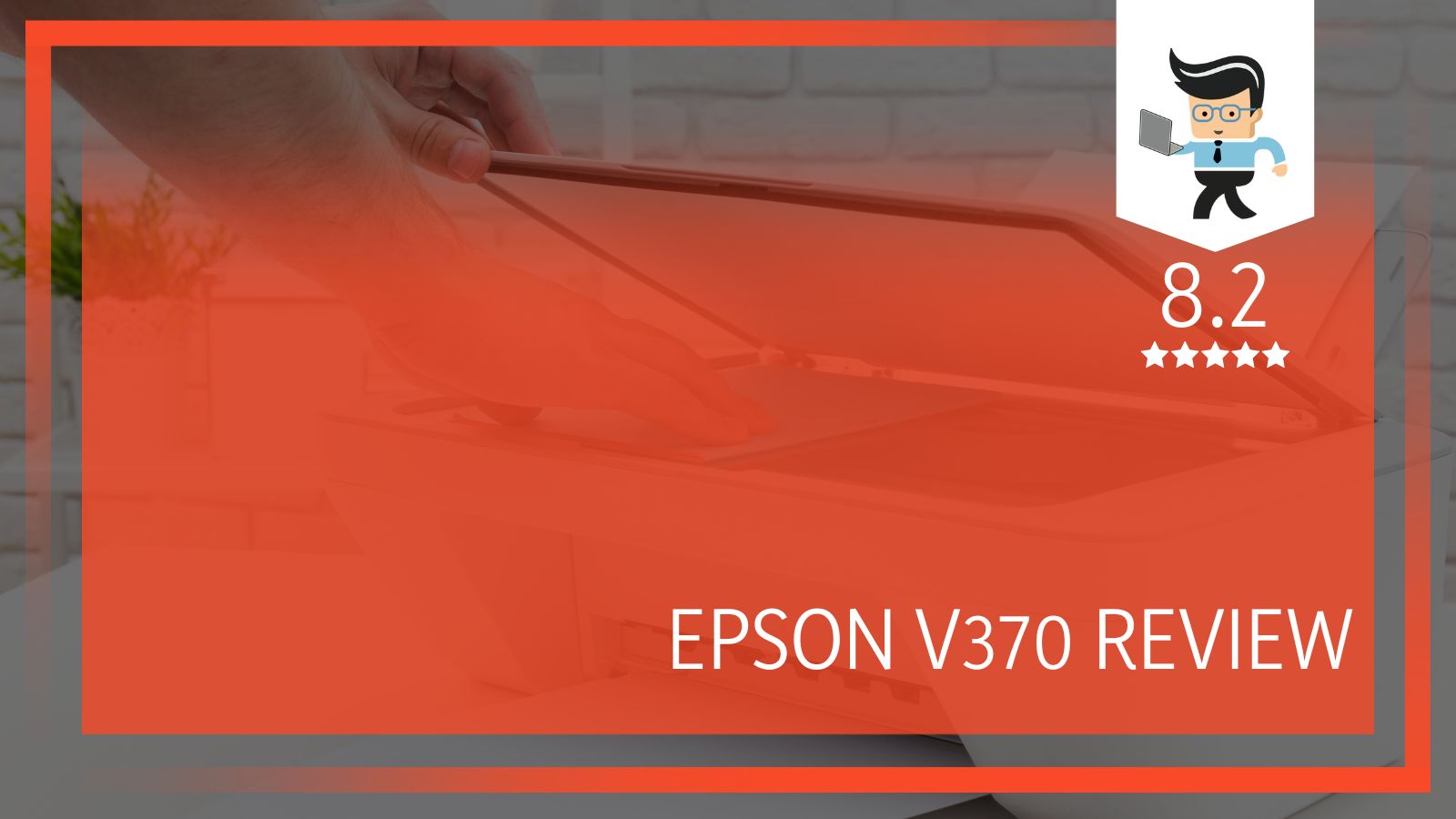 In this review, we will show you why this scanner is an excellent buy. Continue reading for full details, including pros and cons, and a product review.
Product Highlights
This Epson v370 scanner review provides detailed and essential information. You'll learn all about the features of this flatbed device. Here are its features:
• Resolution: Main 4800 x Sub 9600 dpi
• ReadyScan LED technology
• Extendable lid
• Optical Character Recognition
• Epson Document Capture
PROS
Can convert a scanned document into editable text
It changes the scans to .pdf documents or emails
Affordable price
Fast and easy to use
Shortcut keys
CONS
No wireless connection – only USB 2.0
Pressure plate not heavy enough to straighten wrinkled photos and papers
– Resolution
You can be sure that the Epson Perfection v370 photo scanner will capture each detail. It does so with precision because of its high optical resolution of 4800 dpi. It also has charged-couple device (CCD) technology. The dpi (or dots per inch) are what determine the optical resolution of images. For example, high-end laser printers have resolutions of around 2400 dpi.
The resolution on the Perfection v370 is one of its main selling points. If all you wanted were some nice pictures, 2000 dpi would work well.
Do you want to achieve the best quality image that you can pass on to your family one day?
For that, experts recommend between 3000 and 4000 dpi. At 4800 dpi, the Epson Perfection gives you outstanding photographic scan quality.
The v370's 3.2 DMax and 48-bit shade deepness deliver precise versions of all your scans. Its high resolution is suitable for scanning both papers and images. Epson Scan makes it easy to back up and digitize your collection of film and slides.
The thirty-five-millimeter roll continues to be a popular medium among photographers today. Thus, it would help if you had a way to take your pics from analog to digital format.
Most photo labs offer scanning as part of their services. These labs use large scanners to process a full roll of 35mm film in a few minutes. Still, many people like the idea of scanning negatives themselves. Labs can be costly.
You have many other options for digitizing film, but some of these methods have colossal equipment costs. They may call for complex setups and are not always quality options. With its high resolution, the Epson Perfection v370 photo scanner is the answer. It's an affordable method that delivers a superior output.
– ReadyScan LED Technology
Epson ReadyScan LED technology delivers instant scans with no warm-up time. LEDs, or light-emitting diodes, comprise an array of semiconductors. Thus, you will be able to scan straightway with the help of the LED light. You won't have to wait for the scanner to warm up.
There's also no warm-up time when switching from scanning film to reflective images. The Perfection v370 makes scanning a fast process with its efficient LED white light. You can get your scans in as little as 16 seconds.

LEDs are great for the environment. The ReadyScan feature helps you to save the planet because it's low in heat dissipation and mercury-free. Since it generates less heat than other scanners, it wastes less energy.
ReadyScan is a significant advance in scanner technology. Its LED technology offers many consumer advantages. Since they generate less heat, they help you to reduce your power bills. This feature is another positive impact on the environment. The v370 reduces power by 20 percent over previous models when in operation. Power goes down by 44 percent when the scanner is in "Ready" mode.
LEDs do not burn a filament. Thus, they last longer than the traditional cold cathode fluorescent lamp (CCFL). They also don't change color with age, as CCFLs can. These features make the Epson v370 Perfection flatbed scanner a smart buy. The other selling point is its film scanning capability.
– Extendable Lid
The Epson Perfection v370 photo scanner has an extendable hinge that can open up to 180 degrees. Thus, scanning 3D items or large texts is no problem. All portions of the object or book do not need to contact the scanner's glass. The image will be accurate because they will still be in the scanner's focus.
The scanner will also fix for darkness created by the spine of a publication. That's because Epson's CCD image sensor technology offers a great depth of field. It's better than the contact image sensor (CIS) used in most comparable scanners.
Now it's easy to scan almost anything. Scan from everyday documents to magazines, books, 3D objects, and photos. One reviewer uses it to take pictures of a coin collection. It does the job to perfection, and it even has a feature that allows the user to align the coins.
The v370 is easy to set up and use. It sits on the table a little differently from other scanners and takes a bit of getting used to, but it's all right in the end.
The flatbed design is a feature shared by almost all "true" photo scanners. It's the best design for scanning photos since you minimize the risk of damage to your prints. You lift the lid to expose the glass platen in this design, onto which you place your photo for scanning.
The Epson v370 Perfection flatbed scanner has an A4 platen size (8.25 x 11.75 inches). You'll need to be mindful of this specification when buying. Get a machine that's the appropriate size for whatever you tend to scan most.
– Optical Character Recognition
The Epson v370 Perfection photo scanner comes with Optical Character Recognition (OCR) technology. This feature turns document scans into editable text right away. It allows you to copy, paste, and edit text from any scanned document. You can send them by email or convert them to searchable .pdf files with the touch of a dedicated button.
You can scan directly to email or shadow storage space, and Epson's OCR technology works for both Mac and Windows. The scanner also has ArcSoft Scan-n-Stitch deluxe software. This software allows you to scan photo albums and oversized artwork. There's a bit of a learning curve with this software, but it's not huge. The software saves the settings from the last time you used the product, which saves a lot of time.
– Epson Document Capture
Experience versatility like never before! Epson built this scanner with convenience and speed in mind. This machine scans documents, photos, and film. The document capture software lets it scan straight to cloud services. You can use it with MS SharePoint, Google Docs, and more. But you can't scan straight on to a USB drive: you'll need to connect to a computer for that. You can access your scans from any mobile device or computer.
Epson Scan offers a comprehensive document enhancement solution for improved readability and clarity. Text enhancement helps with text recognition when you scan documents, whether in black-and-white, grayscale, or color. It is handy for double-sided printed copies. For better clarity, it removes the background.
Apart from documents, the Epson Perfection v370 photo scanner offers versatile film scanning. It can scan 35mm mounted slides and filmstrips.
Your picture quality will be perfect because of the v370 has backlight correction. Some images look darker because of intense background lighting. The v370 makes the necessary adjustments to the brightness of such images. It also has a dust removal feature. Use photo restoration to bring those washed-out family pictures back to life.
The machine also comes with a film holder and a built-in openness system. This feature makes it easier to scan slides and movies. Slides were great for slideshows back in the day, but they can be challenging to work with when you're ready to go digital. This scanner transforms your old slides and negatives into digital pictures. You can look at them, edit, and reprint them from your computer.
Another great feature is the 3.2 DMax optical density. DMax offers accurate color tone capture and crisp scan definition. Try it yourself: we're sure you'll tell us that this machine is the best photo scanner you've ever used. The images you'll get scanning prints are superior to what you'll get from other scanners. It also has a low price point, which causes it to blow other scanners out of the water.

Conclusion
We hope that this photo scanner review has shown you why the Epson 370 is an outstanding machine. Epson has bundled it with powerful software. You also get the marvelous features that we've already discussed. It's easy to operate, with only four push buttons: Start, Copy, Scan to .pdf, and Scan to Email. You can use this scanner with both Windows and Mac.
This powerful player makes it easy to archive documents and photos. You can also do enlargements using the ArcSoft® Scan-n-Stitch™ Deluxe software, and it comes with a built-in transparency unit for 35mm slides and film. And let's not forget its optical resolution of 4800 x 9600 dpi. The Epson v370 Perfection flatbed scanner is an outstanding product. We highly recommend it.