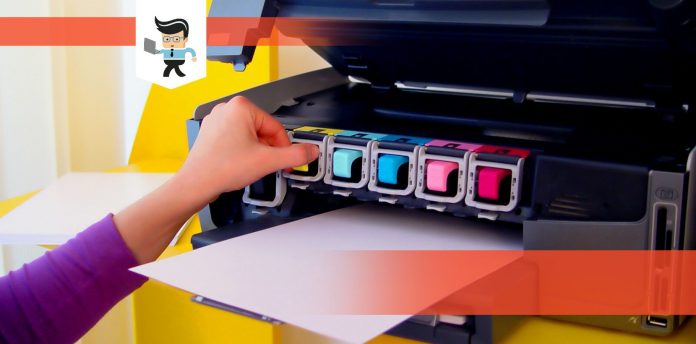 The HP Officejet Pro 6978 all-in-one printer is a superb machine for a home office that works with Mac OS and Windows. This reliable, quick printer prints, scans, faxes, and copies, and its ink cartridges don't cost much.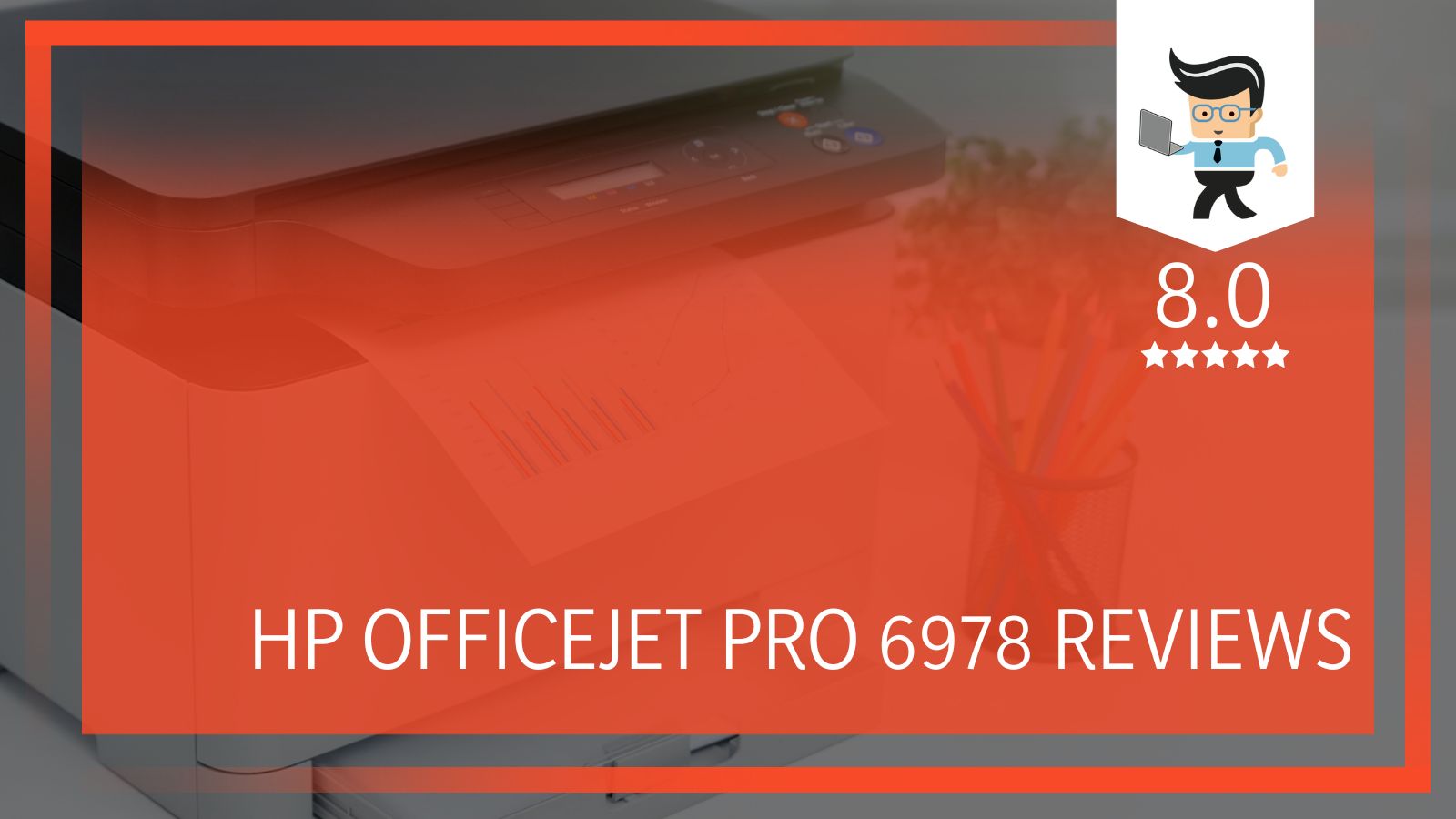 In this HP Officejet 6978 review, we will show you what this printer can do for you. Read on to find out more.
Product Highlights
• Paper Capacity: 225 Sheets
• Automatic document feeder
• Connectivity Options: Ethernet, Wi-Fi, USB, Wireless Direct, mobile options
• Scan Options: JPEG, BMP, RTF, PNG, TXT, TIF, image, and searchable PDF
• HP Jet Advantage Private Print
HP Officejet Pro 6978 Key Criteria
PROS
Eligible for Instant Ink
Superb print quality
Auto-duplexing
Several connectivity options
CONS
Small touchscreen
Expensive to run unless you sign up for Instant Ink
In this Officejet Pro 6978 review, we'll talk about the HP 6978 all-in-one inkjet printer's excellent output quality. This mid-range printer is a perfect choice for graphics, text, and photos, and it's great for low- to medium-volume printing in small offices.
– Paper Capacity
Like any other traditional printer, the Officejet Pro 6978 comes with an inlet tray and an outlet. The inlet tray's capacity comprises one 225-sheet paper holder, a generous size. Some customers may still wish for full-ream storage. They should know that the lower capacity contributes to the small design of the printer.
It can hold paper up to 29# basis weight, which is a bit heavier than the standard office bond. But it's less than what many other printers can accept.
The tray takes a variety of sizes from 3.5 to 8.8 x 14 inches, including legal, letter, 4 x 6, 5 x 7, 8 x 10 inches, and No. 10 envelopes. This list is sure to cover all the paper needs you could ever have in your home or small office.
The printer's maximum monthly output is 20,000 pages, with a suggested volume of 200 to 800 pages. HP rates the Officejet 6970 at 20 monochrome pages per minute when printing in Normal mode. It can do up to 30 ppm in Draft mode. The first page out time is 13 seconds.
It will print up to 11 color pages per minute in normal mode and 26 ppm in draft mode. For 4 x 6 photos, the printing time is about 16 seconds. Once you print on good quality paper, the photographs look very professional. The colors are accurate and bright: better than average. They're more than good enough for all but the most exacting of business applications.

Set the print quality to "Best" and print on premium photo stock. You'll see that the output rivals that of your corner drugstore. Like with other inkjet printers, the quality is better than their laser counterparts. The detail here is excellent.
The first thing many customers like about this printer is how small and compact it is. The printer is also light, so it's easy to carry from one place to another. It's refreshing to see a home office inkjet that takes up a small footprint. It's rare at a time when printers are getting larger and larger. This aspect is sure to impress users with limited space.
Buying a printer that can fit on the edge of your table or under your desk is a miracle. The HP 6978 is small enough for you to place it on most desks and even some lateral filing cabinets. The HP 6978 dimensions are 9.3 x 18.1 x 20.7 inches, and it weighs 17.9 lbs.
– Automatic Document Feeder
The HP Officejet Pro 6978 all-in-one printer has an auto-duplexing automatic document feeder. This ADF is only one of many features offered by this machine. Printing on the two sides of the paper is now possible, with no loss of quality. Many of its competitors lack this feature. It's a money saver since it reduces the amount of paper you use by 50 percent.
The ADF has a 35-sheet capacity, which supports unaided two-sided scanning, enabling you to do large jobs. It's a feature that can be convenient for small-office managers and staff. You'll never have to turn another page when scanning two-sided documents. It saves time, and saved time means an increase in productivity, which then translates to money. You can now handle more tasks without slowing down because it makes scanning accurate, effortless, and cost-effective.
You get above-average print and copy quality with this business-oriented inkjet printer. The copy produced is clean and the text legible, making it pass the bar for home and business use. Inkjet technology sprays liquid ink from a moving head onto the paper. Even at smaller point sizes, the text comes out well-defined. Thus, the output is appropriate for most business applications. It stops printing if the black ink runs out – you can't set it to use the remaining color ink.
Backgrounds don't contain the banding we often see in inkjet printer output. Gradients on charts flow from one color to the next. It prints color graphics well enough for most purposes, such as school reports.
– Connectivity Options
The excellent connectivity of the HP Officejet Pro 6978 makes it easy to use. Ethernet and Wi-Fi are two of the Officejet's connectivity options. It can make a wireless connection to the router on your network using Wi-Fi, or you can use Ethernet.
You can also do remote printing of emails by forwarding them straight to the printer. The fax feature on this model is built-in, and it stores incoming messages if you run out of paper. It can also send faxes from a connected PC. Another timesaver is this printer's ability to send photos. It also sends scanned documents straight from your printer to any of your email contacts.
Are you an Apple user? Take advantage of the built-in AirPrint feature. This feature allows wireless printing from your devices via your local network.
You can also use Wireless Direct, HP's counterpart to Wi-Fi Direct. Use it to create peer-to-peer connections with mobile devices. You can do so without a router or network. This feature makes wireless printing from tablets and smartphones easy. It uses an app, which you can download to your tablet or smartphone. From there, you can use it as another option for printing over your Wi-Fi network.
Or, you can connect to a single PC via USB. The USB connectivity allows you to print photos straight from a flash drive. Mopria and HP's ePrint are some other mobile connectivity options.
The 6978 also has a dedicated app that will allow you to control everything on this printer. This HP smart app is easy to set up, and with it, you can scan documents with your camera. You can also print from social media or the cloud, such as Dropbox and Google Drive.
HP designed the 6978 to be energy efficient, so it uses less power than other products. This feature helps you to save cash and decrease your company's carbon footprint. It's Energy Star Certified and satisfies federal requirements for efficiency. It's also EPEAT Bronze Certified, with reduced environmental impact from several eco-attributes.
These features make the Officejet 6978 feel like a dream come true. It's perfect for small business owners and home offices. Some printers can't handle too many jobs at once, which causes delays and hurts your productivity. The 6978 can manage them without slowing down. It's the best thing for an office with many users.
– Scan Options
Being an all-in-one inkjet printer, the HP Officejet Pro 6978 can scan, print, copy, and fax, all from one machine. One piece of equipment is now enough. There's no longer the worry about buying a separate unit for each of these functions. Some users have expressed disappointment with the copy function. As mentioned earlier, the quality is excellent. But it takes too long to spit out the first page, which is unbecoming for an inkjet printer.
This scanner saves your files to JPEG, BMP, RTF, PNG, TXT, and TIF. You can also save them as images or as searchable PDFs. You can scan to USB drives (and print from them) through a port positioned on the front of the printer. It can copy or scan an area up to 11.7 x 8.5 inches. Its copying performance is excellent, suitable for most purposes.
You can load your documents in the ADF, or you can use the flatbed scanner beneath it. Setting it up and connecting with any mobile device is child's play.
– HP Jet Advantage Private Print
HP's Jet Advantage Private Print enables you to safeguard sensitive print jobs by using a PIN.
You can perform walkup jobs. For example, you can print from a USB drive or make copies. You can configure several of the printer's options from the control panel. This panel consists of a 2.7-in. touchscreen encircled by a few buttons: Home, Cancel, Back, and Help. Note that one of the downsides of the printer is that the touchscreen is so small. Elderly and visually-impaired consumers may have trouble using it. Still, it's useful for getting a preview of your documents before printing.

HP claims that this series of printers can reduce per-page expenses. These expenses decrease by up to 50 percent compared to laser printers. Still, compared to its competitors, the Officejet 6978's per-page ink costs are a bit high. You will see the difference if you buy the highest-yield ink cartridges outright. It's glaring if you compare it to using the company's Instant Ink program. That's where the 50 percent savings are!
Printing uses up ink. As you print, the costs add up over time. This printer uses four cartridges. With a typical printing schedule, these cartridges can last a long time – around 11 months.
The Instant Ink system ensures that you never run out of ink by delivering it straight to your door. So you pay a flat rate based on how much you print and get ink when you need it. Without Instant Ink, you can fork out as much as ten cents per page for color prints. The price drops to around three cents per page with an Instant Ink subscription.
Still, you can't beat the 6978 for quality. This device can create rich black text printouts. It also produces high-quality professional color.
Installing HP Officejet Pro 6978 Scanning Software
Get up and running right out the box and connect the way you want to using wireless networking and Ethernet. The HP Officejet Pro 6978 makes it easy to print, even with your smartphone or tablet.
During the software installation, the program will check the printer. First, it will look for the latest version of the firmware. Firmware is software that resides within the printer.
Manufacturers upgrade the firmware from time-to-time to fix bugs and enhance operation. They also upgrade it to add features. You can download firmware updates straight to your printer. It's easy to do via a wireless or wired network.
During installation, the printer will also offer to download IRIS OCR and install it. This software is a lite version of Readiris, a superb optical character recognition program. It allows you to change scanned document pages into searchable, editable text.
Some customers ask, what software accompanies the printer?
You will get printer applications, drivers, and an electronic user manual. As an all-in-one inkjet printer, the 6978 also has faxing, scanning, and OCR apps. You can download these apps to your PC.
When you finish setting it up, the machine will print a calibration sheet. You will need to scan this page to bring the print heads into line and end the installation. The printer drivers are the only other form of bundled software. You will also get the Help files. Also available are apps that you can download for both iOS and Android. These apps let you print from your mobile devices. They also enable you to use these devices as portable scanners.
Conclusion
We hope that this HP 6978 review has shown you how well and how fast this Officejet Pro all-in-one inkjet printer works. If you copy or print many color pages, a subscription to HP Instant Ink will keep costs down. The savings will not be as apparent if the bulk of your printing is monochrome. Another advantage of the Officejet Pro 6978 is how well it prints photos.
If you're a frequent scanner user and often have to reproduce two-sided documents, the ADF feature on the Officejet 6978 will be a huge timesaver. Plus, you get outstanding print quality and automatic two-sided scanning. This HP printer review has revealed the low color printing costs and competitive print speeds. These features are enough to make the Officejet Pro 6978 our printer of choice.