Our Nighthawk AX4300 review showcases a stylish, powerful, and advanced Wi-Fi router fit for many functions such as gaming and other intensive applications. The router is a unique upgrade over its predecessor and carries superior quality and connectivity options.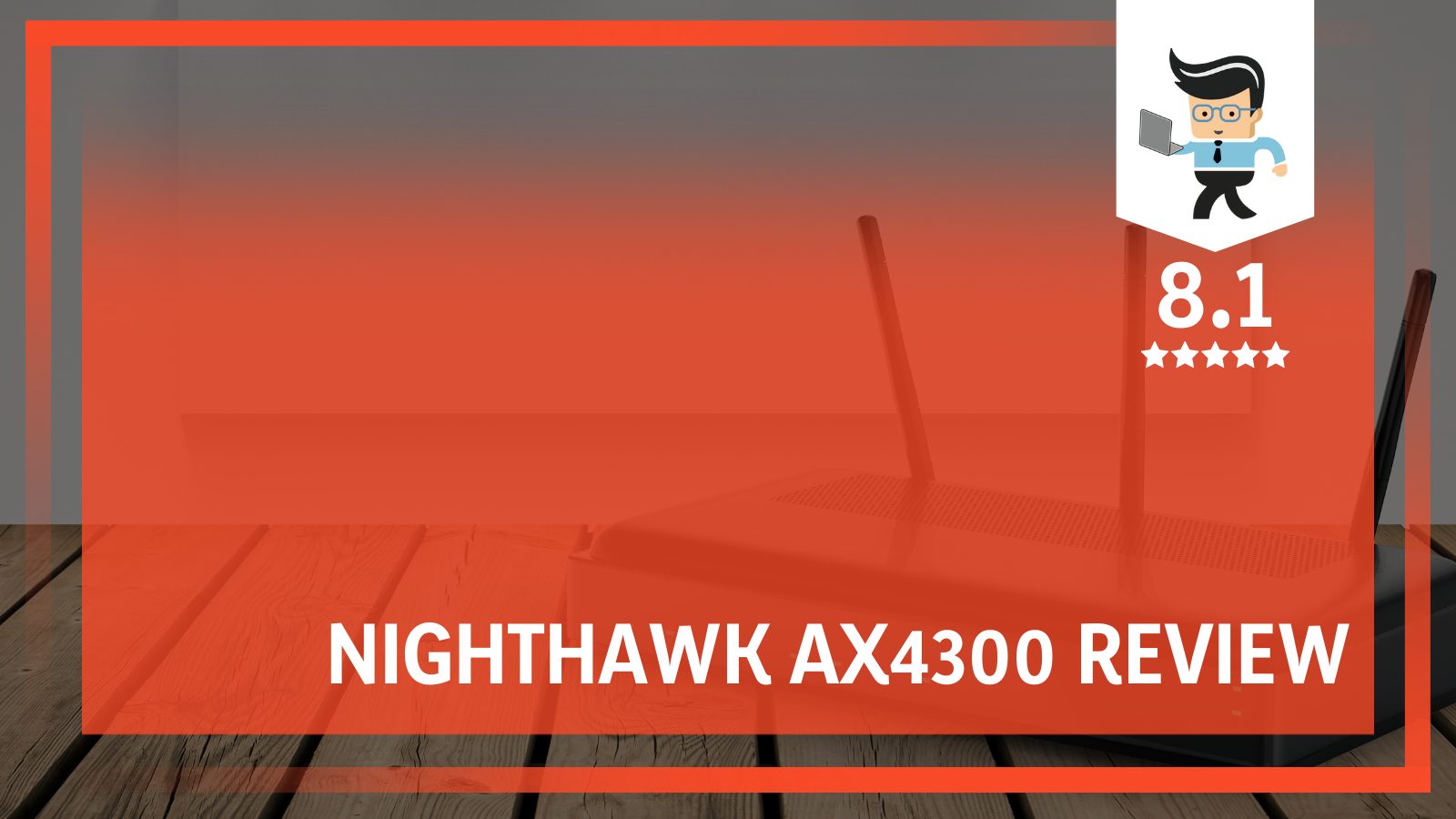 Perhaps you want a dual-band router with a combination of wireless speed, simple setup, and a host of other features such as great security and a powerful processor. Take a cursory look at our review of the AX4300 capabilities to figure out if it's suitable for you! 
Pros

 

Cons

Netgear Armor Cybersecurity

Dual-Band only 

Triple-core 1.5GHz processor

Takes time to install 

High-performance Wi-Fi 6 technology

Excellent close-up performance
– Nighthawk AX4300 Review: Product Highlights
High-speed capabilities, top-notch Gigabit Wi-Fi connectivity, and above-average range aren't the only quality features of this Nighthawk router. These are the standout features of the AX4300: 
Wi-Fi Technology: (Wi-Fi 6) 802.11ax Dual-band Wi-Fi 

Antennas: 4 High-Performance External Antennas

Wi-Fi Speeds: 5GHz – 3840 Mbps; 2.4GHz – 480 Mbps 

USB Ports: 1× USB 3.0 Port

Memory: 256MB flash and 512MB RAM

Ethernet Ports: 4× Gigabit LAN Ports; 1× Gigabit WAN Port

Processor: Triple-core 1.5GHz processor

Security: Standards-based Wi-Fi Security; NETGEAR Armor
Netgear Nighthawk AX6 6-Stream AX4300 WiFi 6 Router Key Criteria
PROS
Netgear Armor Cybersecurity
Triple-core 1.5GHz processor
High-performance Wi-Fi 6 technology
Excellent close-up performance
CONS
Dual-Band only
Takes time to install
Do you want a router to either stream 4K videos or play online games? Do you want to enjoy superior connectivity with the AX6 router? The questions mentioned are directed to high-end, intensive internet users.
However, this AX4300 is an excellent choice for those who don't want to pay exorbitant prices for high-end hardware. This is why we give the performance of this router a score of 8.5 out of 10.
As a dual-band design, the router supports up to 4.3Gbps in combined wireless speed. Then there's its Gigabit port to connect devices to the high-speed internet. Compatibility gets a score of 8 from our team.
The NETGEAR Nighthawk AX4300 is a dual-band router that provides Gigabit Wi-Fi connectivity and enables you to link up to twenty-five Wi-Fi devices.
It can deliver ultra-fast speeds for streaming, video calls, gaming, and internet browsing. Even though it has high-speed capabilities, the router won't put a dent in your pockets. Connectivity is great with a score of 8.
You get improved performances on all your smart home devices so that you can do more all at once. With the OFDMA technology, data transmission is seamless and efficient.
Besides, it is easy to use after a straightforward setup process configuring the router from the Netgear website. This router's security features get a score of 8. You'll get more information from our comprehensive review below. 
– How Has This Product Evolved?
A big difference from its predecessor is that the AX4300 technology produces more data capacity than previous standards. That includes high-energy amplifiers that expand coverage and give off reliable and wide home coverage, which is certainly a huge improvement over the previous models.

Product Features Breakdown
Here are the most prominent features of this router.
– Smooth and Attractive Build
With the Netgear AX6 6-Stream AX4300 router, you get a device that's much more than an internet provider. That's because the sleek and stylish design makes it a nice blend into your home's decor. You can get it in full-black color, accompanied by four high-performance antennas. These antennas are easy to rotate across the router for better connection. Also, the antennas are removable. 
The shape of the Nighthawk AX4300 is like that of a spider. Thankfully, its modern design means that you can hang its attractive form on the wall. At the front of this wifi router, the Nighthawk icon appears along with every button.
There are two of them and a range of LED indicator lights on the router. As for the back side, holes for adequate ventilation appear. For extended use, these holes are necessary to keep the router at a moderate temperature. 
The rear side of the AX4300 is marked by multiple ports and buttons to boost connectivity. One of the buttons is a recessed Reset button you can hold for ten seconds to rest the router.
You can use the USB 3.0 port for external connections, store important files, and more. Also, you get four Gigabit Ethernet LAN ports covered by a metal cover while the Power button is placed next to the WAN port.
– Easy Setup and Management with Nighthawk App
A router designed for the modern home must have some element of ease, especially when it comes to setup or installation.
Netgear doesn't disappoint on this aspect, thanks to the Nighthawk App for the AX5400 Wi-Fi router. With it, you have a simple tool for setting up your network. It offers convenient features, such as setting up wireless networks and managing network settings. 
The app isn't as easy to use but you'll get the hang of it soon, and quick access to the device's status. For a seamless configuration process, download and install the app and follow the instructions provided to avoid any problems. Netgear makes it possible for users to pause their internet access for connected products and run a speed test through the app. 
The app helps you enjoy ultra-fast wireless speeds and excellent performance for your smart home devices. 
– Wi-Fi 6 Technology and Smart Connection to Multiple Devices
A Wi-Fi 6 router like the Netgear Nighthawk AX4300 can send different signals in the same transmission window. It provides this connectivity with 4x the data capabilities of previous standards.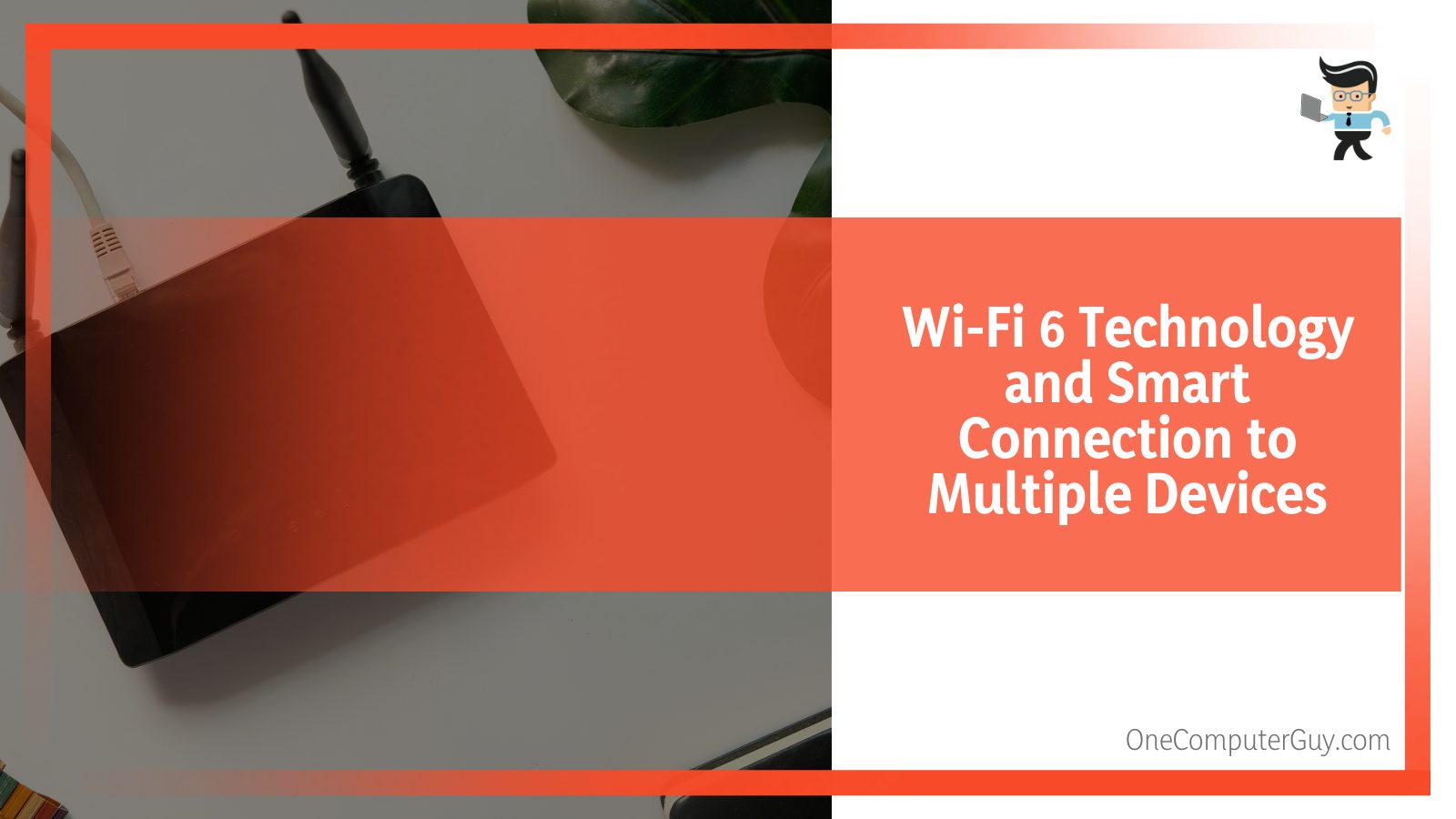 Furthermore, Wi-Fi 6 technology delivers four-time faster internet speeds coupled with 160MHz channel assistance for more devices. Your devices don't have to take turns to connect and run. This router will handle 25 or more of them! 
As a further boost to the Wi-Fi 6 design, the AX4300 router comes with advanced multi-channel antenna design which provides wide coverage with improved range and performance. You get to enjoy faster Wi-Fi connectivity with Wi-Fi 6 technology to stream shows in ultra HD 4K/8K quality with this product. 
– Powerful 1.5Ghz Triple-Core Processor
The Netgear AX4300 router comes with a powerhouse processor with a triple-core 1.5 GHz frequency. As a result, you get a processor that supports greater than 1Gbps Wi-Fi speeds. That makes it ideal for streaming movies, playing online games, and other multimedia content. 
There are extra data streams aided by the improved range to make it an exceptional choice for a home Wi-Fi network.
The powerful 1.5GHz triple-core processor contributes to the overall network performance of the AX4300. With this kind of professor, get ready to hook up many devices to the AX4300, including your video doorbells, voice assistant devices, and security cameras. 
– Connections and Media Capabilities Means More Speed
Extra connections for certain functions won't hurt. For this reason, Netgear includes the already mentioned four Gigabit Ethernet LAN ports and a single USB 3.0 port.
That means users get a total of six ports at the back of the router. A sole WAN port is part of the process, and it's worth knowing that these ports work favorably with external devices connected to the router.
The single 3.0 USB port in particular is important for faster data transfer, and it also offers full support for all wireless devices.
The streaming media capabilities of this router gives off ultra-fast speeds for downloading and streaming media content. As is common around the world, streaming media is a growing trend on mobile devices. As a result, a good router with high-speed Wi-Fi is essential to enjoying high-quality streaming and multimedia. 
Furthermore, the dual-band Wi-Fi allows intensive gaming, streaming of 4K, and UHD shows to all of your devices while minimizing network congestion. 
– High Safety Standards From Netgear
Getting a Wi-Fi 6 router, or any other one for that matter, and setting it up for use is only half the job. The connection must have a tight security to protect you and other users you permit.
In line with that, Netgear introduced the NETGEAR Armor, which is a top-notch feature that protects against cyber threats and malware attacks. The six Wi-Fi streams make for enhanced coverage and transfer speed to all of your products.
The NETGEAR Armor also comes with a Bitdefender antivirus software. It is a security software that protects your connected devices from fraudulent websites, stolen passwords, malware, and other threats.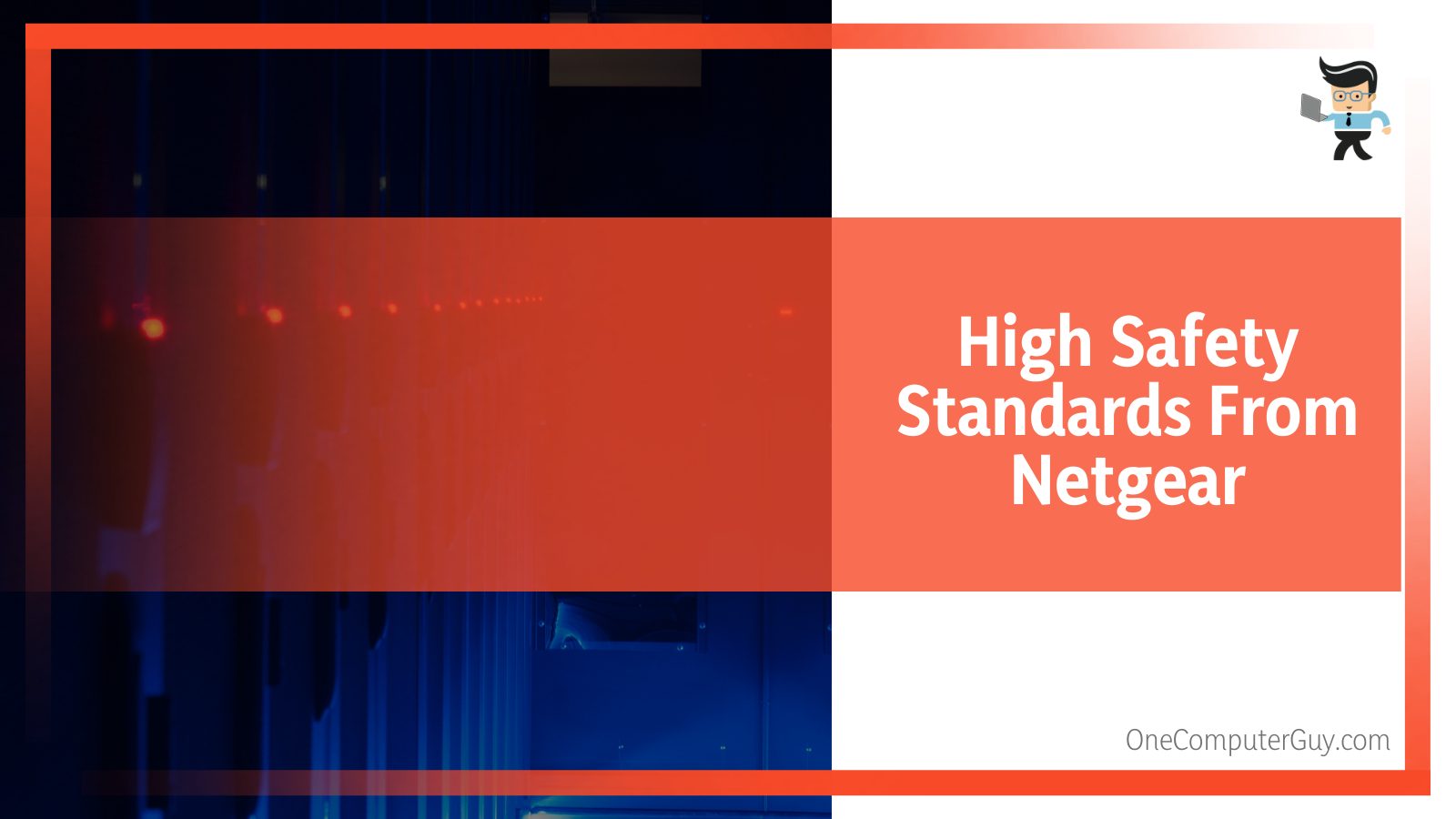 That way, you and other users can stay safe online. If you have kids spending time online, you can manage their time and what they do online by building profiles for each member of your group. 
Furthermore, the Smart Parental Controls lets you monitor Internet activity and enforce rules when you're far away from your home. To enable this feature, it's pertinent to update your firmware and download the Smart Parental Controls app on your phone. 
Using a router means that you're likely to send a lot of sensitive information over your home network. That's why you need a router with the latest security settings.
The Netgear AX4300 uses the latest WPA3 standard to keep unauthorized users and sites at bay. Identity theft, hacks, and other compromising situations are conveniently dealt with on the router. 
With the innovative NETGEAR Armor system, you can initiate parental control settings to block some sites and monitor what your kids do online. 
– OFDMA Capabilities Has Multiple Access Points 
OFDMA stands for Orthogonal frequency-division multiple access. The OFDMA is another feature of this Wi-Fi 6 (802.11ax) router that allows access points to serve several clients at the same time. It also enables the router to send data to multiple products on one channel.
Also, this technology can pack 25 percent more data into transmission while data is simultaneously transmuted from different devices. 
– Exceptional Features and Speedy Network
The performance of the Nighthawk AX4300 wireless router screams top-quality. As a router with amazing qualities, we have concluded that it is designed for the modern home. Along with the Gigabit Wi-Fi connectivity, there's a 1.5GHz triple-core processor for increased network efficiency. 
The wireless router also has the NETGEAR Armor to protect your network and functions from malware, hacker attacks, and identity theft. There is also the 160MHz channel assistance and high-energy amplifiers to greatly increase range and coverage, allowing you to enjoy 4K UHD streaming.
That's impressive considering the Wi-Fi technology doubles channel width and expands coverage areas. It also broadcasts over previously unoccupied radio frequencies. 
Like other top routers, you'll get ample support for uplink and downlink MU-MIMO streaming and enhanced Quality of Service. Other features include genuine bandwidth management and WPA3 encryption. 
Furthermore, the NETGEAR Nighthawk AX6 6-Stream brings Gigabit-quality Wi-Fi connectivity to your home. It supports up to 25 devices and is equipped with a powerful processor. That means you get enhanced overall network performance.
Four times the data capabilities of previous standards can also be gotten from this router while it's high-power amplifiers boost the range and dependable coverage. Over your home, office space, or other areas, you can count on its range. 
Thanks to 4.3Gbps of wireless speeds, the AX4300 enables consumers to experience 4K UHD streaming and gaming. Imagine playing your favorite online games without hitches, especially when it gets to intensive gameplay areas. 
We like the Nighthawk App which helps users manage their Wi-Fi settings and apply its tools. That's part of the reason why the Netgear Nighthawk AX6 AX4300 has passed multiple tests across different parameters with amazing results. 
Along with the excellent performance on offer, this router has max parental controls and antivirus software. The tools will help you keep your home free from malware attacks and cyber threats. The software works over time to detect malware and gets rid of it from all devices. 
If you're looking for a router you can get with a regular budget, this is a fast and reliable option for you. It's ideal for a small-medium home and will connect upto 25 devices simultaneously. 

Frequently Asked Questions
1. Should I Buy the Nighthawk AX4300? 
Yes, the Nighthawk AX4300 router is a great option to have, thanks to a 1.5GHz triple-core processor that boosts your network's performance and efficiency. You'll also get adequate protection from hackers, malware, and identity theft. Furthermore, the router's 160MHz channel assistance and high-energy amplifiers enhance coverage
This means that you get reliable, all-around coverage. The router supports up to 25 wireless devices at once. As a router equipped with advanced Wi-Fi technologies, it also supports OFDMA, which lets multiple products share a channel and elevates throughput by 25 percent.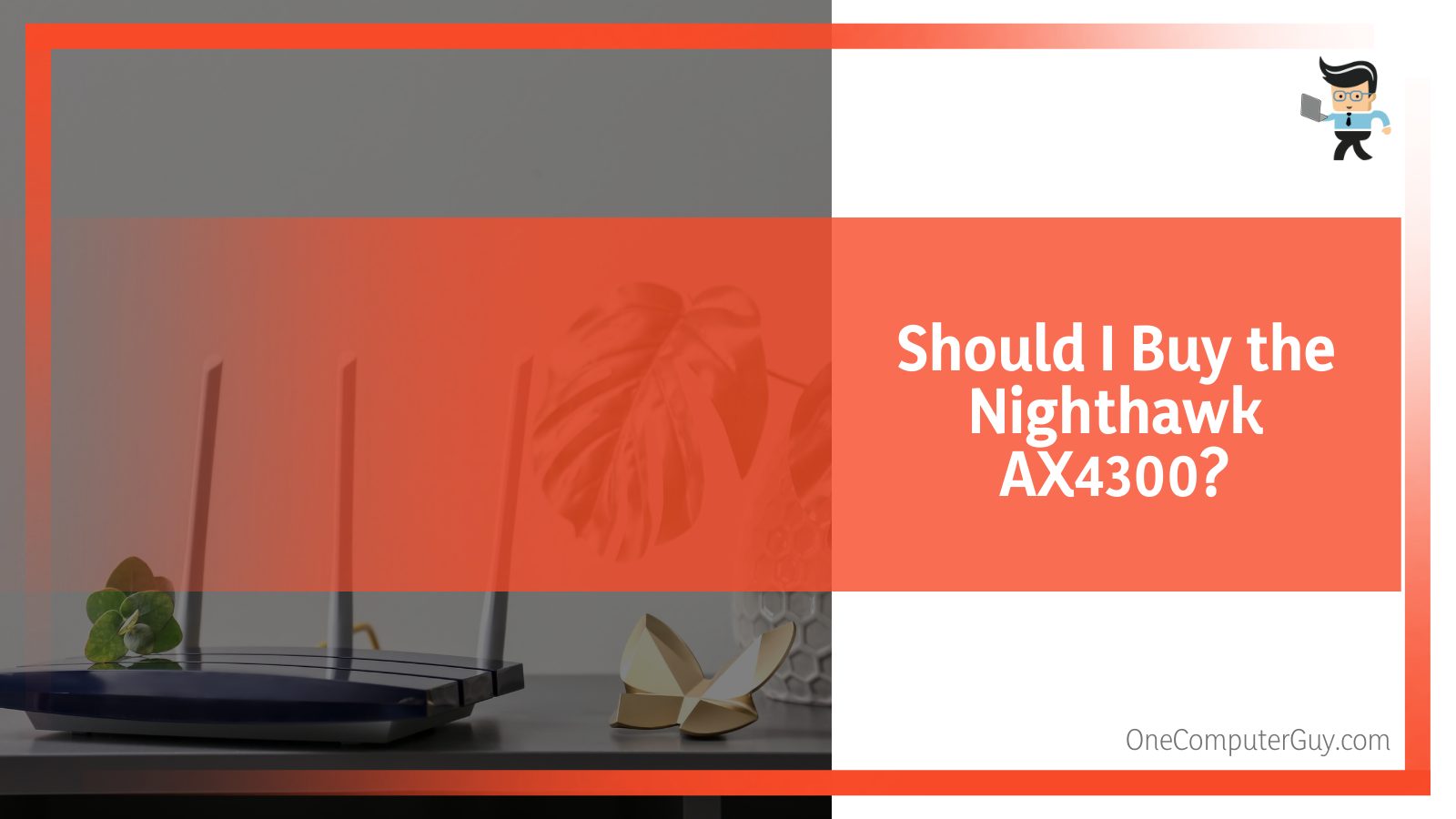 It's not the cheapest router on the market, but that's not a sticking point as many homes can access one. This mid-range router with great range and speed helps you enjoy up to 2500 square feet of coverage without hitches. 
2. What Is the Nighthawk AX4300 Router Perfect For? 
The Nighthawk AX4300 is perfect for playing online games, thanks to its strong dual-band capabilities, fast speeds, and reliable connections. Whether you want to send mail, play online games, or do more, the AX4300 is an ideal fit for your setup.
You can also use this router to stream content, such as 4K videos. Since you can connect it to multiple devices, you can run different functions on each device. 
3. What Accessories Can I Use with the Netgear AX4300? 
Thanks to the multiple ports on the Netgear Nighthawk AX4300 router, you can plug all sorts of accessories into your router like printers, hard drives, TVs, and smart home devices. You'll get a USB 3.0 port, Gigabit Ethernet port, and LAN/WAN ports for additional connections. 
Whether you're getting the AX4300 or not, make sure that the router you want has enough USB or Ethernet ports to support all your devices. 
Conclusion
The Netgear Nighthawk AX4300 is one powerful, reliable Wi-Fi router that makes sense for large homes and offices.
If a reliable Wi-Fi 6 router with dual-band capability is too high on your list, this is your best choice. For features, it's equipped with a 1.5GHz triple-core processor and four high-performance external antennas that help deliver up to 4.3Gbps speed. 
Like other top Netgear routers, the AX4300 comes with advanced features like the NETGEAR Armor & NETGEAR Smart Parental Control to keep the network safe and secure at all times.
However, the installation process takes some time to complete, and you only get two Wi-Fi bands. The bottom line is that it's an excellent, efficient router for medium to large homes and offices.