If you are faced with a Netgear N300 vs N450 comparison, then you should know that these two routers are fantastic options if you're trying to upgrade your current options with quality wireless standards. The two of them come from the Netgear brand and will no doubt add a new dimension as reliable home networks.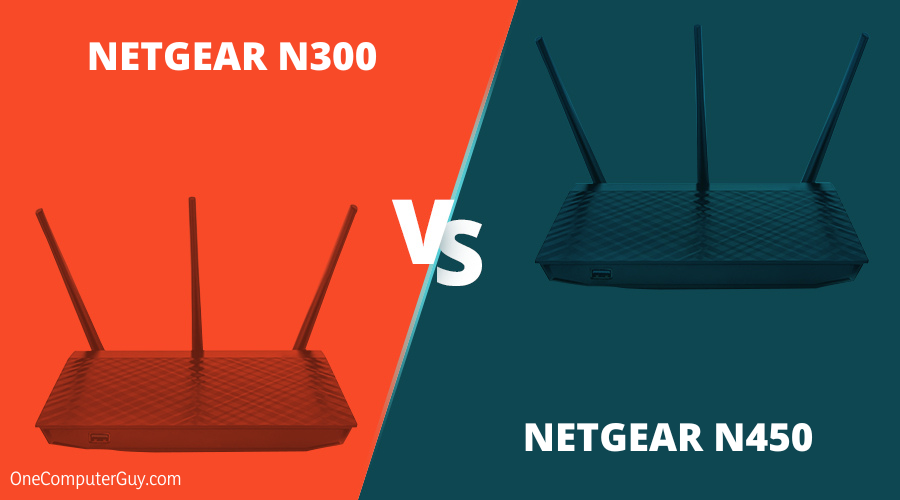 However, we're here to help you choose one of them, so you don't need to worry. Our guide will help you understand the best router for your needs!
N300 vs N450 Comparison Table
Features

 

N300

 

N450

Speeds 

300 Mbps 

450 Mbps

Ethernet Ports 

Regular Ports 

Gigabit Ethernet 

DOCSIS Support 

n/a

DOCSIS 3.0 

Connectivity Technology 

Wired/Wi-Fi 

Wired/Wi-Fi 

Security Protocol

WPA/WPA2 

WPA-PSK, WPS, WPA2-PSK
What Is the Difference Between Netgear N300 vs N450?
The main difference between the Netgear N300 and N450 is that the N450 comes with a custom DOCSIS 3.0 cable modem router to enhance its speed and connectivity capabilities, which makes it a 2-in-1 unit. The N300 is impressive but lacks a DOCSIS feature like its counterpart. 
– Hardware
Winner: Netgear N450 
While these two routers have genuine quality and will make a difference, the N300 takes on a simple design and hardware. It offers decent throughput speeds and excellent range to improve your internet experience. 
However, the N450 is a router and a cable modem — a 2-in-one unit with a downloading speed that is eight times faster than your average router. This way, you receive faster and smoother wifi connection throughout your home.
The N450 is the clear winner here, thanks to its outstanding all-in-one unit and better hardware. 
– Security 
Winner: Netgear N450 
Although it's a close call between these two Netgear routers, we have to state that the N300 doesn't have many features. If there is anything that our Netgear N300 review points  out, it is the fact that the modem is very user-friendly and delivers decent throughput speeds and excellent range — all at an affordable price. 
Security-wise, it has a semi web-based parental control that is a very effective and convenient way of monitoring your home's network. Also, you must create a free account with OpenDNS and set up your web filter level. 
As for the Netgear N450, there's no need to set up an OpenDNS account. You can customize the settings to protect users by blocking or limiting access to some sites and access time. Also, operating the parental control feature in N450 is smooth. 
– Overall Performance and Speed 
Winner: Netgear N450
Speed is an important aspect to consider when you want to get a router. These two routers won't disappoint in that aspect. For the N300, you get a router that doesn't support the 5GHz, but it can deliver up to 300 Mbps on the 2.4 GHz band. That is enough speed for you to enjoy HD streaming and some games.
The N450 is a 2-in-1 wifi router and cable modem that can stand its ground against popular competitors from TP-Link Archer and other models within the same price range.
According to Netgear, it can deliver speeds of up to 450 Mbps on the router and 340 Mbps on the modem. Moreover, it trumps its counterpart with the DOCSIS 3.0 platform, which delivers the fastest cable speeds. 
The N450 is a clear leader in speed and overall performance. 
Pros
Decent throughput speeds

Outstanding range 

Strong 2.5GHz band 
Cons
The N300 from Netgear is a straightforward, compact wireless-N router designed to produce excellent range and decent throughput speeds. The build is a sleek vertical box with a quality casing and a detachable stand. There are ventilation holes to keep the system at a moderate temperature, and no external antennas are present. 
With the slim appearance, you'll save on space. You'll find LED light indicators at the front of the router. With them, you'll learn the status of the powers, on/off status, WPS button, and more. For extra connections, there are four LAN ports and one WAN port. 
The router works with the Netgear genie app to install and manage the N300 system on both your PC and phone. Using the QoS settings, you can prioritize which devices get more bandwidth and make your HD streaming smoother.
N300 comes with top-notch security by using the WPA/WPA2 protocols. It's beneficial to keep your network secure while the guest network allows your guests to access your internet using a separate network from your main network.
Parental controls are a big part of this router, allowing you to put up a layer of defense against the unwanted elements on the internet.
As your children study, socialize, and play online, these controls protect them by allowing you to place limitations, schedule time limits, detect intrusions, and generally filter some devices in your network. What's more, the router also supports WPS to help you quickly add clients to your network without typing in the encryption key manually.
The N300 operates on the 2.4GHz band with speeds reaching 300 Mbps but still performs well, especially with its outstanding throughput performance with speeds of up to 32.2 Mbps when it comes to range. This is handy for users connecting multiple devices to the network. 
Further, the router can deliver a strong Wi-Fi connection over an area of about 1600 sqft. with no surrounding walls. However, expect the range and strong connection to drop around obstacles. 

Pros
Faster DOCSIS 3.0 cable modem

Exceptional 2-in-1 combination of router and modem 

Super-fast Wi-Fi speeds

Multiple connectivity options 
Cons
The Netgear N450 is a router designed to deliver faster and stronger Wi-Fi and internet speeds for different sizes of homes.
But if you live in a medium to large home, it will be a good addition to help your family run their devices efficiently. It comes with a superb range and a DOCSIS 3.0 cable modem capable of delivering eight times the faster-downloading speed, reaching 340 Mbps.
Furthermore, this fast and smooth Wi-Fi is compatible with all major cable internet providers. You'll love the two-in-one unit and its sleek, space-saving vertical build, and array of LED lights for status indications.
Connections are boosted by the four Gigabit Ethernet ports, a USB 2.0 port, and a coaxial port for cable internet. You'll have a great time connecting your wired devices. 
Another USB 2.0 port appears at the front of the router, and you'll get built-in wireless capability so you can enjoy theoretical wifi speeds of up to 450 Mbps on the 2.4 GHz band.
On the other hand, the gigabit LAN ports give your wired devices enough bandwidth for super-fast, reliable HD streaming and online gaming. If you're a gamer or an intensive internet user, you'll have the best of both worlds 
Like its counterpart above, you will get ample security features, including parental controls to block, limit, and monitor internet access any time.
If you have kids around, you can protect them from malicious or indecent websites. Also, you can give guests internet access without allowing them to be close to your entire network. The WPA2 encryption is also there to protect your data and network system. 
Overall, the N450 dual band router is ideal for streaming HD videos, faster downloads, and high-speed online gaming. 

Frequently Asked Questions
1. What Makes the Netgear N450 Router Special? 
The factors that make the Netgear N450 a standout router is that it is a two-in-one router and modem with top-notch Gigabit Ethernet capabilities and a reliable connection, and it uses the DOCSIS 3.0 cable modem, which is eight times faster and more efficient than the 2.0 alternative.
Fort these reasons, the N450 is ideal for gaming and streaming high quality videos. 
2. How Many Devices Can Netgear N300 Support?
Between three to five devices can be hooked to the wireless network without a noticeable decrease in your network performance, which means you can connect multiple devices to this wi-fi-only router. More than this and it may decrease the speed and connection.
Whether you're in a home or small office, you'll want quality connections for all your devices. However, that may come at the expense of a decrease in speed and connection to connected devices. 
3. What Does the Number After N on Wireless N Routers Stand For?
The number after the N on a wireless N router refers to the total amount of wireless bandwidth available on the particular router. However, the figure is theoretical and cumulative of all the radius and streams on the said device.
4. How Secure Is the Netgear N450 Router?
The Netgear N450 offers maximum security for the network, including the standard WPA-PSK, WPS, WPA2-PSK. Along with that, you'll have access to top-notch parental controls to protect your kids and network from malicious content. The guest network allows others to use your network without access to your home's network. 
Conclusion
While the Netgear N300 wi-fi router is an impressive router with exceptional range and throughput performance, it's still some way behind the Netgear N450 router.
On the N300, you'll get reliable Wi-Fi connection over a long range, and downloading speeds of up to 300 Mbps for comfortable streaming and gaming with minimal buffering. The N450 is a 2-in-1 unit comprising of a router and a cable modem, which is convenient for an entire home network. 
Which of them is better? The Netgear N450 is the best choice here since it is both a router and a cable modem.
You can save on your monthly cable modem fees and offer super-fast Wi-Fi speeds for all your connected devices. Moreover, the DOCSIS capability and multiple connectivity options make it the easiest choice.