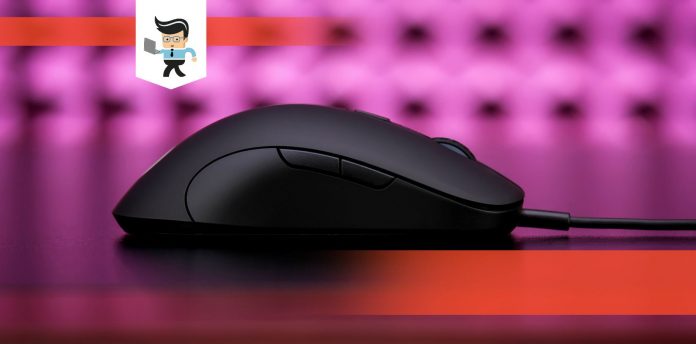 Our Logitech G700s vs. G602 review is necessary for gamers and regular users alike trying to pick the best one. These two devices are from the famous Logitech brand renowned for making top-quality products; so, this will require quite the introspection in deciding which stands out.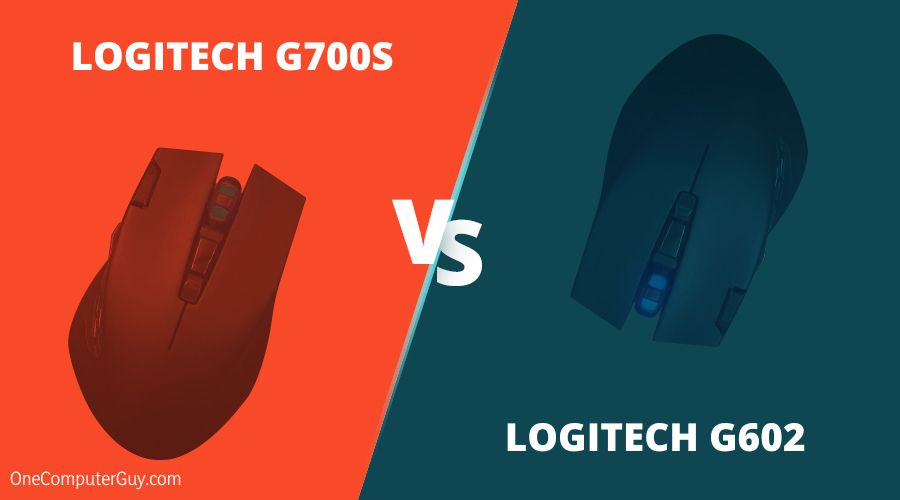 As a result, it's not plain sailing trying to figure out the best for your whole right. However, our reviews have got you covered with an in-depth look at their features and capabilities to help you determine the right model for your everyday use.
Read on to learn more.
Logitech G700s vs. G602: Key Specifications at a Glance
Products 
Key Specifications 
Logitech G602

Buttons: 11 programmable
Connection: Wireless 2.4GHz
CPI: 500 to 2500
Ergonomics: Right-handed
Max speed: 2 m/s
Sensor: Avago AM010 (Optical)

Logitech G700s

Buttons: 13 programmable
Connection: Wireless 2.4GHz
CPI: 200 to 8200
Ergonomics: Right-handed
Max speed: 4.19 m/s
Sensor: Avago ADNS-S9808 (Laser)
Logitech G700s and Logitech G602: What Sets Them Apart?
There's quite a lot to point out about these two awesome devices and their chances to improve your performances. They both pack enough programmable buttons and functional sensors to get their respective features up and running.
Also, you have cool ergonomics built and designed to fit right-handers more. In both products, you have a mouse capable of gaming and other functions. A closer look at both will showcase their capabilities and which one you should choose.
Pros
It comes with multiple thumb options
Comfortable right-handed design and shape
Quality button placement for superior DPI switching
Long-lasting battery
Cons
It lacks a wired option
Windows-only software
If you're a gamer, you'll understand why spending time picking your gear takes a pretty long time. The smallest detail can boost your performance or throw you off your game.
Sometimes it could be an awkward design that affects your hand, wrist fatigue, or bad connections. Whatever the case, this G602 has a lot to offer, including custom controls and impressive features.
– Design and Features: Right-handed Ergonomic Build
The G602 is a right-handed mouse complete with a sculpted ergonomic design and jutting wing that supports your thumb. On the mouse's left, it's easy for the thumb to access, thanks to six programmable buttons that are ideal for macros and keybinds.
The buttons are also shaped to sit above the thumb rest and have raised surfaces so that it's easier to differentiate one from the other.
At the front of the mouse, you get standard right and left buttons coupled with two more buttons set on the left edge of the left button. You can use it to switch DPI on the fly and have easy access to your index finger.
However, it won't bother you so much while pressing other buttons. You can also program Logitech G602 buttons, which sit on durable mechanical switches, and are rated for about Twenty Million clicks.
For more on the design, you'll find that it combines several materials and textures into one cohesive unit. As a result, the buttons are covered in matte-finish black plastic and surrounded by a grey trim.
The palm rest has a textured rubber surface, but you get a rough-textured plastic for the bottom half of the palm rest and thumb rest.
– Connection: Wireless and Fast
The G602 is smaller than the G700s mouse, but it's still a genuine wireless mouse that connects to a PC through Logitech's G-Series Receiver. The receiver offers the convenience of wireless connectivity without the pitfalls of lag and interference.
To that end, the mouse communicates with 500 reports per second (once every two milliseconds).
Along with the receiver, it connects at 2.4GHz. However, the gaming line dedicates the full bandwidth of the connection to overcome issues of lag or interference.
– Batteries: Powerful and Durable
The G602 comes with two AA batteries, but it can get on with just one.
One of these AA batteries will give users about 125 hours of gaming, while two batteries mesh 250 hours. That's more than ten days of continuous use.
If you're not using the mouse, it shifts to a hibernation mode, which stretches the battery life as long as 1,440 hours, or sixty days without having to turn off the mouse between sessions.
– Sensor and DPI: Speed and Maximum Sensitivity
You get Logitech's Delta Zero sensor in this mouse which gives you tracking sensitivity between 250 and 2,500 DPI and registers up to two meters of travel per second. What's more, it's possible to adjust the DPI at a moment's notice, with the front-mounted sensitivity adjustment buttons.
A customization dashboard lets users adjust DPI presets, program-specific functions, and longer macro commands to the six thumb buttons.
– Performance: Latency and Lag-free
The G602 performance mode is something you could get used to. A wired mouse will indeed offer more latency, but what's the fun of having wires dangle over your desk?
With this Logitech mouse, you have a device that won't lag or interfere with your performance or with other wireless devices.
Tracking on it is also smooth and consistent, while you can adjust the DPI in a simple way with the well-placed buttons.
The buttons work well and are arranged so that users can easily press them.

– Overview
The Logitech G602 setup is a breeze and offers a great gaming performance and even fewer pitfalls. It's ideal for gamers who spend many hours in front of their PC.
Pros
Comfortable right-handed ergonomic design
Wired and wireless options
Rechargeable batteries
Customizable
Cons
At 152 grams, the Logitech G700s dimensions are slightly bigger than its counterpart above. It has a great sensor inside and some quality features.
It's also a revamped version of the classic Logitech G700 wireless mouse, but the G700s comes with more solid and customizable options. Users enjoy the freedom to switch between wired and wireless connectivity.
– Design and Features: Heavy and Ergonomic
Even as a wireless mouse, the G700s is heavier than a standard wired mouse, thanks to a rechargeable battery and wireless transceiver. However, it's still light enough to give your quick reaction time in fast-paced scenarios.
The G700s is contoured to fit your right hand with a combination of smooth plastic on the palm rest and buttons, including textured sides for comfortable grips.
Users get thirteen different controls at the front and side of the mouse, including eight programmable G-keys, toggle buttons to adjust DPI up and down, and an integrated back button.
There's a toggle you can use to change the clickable scroll wheel from ratcheting to free spinning and vice versa.
– Sensor and DPI: Max Sensitivity
The G700s sensor is another factor that makes it a unique mouse with many functions. It's a laser sensor that offers a top sensitivity reaching 8,200 DPI, thus allowing an adjustable setting between 200 to 8,200.
With that, you can make quick moves during engaging games or when the occasion demands.
You can adjust the sensitivity on the fly when you tap a button, and the LED indicator lets you know whether you've increased or decreased the sensitivity.
– Performance: Efficient Wired and Wireless Options
While many gamers don't like the prospect of a wired connection, it's a good option here, but the wireless connection performs better here. In gameplays and other scenarios, the G700s will perform admirably, thanks to smooth, consistent tracking, less stutter, and more convenient buttons.

– Overview
The G700s rechargeable gaming mouse is a revamped classic that will appeal to gamers who want the thrill of a wired and wireless connection. It's a great tool for gaming.
Logitech G700s vs. G602: Comparison of Their Top Features
The main difference between Logitech G700s and G602 is, Logitech G700s gets top-notch battery life and offers significantly more between 200 to 8200 DPI, while with G602 you get between 500 to 2500 DPI.
Connectivity
One versatile aspect of the G700s is the optional wired charging cable. When you plug it in, the wireless mouse becomes a wired mouse. Further, you don't need to install any drivers, and you won't lose any data.
The G602 offers just a wireless connection.
Also, the Logitech G700s battery life is top-notch, and the charging fan lets you keep the battery going without stopping to recharge. What's more, the wired or wireless connection Executes commands up to eight times faster than a USB mouse.
Programmable Buttons
The hallmark of any device is being customizable, and a mouse is no different. They both pack programmable buttons, with the G700s having thirteen buttons, while the G602 has eleven. You can use the two to perform simple commands and intricate macros at the click of a button.
DPI/CPI
While these two mice are unique options, we have to consider the DPI/CPI, which is a factor that contributes to the smooth running of both devices.
You get between 500 to 2500 DPI on the G602, while the G700s offer significantly more between 200 to 8200 DPI. That makes the latter faster when you need to make quick moves playing intensive games. However, you can adjust the sensitivity of both on the fly.
Conclusion
In this Logitech mouse comparison, it's clear that both products have quality features to fit your rig and intended functions. They're both good for gaming, but our review picks the G700s as the clear winner, especially if you want to elevate your overall gaming experience.
It has a higher DPI, more programmable buttons, and much more that will come in handy for various precision tasks and help boost in-game accuracy.