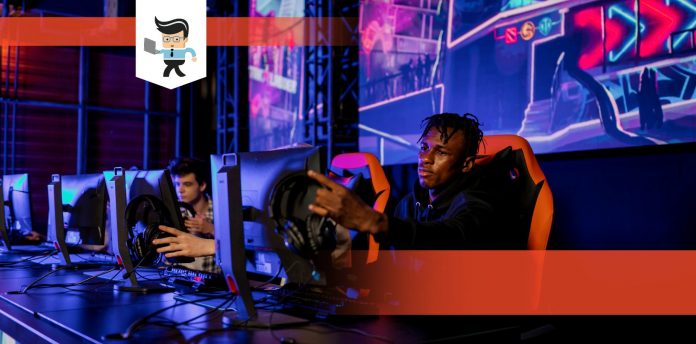 The Elecwish gaming chair comes across as one of the perfect options that let you level up to different activities, including gaming. The fact is a gaming chair is a major requirement for any gaming enthusiast out there for an immersive and high-quality experience.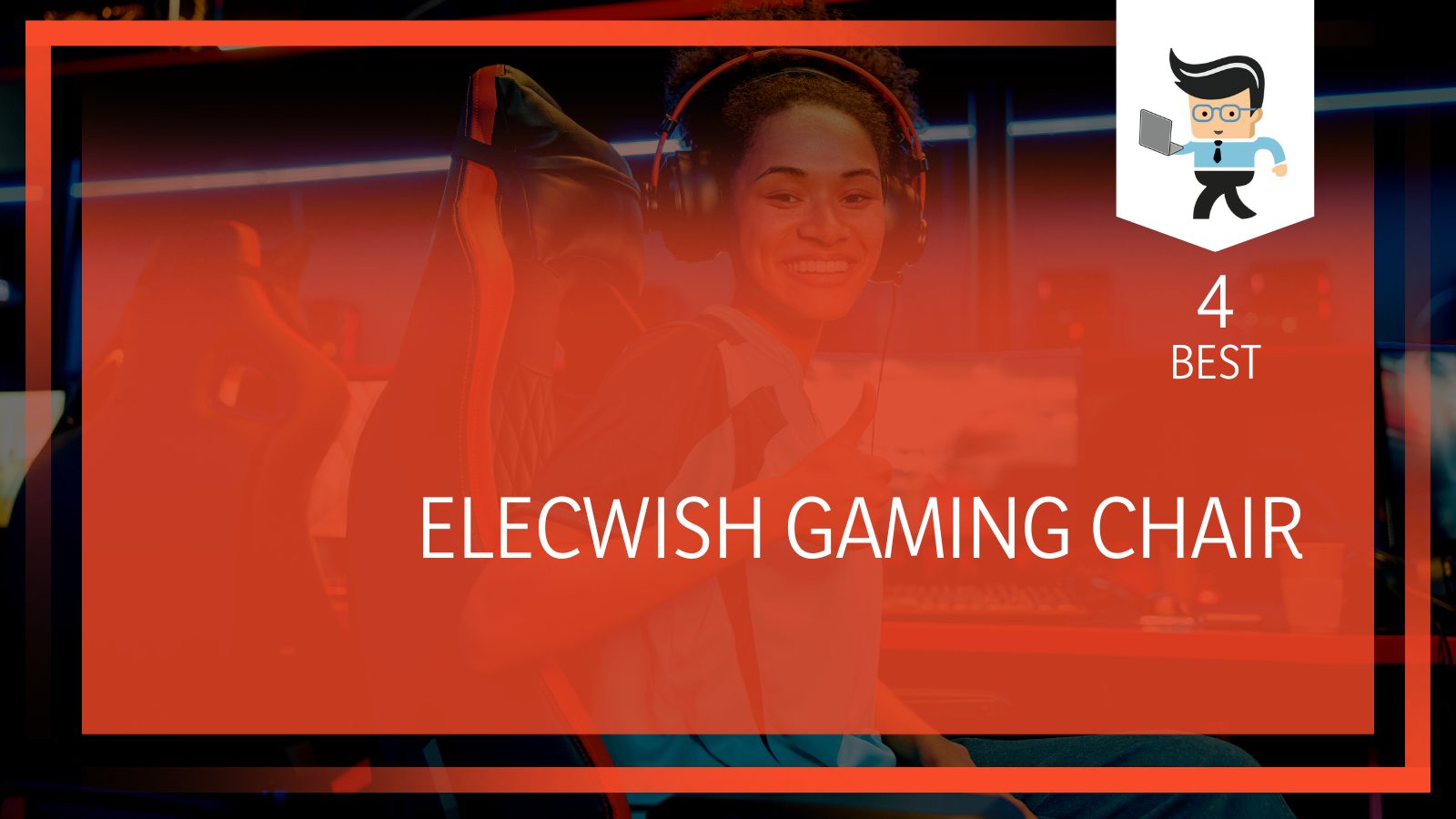 Whether you're a hardcore gamer or regular user, you've heard about Elecwish and its models of exquisite gaming chairs.
There's a lot to learn about these chairs, and our review team will take you through their components, advantages, and weak points.
Elecwish Chairs: A Glance at the Key Specifications
Elecwish Gaming Chair Review: Top Four Options for Avid Gamers
If you haven't heard of Elecwish, then you're in the right place. The brand is a furniture maker working out of Shanghai, China.
They manufacture office chairs, patio furniture, bathroom vanities, bar stool and table, fitness equipment, smart lighting, etc. That's quite the range of products, but our main concern is the gaming chairs Elecwish produces.
The options you're about to read about are four of the best in this brand's lineup. Not only are these chairs user-friendly, ergonomic, and durable, but they're also budget-friendly options that still guarantee outstanding performance.
Powerful builds and designs are part of Elecwish's ideals, so you get that on these chairs. They offer the functionality and comfort needed for prolonged periods of use.
Pros
Easy assembly
Top-notch ergonomic features
Noiseless and durable casters
Shape-protecting build
Cons
If you're searching for a proper option, this Elecwish ergonomic gaming chair is more than capable of meeting your needs.
It comes with the kind of support you'd expect from a brand that puts your physical safety into consideration. Elecwish includes a pillow, footrest, and other materials that make the chair a spectacle to sit on.
Don't forget that it has a high-back feature as well.
– Build and Design: High-quality Gaming Chair
To have a relaxing time on any chair, you'll need a sturdy base and frame. Thanks to the overall metal frame and hydraulic rod combined with leather, this chair doesn't disappoint; it will surely set the perfect gaming atmosphere.
Further, the chair incorporates a smooth-rolling caster underneath, durable and supporting your total body weight.
Its max weight capacity stands at 330 pounds. You'll also find that the wheels are noiseless across the surface, no-slip, and won't scratch your floor. That way, you get to move around conveniently.
– Ergonomics: Stay Safe and Comfortable
With an ergonomic gaming chair such as this one, you can play games and work for extended periods without feeling the need to get up. It's that good and includes a headrest pillow that can be adjusted according to your convenience. The chair will spread your body weight equally to enhance long hours of relaxation.
There's free lumbar support as well. It's a vital addition to maintaining the correct shape of your spine and the overall posture of your body. Along with the high back and ergonomic shape, the seat is a large cushion with a strong retractable footrest tight beneath it.
Besides, you don't need to get up to use a USB port on your computer. There's a built-in USB charging function on this chair so that you're always relaxed when sitting down.
– Material: Smooth Quality
When you sit on this Elecwish chair, you've chosen the comfort and style that comes with it. That's because Elecwish uses high-quality PU leather and a thicker sponge on the front and back of the chair. As a result, you get a resilient, permeable, and padded chair that's comfortable and easy to clean.
Its comfy and quality features make it a candidate for various functions. To that end, this gaming chair for adults adds adjustable armrests and seat heights. You can recline 90 to 150 degrees while rocking to and fro while playing games, working in your office, or just relaxing.

– Overview
With this chair, gamers have the ideal choice for their rig, thanks to a sturdy base and quality features. There's enough ergonomics to make your experience during any application a worthwhile and comfortable one.
Pros
Ergonomic design featuring a retractable footrest
Shaped to keep you safe
Durable
Quality material and large seat
Cons
Not suited to smaller gamers
If you're searching for a gaming chair with footrest, this one is structured to give you that.
Besides, it comes with a build to support your vertebrae coupled with a neck pillow to make things extra comfortable. What you get is exceptional support for your body and smooth, scratch-resistant PU leather to complement your rig.
Underneath, you have smooth-rolling caster wheels, which are highly durable and can support body weights of up to 330 pounds. Further, you get noiseless wheels, non-slip in nature, and won't scratch your floor. The thick paddings inside the chair let you relax and play games for extended periods.
– Ergonomics: Designed for Comfort
A gaming chair designed to provide ergonomics is a priority for any gamer out there. This Elecwish comes with lumbar support, a wide headrest pillow, and a comfy seat cushion.
There's a retractable footrest for good measure as well. Anytime you want to put your feet up, simply take it out and relax. The chair evenly spreads your body weight, making it suitable for video gamers.
– Build: Sturdy and Durable
Apart from being a quality gaming chair with a footrest, it has a strong metal frame and an international standard hydraulic rod. You get a chair for the long haul when you add an internal high-density thick sponge to the PU leather.
Under it, you get a 5-point steel base and heavy-duty, smooth-rolling casters that move freely.
The seat's shape is large and more suitable for bigger gamers and has movable arms to help you get a comfortable angle. It's ideal for male and female adults looking to take advantage of the competition.
It also helps that you can recline the chair to a max angle of 150 degrees. The base will keep you safe and move around without hitches.

– Overview
Thanks to its high back, large seat, and comfortable padding, this chair is the best option for adults on the heavier side. It can be used in different places and is equipped with a recline and rocking function.
Pros
Quality build and ergonomic design
Secure and durable frame
Adjustable footrest
PU anti-scratch leather
Cons
Arms aren't quite comfortable
Everybody loves a user-friendly and ergonomic gaming chair for various reasons. This particular is constructed with top-level materials to keep you glued and comfortable on your seat.
Cushions and comfortable paddings are part of the terrain, and you can always put your feet up with the adjustable footrest it comes with.
– Frame and Materials: Premium Quality
A reclining gaming chair should have premium materials that make sitting a pleasurable experience. You get quality on this chair from the noiseless rubber caster wheels that protect the floor from getting scratched to the frame and padding; you get quality on this chair.
It has parts to support you, including a solid, durable frame for safety and painless sitting for prolonged periods. That helps to keep your spine in its natural shape.
The frame is also covered by an explosion-proof gas spring of the best standards coupled with a heavy-duty base. Rolling across the floor with your weight capacity of 330 pounds on this chair won't affect its quality.
A chair is also as good as the covering over its hard and soft parts. To that end, you have a high-grade PU leather and thicker sponge used at the front and back.
These high-resilience materials have a breathable aspect that feels great even while sitting for extended periods. It also makes sense that the material is easy to clean.
– Double Comfort: Top-Notch Ergonomics
With this Elecwish model, get prepared for quality ergonomics with a design that incorporates a free USB electric massager, a backrest pillow, and wider and thicker armrests with ergonomic shape.
We already know it has a wide seat cushion, but the adjustable footrest adds to an already comfortable gaming chair. It helps when you can take it out to put your feet up.
The chair is easy to put together and will fit a wide variety of uses, including for your office, sitting area, and game room.

– Overview
This Elecwish model comes with a soft sponge neck and back pillow. There are different customizations you can make, including the height. It's a model that will suit fans of recliner gaming chairs that want a solid base, dynamic motion, and comfortable surface.
Pros
Vibration motors to relax
Top-level ergonomics
Headrest and lumbar support
It has pockets for storage
Cons
If you want adequate relaxation when you play games, there's no reason why this massage and recliner chair shouldn't fit the description.
It's a racing-style single sofa chair that gives you that classy and comfortable feel sitting down. Almost every part of it is designed to provide relief to your spinal cord with its thick cushions for improved comfort.
Like many Elecwish models, it's pretty straightforward to assemble within 20 minutes and can take up about 330 pounds of human body weight.
As a racing-style chair, it's covered with breathable premium PU leather and has a headrest pillow that offers neck protection. The chair also includes a movable seat height function and a tilt and lock option.
– Build and Design: Stay Comfortable Through Any Task
There's a large, thick, and wide seat that provides comfort for all women and men of different sizes, provided they're 330 pounds and below.
What's more, the design includes the anti-oxidant PU skin material that wraps every part of the sponge material. It's worth knowing that this virgin sponge is enlarged and offers good elastic. That way, you can go deeper in the chair and still feel its resilience after you get up.
– Recline With Ergonomics: Improved Performance
This chair is a multifunctional choice and has earned the tag of being an Elecwish computer gaming chair that lets you lie down at different angles with the presence of a footrest.
The recline reaches an angle of 150 degrees, and there are side pockets to make things easy for you. You can store your phones and wallet while you play games or relax.
When you need to recline, there are safe angles for you from 90-160 degrees. Further, with this Elecwish ergonomic chair, you get a heavy-duty metal base that contributes to the chair's excellent stability and mobility.
Moreover, it provides you with the ultimate comfort and style, thanks to its unique racing-style imitation leather padding.
The headrest and lumbar support are just as important if you're going to enjoy sitting down for prolonged hours. In particular, the lumbar support can be moved and disassembled, and placed in positions that you find more suitable and comfortable for you.
The best part about the lumbar support is that it comes with three massage modes and two vibrating motors carrying a USB interface.

– Overview
Why settle for a chair and a sofa when you can have both incorporated in one piece?
This Elecwish model can be your double act as a single recliner in the living room and office, and as well as a game chair in the home theater/game room. It's the ideal choice for pro and regular gamers.
Elecwish Gaming Chairs: Buying Guide
Elecwish gaming models are known for their user-friendly design, lumbar support, luxurious PU covering, 5-star certified BIFMA construction, firm footrest, movable headrest, and much more.
You also get functional anti-scratch caster wheels, high body weight support, and SGS certified safe airlift height adjustments. Overall, there's a lot to be said about their quality and performances.
These gaming chairs are useful for professional gamers that sit for extended periods playing games, but they can also be used for relaxation and in the office.
If you want to get a gaming chair from a top-notch brand like Elecwish, here are some popular features to watch out for:
1. Backrest Cushion
When it comes to the backrest cushion on Elecwish gaming chairs, you'll find that they have a good neck and back structure with extra cushions. The backrest cushion protects the lumbar and spinal cord from sprain and any discomfort caused by extended sitting hours.
Also, the backrest cushion is often movable and provides additional comfort. Elecwish's thoughts behind these cushions are to help gamers and other users relax irrespective of the activity.
2. Retractable Footrest
Sometimes, you'd want to put your feet up and take a much-deserved rest or change your gaming angles. Elecwish chair models come with footrests, which are usually retractable to keep your legs stretched when you need them.
When you choose to use the footrest, recline and use the knob provided. Elecwish does well to place the knob well so that it's easier for you to adjust the footrest according to your liking. If you don't want to use the footrest, you can leave it right under your seat.
3. Movable Tilt and Lock
There's more elegance with Elecwish models because they boast a generous backrest reclining feature. The back tilt mechanism can adjust anywhere from 90 to 170 degrees, depending on the model.
At the same time, the recliner allows you to take a nap almost horizontally and is helpful during breaks from long office days or while relaxing and watching a movie.
There is also a safe angle lock to settle into any position you fancy.
4. High Weight Capacity
Elecwish computer chairs are popular for their high weight capacity. The gaming chairs can take up to 360 pounds of human body weight on well-designed paddings. We also noted that construction material and design make the gaming chair durable and robust.
It's only normal that robust features give rise to a credible chair with the best weight capacity.
5. Padded Armrest
Armrests are important, and the ones provided in Elecwish gaming models are unique. Unlike the gaming chairs available in the market, the armrest is attached to the seat and won't rotate.
However, Elecwish offers something different with the armrests joined to the seat pan at a junction and can be moved during any activity.
Final Thoughts
Like many gamers out there, if you cherish a better gaming experience, a reliable chair is an essential addition to your rig.
Elecwish is a brand that can give you different models to choose from. The quality of these chairs is right up there with the best. Smooth covers, soft and durable paddings, solid frame and base, dynamic pillows, and lumbar support are some of the reasons why they're worth getting.
If you're looking to settle for the best of the rest, our team finds the remarkable structure and ergonomic design of the ELECWISH Massage Gaming Recliner Chair good enough for you. It will deliver the unique experience, comfort, and posture every gamer desires in a gaming chair.