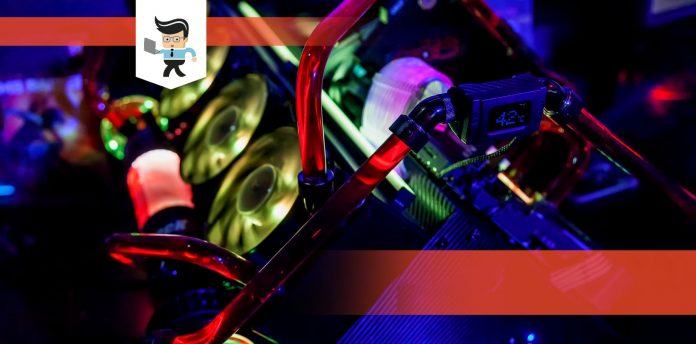 In a comparison of the Hyper 212 vs Wraith Prism, which one would win? The answer is a little more complicated than you can imagine. Our experts fully looked at each of these choices and have determined who each one is better for, and who it might not be great for.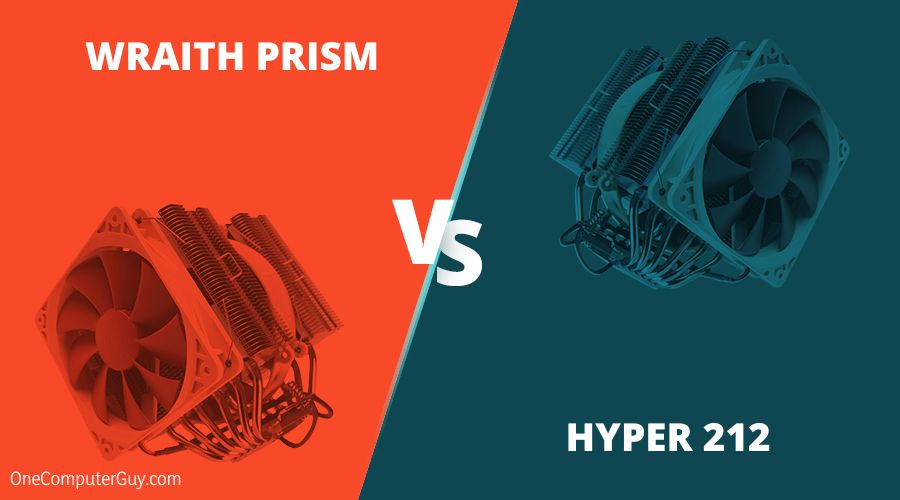 Keep reading to see more about which one we liked and for who.
Table Comparison: Wraith Prism Vs Hyper 212
Wraith Prism Vs Hyper 212 Reviews
Before we compare the two to each other, let's get an overview of what the coolers are like on their own in some individual reviews.
● One of the best reviews CPU coolers on the market today
● Extremely powerful option
● Comes included with some of AMD's Ryzen 3rd gen processors.
– Overall Review
This is one of the most impressive CPU coolers that you can buy, if you are able to find it. While this cooler does come included with some AMD processors, it can be a bit more difficult to find for some people.
Here is the first thing you need to know: this is a STUNNING cooler. It is one of the most easily personalized coolers that you can find on the market today. There are a few different modes with the lighting where you can pick from any combination of colors on the RGB scale.
People who have this fan installed on their computer have compared the personalization to art because you can do so much with it. There are certainly some more popular options, including a mode that makes the fans look like they are moving at a different speed.
It is a slimmer option as well, allowing for even more cooling capabilities within your case. Since it takes up less space, there is better airflow within the case. They made it thinner but didn't compromise performance, which is hard to do.
As far as the noise level goes, while this isn't what we'd call a "silent" fan, it is one of the quieter fans that you can get. When you are overclocking, you will start to hear the fan working, but apart from that, it is silent.
If you are the type of overclock, this is a good choice. People who play games, stream content, render videos, and more haven't had issues with overheating. It should stay relatively cool at all times, even though you still want to keep an eye on your temperature while you are overclocking.

The AMD Wraith Prism LED RGB Cooler Fan from Ryzen 7 2700X is a great fan for someone who needs a gaming cooler on a budget. It is the perfect accompaniment for streamers and those who want to create content around their gaming due to its cool appearance and the low sound levels.
● Extremely easy to install
● Is an improvement over the other options in this line
● Falls within a really good priceline for what you get
– Overall Review
The design of this cooler is quite nice, with a direct-contact, quad-heatpipe tower design with minimal flair. While it isn't going to be the leading choice for open cases, it is still a pretty option in the black. "Sleek" is a good way to explain it because of the reflective gleam that isn't too distracting or over the top.
The cooling tower fins are the standout features of this cooler because they have dark chrome plating that will catch some attention. Each cooling tower is topped with a plate that features the Cooler Master logo, which is a bit ostentatious up close, but fades into the overall appearance as you take a few steps back.
Another good way to explain the design is "conservative." This doesn't have a ton of lighting options, but you do have enough RGB lights that are easy to control. The blade shape is a bit unusual, both in appearance and in performance.
Installation is one of the easiest on the market. The fan itself is decoupled from the cooling tower and it snaps into place oce secured. The fans use a standard four pin PWM header. The lack of crevices in the design also makes it much easier to clean than some other coolers.
As far as value for money goes, this cooler does sit at a slightly cheaper price than some others, and it performs pretty well within that price range. The cooler takes away heat pretty well, but where it shines is in keeping temperatures regulated.
Overall, this one underperforms slightly when it comes to temperature regulation when the PC is under a huge workload. If you are an overclocker or a gamer, this one may not be the best option for you.

If you are just dipping your toes into the PC building water, then this is going to be a great option for you. It has a ton of personalization choices, future-proofing, and it is really easy to install. It isn't going to be the best choice for people who are gaming or pushing their systems.
Product Comparison: Wraith Prism Vs Hyper 212
The main difference between Wraith Prism and Hyper 212 is, AMD Wraith Prism has better temperature regulation, is quiet and smaller in size, while Cooler Master Hyper 212 is an easier, quicker install.
Now that you have an idea of their individual reviews, let's see how they compare to each other in some of the most important areas:
– Temperature Regulation:
A cooler needs to be good at temperature regulation in order for it to be successful. Both of these coolers are good at regulating temperature under normal usage. However, it becomes clear that the Wraith Prism is a better option for serious temperature regulation when you are generating more heat due to overclocking or simply using your PC for heavier activities.
Winner: AMD Wraith Prism from Ryzen 7 2700X
– Noise:
When you are using your computer, you don't want to hear an airplane jet sound when you are trying to stream content or storm a fort. Both of these coolers are quiet under normal stress loads, but once you get them started working on serious cooling, you still start to hear some noise from both of them.
This may come down to a matter of opinion, but it seems like the Cooler Master Hyper 212 RGB Black Edition has a slightly higher pitched fan noise that is more annoying.
Winner: AMD Wraith Prism from Ryzen 7 2700X
– Appearances:
These are two vastly different coolers when it comes to appearances. The AMD Wraith Prism from Ryzen 7 2700X is a flashier, more personalized cooler that you can get to do everything from turn off completely to send out Morse Code messages using lights.
The Cooler Master Hyper 212 RGB Black Edition, on the other hand, has some good RGB lighting but it isn't nearly as personalized or fun as with the Wraith. It will come down to what you want out of them, but everything the Cooler Master Hyper 212 RGB Black Edition can do, the AMD Wraith Prism from Ryzen 7 2700X can do, and more.
Winner: AMD Wraith Prism from Ryzen 7 2700X
– Ease of Installation:
How easy is the cooler to install? It can be really tight in those cases and trying to find a way to install your cooler can take some time. Luckily, both of these coolers are very easy to install and even take out for cleaning. However, most people will spend more time trying to personalize the colors and speeds on the Wraith Prism, so the Cooler Master tends to be the easier, quicker install.
Winner: Cooler Master Hyper 212 RGB Black Edition
– Size:
The size of your cooler matters, especially in a time when cases need to have more breathing room. While this will largely depend on the size of the case that you use, but the smaller your cooler is, without losing power (that is a very important aspect of the equation), the better off you will be.
Winner: AMD Wraith Prism from Ryzen 7 2700X
Conclusion: Wraith Prism Vs Hyper 212
When you are trying to choose between the AMD Wraith Prism from Ryzen 7 2700X and the Cooler Master Hyper 212 RGB Black Edition, the better choice seems pretty clear to us. If you are a gamer or someone who wants to push your machine and therefore need some serious cooling, the AMD Wraith Prism from Ryzen 7 2700X is going to be a far better choice for you.
If you don't push your computer all that much, then the Cooler Master Hyper 212 RGB Black Edition is a good choice for you.