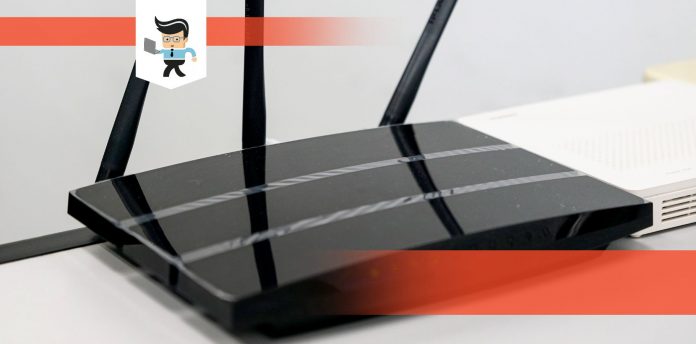 With a Linksys EA9500 vs. Asus RT-AC5300 comparison, out of the dozens of routers out there, you'll know these two devices are worth getting. It's normal to desire a router you can trust to provide strong signal strength and reliable speeds when different devices need service.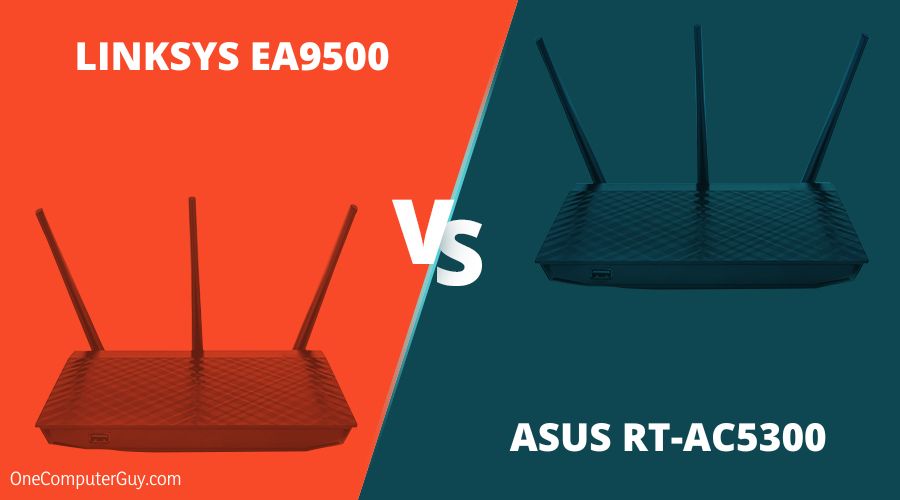 Thanks to their tri-band frequencies and other features, these two routers are superior options that make them the go-to modern-day routers for many users.
Our review and comparison of both centers around their core specifications and capabilities, coupled with how well they'll perform depending on which one you choose.
Key Specifications: Outline of Key Features
Product 
Key Specifications 
Linksys EA9500

Connection speed: 5.3 Gbps Max
Antenna: 8
Frequency band: Tri-band
Ports: 8
USB: Two USB 3.0

ASUS RT-AC5300

Connection speed: 5.3 Gbps Max
Antenna: 8
Frequency band: Tri-band
Ports: 4
USB: One USB 2.0, USB 3.0
Asus RT-AC5300 and Linksys EA9500: How Do They Compare?
Your home, office, and other locations may have multiple devices that need an internet connection. With homes and offices, you also have different rooms and spaces, so you need a device that gives off a good range.
Two of the best routers you can get are the EA9500 from Linksys and the AC5300 from Asus. These are two top contenders for your money that we are going to review.
While distinguishing the two routers might prove difficult, we have done our bit to break down one after the other before discussing some key features. We're interested in finding the best option for your home and the kind of coverage you need.
The Asus and Linksys brand has lasted this long, providing some of the best devices in the tech industry. Read on to learn what sets these two apart and how they stack up against each other.
Pros
Multiple LAN ports
It comes with MU-MIMO capabilities
Multiple management settings
Excellent speed and throughput
Cons
On the expensive side
Leaves a large footprint
Our Linksys EA9500 review showcases a router that's MU-MIMO enabled and big! Yes, it covers some space and isn't small.
It comes powered by a dual-core CPU and carries eight external antennas. We've labeled it a monstrous Gigabit tri-band router capable of HD streaming, which carries up to eight LAN ports and features a raft of management settings. All these features point to a high-performing high-end router.
– Design: Leaves a Large Footprint
If you think you've seen it all, this Linksys puts your knowledge to the test because of its sheer size and numerous antennas. It carries the look of a wild beast with many horns sprouting up.
With that size, build, and design, this router takes up a lot of space, considering each antenna measures about 5 inches in length. The size also means it's heavy.
Don't expect it to stay hidden in your home. However, it does look simple with the small and convenient display on the top. The display is surrounded by many tiny holes for venting, while the bottom surface features several holes coupled with four non-slip rubber feet on the corners.
– Connectivity: MU-MIMO Capable and Tri-band
The Linksys EA9500 specs include the famed MU-MIMO software and tri-band frequency, which gives off excellent speeds. To that extent, you have a combination of 1000+2166+2166 Mbps speeds.
Further, the router is powered by a 1.4GHz dual-core processor and uses 802.11ac network standards.
There's only one 2.4GHz band here, while you get two 5GHz bands that operate independently of each other. To explain better, you have a theoretical 1000 Mbps on the 2.4GHz band and 2166 Mbps on each of the 5GHz bands. The fact is no one is going to reach those speeds using any device.
The Multi-User Multiple Input Multiple Output (MU-MIMO) support on the router is designed to handle bandwidth in homes efficiently, even with devices of different speed grades. The two devices can connect to the router at their highest speed without affecting the speeds of other devices.
In addition, data is transmitted at the same time rather than in sequence. As a result, each device connection feels unique to its dedicated router. For example, you can be in a room playing your favorite game online while your family is streaming a 4K movie elsewhere.
– Extra Ports and USB: More Connections and Optimal Performances
While we admire this router's super strong and accessible high-performing wireless capability, there's more to this device, because of the eight wired Ethernet and two USB 3.0 ports.
With these USB ports, you can use network-attached storage devices to share data such as videos and more. The other ports could be connected to other Internet sources. Whether you use a wired or wireless connection, this EA9500 router has excellent connectivity.
– Software: Intuitive and User-Friendly
Like others before it under this brand, this Linksys router packs excellent software that's well-designed, intuitive, and user-friendly. Linksys refers to its dashboard interface as "Smart Wi-Fi," where you can access many tools, including Guest Access, Parental Controls, and Media Prioritization.
The Guest Access will let you set up a network with an easier password for visitors, while the parental controls allow you some control over what your children have access to at different times. Also, Linksys inserts a Network Map to see what devices are connected to your network and what they are doing.
You can use the built-in Speed Test to test any changes you make right from the dashboard. Again, External Storage is another tool that lets you see what drives are attached to the USB 3.0 ports.
It's also worth noting that Linksys has mobile apps on Android and iOS that let you do all the same things you can do from the browser dashboard. These apps also have a design and interface you'll find simple to use.
– Setup Process: Basic Setup and Nothing Difficult
We all love a straightforward setup process, no matter the router and device. To that end, Linksys makes the EA9500 easy to operate and install with a simple seven-step Quick Start Guide included in the box. All the prompts you need to put together come with the whole package.

– Overview
This router is a superb addition to homes that operate with a super-fast broadband connection. It offers more, but a drawback may be the price you pay for it.
Pros
Super fast and reliable throughput
Suitable for gaming and 4K streaming
MU-MIMO is present
Ports for extra connections
Cons
Pretty expensive
Large footprint
The Asus RT-AC5300 review showcases a router designed for large homes that require max bandwidth for different applications, such as online gaming. Thanks to its tri-band frequency, it fits the bill, which uses the latest 802.11ac technology coupled with three individual radio bands to deliver game-worthy throughput to multiple clients.
Just like the EA9500 reviewed above, this router is packed with features and comes in a more accessible size. You get the Multi-User Multiple Input, Multiple Output (MU-MIMO) data streaming, 4X4 data transmissions, and a couple of other management settings.
– Design and Features: Built for the Big Time
The measurement on this router is large, so you get our point that it requires a desktop space that's just as big. It has a matte-black enclosure with red trim and beveled edges. Also, like the EA9500, it has eight removable and adjustable antennas, which add to its already large size!
At the front edge, you get small LED indicators set for Power, WAN, Internet activity, 2.4GHz, and 5GHz band connectivity, and WPS activity at the front edge. That's quite a number, but there's also a USB 2.0 port on the left side, as well as buttons to enable and disable the LEDs.
The Wi-Fi bands also feature and are used for initializing the WPS security feature. You get four Gigabit LAN ports, a WAN port, a USB 3.0 port, and a Power button at the back.
It runs a 1.4GHz dual-core processor and a tri-band frequency featuring three individual bands – one 2.4GHz band and two 5GHz bands. As an AC5300 device, expect to get theoretical throughput speeds reaching 1000 Mbps on the 2.4GHz band and 2167 Mbps on each of the 5GHz bands.
The 4X4 title this router has means it uses four individual streams to deliver and receive data. It also supports beamforming, Signal sending, Smart Connect for optimal throughput, and MU-MIMO technology for simultaneous rather than sequential streaming.
Further, with the web-based ASUSWRT management console, you can make a raft of management settings.
– Extra Ports and USB: Built to Offer More
The number of four ports on this router is coupled with two USB ports. You can use these to connect wired devices and transfer files and data.
The two USB ports are 2.0 and 3.0, respectively. The best part is that a wired or wireless connection still gives you a fast and secure connection.
– Installation and Performance: Fun and Straightforward
With the RT-AC5300 specs, you get a Setup Wizard that makes it a simple router to install, even for a first-time user. All information you need and the necessary parts are included in the package.

– Overview
If you're a regular online gamer, 4K streamer, and have a home using multiple devices, this tri-band router will deliver optimum speeds. The 2.4GHz and 5GHz throughput will suit your needs, while the MU-MIMO support adds some input to data streaming.
EA9500 vs. RT-AC5300: Head-to-Head Comparison of Their Key Specifications
The main difference between EA9500 and RT-AC5300 is, EA9500 has up to eight Gigabit LAN ports and two USB 3.0 ports while RT-AC5300 comes with beamforming technology.
Build and Design
The first thing you'll notice about the build and design of the EA9500 is its super large frame. So don't expect it to blend with your decor. Further, it has eight large antennas, and this makes the Linksys pretty bulky.
On the top of this router is a small display screen, but the rest of the device is covered with holes. That way, you have enough ventilation coming in to keep it cool at all times. You also get four non-slip rubber feet for the corners.
The Asus is also large and won't form part of your decor unless you have a mighty palace. Well, the eight antennas here are detachable, but the design layout is top-notch.
Also, you can flip it over so that the router stands on its antennas. Don't worry; it'll still work just fine. That said, this RT-AC5300 comes with beamforming technology that enables it to cover a transmission distance of up to 500 square meters.
Interfaces and Ports
While these two routers come with a couple of USB ports each and ports, we feel that the EA9500 holds its own with more ports. It has up to eight Gigabit LAN ports, enabling users to stream Smart-TV, Blue-ray, and connect various devices with ease.
However, the Asus will deliver a higher speed by combining the first two LAN ports so that you get speeds of 2 Gbps, in addition to its four Gigabit Ethernet ports.
The RT AC5300 also comes with an advanced wireless security system called the AiProtection. With this technology and the interface, the router protects your connections from possible threats. It is powered by Trend Micro, which translates to assured connectivity protection from virus transmission and other threats.
The Linksys EA9500 also features two USB 3.0 ports, compared to the single 3.0 USB on the Asus RT-AC5300. A single 3.0 USB is a disappointment coming from such a great and dominant router.
Wi-Fi Technology
When we take a closer look at the technologies used on both routers, they have a similar feel. That's because they both have the latest MU-MIMO technology coupled up with 4X4 data streams.
The Asus router stands out thanks to its innovative connect technology, which is lacking in the EA9500. With that technology, the connected devices on the router are linked to the fastest band available. You won't have cases of slow devices cannibalizing for speeds with the faster devices.
Also, the AC5300 stands out in using a teaming network that helps you aggregate two LAN ports to get up to 2 Gbps wired connections. However, with eight LAN ports in its device, the EA9500 has higher chances of performing better.
Frequently Asked Questions
1. How Secure Are the EA9500 and AC5300 Routers?
Security is an essential consideration for any router you want to get. That's why we vouch for the security systems put in place by both Asus and Linksys. All your data and personal information are vital; hence they must be protected over any Wi-Fi connection.
For example, on Linksys, it's easy to set up a secure password to diminish the chances of being hacked. However, both routers conveniently provide WPA/WPA2 encryption and offer SPI firewalls that help to keep your connection safe from malware and viruses.
2. How Often Should I Replace My Router?
Upgrading your router when you have the chance and budget is a great feeling. The fact is that new models pop up every day, and if your current router has lasted for at least three to four years, it's time to change it.
Faster and longer ranges like those on the two reviewed here are worth getting.
Final Thoughts – EA9500 vs. ASUS RT AC5300: Making a Decision
These routers are excellent performers, which means it's not easy to pick one over the other.
However, if you want a router that will meet all your Wi-Fi needs, the Linksys EA9500 will deliver. It has a sturdy physical presence and eight antennas that further add to its bulk. You also get eight ports and two USB 3.0 ports on this device.
In addition to that, the tri-bands of 2.4GHz and 5Ghz enable it to operate at very high speeds. The Asus RT-AC5300 offers similar features and software, but the Linksys EA9500 range is slightly larger and more stable.