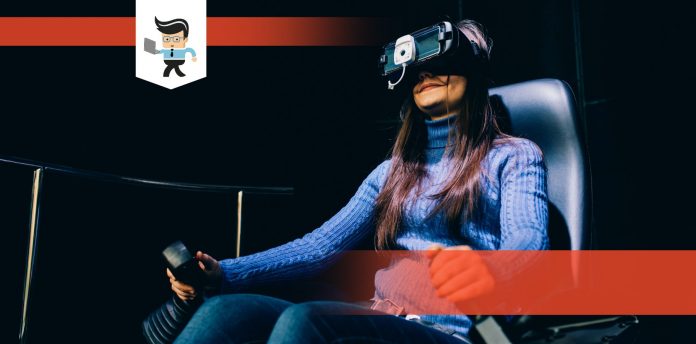 A Killabee gaming chair is a must-have when considering the features and specifications this gaming chair brand is laced with. You also spend less since many of the chairs are budget-friendly and last for a long time.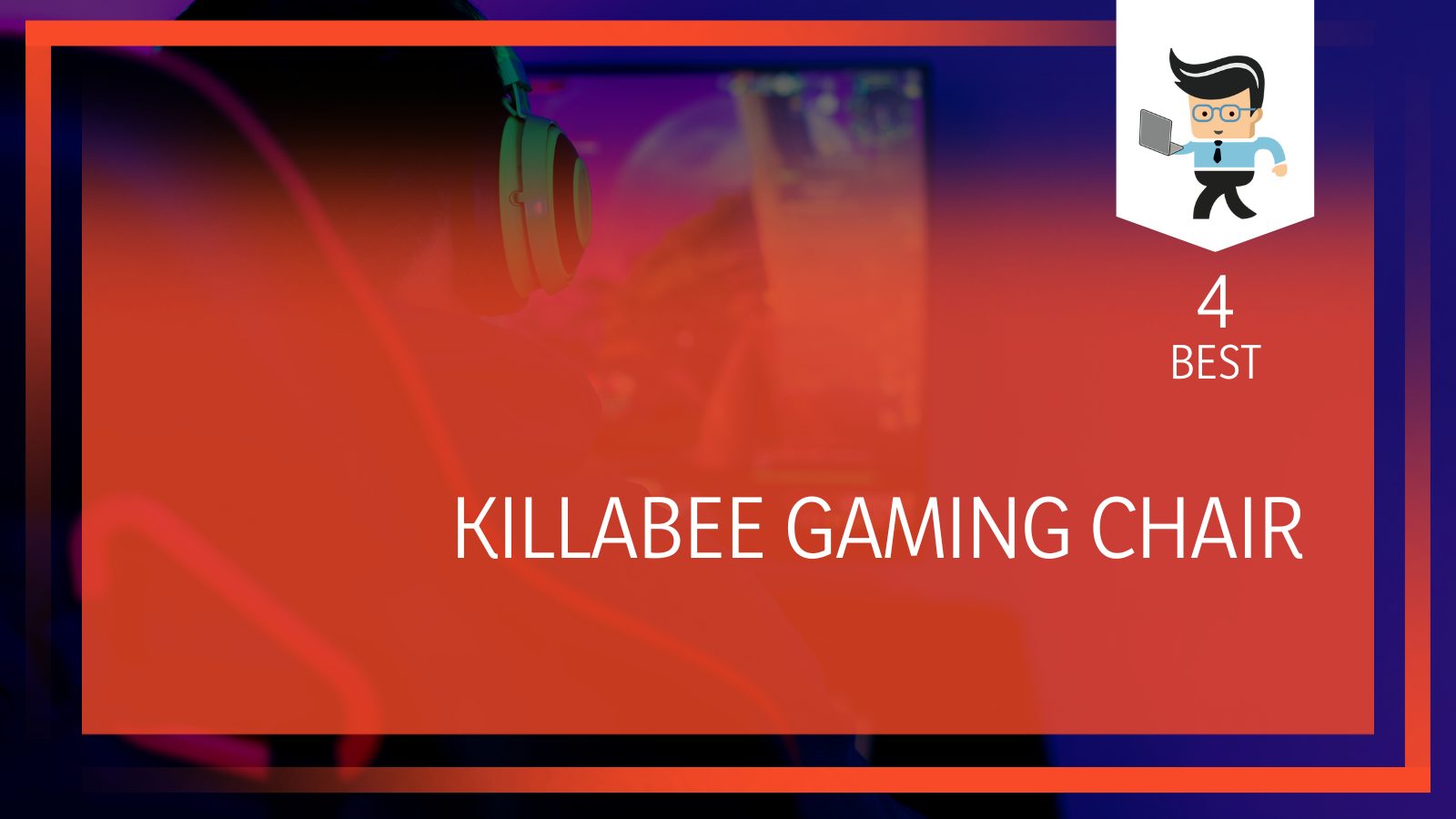 Still, you need to know how these chairs work, whether they're ergonomic enough, and how you can get comfortable in them. That's why our review team has meticulously tested these four Killabee chairs to help you find which one is much suitable for you.
Killabee Gaming Models: Key Specifications at a Glance
Product 
Key Specifications 
Big and Tall Gaming Chair

Material: Leather
Frame: Metal
Ergonomics: Lumbar, seat cushion
Max Recline: 155 degrees
Max Weight: 440 pounds

Killabee Massage Gaming Chair

Material: Leather
Frame: Metal
Ergonomics: Lumbar, footrest
Max Recline: 175 degrees
Max Weight: 250 pounds

Killabee Big and Tall

Material: PU Leather
Frame: Metal
Ergonomics: Headrest, lumbar massage
Max Recline: 155 degrees
Max Weight: 350 pounds

Killabee Memory Foam Chair

Material: Leather
Frame: Metal
Ergonomics: Seat, lumbar cushion
Max Recline: 155 degrees
Max Weight: 400 pounds
Killabee Gaming Chair Review: Our Top Four Picks
The Killabee brand is more than your typical gaming chair manufacturer and has survived for over a decade in an industry that leaves little to chance. Of course, there are more popular brands and the lineup of gaming chair models they come up with.
However, Killabee holds its own since it has done enough quality chairs to remain relevant in the growing and competitive market.
Indeed, being long in the market doesn't make a good chair, but it sure gives a brand like Killabee that experience it needs to churn out ergonomic and comfortable chairs. If you're searching for some particular features and specifications in gaming chairs, you can find them here.
Our review team has done a great job to bring you four distinctive options you can relax on, play games, and work.
Pros
Comfortable gaming experience
Highly adjustable chair
Premium, durable materials
Quality ergonomic components
Cons
Armrests aren't sturdy enough
Few models could compete with the Killabee gaming chair. It's a renowned brand with quality models in its lineup, and even though it may seem oversized for some users, it still comes across as one of those fair deals in the market for every gamer.
It also has an attractive racing-style design that matches up to any room. The swivel base movement, premium metal and leather, and fine finish all add up to give users a comfortable base to operate from.
– Build and Design: Body-hugging Style
One way to describe this chair is solid and beautiful. It's an ergonomic gaming chair designed with a large size, unique design, and body-hugging style to match your aesthetic appeal and figure. As a result, you enjoy a better gaming experience overall.
You can have an uninterrupted game without hitting the pause button to stretch or swap sitting positions due to sore muscles. It's a premium chair you can adjust, and that keeps you comfortable for the long haul.
– Ergonomics: Comfort Written all Over
The chair is not Big and Tall for nothing. Every part of it promises the most comfortable experience. That's because it's designed with ergonomics guaranteed to promote your level of comfort.
It embraces your body gently and gives adequate support and comfort to your neck and spine. To help with that, the chair is paired with a sumptuous memory foam seat, and high-end gel cold cured foam. That's an extra layer of comfort for you, optimal support, and a promoter of good posture. It's all designed to give you a wonderful experience.
Anyone can use this chair because of its adjustable and customizable designs. You even get to swivel around the solid base at a 360-degree angle, use the adjustable height mechanism and the back angle or recline/rock locking system for further relaxation. You can even tilt to a max angle of 155 degrees.
The 4D armrests rotate to four dimensions – up / down, forward / backward, left / right, vertical. It's a chair that anyone can comfortably use and customize to their liking whether you want to sit back and work, play or relax.
– Premium Materials: Variety of Durable Components
If you're searching for a robust gaming chair with premium construction and high-quality materials, your search ends with this big and tall chair. It's loaded with quality leather, fabric, and memory foam which guarantees you will enjoy this chair for years.
There's an integrated metal frame, explosion-proof gas spring of international standards, and heavy-duty metal base. Underneath, you get smooth-rolling caster wheels that provide a sturdy foundation to the chair that can withstand up to 440 pounds of weight. What's more, you get to choose from a variety of colors.

– Overview
This chair will appeal to those who are bigger and need a high back ergonomic chair to play games with. All its materials are premium quality and include 4D armrests and tilt functions for more comfort.
Pros
Vibrating lumbar pillow
Recline to relax
Robust chair
Comfortable footrest
Cons
Gets uncomfortable after prolonged use
If you want a budget gaming chair to give yourself an advantage over any competitor, this Killabee massage gaming chair is the best option you can get. You don't have to break the bank for it. It comes with an attractive racing-style design that will look flattering in any room and gaming space.
Killabee makes it in such a way that you get ample protection for your whole back, waist, and body in general. The massage feature is one of the most innovative additions to the chair and makes it work at a first and second look.
It is a multifunctional chair with padded arms where you can place your hands for a comfortable gaming experience, while the backrest is on the tall side, making the chair suitable for bigger gamers. We also like that the seat is adjustable to certain degrees and upholstered to contain the soft paddings inside.
There's a retractable footrest on this chair for good measure. Along with the high backrest, you can always relax or stretch out to calm your nerves. The superior comfort makes it ideal for long gaming sessions and relaxation anywhere you need it.
– Shape and Design: Luxurious Comfort
There's a thick, soft seat cushion on this chair to help you remain comfortable all through any activity. The addition of a footrest on the frame is a bonus. Besides, the thick end armrests and ultra-high backrest feels like a vacation as they also support your spine and neck.
Killabee also adds an adjustable lumbar cushion with an innovative USB electric massager implanted to relieve and boost your comfort level to luxurious heights.
– Ergonomic: Make Adjustments
An ergonomic chair is a fantastic addition to any rig. We all need chairs that we can tweak and change to great effect. For this massage chair, you get easily customizable parts, including a height regulating mechanism so that you can match your computer or office desk.
The racing-style chair also boasts a 360-degree swivel and back angle recline locking system that helps you relax well.
You can use this function to tilt the chair between 90 to 175 degrees. That way, you can have an easy time playing games, working, or just letting some steam off.
– Durable: Constructed With Quality Materials
Like all Killabee chairs, you get a solid construction here. Killabee pays close attention to detail and uses premium quality materials around the chair to make it strong and long-lasting. It's secure and will offer users the max value for more than a couple of years.
The materials include an integrated metal frame, the best quality nylon base accompanied by smooth-rolling caster wheels, and explosion-proof gas springs.
As a result, you have a fine, stable structure that can hold a maximum weight capacity of 250 pounds.

– Overview
With all the trappings of modern comfort, this chair is suitable for gamers who want top-notch ergonomics and other adjustable features.
Pros
Plush comfort
You can customize the chair
Secure and solid
Large size with footrest
Cons
The footrest isn't convincing enough
The Big and Tall memory foam gaming chair from Killabee is an incredible spectacle and supports about 350 pounds of weight and will fit players well over 5'8″ tall. That makes it a chair for many sizes.
It's a premium gaming chair made by a budget-conscious brand, but the price takes nothing away from this chair's enticing features and ergonomics. Further, it comes out with some nice touches that make it worth paying for, such as a swivel, memory foam, and plush paddings.
Aside from the affordability, the footrest is a beautiful addition to help you get the most out of comfortable angles. Then there are some notable add-ons to the seat and lumbar area and premium PU leather for an attractive finish and design.
– Massage and Cushions: Innovative Additions
When you're looking for a multifunctional chair, this one won't disappoint. It comes with an innovative implant USB electric massager. With this feature, you get to have a lumbar cushion that relieves you of fatigue.
What's more, other capabilities and components like the adjustable height, back angle, and recline locking system do a lot to keep gamers refreshed. You can lock at any angle, with the maximum being 155 degrees.
We also like to adjust the arms and pull out the retractable padded footrest for ultimate comfort. Also, swivel around one spot on a solid base rather than stand up to reach out to closer items or another PC monitor.
– Top-Quality Materials: Plush Comfort
When there's memory foam padding on any gaming chair, that's a huge plus. However, when you have such padding added to the existing seat cushion and premium PU leather, you're a world-beater in your seat.
Moreover, the leather offers excellent stability, overall comfortable sitting, and is easy to clean and maintain.
Also, the padded adjustable headrest and massage lumbar cushion provide more support for the ultimate relaxation. The high backrest will save you from neck and spinal strains.
For the frame and other aspects that keep you from getting tired and lapses on the chair, there's an integrated metal frame and explosion-proof gas springs accompanied by smooth-rolling castors that contribute to a comprehensive, stable structure.
That's why gamers who weigh up to 350 pounds will have no issues enjoying this chair.

– Overview
It's a large and wise chair with every ergonomic part you can think of. The dimensions, capabilities, fun ergonomics, and high backrest make it a valuable candidate for bigger gamers and regular users.
Pros
Nice color pattern and design
Built for maximum comfort
It comes with additional pillows and cushions
Durable
Cons
You can call this a black gaming chair because you can select a gray or black color variation. It's not named big and tall, but there's no kidding about its size and bold features that make it almost an exclusive tool for large gamers. However, there's an executive design here and a generous recline feature should you choose to swap angles.
Our review team observed that the seat is padded with two layers using high-density memory foam as the base on the top and foam for the base layer.
You can always make adjustments to the height of the seat some levels off the ground. When you use the recline feature, you can lock it in any position you find favorable.
You get some standard set of extra pillows that give more support to the lumbar, neck, and head. The arms can be described as good enough, even though some gamers have complained about how wobbly they sometimes get.
In any case, you can rotate them in a few directions to give yourself an advantage. The upholstered form factor and other features make it worth having.
– Ergonomic Design: Racing-style Comfort
When you want a super comfortable racing-style chair, this model from Killabee should appeal. It sports an ergonomic design that's made to upgrade your gaming experience. We like how this updated version also features memory foam padding on the existing seat cushion and lumbar pillow.
These seem to be a trademark of the Killabee group, and no doubt gamers like you will thank them for it.
There's a rocking high back and wide armrest created to give you a high around the curves of your body. It also provides supreme comfort like the rest of the chair.
Another thing about the high backrest is that it has a detachable padded headrest and lumbar cushions. That way, you get sure support for your neck and spine, which keeps "computer hunch" at bay.
– Construction: Solid Shape
A chair with a solid design and quality construction is worth having over and over again. That's what you get here with the integrated metal frame, international standard explosion-proof gas spring, and heavy-duty metal gaming chair base. If that's not strong enough, we don't know what is!
The smooth-rolling casters add to the chair's strength and don't leave markings on your floor. It's all designed to make this chair a fantastic stable structure to hold the max weight capacity of 400 pounds.
– Customizable: Make Adjustments for More Comfort
Like on many Killabee model chairs, there's a lot you can do to personalize this gaming chair. Every part of this chair can be tweaked to fit the type and height of your body. That's a nice touch, especially if you're a gamer spending many hours on your chair.
To that end, you can adjust the chair's height, tilt, use the backpressure, and rotate the armrests. The armrests can go in three different directions – up and down, front and back, and right and left.
The large seat and the accompanying pillow and lumbar cushion are great additions to this chair our review team can't stop quipping about. That's because the large make of the chair makes it more stylish.
Ignore the fact that it has dimensions that would fit bigger users. A smaller person will have fun provided the proper adjustments are made.

– Overview
If you work or play gamers for extended periods, this gaming chair will look awesome behind your PC desk or office desk. It's the ideal fit your computer and consoles need to complete a competitive rig.
Killabee Gaming Chairs: Mini Buying Guide
There are many factors to consider when you want a Killabee model for your gaming and office needs. Sure, you'd want a chair you can count on to give you the best chance against your opponents. If that's the case, watch out for these important features from the Killabee brand.
The construction of any gaming chair is one of the essential aspects any potential buyer should consider. Killabee's are known to have a robust and durable integrated metal frame and base. That's because many other chairs are of the Big and Tall variety. Also, expect to have some high backrest and waist protection. The shape of the chairs is also designed to maintain the natural curvature of your spine.
Without comfort to the mix, a gaming chair would be like every other chair out there. Killabee recognizes this fact and uses top-quality ergonomic additions that bring style and luxury to their chairs. To that end, you'll come across plush seats with double paddings, rotating arms, and reclinable backrests that help you relax.
No chair should compromise your physical health. Killabee uses a retractable backrest on the models you see here. The chairs are designed to make the best out of your efforts while playing competitive games or working at extended hours.
Killabee includes leather and general mesh fabrics in its chairs. When you have a chair that's smooth and comfortable, it means you can go on for a long time. The upholstered materials are also easy to clean and maintain.
Killabee Gaming Chairs: Frequently Asked Questions
1. Who are Killabee gaming chairs for?
If you're thinking aloud about this question, then you know a thing or two about gaming chairs from Killabee. In line with that, Killabee model chairs are great for gamers and office workers on a budget.
The Big and Tall Massage Gaming Chair and Memory Foam Chairs are suitable for average-sized and much bigger users. That's why some of them can hold a maximum weight capacity of between 300 to 450 pounds.
2. Do Killabee chairs offer adequate lumbar support and protection?
Perhaps there's no more crucial part of a gaming chair than its back area. Many gamers are constantly looking for a chair that gives their back a big break during and after an extended gaming session.
When you sit upright, your back and neck muscles are always working to maintain the best posture for your body. Backaches are a regular issue gamers suffer from because of the lack of  proper lumbar support.
Killabee chars help you stop arching your back during any gaming session. The chairs from this brand are padded with the best foams to help you assume the perfect posture.
Killabee Gaming Chair: Final Thoughts
Whether you want a Killabee racing style gaming chair or some other model, you need to consider buying one from a trusted brand. That's because there are designs out there that are attractive but do not offer the ergonomics features and robust materials you deserve.
Made for those on a budget looking for features and capabilities to boost their gaming experience, the chairs in our review are by no means the only Killabee models worth noting. However, these are some of the best we've come across and will benefit a variety of users.
Killabee chairs lean towards medium-sized individuals to bigger ones. But if you're on the small side, the chairs come with many customizable features you can tweak, including the seat height adjustment, which is quite impressive.
Thanks to its cool features, we'll take the Killabee Massage Gaming Chair as our best pick from this review, as it includes a robust metal frame and the extra massage feature to keep your spine and lumbar region safe and comfortable.