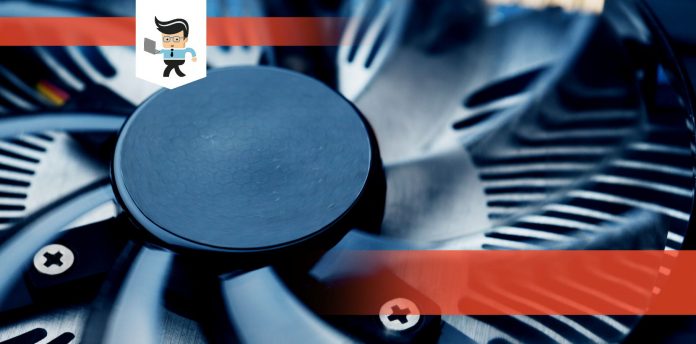 This Corsair H100i vs H115i comparison features two models under the famous Corsair brand, known to produce some of the best cooling devices and products in the world. These two coolers are no exception and go a long way to keep your system running smoothly with less heat.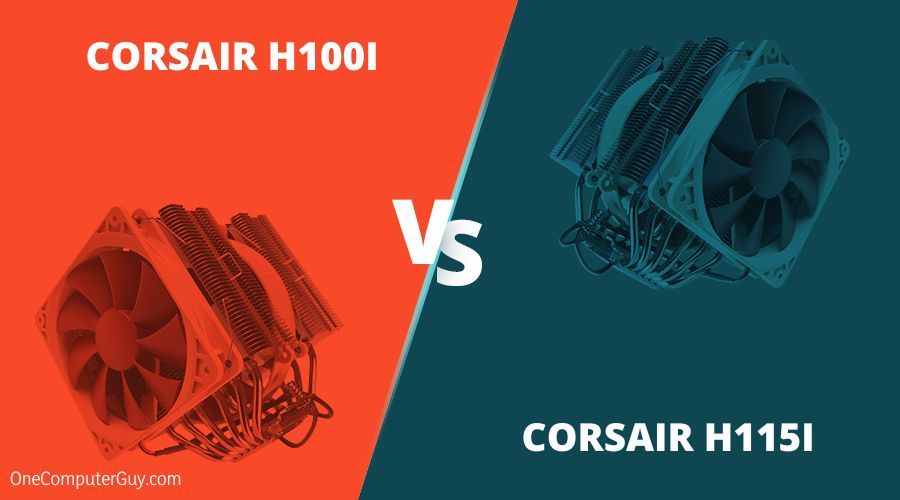 However, most people choose between the two suitable options because you can't use both. Not to worry, our review team has done all the heavy lifting for you by providing a comprehensive comparison of both products.
Corsair H100i vs H115i: A Look at Key Specifications
Product 
Key Specifications 
Corsair H100i

Model: H100i
Fan Speed: 400 – 2400 RPM (PWM)
Fan Noise: 37 dBA
Fan Model: ML series 120 mm
Airflow: 75 CFM

Corsair H115i

Model: H115i
Fan Speed: 400 – 2000 RPM (PWM)
Fan Noise: 37 dBA
Fan Model: RGB ML Series 140 mm
Airflow: 97 CFM
Corsair H115i vs H100i: A Tale of Two Similar but Different Coolers
It's very important, for any modern PC, to have an efficient and effective cooling solution. Whether you have the best CPU in the world or a budget processor, you need to keep those temperatures down, especially if you will be overclocking on several tasks.
When the CPU is running at idle, anyone can get away with a stock cooler, but when under heavy load, some CPUs will get hot quicker than you can imagine and will require the best coolers available to minimize potential harm.
To that end, if you fail to pair your CPU with an effective cooling solution, you run the risk of having your system throttled, which can be a huge waste of money. With the Corsair H115i and H100i, you can change that narrative.
Like we mentioned up there, Corsair is a powerful brand, and these coolers are some of the best for any CPU. The Hydro series of CPU coolers also rank very high among the AIO liquid coolers. However, our main concern here is how these two models in the same brand compare.
These two products are part of the Hydro series, featuring the H100i, H115i and H150i. Our review will point out the best for your PC build.
Pros
It comes with an excellent and beautiful design
It provides a reliable and cool performance
Easy to install
It offers customization
Cons
Gets noisy at higher speeds
The Corsair H100i RGB comes across as an all-in-one RGB liquid CPU cooler. Its 9.5 inches radiator is built for low noise cooling performance and bold styling, thanks to the RGB LED pump head.
It's very much an exciting choice if you're after the best 9.5 inches liquid CPU cooler. Besides, the cooler is supported by the Corsair monitoring tool, and it is designed for extreme performance par excellence.
The double-wide radiator does its bit to give the cooler a better performance level. Many reviewers have also praised the H100i ability to provide a functional and entirely self-contained performance.
– Design and Performance: Beautiful and Efficient
The design of the cooler is simple, but we like its beautiful look. It goes on to ensure rich functions from an AIO liquid cooler. In addition to that, the cooler has RGB LEDs that can be pretty exciting, but you can disable them if you are comfortable without them.
Corsair utilizes an all-aluminum radiator for this H100i Pro and pairs it with a duo of 4.7 inches ML Series PWM fans rated up to 2400 RPM.
For the heat exchanger fittings, you get immobile barns, and the rubber tubing comes sleeved in black nylon braid to the 90-degree swivel connectors right on the cooling block. Of course, the Corsair logo appears at the lateral edge on either side of the radiator and is a plated, adhesive fixture rather than a simple sticker.
The fans here are of the non-LED variety, while you have rubberized mounts hidden at the corners to help minimize noise from fan vibration.
– Fans: Offering Cooling Effects
The fans on this cooler are non-LED but measure about 4.7 inches with low pitch blades, so that you have access to better static pressure.
Also, the three-pin connector provides a smooth advantage and continues to the 75 Cubic Feet Per Minute airflow capacity. What's more, you'll enjoy minimal coolant evaporation, which will help you ensure a longer life for your fan.

– Overview
With this Corsair liquid cooling product, users that want to deal with heating problems finally have a solution. It's easy to install with cable management, the only thing you have to figure out.
Pros
Excellent memory clearance
Simple to install
It gives a high-end cooling performance
Awesome software compatibility
Cons
Priced a bit higher than other options
The Corsair H115i RGB platinum comes designed with full coverage of RGB accents in a pair of 4.7 inches LED fans. It also has bright backlighting for the CPU block faceplate. With a larger radiator, we're guessing it should automatically result in a higher-performing liquid cooling system.
However, there's so much focus on customized lighting options to detract from other features and specifications. For example, its radiator doesn't keep up with some of the smaller 240 AIO's out there.
What makes Corsair and this particular model stand out is that it appeals to many users. That's because it offers support to all current AMD and Intel desktop CPU sockets, including the Threadripper platform. Moreover, the pump itself is technically PWM-capable, although there's no adapter for a USB type-A on this product.
– Design and Performance: Provides High-End Cooling
At the base of this H115i cooler, you'll find a rectangular patch of pre-applied thermal paste on the satin-finished copper cooling base. That's already more than you get on its counterpart above. Again, you can see the mounting bracket seam from the side.
These brackets will slide into grooves at the base of the block and snap into position on both sides. Another thing Corsair does is make the installation smoother by including a pair of 90-degree swivel fittings, so tubing placement is a bit easier.
– Fans: Provide Definite Cooling
This cooler comes with a large 280 radiator cooling field that needs proper airflow to achieve thermal dissipation for the fans and cooling capabilities. To that end, Corsair ships a duo of ML140 Pro RGB LED fans to get the job done.
These fans use a four-pin connector for lighting control, but the plugs are more proprietary. That means they won't interconnect well with the standard RGB 4-pin cables found on many motherboards and other coolers. The fans are controlled by motherboard fan headers or a standalone fan controller instead.

– Overview
Installing the Corsair H115i is straightforward, primarily if your PC chassis supports a 2 x 4.7 inches radiator. It comes with an RGB pigtail that provides lighting connectivity between the pump housing and fans while also providing PWM control using a two-way splitter. You'll like its superior cooling capabilities.
H115i vs H100i: Head-to-Head Comparison
The main difference between H115i and H100i is, H100i has a fan speed of between 400 – 2400 RPM and features tremendous iCUE software functionality compared to H115i.
Now that we know enough about these two AIO liquid coolers from Corsair, we'll compare some of the features to see which one is better than the other.
Software
Winner: Both
For this cooler comparison, we noticed that the Corsair ICUE software controls both coolers. It allows users to control the RGB lighting monitor CPU and coolant temperatures. You can also use it to adjust fan and pump speeds, all from a single intuitive interface. Both of these coolers use this software, so there's no clear winner.
Fan
Winner: H100i
The best fans are known to give off near-perfect cooling experiences for your system. Both of these devices use the famous RGB ML Series fan types. Even though the H115i uses a higher version – RGB ML Series 140, it's not as fast as the RGB ML Series 120.
The latter boasts a fan speed of between 400 – 2400 RPM (PWM), while the H115i gives users 400 – 2000 RPM (PWM).
Noise Levels
Winner: Both 
Your CPU/GPU can get pretty hot without a fan keeping it cool. However, noises from fans are part of the process. These two coolers have a noise level measured at 37 dBA, so they expect the noise level to increase while rotating very fast. At least, you'll have a device that helps you overclock on intensive tasks like gaming.
Buying Tips for CPU Coolers
If you're looking to get the best coolers for your system, there are some tips you can follow, including:
This is very important if you're going to choose a large air cooler. That's because big coolers and low-profile models can bump up against tall RAMs and, even sometimes, against VRM heatsinks.
Also, tall coolers often cause problems with clearance issues for your case door or window. What you can do is always check the dimensions and advertised clearances of any cooler you're considering buying.
More Fans, Better Cooling:
With more fans, you get better cooling. That's true, but you also get more noise to tolerate. Also, coolers that do a fabulous job of keeping heat away from your CPU are often the loudest.
So if the fan noise is not an issue for you, get the most effective one to keep your system cool. To balance the noise and performance of your cooler, you can try setting your cooler's fan speeds based on temperatures in your motherboard's BIOS.
Frequently Asked Questions
1. Which Should I Opt for Between These Coolers?
Perhaps you want more overclocking capabilities for your high-end CPU or a device to cope with throttling issues. Whatever the case is, a suitable CPU cooler is essential. But if you don't plan on overclocking and have a low CPU, your stock cooler should be able to get the job done.
Liquid cooling does a good job but will set you back some. That's because it costs more even if it has the Best potential for cooling your system. However, if you don't have a bigger budget and won't mind a heavy heatsink from an air cooler, you can opt for an air cooler.
Air coolers can outperform the liquid ones in some cases, but you'd have to push them to the limit. However, you'll find that they're quieter when idle. Overall, AIO Liquid coolers are better.
H115i vs H100i: The Bottom Line
When your system's CPU/GPU gets so hot, it's no longer as comfortable to use. It makes every task much more challenging to perform. That's why you need coolers such as these two from the Corsair brand.
Both offer excellent liquid cooling performances, and each one will appeal to a different type of user and their specific needs.
However, in figuring out the difference between H100i and H115i above, we've concluded that the Hydro Series H100i Pro RGB is the best, thanks to the fact it offers fantastic cooling power in a well-sized package. It also features some tremendous iCUE software functionality and a bit of RGB lighting to add some flair to your rig.