It's a given that you need to check out CPU cooler reviews before buying one. That's because it is a crucial decision to make when building your PC, especially when overclocking. 
Also, a PC cooler helps to determine the noise output and your CPUs' thermal output/heat. With this review, the top choices and how to get them are laid bare. 
Best CPU Coolers for Your Processor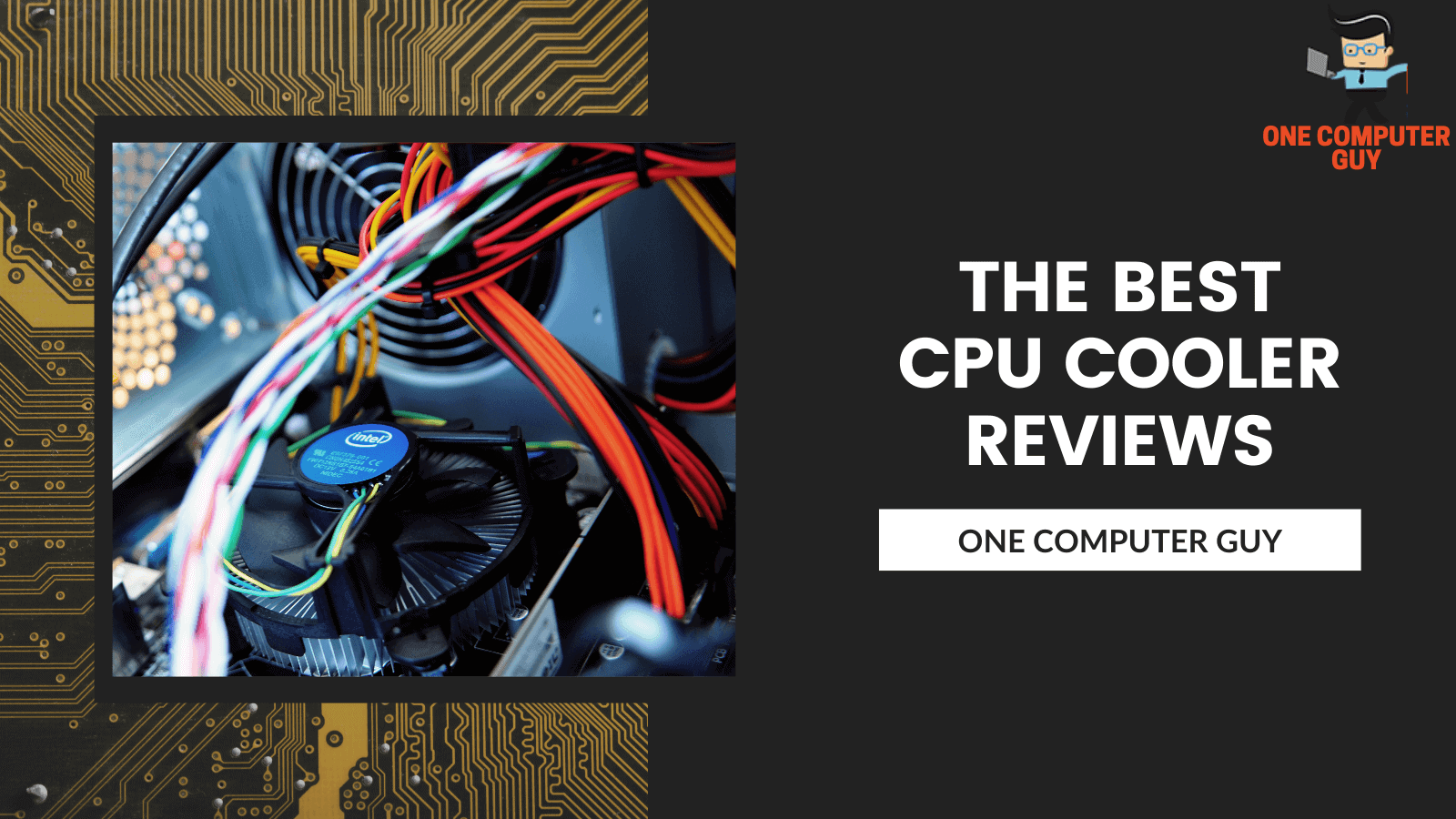 The type of cooler you need for your desktop PC will depend on your CPU and the things you do with it. If you're a heavy overclocker or do more silent operations or both, you'll get options that suit your needs. On the other hand, you might prefer a plain appearance or lots of RGB lights. 
CPU Coolers flood the market with different shapes and sizes, but most fall into one of two primary categories: 
Air coolers or Closed-loop

All-in-one (AIO) coolers, or custom/open-loop cooling setups. 
You should note that open-loop coolers are the most complex and expensive choice, even though they can deliver unparalleled cooling results and unsurpassed looks. You can achieve a lot with it, thanks to its clear coolant and many mirrored surfaces. 
If you're looking to build an open-loop setup for the first time, a CPU cooler comparison is necessary. Other than that, you can also consider the best options from the i9-9900k range of coolers. However, be aware that custom cooling setups are expensive irrespective of the parts you buy. 
An air CPU cooler is made from some combination of metal heatsinks and fans. These coolers also come in all shapes and sizes and varying thermal dissipation capacities (sometimes listed as TDP). Today, high-end air coolers rival many all-in-one (AIO) liquid coolers and have become popular in the market over the past several years.
In many situations, AIO or closed-loop coolers can be quieter than air coolers, but that's not always the case. However, AIOs don't require the complications of cutting and fitting custom tubes or maintaining coolant levels after setup. In recent times, AIOs have also become increasingly resistant to leaks and are easier to install. 
It's important to note that AIOs require room for a radiator. As a result, many such coolers often need a more significant case than some air coolers.
Alternatives to AIOs
Sometimes, high-end air coolers or AIOs aren't sufficient for the clock speeds you're trying to achieve. The next thing to do would be to go for a CPU cooler for overclocking. That's a fully custom cooling loop with larger radiators to remove even more heat from the system. 
Generally, the larger the radiator used for your AIO or custom-loop cooler, the better it will perform. The only catch includes things like flow rate and fin density. 
On the flip side, if you aren't aiming for the best possible overclock, you don't need a reason to use a cooler with a massive three-fan radiator. For most mainstream platforms and tasks, something more modest is okay.
Top performance and more
Having the best-performing CPU coolers sure helps, but that isn't the only factor people consider when getting a new cooling device. 
A quiet operation is an excellent addition to your rig. It's a key component, especially if you're building or upgrading a media PC fit for your living room or an office PC in a noisy environment. You would appreciate a noiseless performance just like many enthusiasts and gamers. 
Knowing What Fits Your System
While air, AIO, or custom water loop are top-rated CPU coolers, don't get one that's too big. As a way of checking, look out for factors like the CPU socket and any potential chassis limitations like cooler height or radiator size. 
The fact is that many air and closed-loop coolers offer a wide range of support for both AMD and Intel processors/sockets. That's why such devices include mounting hardware for some sockets. Consequently, users experience more compatibility across a wide range of sockets. 
The most popular models, like the Ryzen 5 2600 Stocky cooler, supports Intel 1200, 115x, 2066, and 2011-v3 sockets. On the AMD side, users get reliable support for these models: AM2/AM2+, AM3, AM3+, and AM4. 
Getting the Mix Right
Many larger Threadripper processors come with their mounting and larger cold plate areas. That way, they can better cool the acreage on the integrated heat spreader. As such, support for those models is mainly limited to coolers designed for them. 
Where Does the Case Come In?
When it comes to the case, it's essential to look at specifications for what size of the heatsink or radiator is supported. Chassis manufacturers list the maximum cooler height allowed. Besides, heatsink makers will always list the dimensions of their coolers. 
It's also important to consider the amount of clearance under the cooler for the RAM slots. While it's not uncommon to use DIMMs with tall heat spreaders on them, make sure your cooler comes with enough clearance above the motherboard for your memory.
For a liquid CPU cooler, AIO, or a custom loop, the number and size of radiators your case supports are vital. That will help in deciding how many radiators you can install and how big they can be. Just like other components, case manufacturers also list the radiator mounting locations and sizes.
Caveats for Some Radiators
You've got to be careful with top-mounted radiators, as the radiator's total height and the selected fans can come between the top of the motherboard and its 8-pin power connector. 
It's okay to have enough room, but you'll probably need to make sure that the power connector is plugged in. That's the best thing to do before installing your radiator and fans. 
Testing CPU coolers
Performance requirements, case compatibility, budget restrictions, and aesthetics are some variables to consider for CPU coolers. To find the best coolers, you need to test their performance using a mixture of modern PC games for extensive stress testing. 
Some selections are also made based on thermal performance, noise, value, and overall feature sets. 
Tips for Getting the Ideal CPU Cooler
You do not need to buy a separate fan cooler for Ryzen CPUs
When you own a Ryzen CPU, you may want to get a CPU cooler. Don't feel pressured, though. Even where you overclock, the fact is all Ryzen 300- and 2000-series processors and some older Ryzen models ship with coolers. That means many of them can handle moderate overclocks. 
If you're after the best CPU clock speed possible, you'll still want an aftermarket cooler. However, for many Ryzen owners, that won't be necessary.
Take note of clearances
Always check clearances before buying. Sometimes, big air coolers and low-profile models bump against tall RAM and even VRM heat sinks. Also, tall coolers can butt up against your case door or window. Always check the dimensions and advertised clearances of any cooler against your case before buying.
More fans lead to more cooling at a cost
A silent CPU cooler is a huge advantage and benefit to users. However, that usually takes more fans to make your processor cool. It comes at a cost, though. While the coolers do their best to keep the warm air away from your CPU and case, they'll get loud. If you don't appreciate fan noise, get a cooler to balance the noise and cooling effect. 
RGBs that go off
If you're going to get a cooler with RGB, make sure you can turn it off. Sure, many coolers these days include RGB fans and lighting. It's an exciting way to customize the look of your PC. 
Just make sure there's a way to turn off the lights. That could be through a built-in controller or when plugging the cooler into a compatible RGB motherboard header. Let the lights go off without shutting down the PC. 
The Air or Water Question
When installing top-notch CPU coolers, there are some concerns, including what you pay and how easy it is to configure. Well, Cooler Master's Hyper 212 RGB offers better performance than stock cooling solutions. That's without adding much to your build budget.
Further, if you want a quieter PC with lower CPU temperatures, a water-based option is the best for you. 
For example, a high-end AIO with a 280mm or 360mm radiator such as the CoolerMaster MasterLiquid ML360R RGB will outperform many air coolers on the market. On the flip side, if your case is quite large, a three-fan radiator may not fit in your PC.
Conclusion
For pro gamers and enthusiasts looking to overclock their PCs to the highest potential or prevent throttling at stock speeds, it's always important to pay close attention to your CPU cooler before you take any action. 
However, if you don't have huge ambitions and use a Ryzen chip, you can stay within your budget when you stick with a stock cooler that came in your box. 
Overall, we have highlighted some of the best CPU coolers available right now, and you can confidently opt for any of these options if you are looking to squeeze the most performance from your PC. Other than that, you can always check the space and TDP requirements before settling on the right cooling solution for your system.
List Of All CPU Cooler Articles