My Passport vs My Passport Ultra is a debate that often comes up when users have to choose a hard drive from Western Digital, one of the most popular brands that offer efficient storage solutions (famous for its WD elements drive).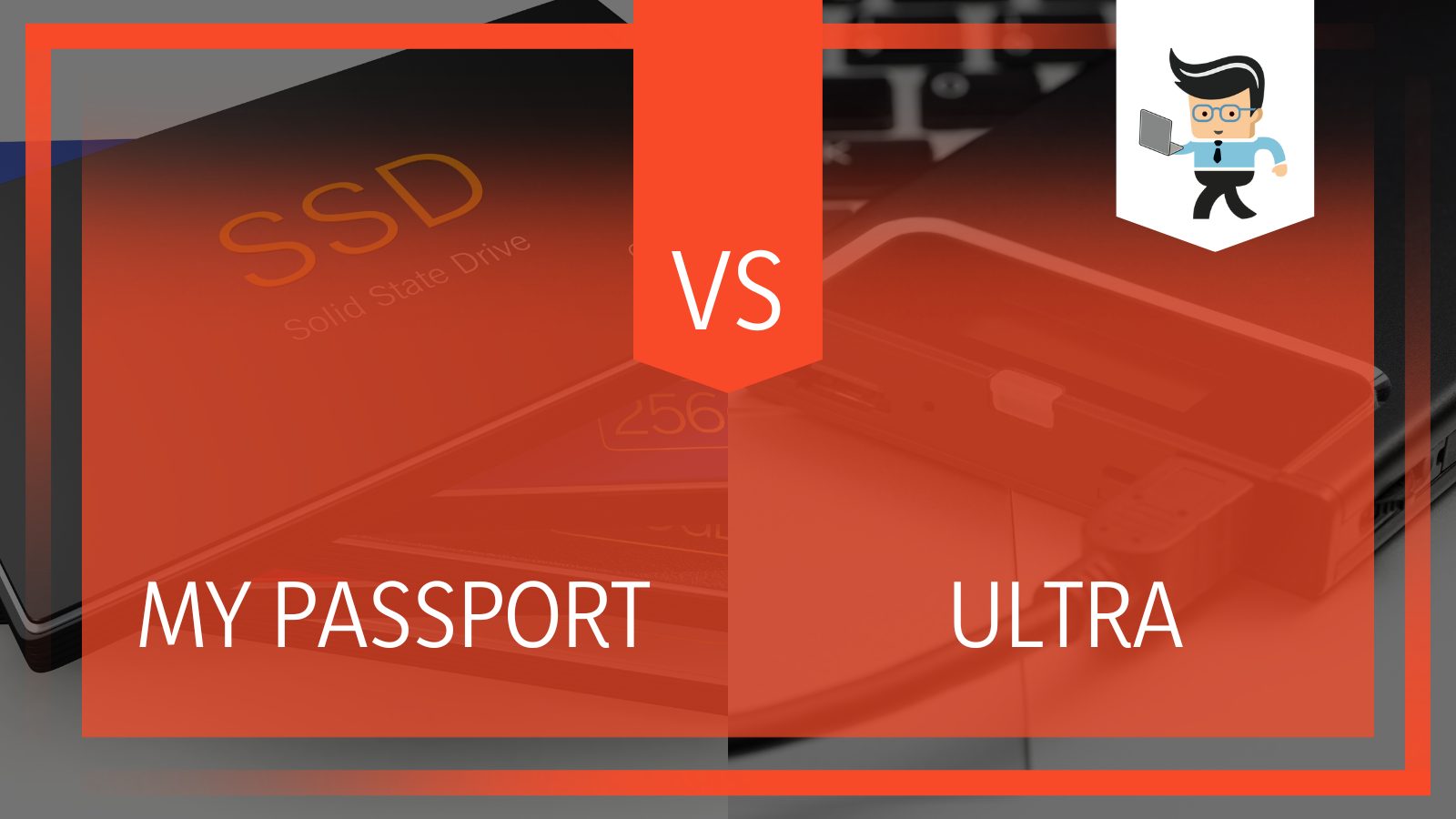 These two are some of the highest-rated products, which is why it's often difficult to choose between them.
So, if you want something to back up and store your data, which one should you go for? Let's take a look at how My Passport and Ultra differ, and the dedicated use of each hard drive to help you make the right choice.
My Passport vs My Passport Ultra Comparison Table
| | | |
| --- | --- | --- |
| Features | My Passport | My Passport Ultra |
| Cover material | Plastic | Metal |
| USB-C | No | Yes |
| Speed | Slower | Faster |
| Cloud storage | No | Yes |
| Price | Less expensive | More expensive |
| Available Capacity | 256GB, 512GB, 1TB, 2TB | 1TB, 2TB, 3TB, 4TB, 5TB |
| Warranty | Not specified | 3 years |
What Are The Differences Between My Passport and My Passport Ultra?
The main difference between Passport and Ultra is that Ultra is comparatively smaller and slimmer, making it easier to handle. Ultra has a metal cover while its standard counterpart has a plastic case. It is also much faster and features auto-cloud backup. HDD and SDD options are available for both.
– Differences
Since each drive is introduced as an improvement to the previous one, there are not too many differences between these two products. All Passport drives differ in looks, size, and USB compatibility. Let's look at those differences in detail.
– Looks and Size
My Passport is made using plastic and has a wavy surface with slightly rounded edges that prevent the drive from slipping out of your hand. It features a slim body with a white light that keeps you informed about the device's activity status. The drive has dimensions of 4.22" x 2.95" x 0.44" and weighs 4.23 to 7.4 ounces.
Meanwhile, My Passport Ultra features a modern metal cover and anodized textures and is relatively small and slim, making it handier and easier to handle than My Passport. But other than that, things are pretty much the same. Both drives come in different colors to match your aesthetics.
– Compatibility and Formatting
My Passport Ultra is USB 3.0 compatible, USB-C ready, and formatted for Windows 10+, which means it allows plug-and-play storage right out of the box.
It also comes with an NTFS driver for macOS, so you don't need to format it to use it with a Mac. However, you have to reformat its predecessor in a compatible file format to use it on macOS.
Plus, it's 3.1 Gen 2 ready, USB-A, USB 3.0, and USB 2.0 compatible. On the other hand, My Passport comes with a USB 3.2 Gen 1 port along with a Micro-USB Type-B connector. It is also USB 2.0 compatible, but data transfer will be slow.
– WD Discovery User Guide
My Passport Ultra comes with Western Digital's Discovery user guide, an app that allows you to connect it with some cloud storage platforms and automatically copy the contents to the drive.
My Passport also allows you to connect the drive to Google or Dropbox and simply drag and drop the required files into the drive. The only difference is that with Ultra, the process can be automated.
– Speed
The performance of a drive varies depending on the capacity and size, but in general, Ultra is much faster than My Passport. The company doesn't state how it performs, but different users find that while My Passport performs better than its rivals like the Seagate drive, Ultra goes a step ahead and provides even better performance.
The two drives also pass different read, disk speed, and file transfer tests, so there's not much difference there.
My Passport is the best option for anyone who wants an external drive that works with both Windows and Mac. It comes with a number of apps from WD for security, reformatting, and checking drive health, so you won't face any issues when using it.
– More Details
My Passport SSD is a portable SDD with a high transfer speed and a read speed of 540 MB/s via the USB-C port. It's so fast that you can even run virtual machines on your system. It also features 256-bit AES hardware encryption built in and comes with the WD Security software.
The SSD is built for both PC and Mac and is compatible with both Type-A and Type-C USB ports. Plus, it's 3.1 Gen 2 ready, USB-A, USB 3.0, and USB 2.0 compatible. It can also handle a drop of up to 1.98 meters and comes with the WD backup software that makes it easy to back up all your high-capacity files to your Dropbox account or drive automatically. However, it needs to be reformatted to be used with Apple's Time Machine.
My Passport is available in four options: 256 GB, 512 GB, 1 TB, and 2 TB. Other variants of this portable hard drive include the WD My Passport HDD and WD My Passport for Mac.

However, since My Passport has a plastic housing, it is susceptible to damage, so it might not be the best option for you if your work calls for rough usage. It is also not a great option if you're a Mac user, since you'll have to reformat it to be able to use it.
It's also important to mention here that the storage capacity of My Passport is somewhat restricted because of its portability. Plus, since spinning platters are used for storing data, it's impossible to get a high capacity since it'll only get bulkier.
My Passport Ultra is the best choice for cloud and local backup to go. The WD backup software allows you to back up the drive or use Dropbox to make a backup in the cloud. The USB 3.0 connectivity ensures greater speed, but if you're trying to save money, then it's better if you opt for My Passport.

– WD My Passport Ultra HDD 2019
There are three variants of Ultra, and we'll discuss all three of them in detail.
The first variant is the Ultra 2019, a portable external hard drive with a sleek metal design that features USB-C technology. Since it is Windows-ready right out of the box, it offers plug-and-play storage and comes with a USB 3.0/3.2 Gen 1 adapter so that you can use it with older machines. You can even download the NTFS driver for Mac using the WD Software so that you don't need to reformat the drive to work between Windows and macOS.
Like its predecessor, it's also password-protected with 256-bit AES hardware encryption and comes with backup software. It provides up to 5TB of storage and is backed by a limited 3-year warranty.
We've already discussed all the features of Ultra above. It has an innovative functionality, a unique design, and features the USB Type-C along with a 3.1 adapter. Other features include auto-backup software, password protection, and 256-bit hardware encryption.
– My Passport Ultra for Mac
The second variant is the Ultra for Mac. It also features USB-C technology and comes with a USB-C to USB-A adapter, allowing you to use it with older machines. It also has a modern metal look that nicely complements a Mac.
As the name suggests, it's already formatted for Mac and allows plug-and-play storage. But the drive also comes with the HFS+ driver for Windows that you can download to use it without formatting it again.
Other features are the same – a limited 3-year warranty and password protection with hardware encryption. The drive is available in 3 capacities: 2TB, 4TB, and 5TB.
– My Passport Ultra 2017
Western Digital My Passport Ultra 2017 has a metallic design and a matte finish, with two storage options: 1 TB and 3 TB. It comes with nearly all the same features: password protection with AES hardware encryption, WD backup software, and a 3-year limited warranty. In addition to that, it comes with WD Discovery software that connects to cloud storage services and social media to import your media.
The available options for this drive include My Passport Ultra 2TB, My Passport Ultra 4TB, and My Passport Ultra 5TB HDD.
FAQ Section
– Is My Passport Ultra Worth It?
Many people find that while My Passport Ultra is a great storage device, it's not the best option if a type-c connector and a long warranty aren't really what you're looking for. Instead, you can find other options that can provide better value for your money, whether that's from WD's line of products (like WD elements) or from competitors.
– How Long Does WD Passport Last?
Most WD Passport drives come with a 3-year warranty and can last for up to 3 to 4 years.
– What Kind of Hard Drive Is in a WD My Passport Ultra?
My Passport Ultra contains a Type-C USB 3.0 external hard drive.
Conclusion
This My Passport vs My Passport Ultra comparison shows that the two drives have numerous similarities and only very minor differences. The main difference between the two is that with Ultra, you get to enjoy a sleeker metal look and the ability to back up data to the cloud automatically. Meanwhile, My Passport has a cheap-looking plastic cover, and you have to drag and drop the files manually if you want to use cloud storage.
So if money isn't a problem, you can go ahead and splurge on Ultra. But if you're on a low budget and want a good storage option, then My Passport works fine, too. However, before choosing one, make sure you thoroughly research and compare both options so that you don't have any regrets later!