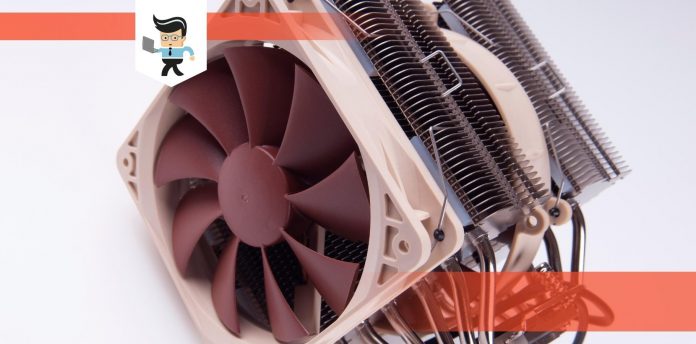 Cooler Master V8 GTS vs Noctua NH-D15 is a battle for the soul of your computer, and it's up to us to present an unbiased assessment of both. The two of them pack unique capabilities designed to keep your PC and other components cool and running.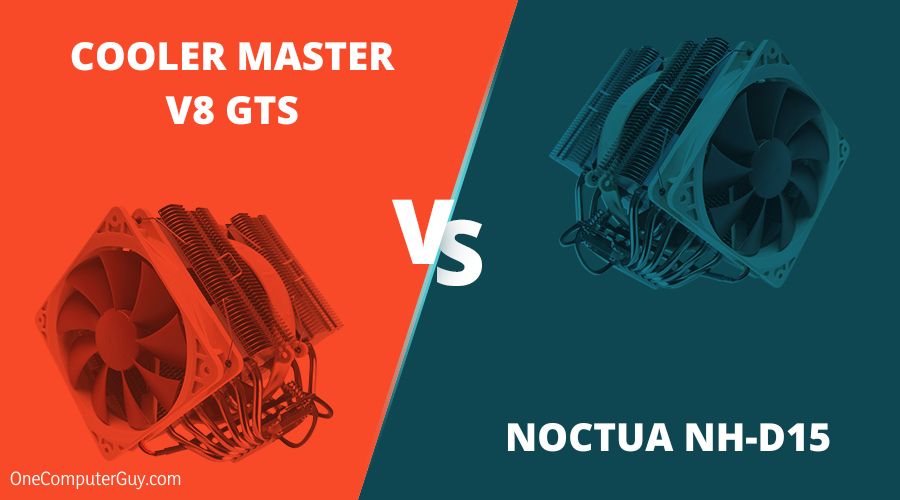 With this article, you'll come across their features and components and which one fits your needs.
Comparison Table
| | | |
| --- | --- | --- |
| Features | | |
| Pipes | 8 | 6 |
| Noise Level | 36 dB | 24.6 dB |
| Coolers | 2 | 2 |
| Cooling Type | Air Cooling | Air Cooling |
| Max Airflow | 82 CFM | 82 CFM |
| Fan Speed | 1600 RPM | 1500 RPM |
Noctua NH-D15 vs Cooler Master V8 GTS Comparison
The main difference between the Cooler Master and Noctua NH-D15 is the triple vapor technology and eight heat pipes found on the Cooler Master V8 GTS which makes it highly compatible with many AMD and Intel CPUs.
– Cooling Performance
Winner: V8 GTS
With the latest vapor chamber technology in the V8 GTS, it has an edge to dissipate heat eight times faster than conventional heat pipes. The feature also divides the heat evenly between the heat pipes that do not overload single components.
Along with the heat pipes, they combine to stabilize the temperature of your CPU. It can remain at 32C and go up to 35C when overloaded. That makes it perfect for gaming enthusiasts or graphic geeks.
On the flip side, the NH-D15 from Noctua is a dual tower design with six heat pipes. Further, the design is state-of-the-art, with two 140mm NF A15 fans with PWM support. With those, you get a near-silent operation of this CPU cooler.
The V8 GTS wins this category. However, the NH-D15's fan adjusts the speed of the cooler according to the heat produced by the system.
– Noise Level
Winner: V8 GTS
The noise level further adds to the Cooler Master V8 GTS benchmark. You'll get a fan speed reaching up to 1600 RPM to provide a maximum cooling effect to your CPU, thus ensuring effective cooling. It gives off a minimal noise level of 19-36 decibels. The best part is fine-tuning the noise level and customizing it with a manual control system.
The Noctua here also has speed-reducing adapters, even when running at full speed. It is a silent cooling fan and gives a quiet operation for your peace of mind. When fully operating, you get a barely audible sound of 19.2- 24.6 decibels.
Its fan speed climaxes at 1500 RPM, making it good enough to remove the heat from your system. However, it's lesser than the V8 GTS.
– Power Consumption
Winner: V8 GTS
For the Noctua NH-D15 CPU cooler, you get a power consumption pegged at 3.72 watts. That is often considered average for any cooling agent for CPU. Also, the thermal power recommended for the processor stands at 180 watts. That's different from the V8 GTS as the model has a power consumption of 1.56 watts to boost its cooling effect. Further, the recommended processor power of this thermal design is 220 watts.
– Pros
Unique build and design
Efficient cooling system
More pipes for air cooling
You can overclock with it
– Cons
The Cooler Master V8 GTS high performance CPU cooler comes with a vapor chamber technology at the horizontal level. The Cooler Master brand made it part of the famous V Series, and it uses a triple tower feature which gives a new dimension to heat reduction. That means reduced CPU hotspots and faster heat dissipation equal to the eight heat pipes to maximize its performance.
It has a noise level of 36 dB to deliver a more quiet and more efficient output from your system. There are also multiple sockets available that are compatible with many AMD and Intel CPUs and APUs. Further, this cooler can control the thermal load reaching 250 watts.
– Overview
From our Cooler Master V8 GTS review, this device is ideal for challenging tasks with its aluminum frame and gigantic build. Users will appreciate its quality airflow capacity and universal mounting system you can use for many Intel and AMD CPUs.

– Build And Design: Massive With Incredible LED Lights
This Cooler Master V8 GTS fan replacement is massive and has an aggressive look. However, the incredible design and red LED lights to compensate for its size. It also has a mounting system with your PC at a universal level. This cooler is compatible with most AMD and Intel CPUs if you're thinking of how it works with some important devices.
– Speed: Fast and Efficient Cooling
There are dual high airflow PWM fans so that the fan speed and noise can be fine-tuned and customized to create more balance between sound and performance. To that end, the brand fixed the speed at 1600 RPM to go along with the aggressive look. In the same way, the processor speed of the device is incredible.
– Performance and Customization: Set Your Tone
Compared to the Noctua NH-D15, it has the feature of customizing and tuning the noise and the fan speed to your desired sound and performance. There's also a 4th Generation POM (polyoxymethylene) inside, which is highly dustproof and gives longevity of up to 160,000 hours. Its high-grade features gear up to provide you with maximum cooling performance and efficiency.
– Pros
It keeps CPU cool
Allows overclocking
Easy to install
– Cons
It has a huge size and requires a large system case
The Noctua NH-D15 CPU cooler is a premium cooler from the Noctua brand based in Austria. It has an impressive design and dual tower. What's more, the NH-D15 is a flagship design from the company and has the highest demand.
You'll find that the design is a step ahead of its predecessors, thanks to its improved efficiency and automatic speed control.
– Overview
Our Noctua NH-D15 review points to the fact that it's compatible with Intel core i3, i5, i7, and i9, and many models of AMD Ryzen. You'll get about a six-year-long warranty using this cooler. It keeps your system cool and efficient for longer working hours.

– Build and Design: Striking and Feature-filled
The Noctua NH-D15 has a robust dual-tower design with six heat pipes and two fans that provide standard cooling performance for overclocking or near-silent systems. It's also one of the most popular and recommended hardware with quality fans and an expanded layout. That's why it's billed to perform well and better than some liquid coolers.
– Speed: Top-notch Cooling Machine
1500 RPM as the rotational speed is good enough for any cooler, and this one doesn't disappoint. There are two highly-optimized NF-A15 140mm fans with PWM support and featuring low-noise adaptors for automatic speed control and ultra-quiet operation.
The Noctua NH-D15 specs and overall build will consume some space, but you'll get efficient noise control and cooling even at high temperatures.
– Performance: Designed to be Efficient and Reliable
Most of the time, using this cooler is a pleasure thanks to its near-silent system. It provides an elite-class performance with double fans and six heat pipes. Further, these two NF -A5 140mm fans are optimized to serve you with an extremely quiet operation and speed control. The installation process is easy using the accompanying high-quality NT- H1 thermal paste.
There's no need for a second fan with regular loads in most cases. You get copper base and heat pipes, aluminum cooling fins with soldered joints, and nickel plating for the material.
The noise level of the NH-D15 is pegged at 24.6 dB, but the cooling method and maximum airflow mean you can work for prolonged hours.
FAQs
1. Can I Overclock Using the V8 GTS Cooler?
Yes, you can. The massive size of the V8 GTS doesn't stop its easy installation process and subsequent performance. It gives a maximum airflow than you'll get on the Noctua NH-D15. It has a reputation for overclocking enthusiasts and works excellent with a full tower.
2. Can You Use a CPU Fan as a Case Fan?
You can use the CPU fan for your case. But they both have the same fan header on the motherboard. The two of them are essential, which means you can't get by using only one of them. The fans pull the heat from the processor to release it inside the case while the case fans create and maintain an airflow inside the case. That removes the heated air from the inside of the casing.
Using just the CPU fan won't give you an efficient cooling solution and regularly affect your PC's performance.
3. Is Noctua Better Than Cooler Master?
These two coolers have unique features, but you'll need to examine their key specifications to spot the differences and find out the winners of some categories.
Perhaps you're trying to build your PC or already have one you want to upgrade. Whatever the case is, you can choose between two of the best cooling devices – the Noctua NH-D15 or the CM V8 GTS. A CPU cooler is a must-have since it keeps your computer's components cool and functioning efficiently.
With parts cooling off during tasks, you'll avoid any damage to the hardware. Temperatures are kept down for expensive items like the motherboard, processor, and graphic card. These two coolers have similarities and unique features that make them stand out from other similar products on the market. Their differences and potential to improve your computer are discussed in detail below.
4. Is the Noctua NH-D15 Too Heavy?
Actually, Noctua NH-D15 is one of the heaviest coolers on the market. So be very careful that it's compatible with your computer and doesn't bend the motherboard.
Conclusion
When faced with these two cooler options, it's glaring that the V8 GTS is ahead of its competition, thanks to quality features and wholesome performances.
However, always consider the cooling unit before choosing a cooler and your budget outlay. That's because theNoctua NH-D15 is a pretty good cooler if you're on a budget and looking for an efficient cooler.
Overall, a cooler is ideal and saves your PC from damage that can arise from high temperatures. And after reading our comparison, it will be easier for you to choose the one that sweets your computer the best.