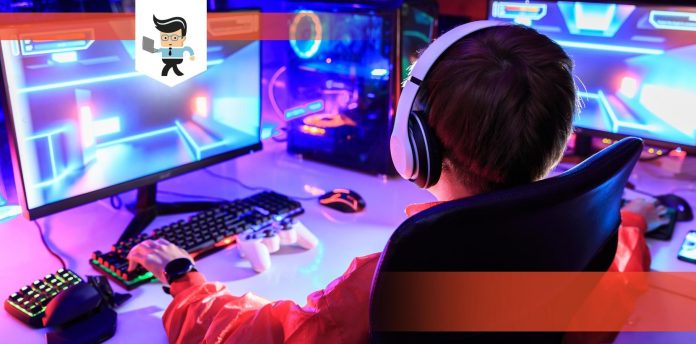 Dell S2716DG vs Asus PG278Q takes a deep look at two top-quality monitors and their capacity to influence your viewing experience. Whether the monitor you're using right now came bundled with your desktop PC or you bought it some time ago, there's always room for change.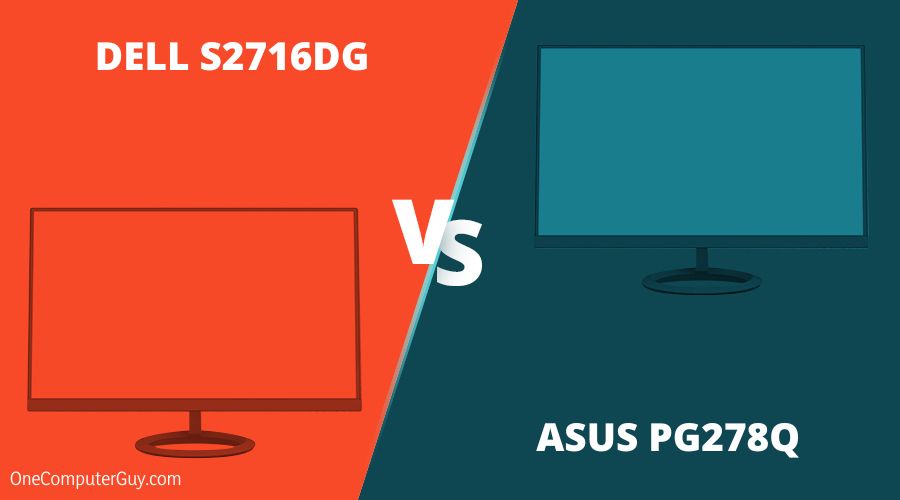 Spending a great deal of your time in front of the screen suggests that you should have a display you're comfortable with.
With our review and subsequent comparison of their key features, you'll learn which one fits your style.
Comparison Table
| | | |
| --- | --- | --- |
| Features | | |
| Resolution | 2560×1440 (WQHD) | 2560×1440 (WQHD) |
| Pixel Type | IPS | TN |
| Refresh Rate | 144 Hz | 144 Hz |
| Screen Size | 27 inches | 27 inches |
| Response Time | 1ms | 1ms |
| Ports | Display, HDMI, USB, etc. | DisplayPort, HDMI, USB, etc. |
| Technology | NVIDIA G-SYNC | NVIDIA G-SYNC |
Asus PG278Q vs Dell S2716DG Comparison
The main difference between Asus PG278Q and Dell S2716DG monitors is that the Dell S2716DG has an IPS screen and anti-glare coating. Also, QC-wise, the Dell is more reliable. But both sport Twisted Nematic (TN) panels with a quality resolution of 2,560 by 1,440 (WQHD), a 144Hz refresh rate, and a 1-millisecond pixel response.
– Connectivity
Winner: Dell S2716DG
Your PC rig isn't complete without a standard gaming monitor to add style and substance when you need that competitive edge over your rivals. The Rog Swift PG278Q and Dell S2716DG will provide that and more. A review and comparison of both will tell us more.
Connectivity is one of the hallmarks of a monitor. The Dell S2716DG has a quality DisplayPort cable, the preferred way to connect it. That's because some cards do not support the newer revisions of HDMI. However, the monitor will enter sleep mode when using DisplayPort as the input and not wake up. Further, it has one more audio input port and an external memory slot.
For the Rog Swift PG278QR, you have two HDMI cables and only one display port. While that's not enough, you get four USB 3.0 ports on the side.
– Features
Winner: Both
The features of these two monitors are more similar than not. For example, you have the same 27-inch size, 144Hz refresh rate, and 1ms response time. The Dell monitor will run a pretty dated GPU, while its G-Sync will make a substantial difference.
On the flip side, the Asus gaming monitor feels slightly different from the big peripheral focus and the multi-tasking for everyday use.
– Performance
Winner: Dell S2716DG
While they both give users unrivaled gameplay, we think the Dell S2716DG offers more by slight margins. It presents a stunning QHD (2560 x 1440) 144 Hz resolution, close to two times more details than Full HD. Also, the Dell has an anti-glare coating and is more than two kilograms lighter than the Swift PG278Q.
The ROG Swift it's one of the pinnacles of gaming displays, with cutting-edge features designed for the best gaming experience. But there have been complaints about its stand and challenging adjustments.
– Pros
Quality and engaging display
Crisp WQHD imaging
Enhanced gaming features
Superior response time
– Cons
The contrast is below average
At first glance, you'll come across a Dell monitor that doesn't bear many similarities with the brand's other similar products. But don't be tricked; it takes nothing away from its build quality, simple features, and natural matte black frame. It's designed to blend into different environments, whether in a gaming room or an office.
The stand encourages convenient cable management and is highly adjustable to many angles depending on your preferences.
– Overview
The Dell S2716DG review showcases this monitor as a gaming model designed for fast-paced games and intense applications. That makes it a huge draw for gamers.

– Design, Connectivity, and Features: Quality Ergonomic Build
The Dell S2716DG specs offer amazing build quality with a wide range of ergonomics. It has tilt options at 26 degrees, swivel, 90 degrees pivot, and up to 130 mm height adjustment. Also, it is a VESA mount compatible with a cable management hole and an anti-glare coating.
You'll get several display connectors, such as the DisplayPort 1.2 and HDMI 1.4. Only the DisplayPort input supports 1440p at 144Hz and G-SYNC, but the HDMI port reaches a final level at 1440p at 60Hz.
It's not without USB ports, with two 3.0 ports and an audio line-out port at the back of the monitor. Two additional ports and a headphone jack appear on the monitor's side.
The monitor has different features, including hotkeys and the power button, which may be difficult to press. That's because of the ultra-thin design of the monitor.
However, the OSD or On-Screen Display menu is intuitive and easy to navigate. Here, some standard settings you'll find include contrast, brightness, color temperature, RGB, and input source selection.
Further, there's a Response Time setting with Normal and Fast options. Choose the Normal option as the Fast one can lead to pixel overshoot. You also get the ULMB Pulse Width, which can be used to change the sensitivity of backlight strobing.
– Image Quality: The Best Feature of This Monitor
The image quality of the Dell S2716DG is its most vital selling point. Thanks to its quick response time, it offers a flawless performance for fast-paced video games. The response time is based on a TN (Twisted Nematic) panel, with narrow viewing angles, unlike some variations.
You'll get a bright and crisp image quality, thanks to the monitor's 2560×1440 WQHD resolution, which ensures a high pixel count per screen inch. The calibration settings can adjust to fit the profile you want.
– Performance: Gaming and Other Intense Applications
The 1 ms response time deals with ghosting and motion blur of rapid objects so that you can concentrate on other targets. It also has an exceptional input lag performance of 4 ms, which ensures instant responses to your commands.
Further, this monitor is known to produce a refresh rate of 144Hz crucial to competitive gameplay to reduce lag. Other technologies and G-SYNC features will boost your GPU's graphics card performance.
Take advantage of the ULMB (Ultra Low Motion Blur) feature to insert black frames between the regular frames to decrease trailing and ghosting.
– Pros
Fully adjustable stand
Excellent gaming performance
Sharp WQHD image
Appealing design features
– Cons
It has only one video output
As for the Asus Rog Swift PG278Q, many gaming enthusiasts will love how this display complements their PC's powerful graphics cards. It has a more than capable frame rate, speeding at sixty frames per second (fps). The monitor lets you enjoy smooth, high-resolution gaming, courtesy of Nvidia's G-Sync technology.
Furthermore, the monitor's Twisted Nematic (TN) panel has a maximum resolution of 2,560 by 1,440 (WQHD), a 144Hz refresh rate. What follows is a 1-millisecond pixel response, all of which combine to deliver a sharp, blur-free gaming experience.
You're also looking at a 3D ready monitor, which is prepared to offer LED lighting effects and a turbo hotkey, among other user-friendly capabilities.
– Overview
From our Asus PG278Q review, this is a 27-inch WQHD monitor designed for gamers. It uses Nvidia's G-Sync technology and a 144Hz refresh rate to deliver super-smooth motion performance. It's designed for users who want some neat gaming features.

– Design and Features: Asus Masterclass
The PG278Q has an edgy appearance that differs from the standard desktop monitor. Part of the reason for this is its 2.5-inch-thick, matte-black cabinet sports an extremely thin form. It also has matte-black bezels on the front and V-shaped air vents on the back.
The Asus PG278Q specs include a cabinet supported by a wedge-shaped base and a mounting arm with a sliding hinge. That gives you 4.7 inches of height adjustment, 37 degrees tilt, and a 90-degree pivot range for viewing in Portrait mode. Mounting arms are included, and they swivel at 120 degrees at the base, surrounded by a ring of LEDs. These lights glow when the Light In Motion feature is enabled in the on-screen menus' system.
– Image Quality: Clear and Fascinating
The screen resolution of this monitor brings out a brilliant display. However, it has just one video input – the full-size DisplayPort 1.2 port needed to run G-Sync. Alongside the DisplayPort connector at the back of the cabinet are three USB 3.0 ports (one upstream, two downstream). The right-hand bezel has four buttons at the back (including the Power button) and a small, five-position joystick button.
The display's Adjustments are limited to Brightness, Contrast, Color Temperature, and Nvidia's Ultra-Low Motion Blur (ULMB) feature. Like its rival, the PG278Q is 3D-Vision ready and works with Nvidia's 3D Vision 1 and 2 kits.
– Performance: No Ghosting or Blurs
One exciting aspect of this monitor is using Nvidia's Frame Capture Analysis Tool (FCAT) to toggle between G-Sync, V-Sync-On, and V-Sync-off modes. You can do those things without exiting whatever game you're playing.
On-screen tearing and smooth motion are part of the process. Also, the G-Sync will provide smoother gameplay than V-Sync and will produce no stutter or chop. Ghosting and blurring do not feature, thanks to the panel's 1-millisecond (gray-to-gray) pixel response.
FAQs
1. What Type of Gaming Monitor Do I Need?
A monitor between 19 and 50 inches is enough. Anything in between is an excellent choice. Other than that, what you settle for will depend on your preferences. If you prefer a small monitor with focused angles, 19-24-inches will do the trick.
It would suffice if you have a gaming monitor with various ports and slots for different connections, including HDMI, USB, and possible extra storage options. Consider other devices on your desk and how your monitor can fit in.
2. What Major Features Should I Look for in a Monitor?
If you want a new monitor to complement your other gaming devices, watch out for these major features:
Custom adjustments and ergonomics
Ports and slots
Built-in speaker
Quality resolution
Display size
Response time
Adequate power consumption
Anti-ghosting capabilities
Conclusion
These two monitors are similar in many ways. However, in our gaming monitor comparison, the Dell S2716DG performs better than the ROG Swift PG278Q. It delivers perfect performance for hardcore competitive gaming. You'll find less input lag, a 144Hz refresh rate, and a 1ms response time speed.
If you want better image quality, feathers, and helpful ports, settle for the Dell S2716DG gaming monitor.