If how to turn on JBL speaker and how to connect it to your phone or why my JBL speaker won't turn on are your questions, then stick around because we have got all the information for you.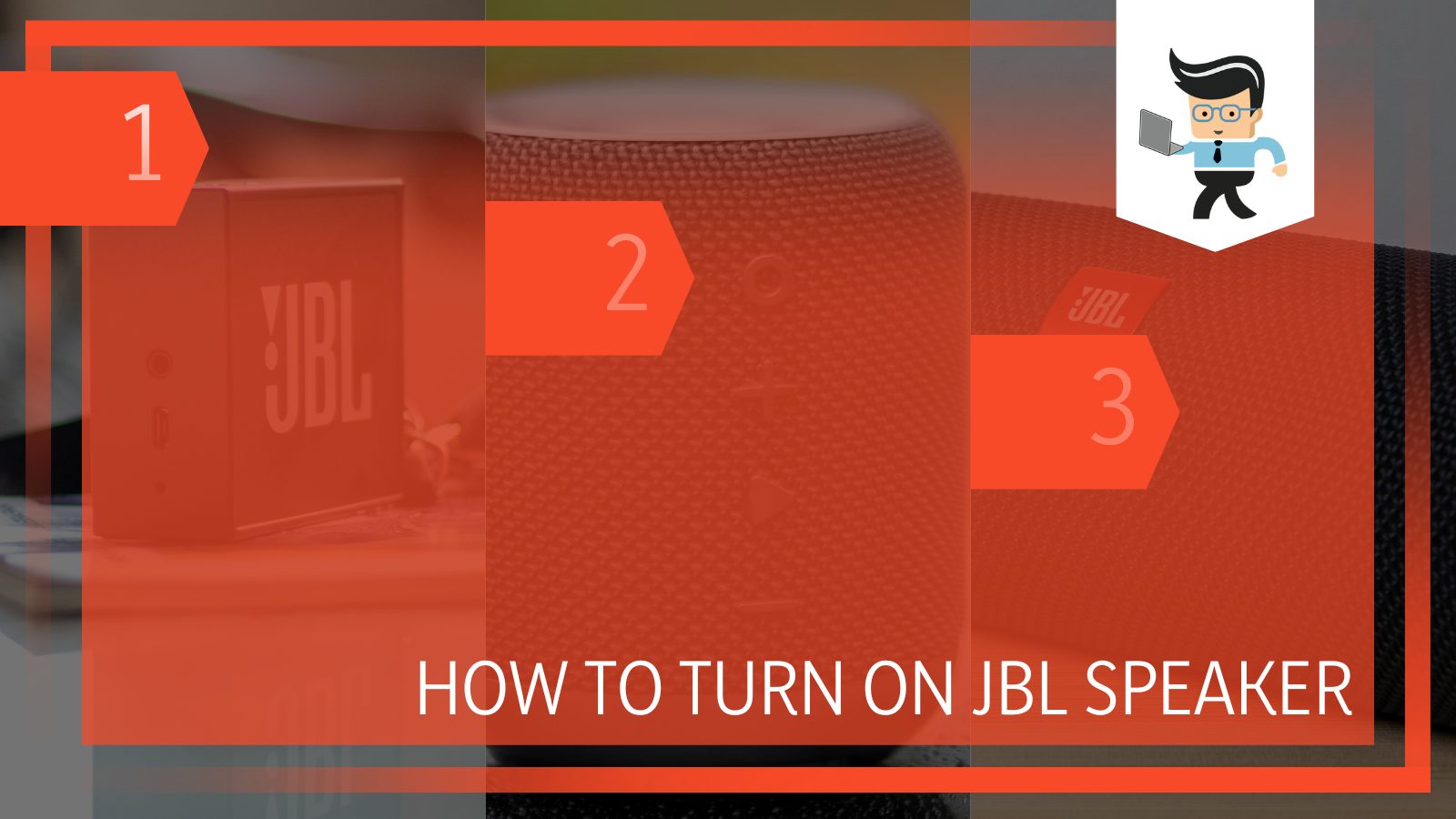 There is much hype around their products, and each new product that they launch is an instant big hit. In this article, we will focus on explaining how you can turn on your JBL device speaker, go into pairing mode, and connect your device to it, so let's start without any delay.
How To Turn On JBL Speaker? Simplest 3-Step Guide
You can turn on your
JBL speakers by making sure that their battery is operational and is charged
properly. After that, you will have to
locate the position of the power switch
on your speakers, varying from speaker to speaker. Lastly, you simply have to press the power button.
Operating a JBL speaker is very easy because there are not many buttons and functions on the speaker device, making them quite simple to understand.
Each JBL speaker comes with an instructions booklet that explains a great deal about what you need to do and how to do it in order to connect your device to it.
If you have lost the booklet, try reading the functions on the box or even on the device itself. It is so easy that even a kid can turn on the speakers and connect them to their desired device.
JBL started around 1946in Los Angeles, but it has come a long way from where it began. Today, every tech enthusiast has heard greatly about JBL or owned one or more of their products.
From here, we can guess how famous the brand is and how good they are at what they do. They have so many different products that come in all shapes and sizes for the versatile population that we have in the world today.
For various reasons, it may take some time for new users to connect their devices with the JBL speakers. One, they might have no idea how to do it secondly, even if they have an idea, the speaker is acting up and is not turning on, so whatever the problem, maybe you need to get it on. Don't stress because this article is here for you.
Following is a step-by-step tutorial on how to turn your JBL speakers on:
1. Charge the Speakers
The first and foremost task at hand here is to charge the speakers. Even if they are new, charge them first, so the speakers have an adequate amount of battery to go on or off.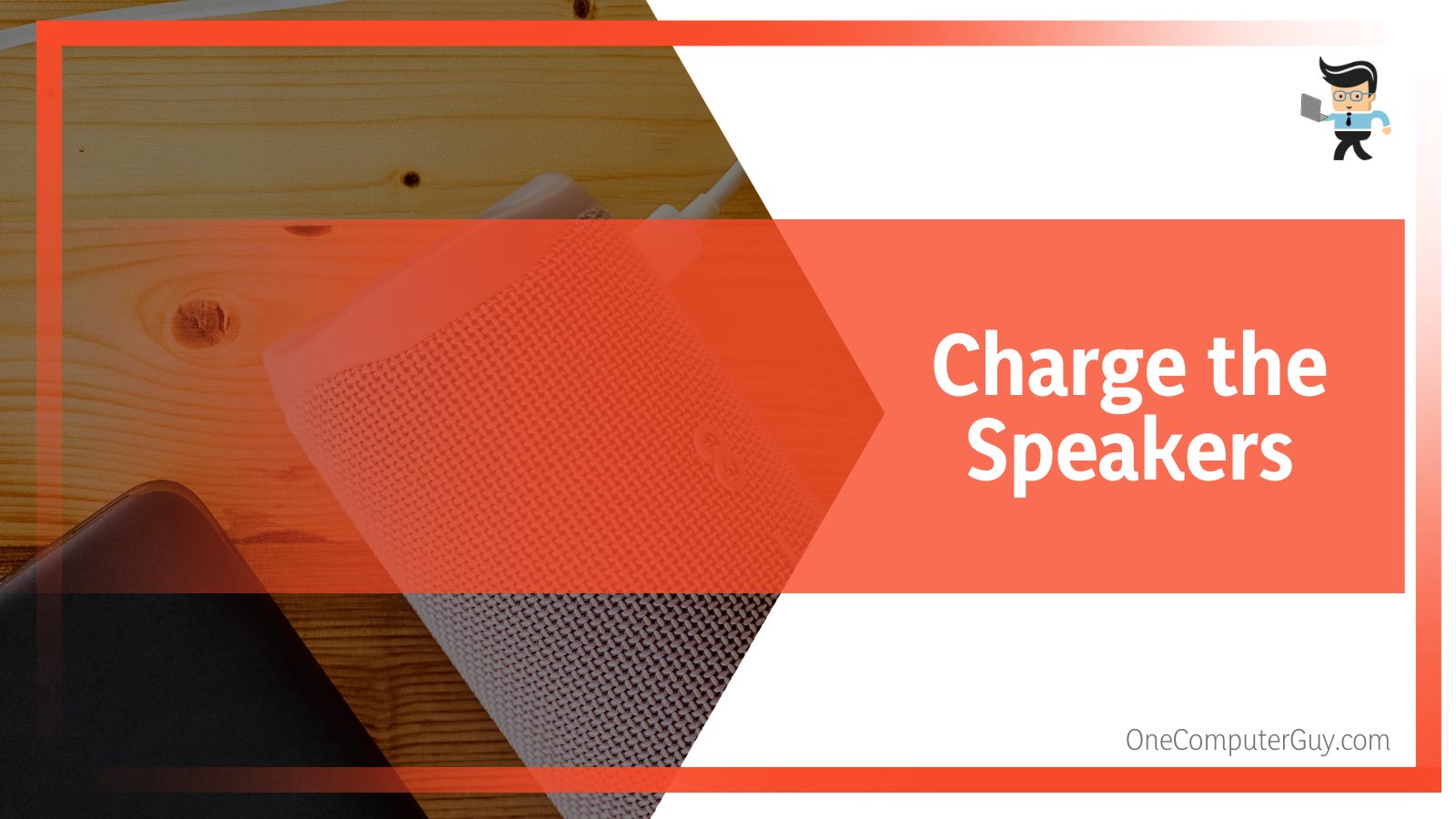 Make sure that you are using safe-to-use cables which are not broken in any way. Check to see if the outlet is doing fine as well as we do not want any health hazard.
If any plug is not available, you can charge the speakers on a power bank as well if you are in a remote setting. Always charging a speaker on a power bank may affect the health of the battery of the speakers but using it once or twice won't be an issue.
Now that the speakers have been charged proceed to the next step to learn where to turn it on and how.
2. Locate the On Switch
In each different speaker device that the JBL company comes out with, there is a slight change in the position of buttons and also some functions. So there is really no way to specify that the on and off switch will be located at this place on the divide.
You will only have to go with your instinct or look for it in the device's manual.
The on and off switches are generally the same switch that will have a sign on them or of/off written nearby. Hold and press down the key for some seconds until the message appears in the form of a buzz or shortlived sound.
Now your speaker is turned on, and you can use it to connect the device that you want. In your Bluetooth pairing menu, look for any device that is open for connection and is from JBL.
Connect to the device, and viola, your party is ready to set go. Now you can manage your songs from your phone or from the controls given on the JBL speaker.
3. Turn the Switch Off
After the speakers have turned on nicely and the device has been connected nicely, you will need to turn it off whenever you want. This is an important step. You need to make sure that the speakers are turned off rightfully and that there is no damage.
Most times, we disconnect the device and forget about turning the speakers off. This might cause a battery strain on the speakers or any internal damage.
This is why always make sure to turn off the speakers and put them in a safe space, away from the hold of any kid or pet. This will ensure that the speakers last longer than previously anticipated and are in great condition, look-wise and health-wise.
How To Tell If JBL Speaker Is Stuck On Standby?
You can tell if your JBL speaker is stuck on standby when it neither connects with any divide nor does it turn on by giving any sound. You can ensure this is the problem by trying to pair different devices with your speakers.
For taking your JBL speaker on standby, try draining the battery of the speaker by leaving it turned on. When the battery is completely drained, recharge the device to the maximum. After this, you should be able to connect your device to the speaker but if still the error persists, see a professional for advice.
– Step 1: Drain the Battery
The first step is to drain the battery completely. This might take some time to happen as none of the JBL speakers have any sort of digital battery percentage viewer from where you can view the battery from. Keep the speaker on for however long you can to ensure that the battery is being used and consequently drained.
– Step 2: Charge Your Device
The next step is to charge your device. Make sure the outlet you are charging on has an adequate electric supply and the cords are not tangled or broken, or naked from any side. These small assurances and checks will help you in the long run and will prove to be very potent for you.
– Step 3: Turn It On
The last step is to try and turn on the speakers. The speakers should make a sound and show a blinking light or just a light. If this happens, then the speakers are working just fine, and they are ready for pairing. If it is still not turning on in the right way, get in touch with a professional and seek professional care.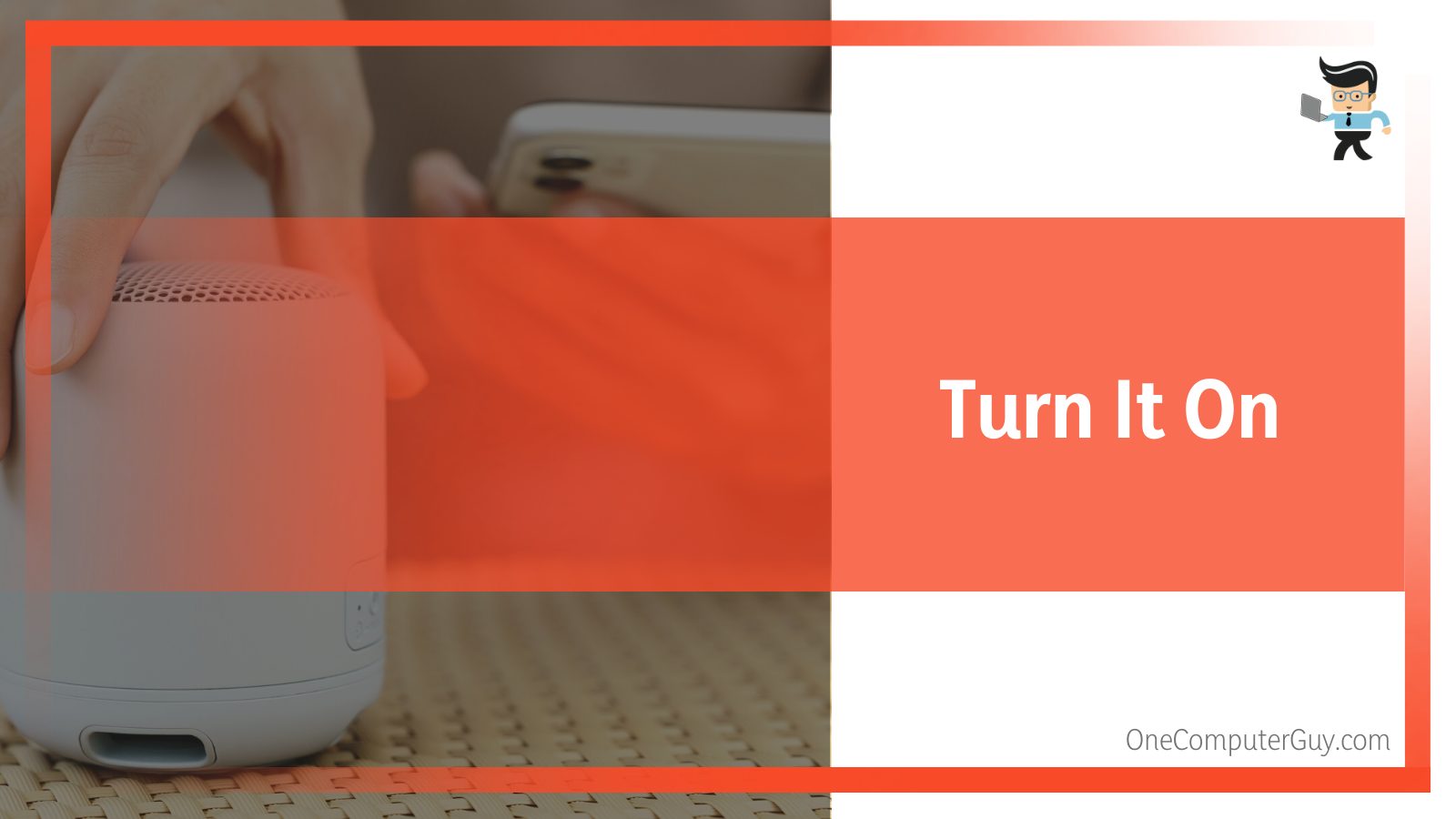 These three steps will help you tremendously in turning on your JBL speakers without any problem and with important and helpful tips.
FAQs
– Which JBL Speaker Is the Easiest One To Turn On?
The JBL PartyBox Encore Essential is considered the easiest JBL speaker and is best because of its compact body, massive sound, and great quality. It is a complete package when it comes to the whole music listening experience on a portable speaker and ease of usage.
Other than this, JBL Flip 6, JBL Charge 5, and JBL Charge 4 are also great portable speakers to work with. They have great sound and work so well in the portability and the battery department.
The only field where they lack is voice assistance, but slowly and steadily, the JBL speakers will also get around it and bring a great voice assistance feature.
– Which JBL Speaker Has the Highest Battery life?
JBL Charge 5 has the highest battery life among the whole collection of JBL speakers. This beast has a battery of around 20 hours which is massive given a portable speaker of its capability. This represents one of the best JBL products.
All JBL speakers, however, come with a great set of batteries and stand-by timings, undoubtedly. When choosing a JBL speaker like JBL flip for personal use, make sure to get the one that best suits your lifestyle and needs and is not according to any recommendation or top ten list.
With time the battery life might decrease, which is very common but make sure to charge the speakers on a stable electricity supply to ensure great battery health.
– What Is the Best Speaker For Outdoors From JBL?
The best speaker for outdoors from JBL is surely the JBL Boombox 3, which is an absolute banger when it comes to sound system and quality. This speaker has been named the best in the category more times than any other speaker.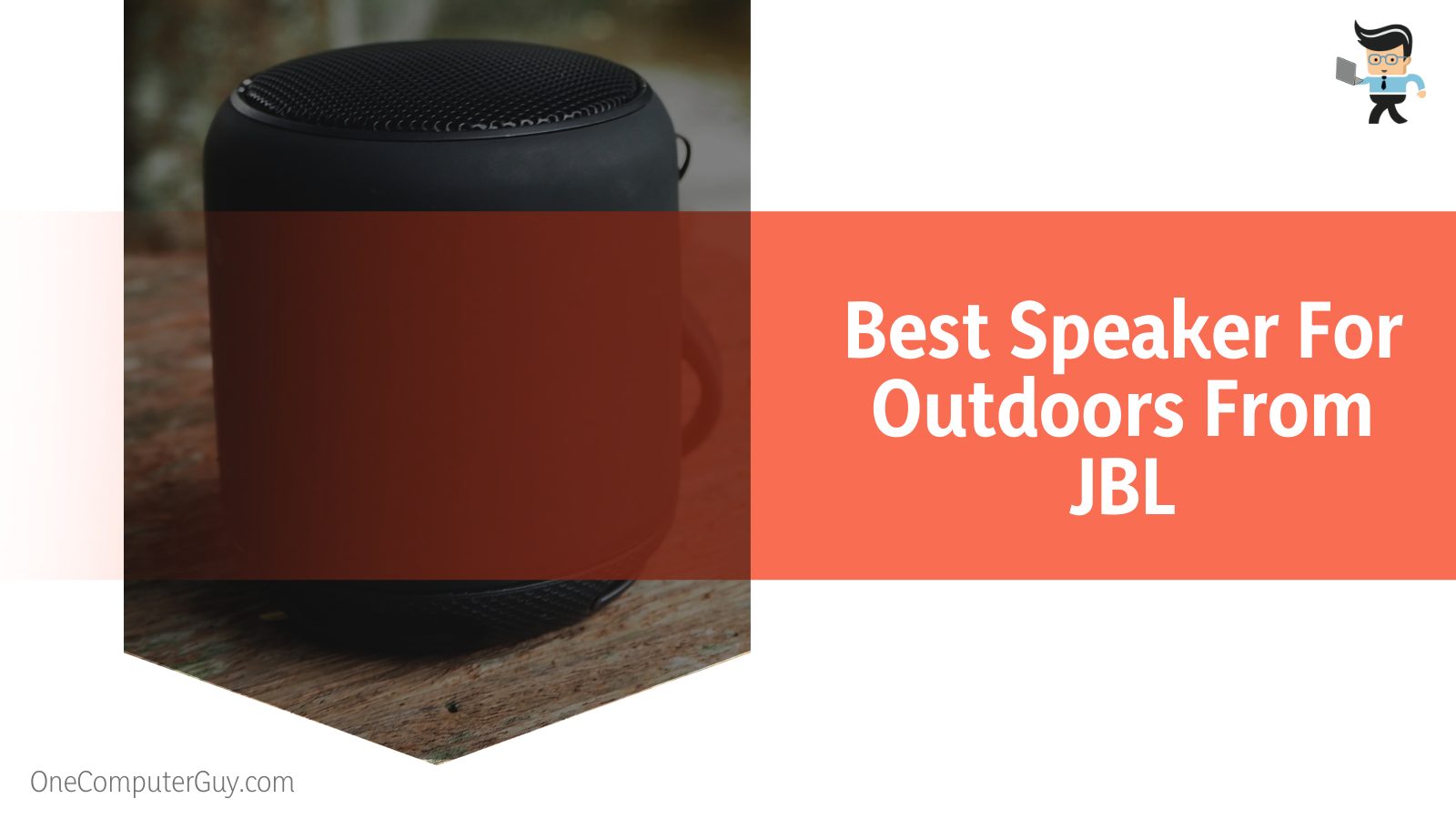 The JBL Boombox comes in a great compact shape and comes with a handy handle. This speaker is also dust-resistant and water resistant which is a great addition of features for an outdoorsy device.
– Why Won't My JBL Speaker Turn On?
The main reason why your JBL speaker won't turn on is that it may be out of battery, there might be some faulty hardware, or it is on, but the speaker's audio is broken. There can be many reasons behind your JBL speaker not working.
The best thing to do here is to make sure that, firstly, your speaker is fully charged. Secondly, look for any broken sides or damage.
If you are comfortable opening the device to check for internal damage, then go for it otherwise, get some professional help.
Conclusion
Turning on a JBL speaker is quite easy when you know where to look at it and how long you need to press the button, but if, in any case, you need a rundown of all the important points, the following is a list of the conclusive points:
The speaker can be turned on and off from the power button located on the body of the speaker.
Each JBL product has a power button at a different location.
You need to charge the device fully before using it and also turn it off after successfully using it.
Keep in mind the battery health of the speaker while charging or using it rashly.
You can connect any sort of device to the speaker, and it should work just fine.
Here we come to the end of the article on how to turn on the JBL speakers. These are a class apart kind of speakers, and they surely deserve credit. We hope that it was a helpful article for you.