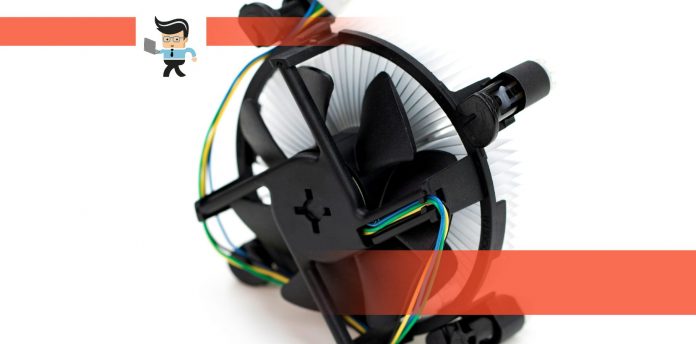 If you are looking for the best processor on the market, you buy the Intel Core i7 8700K; but what is the best cooler for i7 8700K? If you are going to buy such a great piece of machinery, you are also going to want to push it to the max, which means you will need some cooling.
Whether you are going to game, render, or do some heavy editing of video, you need a processor that is good at handling any and all tasks that you throw its way.
The thing about processors is this: they get hot. You need to cool them down somehow. This processor runs hotter than most of the other processors on the market. This means if you are going to run it at stock clock speed or you are going to overclock in any way, you are going to need a good cooler to help you out so that everything stays working properly.
Comparison Table
Best Coolers For i7 8700K: Our Reviews
When you cool your Intel Core i7 8700K, you don't have to go too far and do anything too off the beaten path. That is if you are just going to use it at regular speeds. If you are going to go to extreme measures of overclocking, you are going to need to invest in something that will do some serious cooling.
With that, we have rounded up some of our favorite CPU coolers for i7 8700K. Let's break them down:
Specifications:
| | |
| --- | --- |
| Thickness | 1.0″ / 27mm (2.125″ / 54mm w/fans) |
| Width | 4.75″ / 120.65mm |
| Depth | 10.9″ / 277mm |
| Pump Height | 1.5″ / 38mm |
| Speed Controller | BIOS/Software |
| Cooling Fans | (2) 120 x 25mm |
| Connectors | (2) 4-Pin PWM, (1) 3-Pin RGB (w/splitter), (1) SATA, Micro-B USB to 9-pin header |
| Weight | 42.9 oz / 1216g |
| Intel Sockets | 2066, 2011x, 1366, 115x |
| AMD Sockets | AM2, AM3, AM4, FM1, FM2, TR4, TRX4 |
| Warranty | 5 years (optional extension) |
Overall Review:
The Corsair H100i RGB PRO XT is a beautiful cooler that many people will immediately gravitate towards when they start to look. It has a glossy front with minimal RGB lighting that is enticing and classy while still offering some personality. The product has some of the best performance in tests all across the internet.
The face of the cooler has been likened to a rare crystal that was found on Mars. It has beautiful accents that shine through and it is made of darker materials than most coolers. There isn't any lighting on the fan itself, but rather through the Corsair logo.
The pump is a cooling hub, so there is a  Micro-B USB header on the left side of the module with 4-pin PWM fan headers, 3-pin pump speed and SATA power all coming out of the top of the cooler.
The Corsair H100i RGB Pro XT has a good list of CPU sockets that it supports, including AMD's Threadripper TR4 and TRX4 processors. However, one negative that people find is that it does not support the aging Intel 775, which is unfortunate. The Micro-B-USB-to-9-pin (USB 2.0) motherboard header isn't anything special, but it works well to connect everything together. You'll be able to use that USB and the iCUE software to keep everything running smoothly.
The Corsair uses a 240mm dual-pass aluminum radiator on the H100i RGB PRO XT. Airflow comes from two 2400 RPM 4-pin PWM fans rated to 75 CFM. There aren't any RGB fans, which is somewhat of a letdown but they aren't strictly necessary.
Installation is a bit tricky because the screws are somewhat small and awkward. However, their mounting brackets make it easy to adjust your system if you find out that you need something more. It does have a backplate standard if you need one for your motherboard. When installing, the 90-degree swivel fittings offer flexibility that will help you to get the positioning that you want.
This cooler will come with a patch of pre-applied thermal paste to the milled-copper cold plate. You will be able to easily fit the mounting brackets into a groove at the base of the pump unit. The instructions that come with it are easy to read and understand and you can find plenty of examples online.
Near the end of installation, you will be able to maneuver the rubber mounting pads to help cut back on noise. They do a pretty good job until you turn the fans all the way up, and then it is noisy.
If you were looking for something brand new and updated from Corsair, you aren't going to get it here. However, if you are looking for a product that just works like it should, you'll get that. Once you make your purchase, you will get a standard 5-year warranty.

Pros
Perfect for high performance cooling;
Customized lighting controls;
Customized cooler;
Extremely good price for all that it offers.
Cons
Can be somewhat noisy if you have the fans all the way up;
It is difficult to install because of small screws;
Lighting is pump-only.
The EVGA's CLC 280 offers a high speed fan that will produce the ultimate cooling for your needs. Some of the other technology is a bit dated.
Specifications:
| | |
| --- | --- |
| Thickness | 1.0″ / 27mm |
| Width | 4.8″ |
| Depth | 10.9″ / 277mm |
| Pump Height | 1.5″ / 38mm |
| Speed Controller | BIOS/Software |
| Cooling Fans | (2) 140 x 25mm |
| Connectors | (2) 4-Pin PWM, (1) 3-Pin RGB, (1) SATA, Micro-B USB to 9-pin header |
| Weight | 42.9 oz / 1216g |
| Intel Sockets | 2066, 2011x, 1366, 115x |
| AMD Sockets | AM2, AM3, AM4, FM1, FM2, TR4, TRX4 |
When it comes to cooling, there are few companies people trust more than they trust EVGA. It has always provided quality builds with good performance: but this one supersedes them all. The EVGA CLC 280mm is a revelation in terms of cooling.
There are some bizzare indents on the side of the cooler that may look off-putting at first, but they are actually there to help reduce noise and friction. These indents also act as mini heat sinks and allow for some additional airflow. The CPU mating surface comes with neatly applied thermal paste (some of the neatest pre-applied paste we've seen) and a smoothly-latched finish.
All of the brackets are made of similar material so there is a cohesive look to the cooler. Still, this isn't going to be one of those coolers that you fall in love with because it is so beautiful. One of the things that sets this cooler apart is that the EVGA flow control software is what monitors and adjusts the fans. Users can set their own slopes, but most people suggest just allowing everything to work on its own.
This one is a bit of a classic in that it connects to the motherboard using a 9-pin USB 2.0 header cable. It also has a USB interface that breaks out of the head with two more PWM fan headers. A third connector helps to connect everything to the motherboard.
Installation of the EVGA CLC 280mm is pretty easy. It comes with a solid factory-installed bracket, a legacy AMD rectangular-pattern bracket, a USB controller cable (good quality), screws and washers for radiator installation (these are pretty easy to work with, unlike some of the other models we reviewed), AMD standoffs for use with the factory support plate of most AMD motherboards (but not all, you should check into it if you are worried), a set of standoffs for Intel's LGA 2011/2011-v3/2066, a set of standoffs to match theLGA 115x/1366 support plate (which is also included), and a set of thumb nuts to help secure the head unit to the standoffs.
Depending on when your product was made, it may even come with a dual-pattern AMD (AM4 and legacy) bracket and another set of standoffs for it. The only people who get these will be those who get the new products.
A fairly good cooler for those who aren't looking for something that will look great, but rather something that will perform.

Pros
Has excellent cooling scores,
Offers great voltage regulator cooling,
PWM fans can be controlled using an onboard controller or the motherboard.
Cons
Can be a bit on the noisy side,
Especially when turned all the way up. The onboard controller does make this a pricier option than some of the others.
The Cooler Master is one of the best coolers on the market, and it comes in at one of the best prices. It doesn't offer anything too glitzy or shiny, just good results.
Specifications:
| | |
| --- | --- |
| Height | 6.25 inches / 158.8mm |
| Width | 4.93 inches / 125.5mm |
| Depth | 2 inches / 50.8mm (3.13 inches / 79.5mm with fans) |
| Base Height | 1.49 inches / 37.8mm |
| Assy. Offset | 0 inches (centered) 1.1 inch / 27.94mm (with fans) |
| Cooling Fans | 1x 120 x 25mm RGB |
| Connectors | 1x 4-pin PWM 1x RGB |
| Weight | 1.54 pounds / 700g |
| Intel Sockets | 115x, 1366, 2011x, 2066 |
| AMD Sockets | FM2(+), FM1, AM2(+), AM3(+), AM4 |
| Warranty | 2 years |
The Cooler Master is another name that is fairly well known for those who build computers. It has always been a great cooler option for those who overclock and want something that isn't going to cost them a lot of money. It isn't known for having anything that is too revolutionary or outside of the box. It has always offered a good product at a good price.
Until now.
The Cooler Master Hyper 212 doesn't have nearly as many GRB integrations that some of the other choices have (and that may be why it is so much cheaper). The overall look is crisp and clean. There just isn't a lot of flair here. You won't get a lot of gleam, but you will get some dark touches that make it look more mechanical and sturdy. Some have called the appearance "aggressive" but we wouldn't go that far.
The hardware included with the Cooler Master Hyper 212 is passable in terms of construction. As long as you aren't hardcore gaming, nothing will go wrong. However, if you overclock more than four CPU cores, you probably want to look elsewhere. The thermal loads associated with overclocking will be far too much for this.
The fans come with five wide blades that help to move the heat away.
Installation of this cooler is probably the easiest on the list. The fan is decoupled from the cooling tower, but all you need to do is snap it into place and everything is secured. You don't need to worry about thermal paste or screws.

Pros
Extremely easy to install into your system;
Works great;
A definite improvement for the brand (they learned their lessons)
Cons
The lower price point means that there are some cheaper parts.
A good looking, extremely quiet fan that is easy to install and easy to love. However, all of that comes with a price.
| | |
| --- | --- |
| Height | 6.37 inches / 161.8mm |
| Width | 5.35 inches / 136mm |
| Depth | 5.74 inches / 145.7mm |
| Base Height | 1.5 inches / 38.1mm |
| Assy. Offset | 0.0 inches (centered)/(1.1″ w/fans) (27.94mm) |
| Cooling Fans | 1x 120 x 25mm1x 135 x 25mm |
| Connectors | 2x 4-pin PWM |
| Weight | 42.1 ounces / 1,193g |
| Intel Sockets | N/A |
| AMD Sockets | TR4 |
| Warranty | 3 years |
The be quiet! Dark Rock 4 is a unique piece that collectors have been loving for a long time now. It is sleek and gorgeous with an impressive performance.
Dark, sleek, dangerous, and mysterious are all words that have been used to describe the be quiet! Dark Rock 4. The sleekness makes it low profile but if you look deeper, you will see just how beautiful it is. It doesn't have the lights that some people want, but that helps to keep the costs low. Many presume that added lights would add sound.
This is a cooler that works great. It isn't going to break any records in terms of cooling, but it is effective at reducing temperatures. It also has some of the lowest decibel ratings of large coolers that testers have been able to find.
Installing this cooler is extremely easy. The packaging contains instructions that are clear and the point. You don't get a lot to work with as much of it is preassembled and done for you.
You'll get a syringe of thermal paste and a mounting bracket. You'll also get a 2-way PWM splitter for the included 120mm and 135mm cooling fans, an extra set of fan brackets (so that you can add more fans in the future without having to destroy the look of the cooler) and an easy to use magnetic screwdriver so you don't mess up any of the coatings.
They really have thought of everything when it comes to installation. You will also get a pair of  Silent Wings PWM fans, a 120mm for the front push position, and a 135mm center-mounted fan. Each fan will go near the rubberized vertical mount to help reduce sounds even further.

Pros
Extremely quiet when it is running;
Sleek, beautiful design;
Good cooling mechanisms;
Easy to install and maintain.
Cons
There aren't any RGB lighting options;
Is a bit costlier than some of the other options on the list.
How To Buy The Best Cooler For  i7 8700k
Buying a cooler isn't difficult, but it can be a little intimidating. What cooler you choose to buy will make a big impact on your PC experience. Not only because it will help to keep it running, but because it will contribute to the sounds coming out of your computer. You need to buy a cooler that can handle the thermal output of your CPU before you think about sound, but it is something you need to consider.
If you already have any idea of what you need, the reviews above should help you to determine where you should look. If you aren't sure, or this is your first time buying a cooler, you will have to think about a few different things:
Does the sound matter?
Do you want a sleek look or RGB lights?
How often do you plan on overclocking?
CPU coolers come in many different sizes and shapes. Most will fall into one of these categories: air, all-in-one (AIO), open loop cooling, or closed-loop coolers. Each one has its benefits and its detractors. Some are more expensive, some are bulkier, and some work better than others.
Air coolers tend to be the most popular option because they come in many different shapes and sizes. They also tend to be  a bit cheaper than some of the other models on the market. AIO or closed-loop coolers are usually the quieter fans that don't require custom tubing. They are also resistant to leaks and easier to install. However, they can be obtrusive
If you are going to buy the Intel Core i7 8700K, which is an amazing processor, you also need to get a cooler. If possible, you don't want to get something that will just be passable. You want to get something that is going to allow you to get the most out of your processor.
This is a CPU that runs extremely hot, hotter than most other options, and you can't just get any cooler without thinking it through. You need something good.
The list above isn't exhaustive. However, we looked through many reviews to find which ones were repeatedly mentioned over and over again. They aren't just good coolers for the Intel Core i7 8700K, but good coolers for any processor that you are going to buy. Be smart when you are shopping and try to find deals. They do exist out there!