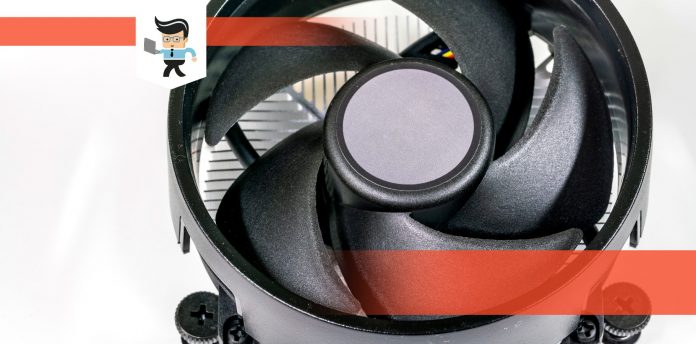 A Ryzen 7 2700X cooler is essential if you want to make the most of the processor. We all know that when electrical components get too warm , they don't perform as well and it shortens their lifespan considerably.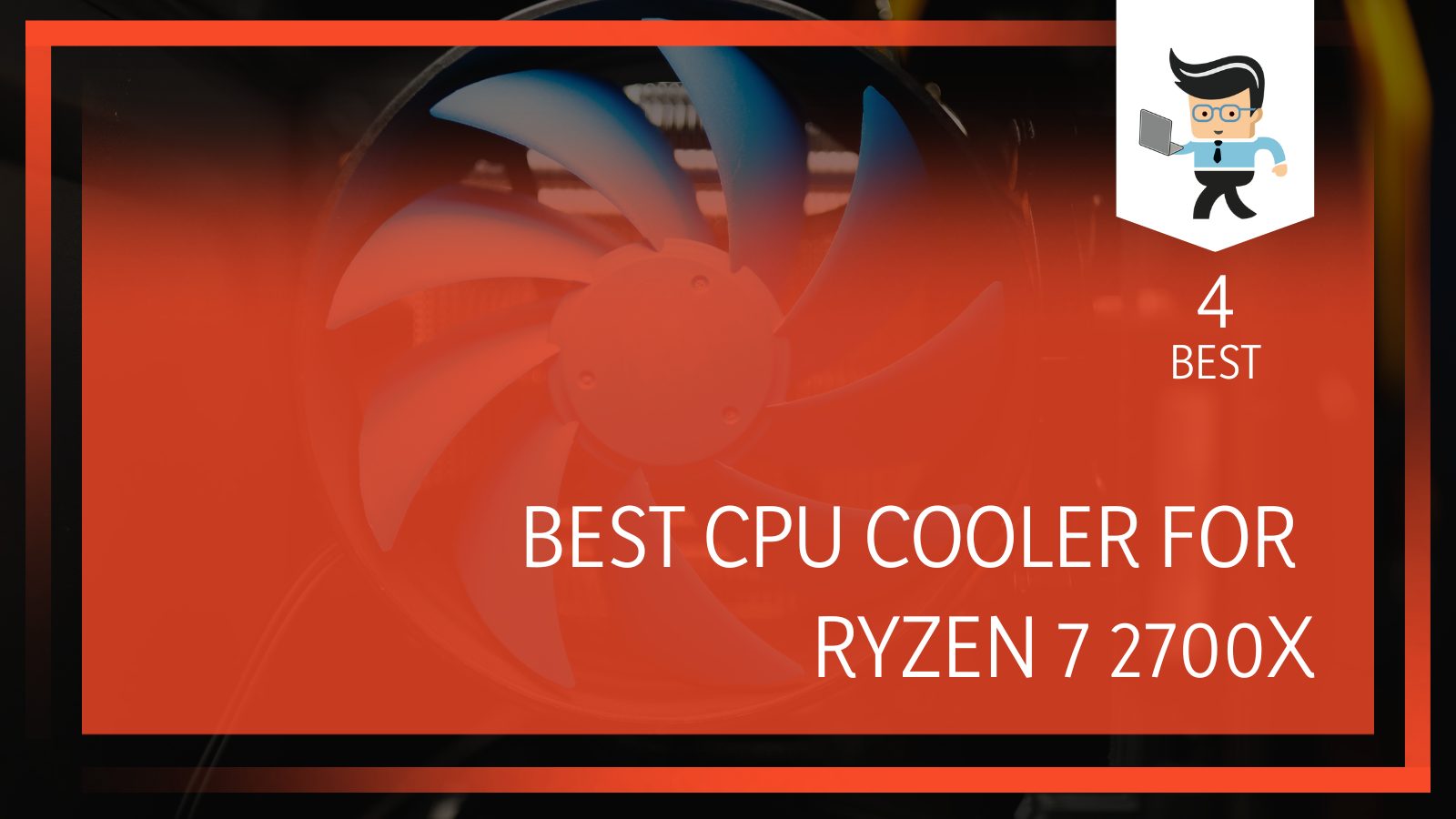 Here, we compare four CPU coolers from Noctua, Scythe, Be Quiet, and Cooler Master to give you the best recommendation on the cooler you should buy to extend the life of your Ryzen processor.
Best CPU Cooler for Ryzen 7 2700X Comparison Table
Best Cooler for Ryzen 7 2700X
If you are looking for the best airflow rating and whisper quiet operation, then you have to go with the Noctua DH-D15.
With nickle-plated heat pipes and a full RGB color suite, it's sure to fit in with any build color scheme you're going for, and it's a serious upgrade over the Ryzen 7 2700X stock cooler. Keep reading for more details on the Noctua performance and comparisons to other models.
The Cooler Master Hyper 212 heat pipe cooler traces its lineage back well over a decade, which isn't prehistoric in the PC industry, but it has seen many generations of processor come and go.
Historically, it's been the go-to cooler preferred by over-clockers and system builders due to low cost and relatively good performance. Now, Cooler Master has made two Black Editions of the Hyper 212, a stealth and an RGB model.
Both the stealth and RGB versions feel like direct descendants to the previous 212, with each performing like they were designed for quad-core gaming builds in the entry-to-mid-level range. However, if overclocking more than four CPU cores to the upper limit of silicon architechture, you might consider alternatives, as this pair of Hyper 212s is somewhat lacking when it comes to wrangling thermal loads on HEDT (high-end desktop) CPUs. This is no real surprise, though, as the Hyper 212 has always been a heat pipe cooler for the masses.
As expected, the included standard fare of both versions of the Hyper 212 Black Edition are nearly identical, save for the RGB control integration in the Hyper 212 RGB Black Edition that has become rather standard for most Cooler Master products featuring 4-pin RGB functionality. Both the Silencio and RGB ship with an additional fan bracket to allow the cooler to operate in push/pull configuration if desired.

Like all Hyper 212 models, the current Black Edition coolers feature a direct-contact, quad-heatpipe tower design with minimal flair. The heatsink base and heatpipes themselves feature a handsome, 'dark chrome' plating that offers reduced, reflective gleam, while still providing a touch of dark shimmer. Both the 5-blade Silencio and 9-blade RGB fans have a rather conservative design considering some of the current exotic fan and lighting trends.
Moderate cooling performance, but otherwise a high quality CPU cooler. The Scythe Mugen 5 Rev.B is a great buy for those looking to reduce noise in their rigs.
Within the box, you'll find the heatsink, a 120mm fan, mounting brackets for the cooler, the owner's manual, a long screwdriver, and thermal paste (pro tip: always use a high quality thermal paste, even if you need to spend more out of pocket than what comes with the cooler). Bracket options include every standard available from Intel and AMD motherboards, including the AM4 socket. The Mugen 5 is also equipped with a manufacturer's two-year warranty.
The cooling pipes are plated the same color as the rest of the cooler, giving it a uniform silver finish across the surface. The fan is a matte black color. For those concerned with color coordination, it should be a safe bet to go with many different build themes, and the silver finish will reflect whatever color of RGB you choose for the rest of your rig. The CPU contact surface is smooth and reflective. There's plenty of room for airflow in between the heatsink's largely spaced out slabs. Six heat pipes support the CPU contact plate.
The sturdy brackets are easy to install with a screwdriver. An included plate that fits behind the socket of LGA 1150 through 1366 motherboards allows for adaptability to many different processors, making it an ideal Ryzen 2700X cooler.
The screwdriver is extra long to reach the spring-loaded screws at the base of the heatsink, securing it to these brackets. Fitting the fan to the heatsink requires some hand coordination, as the kit includes skinny metal clips to secure the fan. But the fit is secure, even with the small clips.

This representation of the Mugen 5 Rev.B's value tells us one thing: your product choice depends on what you're after in this price point. The Mugen 5 Rev.B performs on average for cooling and noise level. It's difficult to get the best of both worlds, and at this price point that's even less likely. If you want it all, you'll have to spend more, especially if you want a liquid cooler for Ryzen 2700X.
Back in 2009, Noctua was the first to introduce a monstrous dual-tower heat sink cooled by a pair of fans. Following that example since then, everyone and their brother has come up with some version of that design. It may be a direct copy from the same OEM with some RGB added in (seriously, are we making the 90's futuristic vision of blinky circuit boards come true or what?) or if it was a similar design all its own.
The NH-D14 was absolutely a trend setter for the heatsink world, and the first up at the plate in the dual-tower cooling game. Sadly, as the years went on, these Noctua coolers lost their top spot to other, better performing models.
The latest design from Noctua fixes some of the issues plagueing the original NH-D14 users. For example, the original had no clearance for taller memory and in some cases you had to remove the cooler to remove or replace memory.
From what we recall, that was about it though, the mounting kit itself was good then and is still one of the best mounting kits on the market. Noctua have listened to their customers, and kept all the things that worked well, and added a few new changes to not only take care of the issues we mentioned earlier, but with the advent of socket 2011, the cooler is also fully ready to accommodate those memory configurations as well.
This model is designated as D15 because as an upgrade to the old 140mm fans, we are now getting 150mm fans on this cooler.
As with all Noctua coolers, a copper base plate has been nickel plated, and it's the same story with the six copper heat pipes that are soldered to the base. Noctua's reputation for quiet coolers comes from their low CFM fans, but the efficiency level gets a boost from the fact that each and every fin in both stacks of this cooler have been directly soldered to each of the heat pipes. This allows for more direct heat dissipation across the cooler itself.

As we mentioned earlier, the NH-D15 steps up to 150mm fans; it includes a pair of NF-A15 PWM fans to cool the towers. For maximum clearance, it is recommended that you run it with just one of the fans in the middle. These fans top out at 1500 RPM, deliver 140.2 cubic meters per hour of air flow, and are rated at a noise level of 24.6 dB(A).
Considering these new fans have a twenty-five to thirty percent advantage in airflow from what the NH-D14 offered, it may just be exactly what it takes for Noctua to climb back to the top.
For those interested in the sleek look AMD offers, the Dark Rock Pro 4 will not disappoint. This totally black flagship cooler comes with two radiators, two fans (a 135mm in the middle and a 120mm one at the top), and delivers performance of 200 Watts of cooling power, making it an excellent cooler for AMD Ryzen 7 2700X.
Looking closer at the Dark Rock PRO 4 did a D15 here, however, with the powder coated all black design, it's possible that extra coating will have an adverse effect on cooling performance.
There really aren't any bad performing coolers being produced anymore. For every segment and budget, you can find something you need. There's a certain comfort zone with a corresponding product available. As a result, most of the coolers available on the market are all adequate at the very least. There are always exceptions with a handful of manufacturers catering to the high-end market where people pay more for branding than the engineering.
For people wanting high performance at a reasonable price, we need to make a stop at Be Quiet! as they often tick all the right boxes. The Dark Rock 4 and Dark Rock Pro 4 replace the model 3 released a few years ago. They have an improved mounting system making both models easier to assemble and install.
The solutions have a dual-fan setup in a push-pull configuration and as such you will spot a second SilentWings 3 (120 mm) fan at the outside. The pro has seven copper heat pipes and seems to have improved clearance space for DDR3/DDR4 compatibility (compared to the previous model).

The cooler is coated completely dark, which looks pretty nice, to be honest. Dark Rock Pro 4 is the successor of Dark Rock Pro 3 and keeps most of its silence and performance features.
Conclusion
The Noctua-D15 has the best offering of style, performance and silence so that you don't have to worry about fan noise when you are cooling your CPU.
It comes with full RGB capability, so you can match the lighting up to the rest of your machine, and it maintains the style factor Noctua is known for. If you want the best CPU cooler in this price point, the Noctua is the one you want to choose.