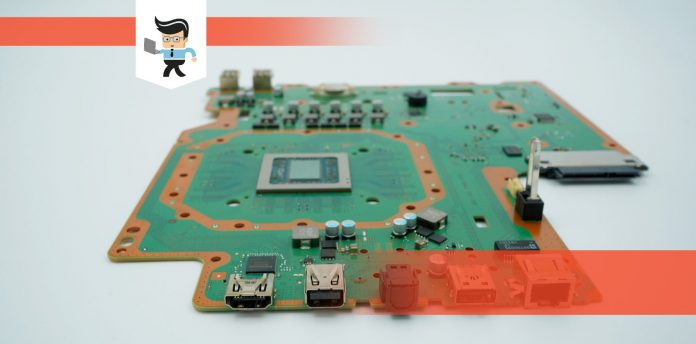 The best motherboard for Ryzen 7 1800X is one that will offer you the space and connections for a graphics card, USB headers, a clean aesthetic, and of course, AMD compatibility.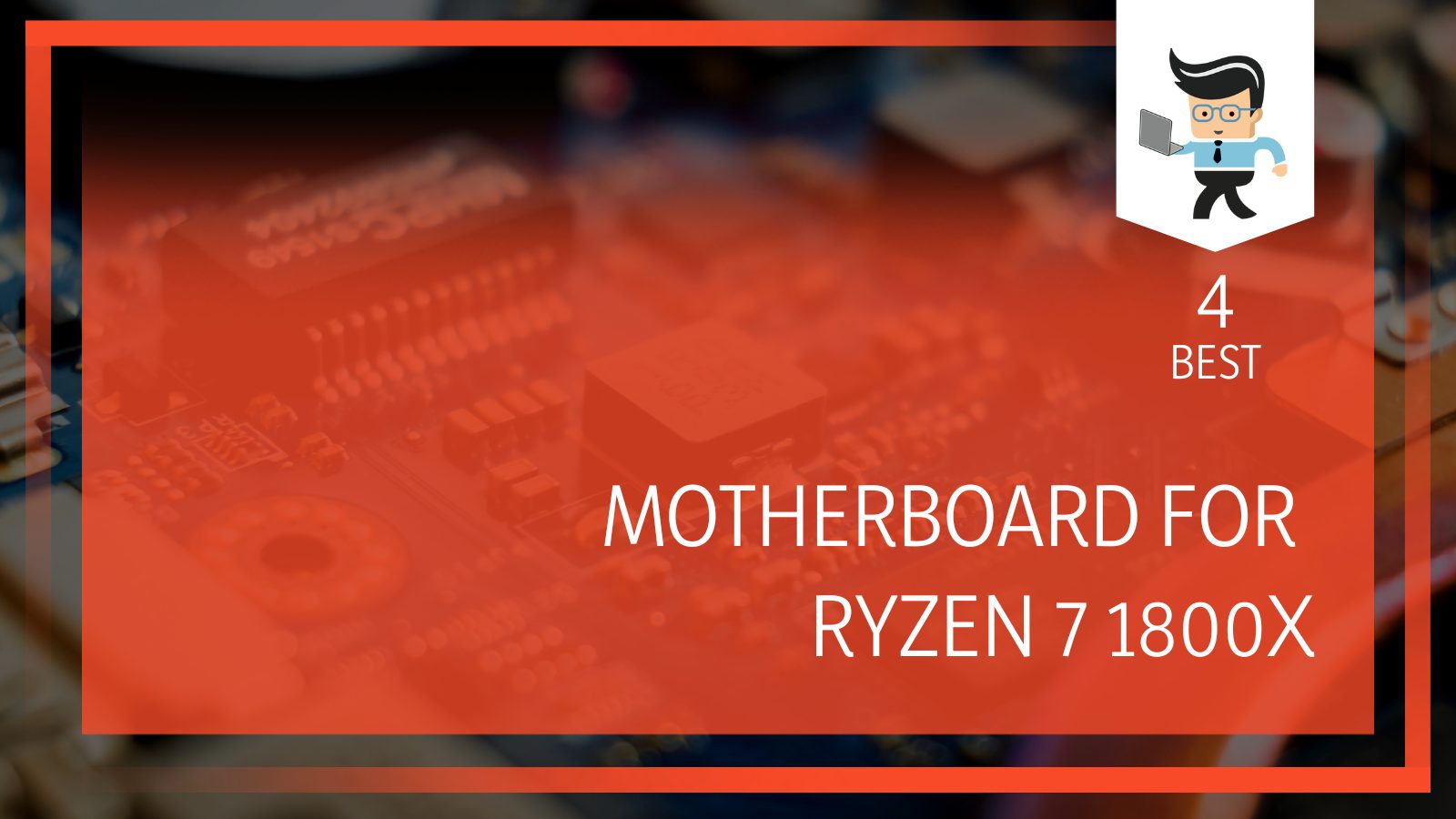 To this point, the ASUS ROG Crosshair is going to be the best board you can get for the Ryzen 7 1800X.
Comparison Table
Product
Key Specifications
MSI Gaming AMD Ryzen X370

Integrated RGB LEDs
BIOS splash screen
Six fan headers
Four SATA ports
Two straight SATA6Gb/s ports

ASUS ROG Crosshair VI Hero

High-end X370 chipset
Slick RGB-lighting arrangement
AMD Ryzen 7 processors with eight cores
Turbo speeds up to 4GHz

MSI Arsenal Gaming B450 Tomahawk

Two SATA6Gb/s
Six fan headers
Oversized VRM heat sink
Gold plated audio jacks
BIOS Flashback button
eFuse based polarity protection

ASRock X370 Taichi

Intel NIC
Four SATA 6Gb/s cables
Ultra M.2 slot
A-Tuning
Gold plated audio outputs
Top 4 Motherboards for Ryzen 7 1800X
The X370 Gaming Pro Carbon is one of MSI's top Performance series motherboards for the X370 chipset. It offers pretty aesthetics and top-notch features that you might not find on MSI's lower-end X370 and B350 motherboards such as dual M.2 slots.
MSI's X370 GAMING color theme is a popular one, black with hints of silver and white, and allows easy matching for any other color theme you want. It has many integrated RGB LEDs, and you can customize the colors to match of the rest of your system, and that is one reason it's a popular motherboard.
– Specifications
The MSI features 32Gb/s M.2, 20Gb/s M.2, USB 3.1, high-end audio, USB 3.1, USB 3.0, SATA6Gb/s, and SLI/CrossFireX support.
– Overview
The motherboard comes in a colorful box featuring a racecar, which is the same one on the BIOS splash screen. Packaging is the same as we have seen with other MSI X370 products, and your motherboard should arrive unharmed even if the courier is less than careful with it.
The accessory package includes two SATA6Gb/s cables, RGB LED extension Y-cable, IO panel, SLI bridge, two SATA6Gb/s cables, cable label stickers, installation materials, manual, and driver DVD.
MSI offers six fan headers on this motherboard, one more than on the X370 SLI PLUS. All headers support DC or PWM mode operation, but not all of them are set to the same default and need to go into the UEFI to change their mode.
The motherboard has black heat sinks with hints of white on carbon fiber panels, both PCI-E slots are reinforced with metal, and the DIMM slots have a metal shroud around them. The motherboard has very few components on the back, just a few PCI-E quick switches.
The rear IO panel features PS/2 Keyboard/Mouse, four USB 3.0 ports, two USB 2.0 ports, USB 3.1 type-A, USB 3.1 type-C, DVI, HDMI, Gbit LAN, and 7.1 gold plated audio ports with S/PDIF.
The PCI-E layout is very similar to that of other X370 motherboards. The first two x16 slots operate at x16/x0 or x8/x8. The last PCI-E x16 slot is wired x4 PCI-E 2.0 to the PCH and shares its bandwidth with the second M.2 slot. There are also three PCI-E 2.0 x1 slots. Four SATA ports are right angled as is one of the USB 3.0 internal headers.
The motherboard also has two straight SATA6Gb/s ports to the right of a USB 3.0 internal header. The 32Gb/s slot gets an M.2 Shield.
The motherboard features a single RGB LED header at the bottom of the motherboard. All of the heat sinks and the shield are screwed into the motherboard.
– BIOS and Software
MSI's UEFI for the X370 GAMING PRO CARBON is very similar to the rest of MSI's X370 motherboards, but we do get a color upgrade. Overclocking settings and other advanced system settings are easy to navigate through and understand. AMD has done a good job of standardizing most everything when it comes to overclocking the CPU, and MSI's customizations are decent. Fan control is simple, and as I have mentioned before, I like the Hardware Monitor GUI.
MSI's software suite includes MSI Command Center, Smart Tool (to make Win7 work), Live Update 6, X-Boost, and RAMDISK.
– The Good Stuff
The high end aesthetics of the board are spot on: the mixture of carbon fiber, blacked out PCB/heat sinks, and RGB LEDs go together quite well. The RGB LEDs built into the motherboard will allow you to customize its color, and their diffusion is excellent.
Dual M.2: Not many X370 motherboards feature two M.2 slots, but this one does. The top slot operates at 32Gb/s while the bottom one operates at 20Gb/s.
Latest NIC and Codec: Many people will only buy motherboards with an Intel NIC, and while there are good alternatives, Intel's NICs offer consistent performance. The audio on this motherboard comes from top notch components including the latest Realtek ALC1220, two Texas Instruments amplifiers, and Nichicon Gold series capacitors.
Dual Internal USB 3.0 and ASMedia USB 3.1: MSI has decided to provide two USB 3.0 internal headers on its latest X370 motherboards. Rear USB 3.1 type-A and type-C both come from ASMedia's latest controller.
– The bad stuff
VRM Quality vs. Price: At this price point we did expect slightly better VRM quality. I will say that the VRM does get the job done, I can easily overclock to 4GHz, but I would have some active airflow in the VRM area for 24/7 full load use.

– Overview
This is a mid to high-end X370 motherboard in every sense. From its aesthetics to its features, it's a really great buy for someone who wants a high-end Ryzen experience at a fair price. My only issue with the motherboard is its VRM quality and lack of OC features; but the VRM gets the job done and doesn't hinder overall overclocking capabilities.
Asus never does anything halfway with its Crosshair mainboards, and they are targeting the higher end of the market with the ROG Crosshair VI Hero. It is absolutely the flagship motherboard for AMD's Ryzen 7 processors.
Because board is in Asus' Republic of Gamers (ROG) series, we can expect a wealth of enthusiast features and support for overclocking. Bearing AMD's high-end X370 chipset and a slick RGB-lighting arrangement, this board will garner plenty of attention from gamers looking to build PCs around a good motherboard for Ryzen 7 1800X.
After spending a long time in the shadow of Intel's Core processors, AMD's CPU business is solidly back in contention, vying for the attentions of enthusiast-level buyers. The AMD Ryzen 7 processors have eight cores (with support for 16 threads) and boast, in the case of the Ryzen 7 1800X, turbo speeds up to 4GHz. From their launch, the Ryzen 7 CPUs have proven to be strong performers.
You can even put two or more Nvidia graphics cards in SLI mode into your AMD Ryzen 7-based build, and the chipset to pair with your new CPU is the AMD X370.
Before we dig into the ROG Crosshair VI Hero, we should point out that it isn't the only ASUS X370 that has AMD Ryzen 7 1800X motherboard compatibility. The Asus Prime X370-Pro is lighter on features but also on the price tag for mainstream gamers who are happy with what the Ryzen 5 and 7 processors provide at stock speeds.
– Design and Features
ASUS has provided a number of 3D-printing templates so you can make extra parts for the ROG Crosshair VI Hero. The board has built in mounts for the 3D printed accessories, like cable combs, fan grilles, and a bracket to mount a fan over your M.2 drive slot.
Even if you don't 3D-print anything, there's plenty of pizzazz on the stock board. The trend toward oversize I/O shields and bulky heatsinks continues with the Asus ROG Crosshair VI Hero. But Asus makes good use of those surfaces, with LED lighting and futuristic designs that give the I/O and audio shield an unusual look and texture.
The heatsink over the X370 chipset sports several cutouts and etchings, including the ROG logo. The black/brushed aluminum look is pretty great by itself, but the ROG logo is the star of the show. LED illumination beneath the logo makes it stand out, and the light shines onto the black PCB below through the angled cutouts in the heatsink and gives it almost an underglow look.
The only downside to the large heatsink is that single-lever memory slots are present instead of dual-lever. Memory modules can be a little smoother to install and remove when your slots have levers at either end, but on the ROG the ends nearest the heatsink are stationary. That said, memory is usually a one-and-done deal, so it isn't a deal-breaker.
Asus gave users a hand by distinguishing the matched pairs of dual-channel memory slots via black and dark-gray plastics. You'll install a two-module set in the gray slots to take advantage of the two channels, or load up all four slots. The ROG Crosshair VI Hero supports a maximum of 64GB of DDR4 memory at speeds up to DDR4 3200, meaning you can have up to a total of four, 16GB sticks of RAM.
Some motherboards have LEDs on the PCB, but Asus limited them to the chipset heatsink and the I/O shield for its lighting. Some diehard fans of the RBG LED revolution may think that this isn't enough, but it's a more understated, classy look.
Light seeps out of a crevice in the I/O shield and highlights the "Crosshair VI" cutout. And despite having only a few lights, the board has plenty of lighting-customization options.
Interestingly, Asus punched an extra set of holes in the PCB to accommodate the mounting of AM3-socket coolers. It's a nice touch, because enthusiast hardware usually makes no concessions to legacy cooling gear. If you've already invested considerable funds into an AMD system, including a worthy cooler, that's one less component you need to buy and save a bit in your budget.
The expansion-slot layout is busy, but it seems well-planned. A sizable gap between the two top PCI Express x16 slots leaves breathing room for bulky video cards living alongside one another. Those same slots are wrapped in metal for extra stability (Asus calls this feature "SafeSlot"), while a third PCI Express x16 slot is shield-free.
The layout has another advantage worth mentioning: ASUS put the ROG Crosshair VI Hero's lone M.2 slot/connector on the right side of the board, just below the big X370 chipset heatsink. Usually the M.2 connector is closer to the left side of the board, oftentimes between PCI Express slots.
In some cases (as with the Gigabyte/Aorus AX370 Gaming 5), the M.2 connector ends up close to the first PCI Express slot, which can make accessing the storage module a little tricky once you install the video card. With the ROG Crosshair VI Hero, you won't have any trouble reaching the M.2 connector.
Asus also paid attention to the audio. It loaded up the ROG Crosshair VI Hero with an ROG SupremeFX S1220 audio codec. The HD audio codec features eight-channel sound and is backed up by Asus' Sonic Radar III and Sonic Studio III software.
For all the bells and whistles that it loaded onto the ROG Crosshair VI Hero, ASUS paid attention to the little things, namely bright, white labels for all of the crucial components. They're easy to spot, making the installation of all your components a breeze.
– Ports and Headers
Flagship motherboards get all the best gear, and that's especially true of the ROG Crosshair VI Hero.
The I/O panel is loaded with ports and even includes chunky buttons for clearing the CMOS and activating Asus' BIOS Flashback tool. This latter feature lets you update the BIOS from a USB drive (plugged into the USB port helpfully labeled "BIOS"), regardless of whether the PC is running. Another USB port, marked "KEYBOT," gives your keyboard extra macro- and function-key options, managed by the included Keybot II software.
The ROG Crosshair VI Hero doesn't have onboard graphics, nor do the Ryzen 7 and 5 CPUs. As a result, space that would otherwise be occupied by video-out ports instead houses more USB than you know what to do with: eight (blue) USB 3.0 ports, four (black) USB 2.0 ports, a (red) USB 3.1 Type-A port, and a USB 3.1 Type-C port.

The ROG Crosshair VI Hero also has a large number of internal connectors, most of which line the right and bottom edges of the motherboard. One of the more interesting of these is the USB 3.1 header connector, which sits near the 24-pin power connector on the right side of the board
The Tomahawk series is a more affordable series of motherboards designed to facilitate high-end platform features at a very reasonable price. In this case the motherboard also looks pretty good too. Without further hesitation let's take a look at the MSI B450 Tomahawk.
– Specifications
The B450 Tomahawk features a x4 PCI-E 3.0 M.2 slot, DVI-D, HDMI, USB 3.1, and SATA6Gb/s.
The accessory package includes two SATA6Gb/s, IO shield, M.2 screws, case badge, build guide, driver DVD, and manual.
MSI put in a whopping six fan headers. All of the headers are hybrid PWM/DC mode headers. However, like the ASUS, they are not all preconfigured with the same default modes. The motherboard's aesthetics are easy to handle, and the oversized VRM heat sink looks pretty good. The back of the motherboard is bare of a lot of hardware and there are indicators where to remove standoffs if your motherboard already has them installed.
The rear IO panel features BIOS Flashback button, two USB 2.0 ports, PS/2 keyboard/mouse, DVI, HDMI, two USB 3.0 ports, USB 3.1 type-A, USB 3.1 type-C, Gbit LAN, and 7.1 channel gold plated audio jacks.
The PCI-E slots operate as follows. The top slot is directly wired to the CPU at x16 PCI-E 3.0. The other x16 slot is electrically PCI-E 2.0 x4, and it shares two of its lanes with two of the x1 slots. The M.2 slot is directly routed to the CPU at x4 PCI-E 3.0, but if it's used the top two SATA6Gb/s ports will be disabled.
Four of the SATA6Gb/s ports are angled at 90 degrees, while two others are angled straight up. A USB 3.0 internal header is located near two USB 2.0 internal headers. One RGB LED header is located at the bottom left corner of the motherboard near the COM header. The other is located at the top right corner, both offer eFuse based polarity protection.

– BIOS
The UEFI on this motherboard is pretty well designed and only has two operating modes, one is basic and one is more advanced. You are going to want to use the more advanced mode to take full advantage of your settings and overclocking. Fan control is present in GUI form and works really well. Overclocking options are fully present and easy to understand.
AMD's Ryzen launch brought AMD back as a major player in the high-end computer hardware market. Ryzen's strength is its workstation capabilities, where it does better than Intel in regards to multithreaded performance at a more reasonable price.
ASRock's X370 Taichi is their third Taichi branded motherboard. The Taichi is one of ASRock's best motherboards, so it's loaded with the latest features, above and beyond what the AMD CPU and chipset provides, and I will cover it all in depth.
– Specifications
The X370 Taichi features an Intel NIC, Wireless AC, 10 SATA6Gb/s ports, an Ultra M.2 slot and a normal M.2 slot, USB 3.1 type-A and type-C, as well as SLI/CrossFireX support.
– Packaging
ASRock's box design is similar to that of the other Taichi motherboards. The packing materials themselves are quite good and should protect the motherboard during transport.
The accessory package includes four SATA 6Gb/s cables, I/O shield, two WIFI antennas, SLI_HB bridge, case badge, driver DVD, and manuals.
ASRock offers five fan headers on this motherboard. Certain headers can automatically detect if a PWM or DC mode fan is connected, and will automatically change their control mode.
The motherboard's aesthetics are white and black, and the PCB's silkscreen plays a big role in bringing everything together. ASRock worked hard to make it so that the heat sinks and silkscreen match up, and it produces a neat effect that will be blocked by the installation of a GPU and CPU cooler. The back of the motherboard has very little components, which is a good thing.
The rear I/O panel features PS/2 Keyboard/Mouse, WIFI antenna, USB 3.1 type-A, USB 3.1 type-C, Clear CMOS button, four USB 3.0 ports, Gbit LAN, and 7.1 gold plated audio outputs with S/PDIF.
The PCI-E layout is quite simple; the first two x16 PCI-E 3.0 slots operate at x16/x0 or x8/x8. The last slot operates at x4 PCI-E 2.0; it shares x4 PCI-E 2.0 with the nearest M.2 slot. There are 10 SATA 6Gb/s ports.
The topmost M.2 slot is wired x4 PCI-E 3.0 (32Gb/s), the bottom M.2 slot is wired x4 PCI-E 2.0 (20Gb/s). The bottom M.2 slot shares bandwidth with the last PCI-E x16 slot (electrically x4).
ASRock put one of its RGB headers near the CPU socket so that AMD's new cooler's RGB cable could easily reach. They also positioned a USB 2.0 single port header close by so that AIO's with USB connections could reach.
– BIOS and Software
The UEFI is loaded with overclocking options, but since Zen doesn't require much, it's easy enough to setup your overclock. The motherboard's fan control through UEFI is quite extensive; you can alter fan speed through a GUI or through a menu where you manually input values.

ASRock's software suite includes A-Tuning (overclocking and fan control), AURA RGB LED, APP Charger, X-Fast LAN, and APP Shop.
Conclusion
Hands down, the ASUS ROG Crosshair is the best board to pair with the Ryzen 7 1800X processor. It offers an intuitive layout, plenty of USB, an understated RGB lighting capability in the age where everyone has added lighting to their components, and it was made specifically for AMD CPU's.
It is also one of the most expensive motherboards you can get for your AMD. If you are building the best gaming PC you can manage with the Ryzen 7 1800X, then spending a little extra to get the high end ASUS offering will be worth it in the long run.