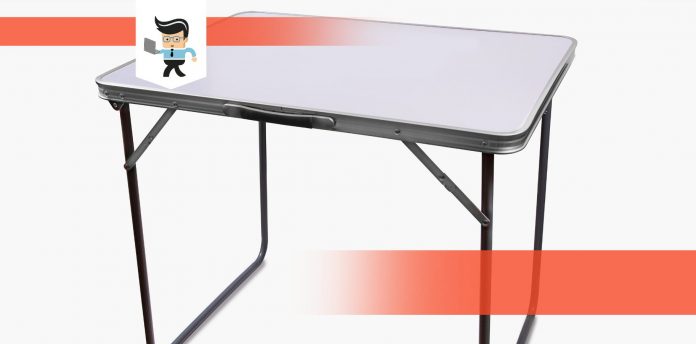 An In-Depth Review of the Best RGB Desk
A lot of consideration and planning goes into finding the best RGB desk. If you're looking for one to add to your gaming rig, our team has put the best models to the test to help you determine the right fit for your gaming needs. Read on!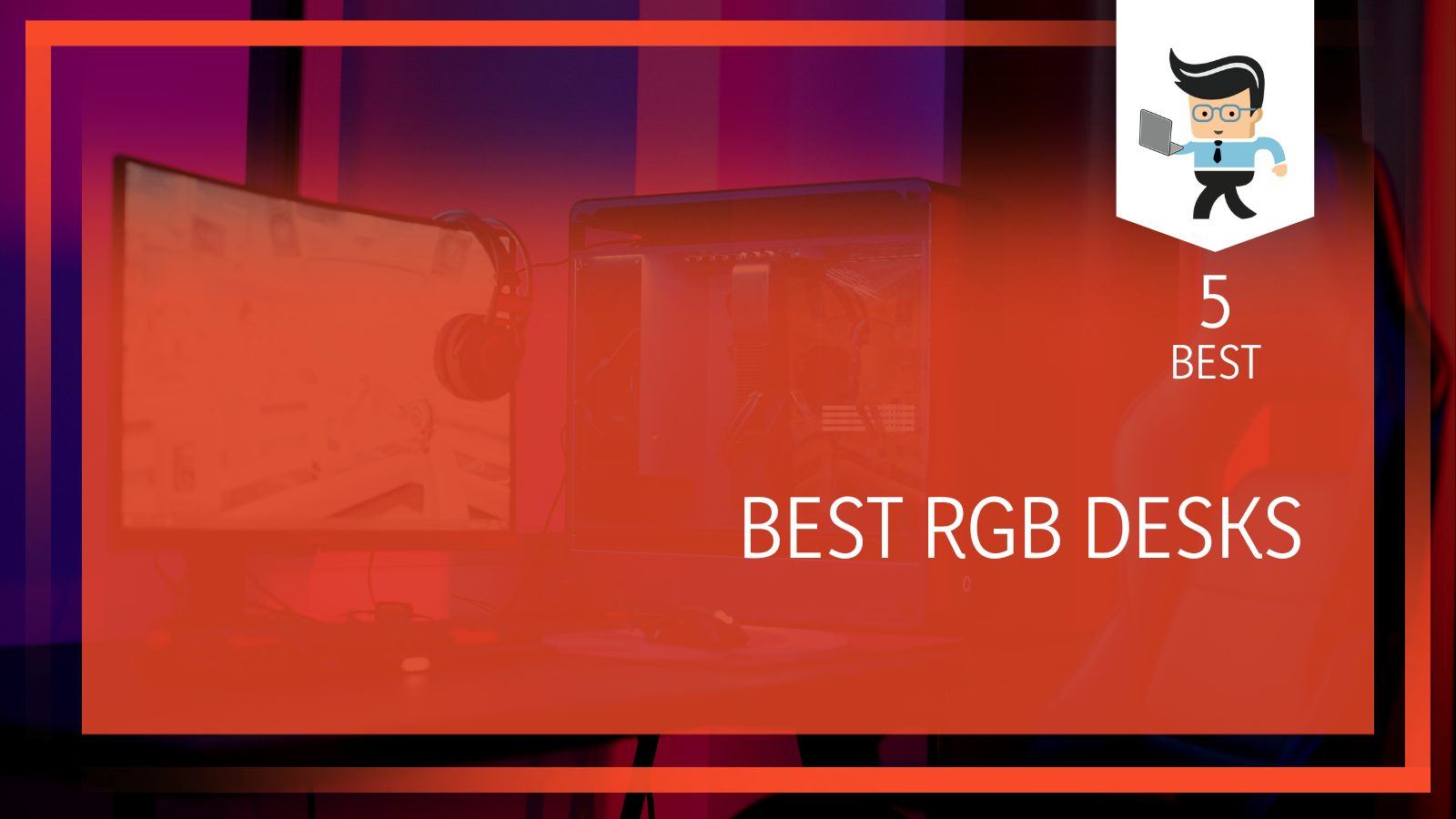 A Specifications Table for the Best RGB Desk
| | | | | | |
| --- | --- | --- | --- | --- | --- |
| | [easyazon_link identifier="B089CJVFB7″ locale="US" tag="onecguy-20″]Galaxyhero[/easyazon_link] | | | | |
| Brand | Galaxyhero | AuAg | Buzzoelife | Bowthy | EurekaErgonomic |
| Materials | Steel | Steel | Metal thicket | Metal, Steel | Metal |
| Max Weight | 260 lbs | 330lbs | 150lbs | – | 220lbs |
| Waterproof | No | Yes | Yes | Yes | No |
| Colors | 9 colors6 |  colors | 7 colors | Multiple Available | Multiple |
Best RGB Desk: Our Top Picks
Everybody wants a gaming setup that's the envy of others like them. Not just that, though, they also want a rig that's complete and effective. Part of that is getting the gaming gear like a working PC, keyboard, and mouse.
For example, an excellent keyboard will contain switches that help you beat the competition. It's the same with an RGB desk in that it lights up your room and is beneficial to how you function.
A gaming desk is essential irrespective of where you want to use one. It's not just any flat surface to put something on. Now, users get many features, including cool lights, cup holders, fantastic shapes, multiple colors, and much more. Other RGB desks have adjustable parts to get the best results out of games. We've done a review of the current favorites in the market. You'll make the best choice out of the following items;
Pros
• Excellent RGB lighting
• Fabulous gaming gear
• Neat and sturdy construction
• Volume adjustable mode
Cons
• Limited capabilities
An RGB gaming desk should give off the best colors. That's what this desk does because it comes with nine available colors to choose from. Besides that, users are left with four color modes to generate the best gaming experience. The RGB lighting is perfect, and the table has audio sensor lighting. With a unique volume control mode, you can change the built-in sound on your computer.
The features here come built for gamers. That's because it can take many of your gaming gear. To that end, there's a headphone hook and a cup holder to bring more convenience. The table also comes with two wire holes and one cable management box to keep all the wires in order. Then you have the gaming handle rack to hold your video games and controllers. That way, you can reach them easily.
The build and construction of this Galaxyhero gaming desk are robust. It's made with a high-quality MDF board and R-shaped durable steel legs. Then there's the fact that it has four adjustable feet. You need that to maintain a sturdy and steady desk while playing games.

Moreover, this stable desk will improve your performance and can bear large weights up to 260 lbs. Not bad if you consider some other desks offer lower and probably cost as much.
This desk is a benefit to gamers who want every part of their rig in one place. If you want something stable and offers vast gaming improvements, this Galaxyhero is a no-brainer for you.
Pros
• Decently sized
• Affordable
• Good RGB lights and colors
• Spacious
Cons
• Lacks height adjustment
Perhaps on this list, the AuAg 47 has some of the best capabilities. It takes some doing to grasp what it offers altogether. However, this desk has many aspects gamers would love to have. The Aug 47″ desk comes in a familiar shape and dimensions.
It also has a very standard finish of carbon fiber to add value and aesthetics. The measurements are excellent, too, at about 47.2(W) x 24.4(L) x 29.5 (H). As such, depending on your preferences, this desk might be shorter or broader for some.
The finish and build are equally outstanding, thanks to the right combination of metal and aluminum. The former is used in the base of the desk, while the latter makes up the frame.
This is a six-color RGB adjustable desk. It comes with three modes featuring a monochromatic change, flash, and breathing modes, and it offers a cool and fashionable addition at night so that you have the best gaming atmosphere.
It's easier to enter into any role and win in a real battle station if you're comfortable. Besides, we think the LED light is a good alternative for electric-saving.
The space on this RGB computer desk is massive. It is professionally designed and can contain two twenty-four inch monitors. Having your gaming monitors, PC, and other gaming gear on this desk is possible.
There are other free accessories you get for buying this desk. Two cable management grommets and a hidden electric socket box are available to help you have a more comfortable feel and gameplay. They help to provide a reasonable layout and make your desk perfectly organized.
Users also mouse pad for conveniently moving the mouse, headphone hook, and a cup holder. We know how things can get while gaming. You may want to have a drink or two. With the holders present, you can have drinks or headphones at hand while working or gaming.
The shape and build of this desk carry Y-shaped frame legs. They come constructed from hexagonal steel coupled with a waterproof MDF laminated board. They provide stability of all your game gears and durability of your desk.

There's more when you consider the weight it holds. It's a desk built to hold weights of up to 330 lbs. Four leveling feet with adjustable leg pads complete the desk. They provide stability to the table, even on uneven ground without wobbling.
If you want a desk with all the necessary tools and faster installations, this is an option to consider. It's rugged with sturdy materials and a spacious surface.
Pros
• Multi-Color color lighting
• Waterproof gaming desktop
• Strong build
• Awesome multi-usage
Cons
• Max weight is low
This Bizzoelife RGB desk for gaming comes with generous dimensions to help you achieve gaming excellence. There's a sleek carbon fiber texture surface to it.
That means it is purpose-built for gaming and has a massive waterproof desktop fit to hold your gaming monitors, mouse, keyboards, and other gear. It is a typically large desk with extra room for any other stuff.
The multi-color RGB capability and LED lighting is something to liven up your experiences. That's why it comes with seven colors and three modes; monochromatic, flash &cyclic change modes.
Also, there are three bright speeds among the RGB LED lights. Choose what state fits your style, and go ahead to enjoy the atmosphere.
The sturdy and steady Z-shaped construction helps with stability. This desk's legs are Z-shaped and are equipped with a PB board so that the gaming table is robust. That way, the desk has no qualms bearing weights up to 150 lbs.
In the same vein, this gaming desk has four adjustable leveling feet, keeping it steady. Whether the floor is even or uneven, you can achieve a perfect level. Besides, the feet won't scratch your floor.
Using an RGB table is all about convenience. That's why the Bizzoelife is fit for multi-use. A headphone hook and two cable management holes make up part of this gaming desk. It's also designed to be ergonomic so that users use it conveniently.

As a multifunctional desk, you can use it as a workstation, and if you're a student, you'll find that this desk is great for studying. What we love most is the ease at which the Bizzoelife desk assembles. Sure, the manual makes it a lot easier to set up.
There's only so much you can do with a regular desk at your disposal. However, if you feel you want more features and adjustable parts, this Bizzoelife desk a quality choice.
Pros
• Multifunctional support
• Strong base and overall parts
• Long-lasting
• Non-slip and waterproof
Cons
• Lacking more features
This Bowthy RGB desk for multiple monitors is professionally designed for gamers. When you compare it to other ordinary desks, you get a desk that offers top quality features. For example, gamers get to enjoy the non-slip, waterproof, wear-resistant, and durable surface.
For gamers, a body that improves their performance is paramount. That's why the ergonomic appearance here effectively reduces fatigue and supports gaming for long periods.
The structure of a gaming desk must be reliable. In line with that, the Bowthy desk offers a stable and sturdy steel structure base. It also uses a Z-shaped design like other top tables out there.
Also, there's a rubber get under the bottom so that your floor is protected. The rubber feet further served to keep the surface stable.
The colorful RGB lighting is not only adjustable but also adds beauty to your rig. To that extent, it is equipped with RGB ambient lights, and you can use the remote control to optimize the lights for personal appeal. If you love playing games at night, you'll appreciate the lights, especially in a dark space.

Multifunctional support is one of the advantages of this gaming desk. Users get a Bluetooth device hook, game controller stands, and a cup holder. These features show that this desk was designed principally for gaming. Besides, users get a free mouse pad for support. That way, it's possible to focus entirely on your game.
If you need an RGB desk with the most basic capabilities, the Bowthy computer desk provides a simple balance between practical and efficient.
Pros
• Wide surface to work with
• Level and stable feet
• Functional multi-color LED lighting
Cons
• Tilt isn't enough
• No feature cup holder
In terms of market-leading desks out there, the Eureka Ergonomic is one of the best options. This is a Z60 model that has just about everything you want. Users get to enjoy a large working surface, RGB lighting, and reliable construction. What you get from these features is an improvement on any existing gaming setup.
The design of this desk is superb, with racing motifs present at all corners. Add to that the much larger working surface that is more than 60 inches in width and 24 inches in depth.
Besides, this desk has a maximum weight of 220 pounds. That means you can place up to three monitors on it. If you love gaming on multiple screens or use such screens for multifunctions, this is the desk for you.
Getting this desk together is pretty straightforward. However, we must warn that it comes with two different parts you have to put together, but you'll enjoy the features here. A benefit of having this desk in two places is that you can transport it easily.
Another feature is the F1 balance lever and adjustable feet. With them, you can set a preference for how you want to use your Eureka desk. Moreover, there's excellent stability and sturdiness that comes with this desk, including armored edges.
The gaming desk lights here are located at unique angles. For example, the side armor has RGB lights to enhance your gaming experience. What you can do is pick your favorite color or settle for a dynamic RGB multi-color light show. That way, you'll experience your game like never before.

What you get with this desk is fantastic. However, we have to mention that this desk doesn't have a headphone hook and a cup holder. On the flip side, what you get is a unique pad on which you can put both your mouse and keyboard. Additionally, there's a couple of cable grommets to help you declutter your work surface.
With the dynamic RGB featured here, you can have a great time swapping cool colors. It's a great choice that provides functionality and comfort.
RGB Gaming Desk: Buying Guide
Shopping for a desk RGB lighting option to complete your rig is not an easy task. What you want is a less painful desk and one that gives off a style and efficiency. Before you head out to get your preferred desk, consider these factors.
The type of materials used on a desk often has a significant impact on the price. Desks are made from popular materials like wood, steel, PVC, and glass.
For wood, you get desks composed of oak, pine, etc. They come in sturdy and reliable. Woods also has a more traditional look, but they can get pretty heavy. PVC and steel are great tabletop options often supported by a solid steel frame. As such, they are portable and lightweight, and ideal for users who move frequently.
Glass caries more class and has a modern appeal and style. A steel frame also supports them, but the downside is they are more fragile than other surfaces.
Is your preferred option Z-shaped or Y-shaped? How colorful are the lights, and how many RGB modes does the desk carry? These questions have to do with design, among other things like cable management systems.
If you're going to have your gaming rig on the desk, you must consider how the table's overall designs can further help you.
If you have a lot of space to contain the biggest RGB desk, go ahead. On the flip side, if the area is an issue for you, worrying about dimensions will freak you out. Perhaps you'll need a tape measure to set things straight. When you're clear about that, it's time to consider putting the desk together.
Some desks take as much as 30 minutes to assemble. However, some brands help you out by dividing them to help you out.
Moreover, you've got manuals that provide adequate information concerning assembly. What users can do is maintain a steady disposition when setting up a desk. You don't want to break something or get the wrong fit.
Why RGB Desk?
– You get more space to operate with
With a desk, you have more than your fair share of space to work with. It's the biggest asset to have, especially if you're all about gaming. Think of all the monitors and other items you can add to your rig. With additional space, you get to add more accessories that may not necessarily be for games.
– Promotes good health
Apart from a light-up gaming desk, the fact is many reliable options out there come with ergonomics. As such, computer users who work in an office setting will love how protected they are. Think of it this way; you can match your ergonomic desk with an ergonomic chair for better results. That way, your body and overall posture don't suffer. Gaming without any distraction from pain and aches helps you concentrate on the task at hand.
You can get a desk with suitable height, weight, ergonomics, and other considerations, including your personal preferences. Ailments like carpal tunnel syndrome can be avoided when you buy the right desk.
– Accessibility
Another perk an RGB desk gives users can access contents instantly. That's because many of these desks are designed with parts like shelves and drawers. As such, you can fit some supplies in them for easy reach.
– Manage cables
A well-designed desk with the right look and style more completes your battle stations. However, dealing with cables can be tricky. With a desk, you can manage the extra lines you've got. Setting up systems on the desks reviewed here will give you a clean and organized space that conceals cables.
Frequently Asked Questions
1. What Is an RGB Desk?
An RGB desk is a model of desks with additive colors put together in different ways to get an array of colors. As such, it's a concept that supports a full range of colors so that there's more quality, especially for gaming.
The most crucial intent of such d gaming desks is to add a fantastic experience to your gaming setup. It's an incredible sight to see RGB colors popping around when you play your favorite games.
Conclusion
Few feelings can compare to sitting at a stylish desk and the comfort it brings. If you're a dedicated gamer, you'll know just how perfect such a desk is and how it enhances your performances.
You don't have to shuttle between spaces anymore because an RGB desk provides enough spade to relax and play engaging games.
Overall, we think the best option for a gaming RGB desk reviewed here is the AuAg 47″ computer desk. It is massive and designed to contain a couple of monitors.
You can also place all your gaming gear on it. That way, you don't have to fret about any distractions. The desk is also solid, even though it doesn't take much max weight.