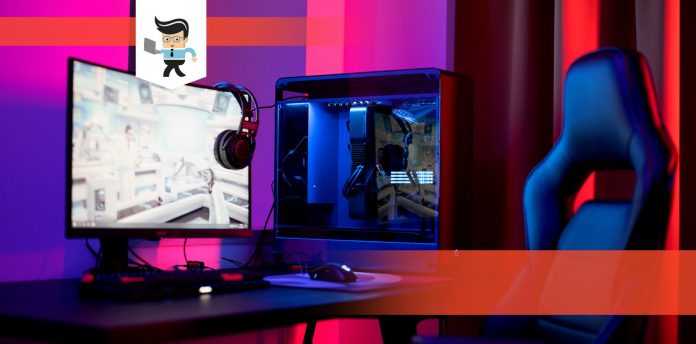 Getting the best massage gaming chair often comes at a cost that's worth paying. We can't all go to the massage parlor every week to get some relaxation and comfort. Rather than do that, a near-permanent solution to help you get rid of pains and aches while sitting down is a massage chair.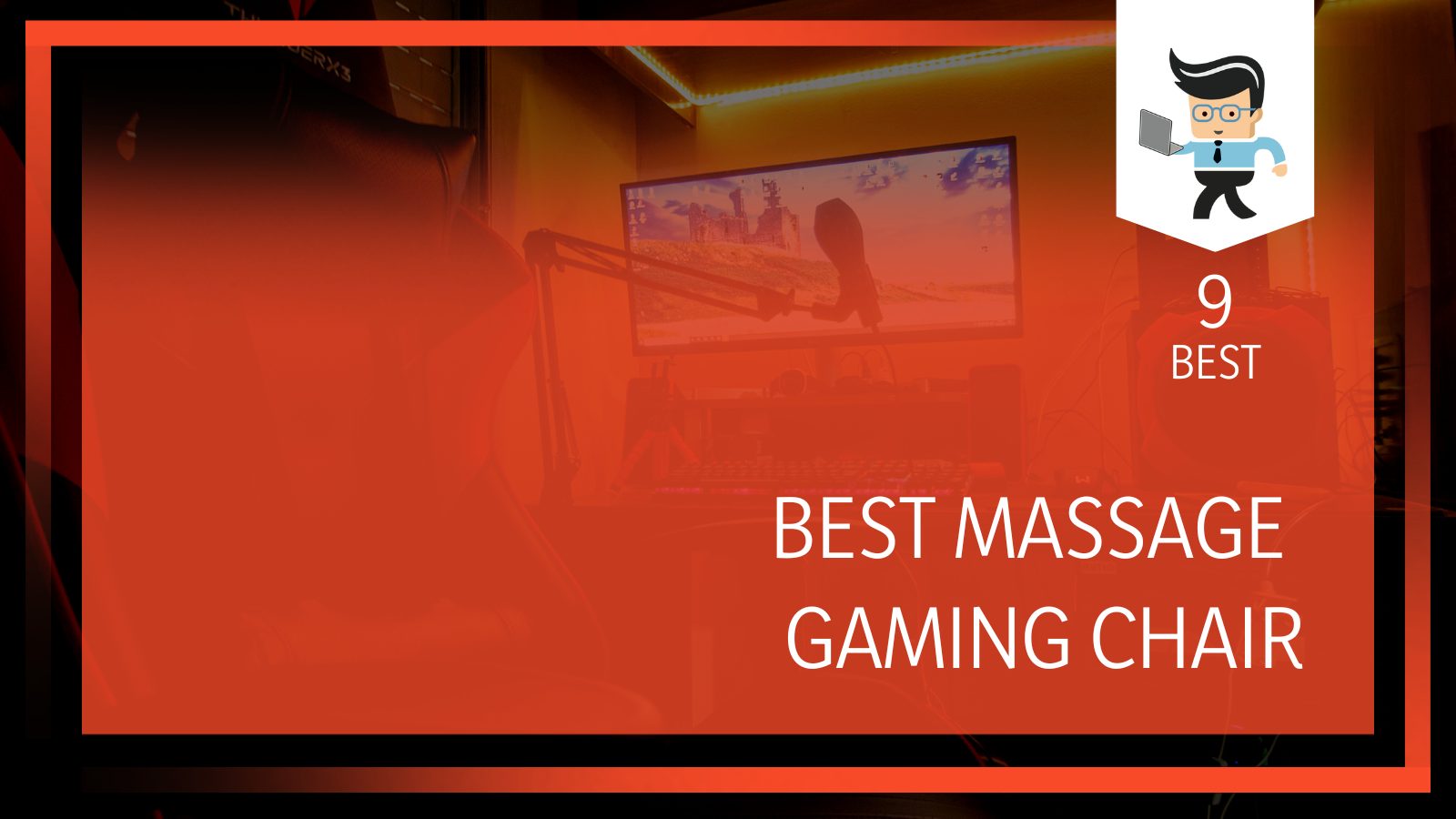 If you're out for a massage chair, we've done a bit of research on the best models out there to examine their top features, key specifications, and possible drawbacks to help you determine which model is most suitable for your gaming style. Read on!
Best Massage Gaming Chair: Key Specifications at a Glance
Products
Key Specifications
Computer Desk Chairs

Brand: DIFEISI

Material: Faux leather

Frame: Metal

Max Recline: 170 degrees

Max weight: 300 pounds

X-VOLSPORT Massage Chair

Brand: X-VOLTSPORTS

Material: PU leather

Frame: Metal/Steel

Max Recline: 170 degrees

Max weight: 300 pounds

PC Gaming Massage Chair

Brand: BestOffice

Material: Breathable PU leather

Frame: Metal

Max Recline: 155 degrees

Max weight: 250 pounds

GTPLAYER Gaming Chair

Brand: GTPLAYER

Material: Faux leather

Frame: Metal

Max Recline: 135 degrees

Max weight: 300 pounds

GYMAX Massage Chair

Brand: GYMAX

Material: Faux leather

Frame: Metal

Max Recline: 160 degrees

Max weight: 330 pounds

E-Sports Massage Chair

Brand: Ferghana

Material: Faux leather

Frame: Metal

Max Recline: 160 degrees

Max weight: 300 pounds

KILLABEE Massage Chair

Brand: VON RACER

Material: PU leather

Frame: Metal/steel

Max Recline: 160 degrees

Max weight: 250 pounds

Gaming Chair Massage Office Chair Racing Chair

Brand: BestOffice

Material: Faux leather

Frame: Metal

Max Recline: 155 degrees

Max weight: 250 pounds

Blue Whale Chair

Brand: Blue Whale

Material: Faux leather

Frame: Metal

Max Recline: 135 degrees      

Max weight: 250 pounds
Best Massage Gaming Chairs: Different Quality Models for Different Folks
The gaming space has obtained the status of being sacred. That's how many gamers view their spaces now because they want even fewer distractions when it comes to climbing the levels or beating tough opponents. 
As such, gamers like you want more comfort in your gaming environment. That includes having a good gaming chair that's worth gracing your space. If that's you, you're in the right place.
A gaming chair is crucial for playing, but when you add massage to such a chair, you've got a game-changer in your hands. 
This type of chair is perfect for gaming sessions because you get a more relaxed atmosphere and, at the same time, remove any stress caused by back pain. Besides, gaming for long hours also means that you're prone to stress, and a massage chair can also get rid of that for you.
Our review team has gone over tons of gaming chairs of the massage variety in a bid to bring you this list. We observed that the market is flooded with many brands and models that follow. However, we're sticklers for perfection (at least, most of it!), quality, a bit of brand reputation, and excellent features. 
Pivotal components like adjustable height, lumbar massage, additional pillows, recline, good armrests, and quality coverings have helped develop our opinions.
The materials used also play a part, with many gamers with different needs and body types. From our table of key specifications and benefits of each chair to other detailed reviews, here are the top models you can choose from.
Pros
     

LED lights for a beautiful dimension

     

High-quality materials

     

Added pillows and cushions

     

Durable and resilient parts
Cons
     

Somewhat difficult and long assembly time
We start things off with this computer chair with massage features and functions. It's ergonomically designed to give you the ultimate comfort while sitting. You get many parts, including the USB massage component that massages through your muscles and back area. In addition, it's a fitting chair for those who want a combination of style and long-lasting comfort.
You also get some of the best materials at work here to contain the recommended weight coupled with other innovative additions. Read on as we get on to the top features of this gaming chair and how it comes in handy for you.
– LED Lights: Get Some Glitter in Your Space
Lights can give your gaming space a beautiful appeal. The lights here add glitter to your atmosphere and make it more comfortable to play games. That's why at the back and edges of the computer chair, you'll find RGB LED lights. Also, you get four flashing models while you can select the lighting effects through the remote control.
The lights are powered by a USB, which is very safe, cool and makes this gaming chair suitable for the gaming room, bedroom, office, living, or study room.
– Multifunctional Chair: Make Numerous Adjustments
There's nothing quite like a massage chair you can adjust and play around with. This particular model comes with an innovative implant USB electric massager inside the lumbar cushion, which helps you relieve some fatigue. Use the 360-degree swivel base to move around or adjust the armrests to different angles.
It also helps that you can adjust the chair to match certain heights. For example, you can switch between 18 inches to 20 inches to satisfy your needs of matching up on desk height.
– Recline: Give Your Body Some Rest
The computer desk chair gives you an excellent recline locking system to lock the back between 90 to 170 degrees. Also, note that the chair comes with a storage pocket to place the power bank.
– Quality Materials: For a Stable and Assure Performance
Across the length and breadth of this chair, users will have top-notch materials to bank on. For example, it has a quality PU leather cover and a high-density thick sponge with excellent resilience and high permeability. 
The integrated metal frame will provide a robust base to hold individuals within the recommended weight. That means you can weigh 300 pounds and still have a relaxing time using this chair.
Further, you get a high-security explosion-proof gas spring and a smooth-rolling wear-resistant wheel to protect your floor from scratches.
The assembly takes some time, but you get detailed installation instructions when putting this ergonomic massage chair together. 

– Overview
Besides its fabulous colors and design, this chair is perfect for regular users and gamers who want a chair that fits into different functions.  
Pros
     

Multifunction ergonomic chair

     

Top-notch materials and massager

     

Easy assembly

     

Recline to stretch and relax
Cons
The X-Volsport is rather new to the gaming chair world, but it still packs a punch with this quality massaging gaming chair. It's always wise to have a chair you can count on to keep your posture perfect and protected. Add the massage feature here, and you can have the best of times playing games or sitting behind a desk.
– Multiple Functions: Adjust to Your Satisfaction
We all love a chair we can tweak and adjust depending on what we want per time. This X-Volsport gives you that with its multiple functions. As an ergonomic video game chair, you can adjust the armrests and seat height to different levels. That way, it's easy to keep your arms and elbows from pain while adjusting to a desk height.
– Recline: Tilt To Comfortable Angles
A max recline angle of 170 degrees isn't a bad thing to have. It helps you find the most comfortable position for different activities, including taking a much-deserved nap! Get cozier with the detachable pillow, lumbar massage support, retractable footrest to stretch your body. With those, fatigue is out of the equation, which means you can sit down for extended periods.
– Suitable Materials: Improved Performances
There's a strong correlation between high-quality materials and your performances. For example, you'll have a lousy time sitting on a chair that slumps inwards when you sit. Also, a chair that has materials that leave you dangling at the seat's edge. However, this chair adopts a one-piece steel frame structure, which is solid and durable.
The cover design is made of PU leather, which is skin-friendly and resistant to dirt. It also helps that it's easy to clean in cases of spills. Moreover, you get a high-density foam to make the chair more comfortable and suitable for teens and adults. It's an excellent option to play computer games, study, use in your home office, or rest.
– Easy Assembly: No Hassles
The point of a massage chair is to provide adequate comfort and support to its users. That begins with the ease of installation. X-Volsport gives you detailed instructions and videos to help you put this chair together within minutes.

– Overview
This chair has a good and durable build and will fit big users that love a racing-style massage chair. 
Pros
     

Comfortable massager for long gaming sessions

     

Multiple movements and adjustments

     

Soft with quality PU leather

     

Reliable and Breathable
Cons
     

Lumbar support doesn't do enough

     

Suspect wheelbase
As a PC gaming chair, this model from BestOffice will give you a smooth experience. That's what you need to get ahead while playing games. It's affordable, too, despite the number of critical specifications it comes with. As a result, that sets it apart from traditional office chairs, and the weight level makes it worth considering for small to medium-built individuals.
The massaging capabilities of this chair somehow engage every part of your body. Also, we like the fact that you can make adjustments to this chair and enjoy many hours of gaming without sacrificing comfort and convenience. 
– Good Lumbar Support: Protects Your Back
Without excellent lumbar support, this gaming chair with massage functions won't offer much. However, it comes with a human-oriented and ergonomic design construction to provide a comfortable sitting experience.
Under the chair, there's a tilt-tension knob. The knob makes it easier or harder to rock back in your chair. Depending on which way you turn the knob, the chair will rock back and forth.
– Cover: Soft and Comfortable Upholstery
Anything soft and comfortable is a welcome addition to any gaming rig. That's what you get on this massage chair guaranteed for comfortable and prolonged use. To ensure that the chair is covered with breathable high-quality PU leather excellent for extended periods gamers can identify with.
It helps that you can swivel around on the nylon casters thanks to a reliable and robust base that can hold a max weight of 250 pounds.
– Adjustable Parts: Adjust the Plush Seat to Suit Your Posture
Whether you achieve four or five inches of height adjustment, it's worth more than having none at all. That's a great feature to have for this plush seat which is wide enough. Also, it comes with a headrest and lumbar pillow you can adjust.
On a final note, the chair is easy to set up and enjoy right away. It will take under fifteen minutes for you to do that, thanks to the instructions provided and available tools.

– Overview
For smaller users, this chair offers a good number of features you can enjoy. Adjust the seat, recline, and swivel to change positions. 
Pros
     

Ergonomic and comfortable design

     

Increased gaming focus and performances

     

Various adjustable components

     

Smooth and easy massager with footrest
Cons
     

It doesn't seem durable enough
This chair is an excellent chair that comes with a massager and a footrest to add. The profile is the popular racing-style ergonomic design that embraces your back and keeps off the strain, pain, and fatigue. You get other ergonomic features we'll touch on below.
– Recline: Rest and Play
Many gamers prefer a chair that allows them to take some time off a task to rest or relax. The GTplayer gives you that option with its 135 degrees recline feature. When you recline, you can lock the backrest at your preferred angle, take a nap, or continue playing. 
What's more, you don't have to get up to reach out for some coffee or an accessory nearby. For that, the chair has a 360-degree swivel and a five-point steel wheelbase with castors for unrestricted, dynamic movement.
– Solid Build: No Issues Carrying You
A massage chair such as this one needs all the best materials it can get. That's why GTplayer goes all out with the integrated metal frame to promote a correct and effective sitting posture. The structure is designed to keep the chair together and ensure you're stable while sitting. It's a solid build to hold up to 300 pounds of weight. That's pretty huge in gaming chair terms.
Part of the solid construction you get is the international standard gas lift and PU leather upholstery. As a result, this chair is the ideal tool you can use for gaming, office work, or watching TV.
– Ergonomic Design: Designed To Keep You Happy
Everyone needs a chair to keep them happy irrespective of what they use it for. To that end, this chair comes with an ergonomic massager for your lumbar region coupled with a retractable footrest. That way, you can adjust your feet or put them up when you want to rest.

– Overview
This chair is perfect for gaming. It will work best for regular or professional gamers who want to improve their gaming experiences and performance.
Pros
     

Supportive electric massager

     

Multiple functions

     

Several points of adjustment

     

High-quality foam and paddings
Cons
     

The backrest feels too low
Unlike the racing-style chairs on this review list, this one takes the shape of a sofa. It's also a faux leather chair that can pick up a lot of weight without hassles. 
The trick here is that the lumbar support pillow also doubles as an electric massager geared towards relieving pains in your lower back. Besides that, we like that it's easy to assemble for anyone willing to follow the straightforward instructions.
– Materials: The Best To Provide Comfort
GYMAX gives you an ergonomic massage chair made out of selected materials that ooze quality. To that extent, it's filled with a high-resilient thick sponge, while the home theater seat will give you a comfortable sitting experience. In addition, the chair comes with a covering of smooth PU leather. This covering is skin-friendly, wear-resistant, and easy to keep clean.
– Big Chair: Built To Hold Enough Weight
The sturdy construction here gives room for the kind of max weight the chair can withstand. If you weigh up to 330 pounds, it will hold you without wobbling for a second
– Adjustable Parts: Tweak the Back and Footrest
This GYMAX product comes with a backrest and footrest you can adjust. Whether you're a professional gamer or enthusiast, your back is the most crucial part of your body while sitting. As a result, this chair offers you a max recline angle to rest your back at 160 degrees.
If you choose to use the max angle, you've hit the leisure spot. Still, that angle is suitable for non-engaging games, watching TV, or napping. Besides that, the adjustable footrest supported by a metal structure allows you to rest your legs. It also helps you to stretch, thus providing optimal comfort fully.
– Massage Chair: Designed for Optimized Comfort
Another massage chair on our list gives you an electric lumbar pillow to help relieve pressure on your waist. Without that, there's no optimal relaxation for users. 
Further, it has about eight massage modes and two vibrating motors coupled with a corded remote control for convenient selection. Take things to another level when you set the massage time in 15/30 minutes according to your needs.
– Versatile: Encourages More Versatile Movements
This chair is a superb tool for the ages. The manufacturers gave a lot of thought and effort into making it one of the best massage seats around. A reason for that is the extra storage bags on both sides to place some items. Also, there's a pocket on the back of the chair that can store remote control and other things for easy access.
With the stylish design, you can use this chair as a single recliner sofa in the living room and office. Also, it will make sense in the gaming room.
– Putting it Together: Easy To Assemble
Simple assemblies are an advantage for any device or equipment. That's why the brand made this one straightforward to do. For example, the recliner sofa is pre-installed, which takes you several minutes to complete the entire assembly. 
Again, the parts of the recliner chair can be put together quickly with the metal connectors. The best part? No tools are required for installation.

– Overview
Except for the backrest, this chair is ideal for much heavier users. It helps that you get a versatile chair with fantastic features to match.
Pros
     

It comes with a retractable footrest

     

Extra cushions provide more support

     

Superior material with a durable base

     

Built for multiple functions
Cons
When you're out for a massaging computer chair, a lot of things go through your mind. You'd want to know how much one costs, whether it fits with your lifestyle, and the specs it packs. Well, not to worry, because this ESports chair covers much of the basics for you.
It's all about parts and components you can shift or adjust for a better position to do any function. Whether that's gaming or taking in a movie, there's a superior material, a durable base, and more cushions for comfort.
– Multi-Use: Perform Different Functions With Comfort and Convenience
The adjustability of this chair makes it the perfect fit for a raft of functions. That's why it's not your typical functional racing-style chair but also an upgraded PC gaming chair. You get a reclining backrest from 90 to 160 degrees along with a 360-degrees swivel design for starters.
The seat height is every bit as adjustable, and the retractable footrest follows through to keep you stretched out when you need it.
– Extra Support: Pillows and Cushions
You don't just get an adjustable headrest pillow; you can adjust to your needs. There's another lumbar cushion for extra support, and the best part about this is that it gives more massage. It does that with two vibrators inside with control. The slight vibration can also reduce fatigue.
– The Solid Base: Durable and Dependable
This chair is designed to carry big individuals. As such, it makes sense to have a durable base on this upgraded model. You can weigh up to 300 pounds and have no issues playing games or watching a movie. In addition, the omnidirectional wheels on it give the chair a flexible movement in your house.
– Materials: Fantastic Design
Sometimes, users want a material cover that matches their furniture. If that's you, this chair is the perfect fit for your PC gaming setup. As a racing-style chair, it offers an excellent combination of luxurious comfort and visual enjoyment.
The ESports chair is carved out of a high-density mold shaping foam sponge and durable waterproof PU leather. You can deal with spills or clean the surface in record time.

– Overview
The name says it all. It's a racing-style chair that'll fit users who want a gaming spectacle to blend in with their rig. 
Pros
     

Plush cushioning for prolonged use

     

Includes a retractable footrest

     

Backrest recline for relaxing

     

Soft but resilient materials
Cons
     

A little difficult to assemble

     

Low max weight
In recent times, people are more comfortable doing several activities at home. Even though gaming has existed for quite a while, it has taken many levels with many accessories in the market. All that points to more comfort and supportive equipment to play games or rule the workspace.
This Killabee chair is one of the best among massage gaming chairs as it provides a practical base for users to work with. Part of that is the design and materials to maintain the proper shape of your spine and lumbar region. Why? A correct posture is vital if you're going to sit for extended periods. That makes the Killabee a reasonable choice because it packs many essential features to help you play games with ease.
– Racing-Style: High Back Massager
The racing-style chair is a modern feature of top brands and the models they produce. To that end, the Killabee comes designed to swivel around 360 degrees and leans back to a 160-degree max angle.
The backrest is ergonomically padded and combines with the adjustable lower massage lumbar support cushion. Two of these features are designed to let you lean back in comfort and game in peace. Otherwise, you could work, do some reading, or rest. Moreover, the adjustment gives you an advantage performance-wise.
– Multiple Adjustment Choices: Provides Extra Comfort
You get a plethora of adjustable parts, such as the height-adjustable seat base. It helps that you can raise it to lower it between three inches, while the filly reclining backrest can adjust from 90-160 degrees. That makes it easy to get the position to do anything.
If that's not enough, pull out the retractable footrest and put your feet up. No kidding, it's that simple and relaxing and helps to keep your blood flowing. The universal casters mean you can turn and face any direction.
– Soft Material With Solid Construction
Not many gaming chairs can boast of the kind of materials used here. The combination of soft and solid construction is represented by a premium PU leather that's easy to clean and maintain. Also, there's a high-density foam to ensure a comfortable seating experience.
The reliable class three hydraulic gas lift and integrated frame base hold things together. As a result, it makes this gaming chair strong enough to support up to 250 pounds maximum weight.
– Assembly: Putting It Together
When your package arrives, you're going to find all components and tools needed inside. That way, you have an easy time setting up this chair. The instructions for the Killabee are detailed and straightforward to execute; however, things could get complicated along the way. You can always watch videos that help you get it right the first time.

– Overview
Multiple adjustable features and top-notch materials make this chair the ideal choice for gamers and office users. It can fit in many different settings.
Pros
     

Simple to set up

     

Quality design and upholstery

     

Easy to clean and maintain

     

Beautiful colors
Cons
     

Lacks many top-quality features
While the white color looks enchanting, take nothing away from this lumbar massage chair designed to give you a smooth time. You can get started with the fact that it's easy to set up thanks to the presence of all necessary tools and hardware. 
Also, you can't miss the simple instructions which help you assemble the chair within 10-15mins. It will support up to 250 pounds and under. That's fair enough for smaller and medium-built users.
– Extra Comfort: Enhanced Performance
We all need that extra bit of comfort, and in this case, there's a soft PU leather upholstery and ample padding. This padding is oil and water-resistant, making the chair very easy to clean and maintain.
Another part of the extra comfort is provided by the additional lumbar cushion that takes support to another level. It's well-padded and primed to eliminate any back pain you might experience from sedentary sitting. That way, it will help relax your mind and relieve pressure.
– Movements: Swivel and Roll in Style and Comfort
The 360-degree swivel of this racing-style office chair means you can face any direction with wade. Also, you can adjust the chair height to match your present need, while the smooth-rolling casters give you great mobility.

– Overview
This chair offers stability, mobility, and essential features to keep you comfortable. It's ideal for low-budget users with a small or medium build. 
Pros
     

Plush wide seating with high back

     

Adjustable parts and angles

     

Stress-free electric massager

     

Retractable padded footrest
Cons
No doubt you'd have questioned the name Blue Whale when it popped up on your screen. Well, we're not referring to the world's most giant sea creature here. Although, we'd like to think this brand offers big enough chairs for a wide range of users.
The first thing you come in contact with is the nice black color of this chair. It's appealing, well-styled, and gives off a robust and stable look for different functions.
– Multiple Functions: Personalize Your Chair
There's an innovative implant USB electric massager, which makes the chair perfect and exciting to use. The massager fires up the lumbar cushion to relieve you of fatigue and other strains. Besides that, you get to adjust the height to different levels depending on the functions you're performing.
– Recline: Take Some Time off To Relax
This is one recliner chair with a massage function you wouldn't want to miss. It comes with a back angle and a recline locking system so that you can lock the back to about 135 degrees. The adjustable arms contribute to your comfort levels while gaming or working.
Feel like you need to stretch out your body? Pull out the retractable padded footrest. Put your feet up for much-needed rest.
– Comfortable Seating: Wide Enough for Relaxation
Thanks to the broad flat seat built to provide more spade for relaxed seating, this model is as comfortable as it looks. It sure helps that the sear has soft padding covered with premium PU leather. Cleaning the fade-resistant material is easy, too.
The large seating area offers superb stability for any user within the recommended weight limit.
– Setting It Up: Quick and Easy

– Overview
When you buy this chair, you don't have to pay extra to have it put together. That's easy because it arrives with all hardware and necessary tools to set up this 250 pounds chair within fifteen minutes.
Why You Should Be Investing in a Massage Gaming Chair
When you fork out some hard-earned money to buy a massage chair, these are the benefits you get:
1. Better Blood Circulation
Blood flow during any activity is significant. When you sit for extended hours, your blood circulation is hampered and impacts your posture. However, a massager chair takes care of that because it works to relax your muscles, relieve you of aches, pains, and knots. That way, your joints move without issues.
2. Improved Posture and Spine Alignment
It doesn't help when you have to bend or take positions that hurt your body in the long run. That's where a massage chair comes in. It keeps your spine aligned in the best way possible so that a good posture is maintained.
The spine takes a natural form. It's essential for gamers and regular users because extended use puts them more at risk. A misaligned spine puts pressure on your nerves and muscles, leading to stiffness and soreness. The ergonomic designs on such chairs keep these issues at the barest minimum.
3. Less Stress
Sometimes, we want to keep going, but stress gets the better of us. A massage seat changes the equation because it plays a role in relaxing your body. It calms your nerves and makes you ready to go again. 
Conclusion
A massage chair is one of the raves of the moment and for good reasons. It will give you an immersive time playing games and keep you fired up at the same time. Our review contains the best products you can get out there, and you only have to go through our review of the best to find out what makes them tick.
While all the chairs listed in this review live up to their expectations when it comes to comfort and performance, we cannot recommend the Blue Whale Massage Gaming Chair highly enough. The chair takes comfort and convenience to a new level and comes equipped with top features and adjustable parts to improve your performance across different functions.
Overall, the choice of the best one here is yours to make. However, make sure you choose what fits your needs and body type. At least, with any chair here, you're confident of having a suitable tile without fatigue or pain building up.