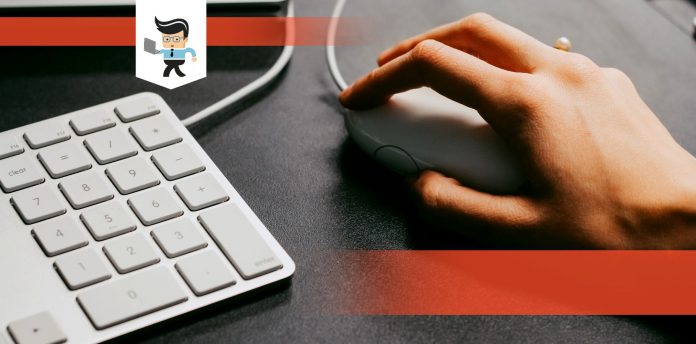 Our G900 vs. G403 review and comparison covers two Logitech mice that offer different levels of features, components, and capabilities. They're split across different lines, including the number of buttons, connectivity type, and much more.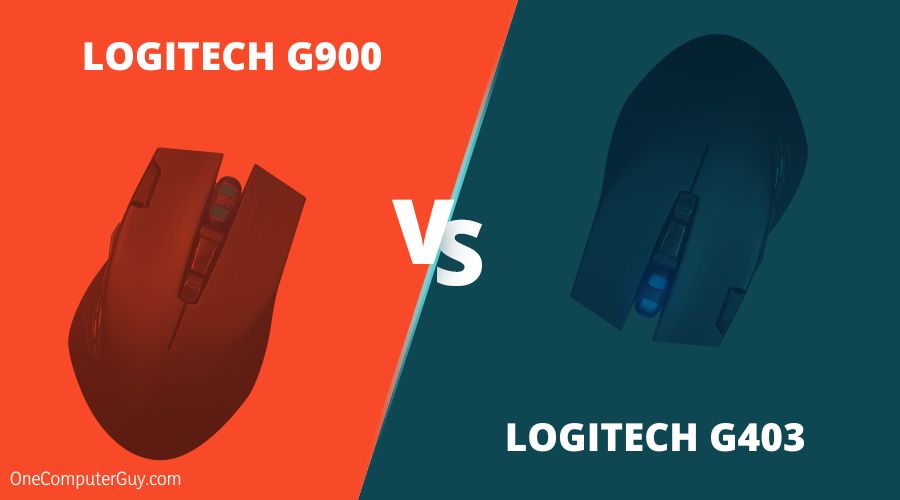 However, they're both from the same brand, and you can trust them to help you function properly. To that end, we've outlined their features, benefits, and how they stack up against each other.
Comparison of the Key Specifications
Product 
Key Specifications
Logitech G900

Sensor: Optical
Connectivity Technology: Wireless/Wired
DPI: 200-12,000
Buttons: 11

Logitech G403

Sensor: Optical
Connectivity Technology: USB/Wireless
DPI: 200-12,000
Buttons: Six
Logitech G900 VS Logitech G403: Head-to-Head of Two Quality Gaming Mice
It's never easy choosing between some Logitech mice, so the G900 and G403 comparison isn't a straightforward one. The two of them will feel comfortable in many hands, whether for gaming or other basic functions.
They're both popular top-end mice, with the G403 standing out as a favorite of many professional Overwatch players.
There are a few pointers to help you in your decision to get the best mouse for your activities.
Do you prefer a wireless mode with customizable parts? How many buttons do you figure will help you get the best out of your gaming experience?
You also have to know your hand size and figure out the grip style you're comfortable with. Further, choosing a mouse from Logitech or another brand comes down to four main criteria: shape, sensor, weight, and buttons.
It's not easy to come up with a quick answer to compare the G900 and G403, but our reviews of both will go a long way. These mice are two solid options developed by a brand renowned for fantastic gaming mice.
Pros
Wired and wireless capabilities
Ambidextrous form and programmable buttons
Refined shape and design
Ergonomic
Cons
A first glance at the Logitech G900 can be deceiving for many uses. But if you're a regular mouse user, nothing about it will be different for you. One of the reasons for this is the Logitech G900 weight, which is super-light at about 107 grams.
That's quite the figure for a wireless mouse, but good enough to zoom across different kinds of surfaces. Due to this weight capacity, some mouse areas are affected, including the scroll wheel, which has been hollowed out for a unique design.
Shape and Design: Stylish Exterior and Ergonomics
The body of the G900 is curved and comes with hard edges. However, the ambidextrous form is a game-changer, meaning left, and right-handed users won't have a problem using it. It feels good in either hand and fits both palm and claw grips.
The left and right-clicking buttons have a solid few to then, and you get a low actuation distance. As a result, there's a very short time between your finger moving and the switch clicking.
There are two buffins on the left side of this mouse, well-positioned under the thumb. You don't have to fret if you're left-handed because the buttons magnetically detach and can be moved to the right side.
On second thought, you can have all four buttons attached to both sides if your gaming style needs more macros.
The scroll wheel sits nicely at the top of the device and is coated in textured rubber. Behind the wheel, you get a switch that unlocks the wheel bearing. It's a free-spinning addition rather than having clicks in increments.
The feeling it gives is satisfying whether you're in work mode or going through many documents. There are two buttons for toggling through your DPI presets and a power button under the mouse.
Features: Quality Additions
Like all top-end mice, this one comes with some excellent features. One of them is the RGB lights. The G900 is called the 'Spectrum' for the glowing LED strips. Gamers can now enjoy their blowing mouse while they play engaging games.
Logitech included this concept because it's now a fixture on mice from competitor brands. At the last count, you get 16.8 million colors within reach, any one of which can be selected for the G900's lighting using Logitech's software. Lighting patterns are also available.
Software: Customize and Assign Functions
If you're thinking of customizing the buttons here, the G900 has software for that. You can use it to adjust the DPI presets, so you're using the buttons only to switch between comfortable sensitivity levels. Also, make modifications to the polling rate if your PC isn't up to the task.
Don't leave out lights because you can use the software to adjust the lights, coupled with saving profiles and other defaults on the onboard storage memory. That helps you use the mouse on different computers without changing the settings each time.
We also like the tuning feature you can use to input the surface on which you're using the mouse. The Logitech software will then adjust the settings on the mouse based on the reflectiveness of the surface being used. Setting up macros and assigning buttons to various tasks is the best bit you can do with the software.
Performance: Smooth and Built for Gaming
In terms of performance, this mouse is worth the features it packs. We were impressed by the low latency and the accuracy of its tracking capabilities.
You'll hardly get a cursor jump irrespective of the surface you use. That's no small achievement for a wireless mouse that can switch to less noisy frequency channels. With that, the mouse is always operating under the ideal RF conditions at any given time.
Another thing is that the G900 can track at 40G acceleration and up to speeds of 300 inches per second. Even your hands can't move at such speeds! A reason for its low latency and speed is its support for a 2.4GHz wireless connection and the high-end PMW3366 sensor.
Further, according to Logitech, the G900 has a DPI between 200 and 12,000 and a battery life that guarantees thirty-two hours of gameplay. You'll enjoy games like League of Legends and World of Warcraft.

Overview
Though the Logitech G900 dimensions showcase a pretty lightweight mouse, it's ideal for gamers looking for an ambidextrous peripheral like this one. It's an excellent choice to play engaging games.
Pros
Comfortable grip and control
Offers gaming-grade performance
Fast and accurate
Ergonomic lightweight design
Cons
Twitching sensitivity presets
The G403 is one of the popular mice on the market now, and it offers versatile appeal dir a wireless gaming mouse. It's excellent for gaming and can handle the claw and palm grip styles, making it a unique option for gamers.
Also, let's not mix up this G403 mouse review because they come in two different types: wired and wireless. We're concerned about the latter.
Build and Design: Stylish, Durable
For a gaming mouse, this one has a stylish but basic shape. It has a classic design with a bit of a tapered grip where your thumb and ring finger rest on the mouse. It will glide across many surfaces with ease, but it has six buttons, unlike its counterpart above and other mice.
Only five of these buttons are programmable. However, we like the matte black finish and the RGB LEDs available under the scroll wheel. You can program these lights using the Logitech Gaming Software.
You get two primary buttons – left and right-click. Both of them feel sharp and responsive. They'll give you a satisfying click whenever you play a competitive game. Also, they have custom-tensioned springs and detached plastic that will not warp over time.
Overall, the G403 size is engineered to be light, which isn't a problem for many users even though the plastic feel is dominant.
Features: Quality Components and RGB
Like the G900 above, you get fun RGB LEDs on this gaming mouse. It's a wonderful addition that brings a striking aspect to your mouse.
You get bright lights here that you can mute with a soft touch overlay so that they don't get so bright. Also, there are 16.8 million colors available you can alternate between.
Performance: Smooth and Excellent for Gaming
As a smooth performer, you'll get a lot from this mouse. The sensor sends 1000 reports per second, showing a silky smooth movement even on the highest sensitivity settings.
You can control the mouse's sensitivity with a button above the mouse wheel and toggle between three presets. The presets are granular and a good feature for streaming and online gaming.

Overview
This mouse is a quality device many novice PC gamers will appreciate. It offers cool LED lights and features that give you an edge over other gamers.
How the top Features Compare
Sensor
Winner: Both 
The G900 and G403 use the same type of optical sensor to run different operations. You'll hardly find any drawback from the PMW3366 sensor, which appears in many top-end mice. It is ideal for swapping between DPI presets, and these two gaming mice offer a range of 200 to 12,000 DPI.
Shape and Design
Winner: G900 
If you want a modular mouse that allows complete customization of its buttons, the G900 appeals, but the G403 is not far behind because it also has customizable features. The best part about the G900 is its ambidextrous shape and design, which makes it comfortable for different hand orientations and textured grips. It's also ideal for palm and claw grippers.
Buttons
Winner: G900 
On the G900, there's no shortage of buttons. You get eleven of them, and they can all be configured in the Logitech Gaming Software for macros and shortcuts. On the flip side, the G403 offered just six buttons, and five of them are programmable. We know how handy buttons are for gamers who love to make changes and have a wide range of functions to work with.
Conclusion
You won't get a world of difference between G900 and G403 Logitech mice, which is good if you admire the brand. They're two quality options and are much regarded by the gaming community.
They are both wireless and lightweight to zip across different surfaces coupled with optical sensors you can bank on. However, the G900 has more programmable buttons you can use to assign macros and save onboard profiles.
The Logitech Gaming Software features are in both devices and will help you make game-centered choices, while the G403 is much cheaper. Our review team opts for the G900, though. We think it offers more to gamers, including professionals. If you're a beginner PC gamer, the G403 is the perfect place to start from.