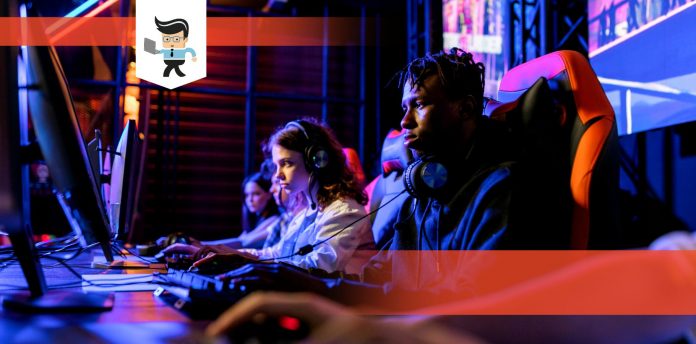 For a gamer that is out there for the best RGB computer chair, you probably want the best that your money can buy, as long as it helps improves your gaming experience.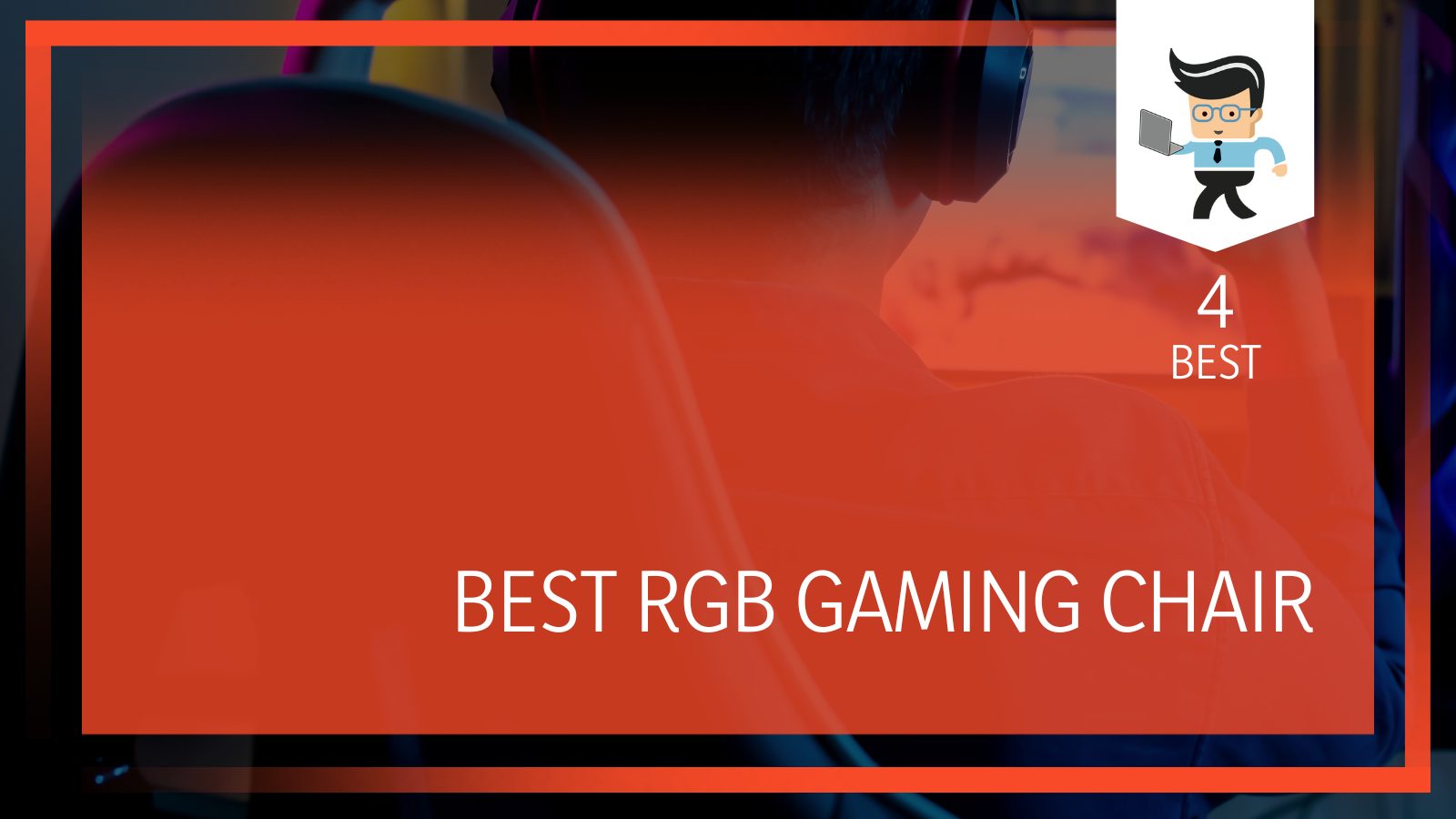 However, you only know as much as your level of information allows.
At a time when many people are sitting for prolonged hours, many chair manufacturers are trying to come up with new ways to provide users with great comfort and make them feel good while sitting.
This has led to the advent of fully lighted gaming chairs, some of which we are going to highlight and review in this article. Read on!
RGB Gaming Chair Comparison Table
| | | | | |
| --- | --- | --- | --- | --- |
| Name | Weight | Color | Dimensions(Inches) | RGB Light Capability |
| Homall | 47.3 lbs | Black | 19.3L x 18W x 38H | Enabled |
| Modern-Depo | 48.5 lbs | Black-Gold | 27.6L x 20.9W x 54.3H | Enabled |
| Raidmax Drakon DK925 | 40.7 lbs | Black | 27.56L x 22.44W x 52.76H | Enabled |
| GAMDIAS | 60 lbs | Multi-color | 35L x 27W x 13H | Enabled |
Best RGB Gaming Chair: Our Top Picks
As stated earlier, the advent of the sedentary lifestyle has led to increased demand for quality, comfortable chairs. For gamers, you need more than just a comfortable chair, as some games demand your keen interest and attention if you ever want to scale through.
What better way to achieve this than in a cozy, comfortable LED gaming chair with lighting effects that best suit your mood?
Well, the thing is, a gaming chair fitted with stunning RGB LED lighting can go a long way to spike your interest and boost your morale while gaming. Some of these chairs are crafted from premium material, and they come with modern tech features that will count in favor of all users.
Even if you are in for home or office works, you can sit for long hours and get down with your tasks from start to finish without any sort of body pain.
There is a catch, though. As the demand for gaming chairs, including RGB, LED fitted models, continues to surge, the market has been infiltrated by many reputable and non-reputable models. If you are not careful enough, you may end up getting the wrong chair or have to settle for a knockoff.
Why settle for less when you can go all the way to get the best RGB gaming chair with this article? We know you don't want that, and that is why we have carefully selected four of the top RGB gaming chair available right now. Read on!
Pros
Nice RGB lights
Adjustable components
Strong base
Comfortable seating
Cons
Any RGB computer chair worth the mettle should have strong and comfortable features, and that is what this Homall product offers and more.
The chair comes with a full length back support to help to ward off painful stress and strain toward your head, neck, shoulders, and legs. Also, there is RGB lighting to add splendor to your already captivating gaming chair.
These lights are LED-coupled with lighting models to help you decide on your favorite colors and models. Your favorite color just might be among them. That will give you an edge over the opponents you face.
The functionality of this chair is a great part of its appeal. For example, there's a reclining backrest and adjustable armrests. Add a 360 degrees swivel and adjustable height, and you get quite the gaming chair.
The cushion here is also soft since the backrest and seat are both well-padded with top quality foams. As such, you get to have that extra bit of comfort while doing anything on the chair. Again, for an LED gaming chair, it offers a sturdy base with a metal frame providing adequate support.
A sturdy base shouldn't be a concern for a top chair. What you don't want is a chair that tilts by itself without pushing any button or pulling levers. The chair's minimalistic design may not appeal to everybody. However, the immersive glowing experience of Homall's RGB lights will make up for any downside you might have thought of the compact design.
On the whole, this Homall chair is suitable for several uses. The design is super cool, as it focuses on keeping and maintaining the natural shape, posture, and position of your body without sacrificing comfort and convenience.
Its wide usage will appeal to those who want an all-purpose chair to play computer games, watch TV, do some office work, and have a good rest.
To cap it all, here is a highlight of the major selling points of the Homall S-Racer with RGB LED light feature.
RGB LED Lighting: As we have pointed out earlier, the Homall S-Racer's RGB LED lighting is the most distinctive feature of this gaming chair. This is because it looks amazing from every angle. It goes beyond what we normally see on standard RGB gaming chairs to provide users with awesome lighting effects that are available in different modes of color combinations.
Depending on your mood, you can select a lighting effect that will help build up interest in your home or office works. You can also combine several colors to set up a perfect atmosphere for relaxation and gaming without any feeling of fatigue and discomfort.
Great Functions: The Homall S-Racer comes equipped with many functions to make your tasks easier and keep you in a comfortable position at all times. These functions, which include reclining backrest, adjustable height, and 360 degrees swivel, can make all the difference in your gaming activities and office works.
You can also rest assured that the chair's metal frame is strong enough to withstand your weight and maintain balance while swiveling or turning.
Versatile: The Homall S-Racer comes in handy for a lot of tasks and activities, including seeing your favorite TV shows, video games, long hours of coding and office tasks, napping, and relaxing after a long day.
Pros
Durable leather material
Adjustable height and armrests
360 Degree swivel
Bright lights
Cons
Some would argue that this is the best RGB gaming chair out there. It comes with adjustable heights and an angle of 90-180 degrees back recline. Further, a Butterfly mechanism functioning lift, tilt, and lock; and 360-degree swivel function adds style.
There's also a multi-direction wheel to help you move smoothly across the floor. Not bad if you want to shuttle between one spot and another in a jiffy.
With bright RGB lighting around, you get to see properly at all times. Also, you can simply plug the cable into a USB port and instantly create an incredibly cool gaming atmosphere. This High-Back customizable gaming chair features 330lbs maximum load capacity. That's huge and ensures there's none or minimal complaint as with fitting in.
It offers an ideal seat choice for different purposes, including working, studying, gaming, relaxing, and more. With weights, you and friends or family should fill it without thinking it won't hold.
Further, it features a durable PU leather material, vanished base, and nylon smooth-rolling casters. The latter ensures users enjoy great stability and mobility.

The ergonomic body-hugging high back, thick padded seat cushion, functional armrest, and removable lumbar support add much-needed comfort. A headrest completes the manufacturer's attempt at perfection.
On the whole, it's quite the make and a great fit for users who spend a lot of time playing engaging games. For example, pro gamers have to sit longer than anyone. As such, there are more risks to their joints. A chair like this limits the incidence of back and lumbar aches.
Pros
Comfortable
Long-lasting
Supportive features
High mobility
Cons
RGB sometimes feels unstable
The Raidmax Drakon is one crazy gaming chair many users will fall in love with. Crazy because it has features that leave you wondering why you didn't get one in the first place. The RGB Light has a remote control for different lighting effects
As such, there's a stylish ring to it. You can also use the USB cable to connect to multimedia devices. That way, you can aim for a more engaging experience.
Further, the ergonomic design features a three-point supporting system – for your head, spine, and lumbar. Not bad, considering many gamers spend a lot of time in one spot. What you don't want is developing funny pains and strains around your body.
Raidmax Drakon is a great colored computer chair with a PU and material that provides long-lasting wear and tear quality. The softness is soothing and, at best, body-hugging. Its removable headrest pillow and lumbar cushion supply more comfort. It's one light up gaming chair that's multifunctional.
Having a 360 degrees swivel, adjustable backrest with a 90 to 135 degrees safety angle sure helps. Also, the Class 4 gas lift adds some premium feel to it coupled with rolling casters that offer some quiet no scratches even when wheeled across the floor.

Overall, the stunning RGB mechanism is one of the best features of this chair, as it comes with different lighting modes and effects to suit your mood, boost your gaming experience, and enhance the overall ambiance of your room.
Pros
Customizable RGB backlight
High-resistant foam
Advanced durable leather
4D direction adjustable features
Cons
Based on their stunning look and unique features, we strongly believe that any gaming chair that offers customizable features across several fronts is a must-have. That is what this GAMDIAS product offers and more
Coming in as a fully customizable gaming chair, the GAMDIAS RGB gaming chair is worthy of inclusion in our list of top RGB gaming chairs for all the right reasons.
Firstly, it has a customizable RGB backlight system that features up to ten different lighting effect options. You can make your choice out of them to give your chair a more personalized touch.
The foam is a high-resilience option with a foam-filling mechanism. What this does is ensure that the foam doesn't get to entertain any deformities as the years roll by. The fact that it also has an advanced leather style vinyl is a plus.
As such, the leaver is soft, breathable, and resistant to sweating. That's great for those who game for long periods.
This colorful computer chair offers 4D-Direction adjustable armrests. They protect your shoulders and wrists from the impact of gaming or working for so long. That's something to consider since gamers often complain about sore backs, wrists, and shoulders. You won't have to with this chair.
Customizable comfort is simply worth it. There is an adjustable back angle, customizable seat height, and accessible tilt locking and adjusting mechanism. These are necessary parts of the modern-day gaming chair users cannot overlook.
Playing games should be a fun experience and not a chore, and that is why this chair is a top choice.

One major downside we notice with the GAMDIAS is that the lighting system is located at the back of the chair, which somehow makes it impossible for the gamer to see the awesome beauty of these lights around him.
Frequently Asked Questions
1. Is an RGB Gaming Chair Good For Me?
An RGB gaming chair is suitable for whoever needs it regardless of your age, gender, weight, or height because they are made for gamers like you. It doesn't matter if you need it for your Xbox One games, computing, or media and relaxation purposes; whatever you do, the right gaming chair will come in handy.
The often you use a gaming chair, the more it impacts your posture positively. However, it is important to carefully check out the specifications of each chair, as they can vary in design, sizes, features, and load capacity.
While some gaming chairs are designed to withstand almost anything you throw at them, others can only make do with a little weight. That is why it is crucial to check and verify the details of any gaming chair before you make the chase.
For instance, if your weight is on the heavy side, you need to be sure that your gaming chair is able to support your weight without sacrificing convenience and comfort.
The same goes for very tall and short individuals; getting the right gaming chair that can be adjusted to meet your specific demand and requirements is the only way to determine whether a gaming chair is good for you or not.
2. How Does an RGB Gaming Chair Work?
Like any other gaming chair, an RGB gaming chair is designed to help you sit, relax, and enjoy your video games without difficulty. It offers a solid form of support for your neck and back while sitting in front of your screen.
Usually, they come with taller backrests and support pillows to help keep your body in proper alignment while you are sitting down. Most gaming chairs are made with thick foam padding to help ensure even distribution of your body weight when you sit on the chair.
While most gaming chairs work to deliver the same functions, they differ greatly in design, style, and features. For RGB gaming chairs like the ones listed above, you will need to have them plugged via a USB cable to your PC or power bank before you can use them.
We will recommend getting a power bank with a minimum of 20,000maH or higher if you want to enjoy your chair's RGB features and immersive glowing mechanism while gaming or working.
Conclusion
There you have it! You can bank on any of these four RGB gaming chairs and trust them to offer great value for money and the quality you desire in a colored computer chair.
Just as we have stated earlier, gone are the days when sitting in front of your screen and enjoying your favorite video games could mean severe pain and discomfort after a few hours.
These state of the art gaming chairs will make long hours of gaming seem like a few minutes, thanks to their ability to offer great comfort and convenience.
Take our word for it; you can never get it wrong with these chairs. However, when it boils down to making a quick choice, the immersive RGB LED lighting effects and the modern tech mechanism of the Homall RGB gaming chair make it our top choice.
If you would like to explore your options, feel free to check out other products in this article, and you can rest assured that they will all keep you comfortable at all times.