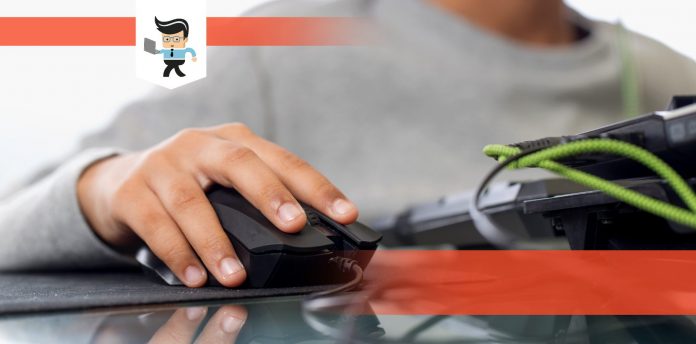 You'll need the best Corsair mouse for gaming if you want to settle on this proven brand. Corsair has spent many years developing some of the best peripherals in the industry, and now, you get gaming-grade mice to beat the competition.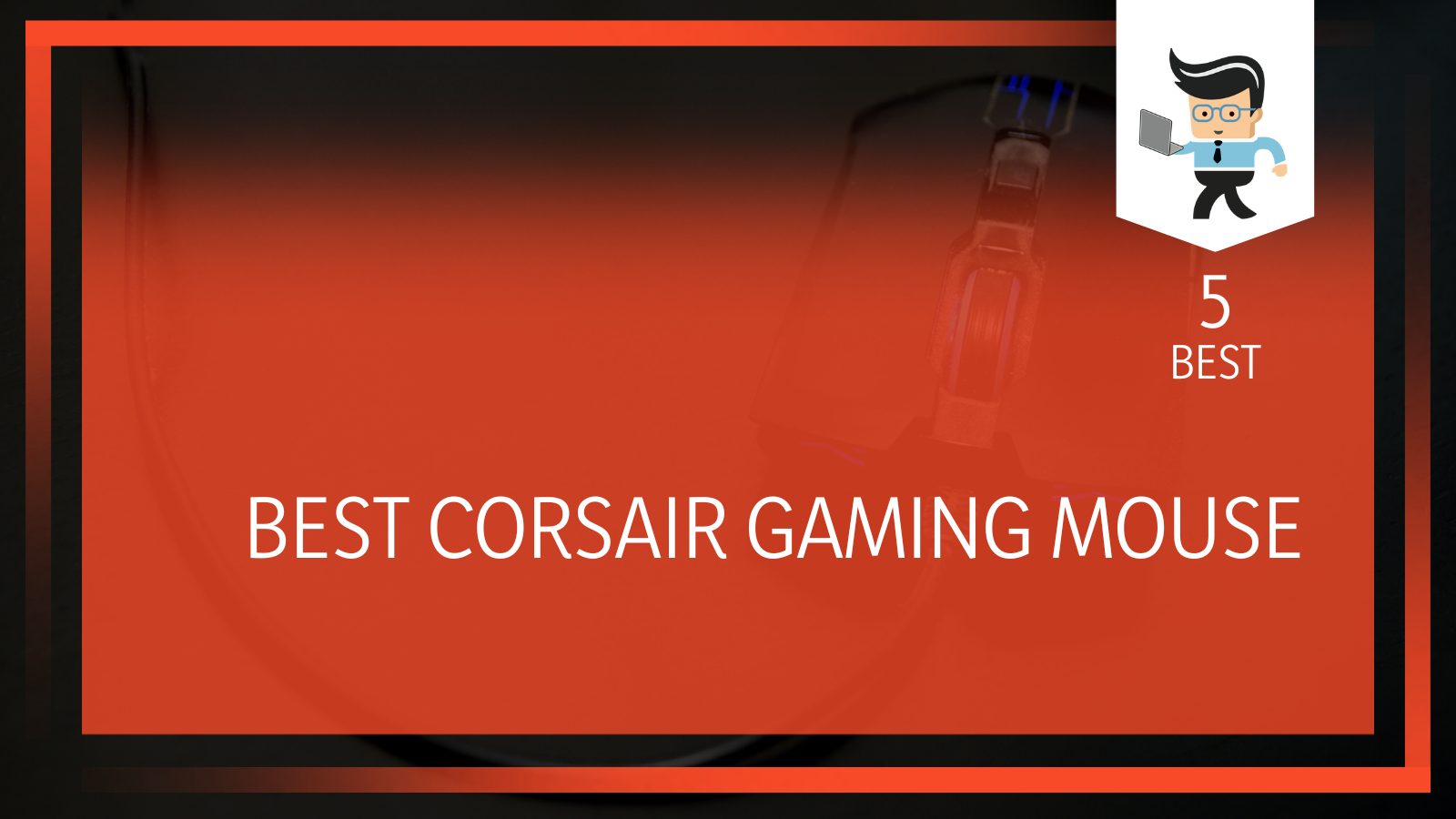 Our review team has come up with five of the best mice in the Corsair lineup. Please read on to find out which one fits your needs as a pro or regular gamer:
Key Specifications Outlined
Best Corsair Mouse for Gaming: Our Top Picks
Corsair is one brand name that's renowned for premium gaming peripherals and accessories. That includes a wide range of quality mice many users have come to love, including budget options and RGB variations.
Corsair is worth the effort, whether you're a top esports professional or someone just looking to have fun playing games.
It's a no-brainer if you want to upgrade your current mouse or get ahead in the world of gaming. To that end, we have compiled and reviewed a list of the five best Corsair mice in the world right now. These mice have many features, such as a high DPI range, programmable buttons, and more ergonomic comfort.
If you're searching for a quality gaming mouse and you've got Corsair in your mind, let this review guide you to pick the model that best suits your requirements.
Pros
Has tilt gestures for more macros
Responsive and durable
Fast 8K polling rate
Cons
If you want a Corsair mouse for FPS, perhaps the M65 model should be your first port of call. This mouse features the latest tunable pointers and other quality features.
At first glance, the aluminum frame, eight programmable buttons, and shelf are visible. It also has 8K polling support and a grip texture that supports the Quickstrike click technology many players need. The programmable tilt gesture and DPI, which gets to 18000, perform well; that's fast enough for regular games like Fortnite.
Design: Squat Style and Convenient
The squat design is something any mouse user will notice, and it fits your hand with its lightweight design. Further, it's possible to adjust the mouse using the additional weights accompanying it.
However, many gamers will not need to add the weights, thanks to the level of control the device offers. But if you feel the need to anchor the M65 to your preferred surface, feel free to add the weight pieces.
There's a noticeable bump on the mouse while the general outlook fits a medium-sized hand, and even if yours are big, expect a relaxed gaming experience.
Besides, there's a thumb rest on the left-hand side covered in rubber that grips, so your hand maintains a firm hold without slipping off. The mouse panels point out from the sides, and the wires are braided, so they don't drag. But the wireless one still appeals to many gamers.
Features: Built for Gaming
Like other Corsair models here, you can expect a good deal of features and specifications here. We mentioned the Quickstrike mouse click technology, which Corsair placed under each main button. It gives you a fast actuation and short travel.
As a result, the clicks are spring-loaded with no distance between the actual button and the OMRON switches. Still, the mouse features a six-axis gyro motion optical sensor hidden away inside the mouse.
The software is another exciting prospect because the M65 uses Corsair's iCue software. With it, you can map the left, right, backward, and forwards tilts to the custom media controls and keystrokes.
What's more, macros are fun to play around with. That makes for much customization alongside being able to adjust the center of gravity through the three options for weight placement.
Performance: Super Fast and Balanced
Can you handle a mouse with a superb balance between speed, control, and balance?
The M65 is a good fit. It's excellent for Fortnite, other FPS, and MOBA games. We like that the M65 gives users a balanced performance, unlike some regular mice.
Also, you'll experience the perfect lift-off, which provides you with a responsive process and quality movements.

Overview
The Corsair M65 is perfect for gamers who want a balanced and fast mouse they can tweak. Make changes to the weight and buttons and assign macros to different functions you're comfortable with.
Pros
Quality and comfortable palm grip
Intuitive button layout
Customizable
Strong sensor performance
Cons
Heavy
Claw grippers might have issues
If you're a palm grip style handler, the Corsair Ironclaw was made for you. Many gamers agree that it's the best wireless Corsair mouse for the palm grip because of its excellent features. The spec sheet is impressive, with three connection modes and little RGB flair.
All these combine to give you a fantastic moist for all-around gaming. You can dominate many games, but you'll be pushing it with FPS games. It's also in the affordable range if you're thinking of getting it for your gaming rig.
Design and Comfort: Nice Shape
When you put your hand on the Ironclaw, you can tell it was designed for a right-handed palm grip. The shape of the mouse lets your hand relax squarely into the correct position to support that stance.
Moreover, it's a tall mouse by design, with the top part of it reaching a height of 40mm before it slopes off to the rear at a sharp angle. That angle is similar to the Corsair M65 Pro RGB but more dramatic.
The total length of the mouse's shape is about 140 millimeters, with a maximum width of 77 millimeters across from the base. It's also heavy at about 130 grams in total. Perhaps that's because of the battery sitting inside its ability to power wireless play for up to fifty hours on a good day.
At the left side of the mouse, there's an ergonomic and pleasant thumb grip finished in diamond-etched rubber, which becomes less towards the back of the mouse. The right side of the mouse gives you something different because that's where your pinky and ring fingers sit.
It feels comfortable with a natural disposition for your hand. The bottom of the Ironclaw is also finished in a similar diamond-pattern rubber.
With your thumb resting in its position on the left side, you'll have easy access to the back and forth buttons above the grips. You get a third button between these two, which requires you to lift your thumb.
However, it doesn't cause any particular problems regarding comfort, but you might lose some control of the mouse.
On the side of the primary left click button, you get two CPI (Counts Per Inch) switches. This feature makes the Ironclaw a little different from a lot of the competition, including other Corsair's here.
It is intuitive and allows for quick repositioning of your forefinger to the left so that you have access to the two CPI buttons. With that, you can cycle through three different CPI settings as standard per profile, all of which are configurable using Corsair's iCUE software.
More Style and Convenient Moves
There are two additional buttons behind the scroll wheel, like the usual CPI buttons on many mice. You can bind macros to them, but they're used to switching between mouse profiles on the fly via the iCue software.
For the RGB, the Corsair logo appears on the mouse's back, inside the wheel, and under the left and right click. A couple of CPI lights are also present, and you can set them up.
All these combine to give you a mouse-shaped to fit palm grip gamers. Finger grip or claw grippers can use it, but you'd feel limited when things get pretty engaging.
Performance: Gaming-grade
It's pretty much the standard for many Corsair mice to come with the Pixart PMW3381 sensor. With the increase in models, Corsair has continued to deliver on sensors with higher capabilities.
To that end, you get the 3391 which is a custom-tweaked variant of Pixart's stock PMW3390 and has a high CPI reaching 18,000. What follows is a high inches-per-second rating of 450 IPS. That enables it to withstand up to 50G of acceleration.
Features and Software: More Innovative and Intuitive
When you get a Corsair mouse, you'll get access to the impeccable iCue software suit. With it, you can set your RGB to any mode, sync the lighting for your peripherals and the Corsair hardware.
Have some fun assigning and recording macros to different buttons while tweaking your CPI to benefit your style. You can create multiple profiles for various functions and games. For example, you can create a profile in iCue for playing World of Warcraft and set the RGB accordingly.
Another thing is the wireless connection you can have on this mouse. It will be a bit like playing with a wired mouse, thanks to Corsair's Slipstream technology that helps you minimize any noticeable latency between the Ironclaw and the PC.
It has a good battery life and healthy Bluetooth connectivity if you don't appreciate the 2.4 GHz wireless via dongle.

Overview
The Corsair Ironclaw has a lot of features to love. That's why it's best for gamers with its eccentric look and design. You get an ergonomic and intelligent shape with intuitive button placement. It's made for gaming with a precise sensor.
Pros
Excellent for MOBA/MMO gaming
Quality construction and shape
Multiple programmable buttons
Cons
With this RGB Corsair mouse, you can make many moves playing different games. The Elite is the third iteration of the Scimitar following the Original and Pro versions. It's also a quality MOBA/MMO Mouse, thanks to 17 programmable buttons, including a 10-button grid on the left panel.
There's a Pixart sensor inside and a high DPI of 18,000 coupled with different mechanisms for adjusting macro key positioning.
We also noted that it's more expensive than the Pro model but has similar sensor changes.
Design: Wide and Functional
At first glance, we noticed how wide the Scimitar felt at a full three inches. That's more than many mice out there that feature under three inches of wideness. A textured area on the right side and a grove for your ring finger make it ergonomic and adjustable.
It's particularly nice for palm grips where the thumb gets into a proper position to access the bank of macro keys. Also, Corsair includes a hex key that unlocks the bank for movement.
The materials feel premium and durable with a smart tactile matte finish across the buttons and palm rest to the smaller gloss plastic details below the left mouse button. We also noticed flashes of brushed aluminum under the mouse surrounding the PixArt PMW3391 sensor.
As a result, many gamers and reviews have described it as the most beautiful and appealing mouse in Corsair's current lineup.
With many buttons on this mouse, you might have issues pressing some you didn't plan for. However, Corsair combats this issue with rows of textured buttons alternately, two rough and two smooth.
Four RGB zones find their way on this mouse – the front, mouse wheel, macro bank, and logo. You can customize each zone, and the result is not as distracting as with many gaming mice on the market.
Performance: Strong Gaming Experience
Since it's easy enough to assign macros to abilities or even buy commands using Corsair's iCue software, the gaming performance on the Elite Scimitar is fantastic. Of course, it will take some getting used to, thanks to the sheer number of buttons.
The textured rows help, though. The sensor picks things up with a high DPI, and you can store three different profiles identifiable by a red, green, or blue status LED. Each of them comes with five different CPI levels.
The lift-off distance is also impressive when set to "high" in the iCue software, but Corsair doesn't include its exact specifications. It's fantastic for MOBA, and it will also be excellent for long-form strategy sessions in the likes of Civilization or Total War.
Features and Software: Make Intuitive Tweaks
With the Corsair iCue, you get to make many tweaks, including RGB customization and CPI profiles and program the macro bank for different applications. Patterns, colors, lighting zones, and more can be altered using this software.

Overview
This Elite Corsair offers an admirable performance intended for different genres of games. That's why it's the right fit for gamers who want different macros and convenient functions assigned to all 17 buttons. However, it's most suitable for palm grippers.
Pros
It comes with excellent switches
Multiple programmable buttons
Lightweight design with solid construction
RGB functions
Cons
Though the Corsair Harpoon RGB takes its place at the bottom of Corsair's mice lineup, it still has a good range of specs and features. With a reasonable price and RGB lights, you get a precise performance with five DPI settings coupled with a handy sniper setting other budget mice don't have.
Design and Features: Just Enough Quality
The Harpoon comes with a look and feel that makes it look more expensive. However, it's very light and a bit flimsy in the palm.
We like the build quality and ergonomics, thanks to textured, molded rubber side grips that have a concave shape so that you get a firm hold on them. The sides also flare out toward the bottom of the mouse.
The Harpoon RGB is a right-handed gaming mouse with a pleasing curve and sits up a little higher than many gaming mice. The height and rounded shape make it a natural fit for palm grippers, but claw grippers can get some love using it.
For the buttons, gamers get six programmable options. At the top of the mouse, you get right-and-left mouse buttons, a clickable scroll wheel, and DPI settings button behind the scroll wheel.
The forward and back buttons appear on the left side of the mouse, while the side buttons are well-placed just above where your thumb rests. It's easy to access them or take them out of your way.
The ergonomics go some way, but the mouse's design has a little quirk. It does not close around the scroll wheel. What you get is an open gap between the right-and-left mouse buttons, but it doesn't affect the mouse's performance or click-ability.
The quirk just gives it a unique look. There's no lighting in the scoop wheel, but this low-budget mouse still features onboard memory.
Software: Make Some Tweaks
The Harpoon RGB will perform well without additional software or drivers. However, you can install the free Corsair Utility Engine (CUE), which you can use to tweak the DPI settings and RGB lighting effects. You can also set macros and other actions.
With the DPI settings, you can alter between 250 DPI to 6,000 DPI. We know that's average for a gaming mouse, and you get only one button to cycle through the DPI settings as opposed to the usual two.
Performance: Fun Time Gaming
The Harpoon performs well while playing different games, such as Battlefield 3 and Counter-Strike. You'll have an accurate mouse in your hands that also feels responsive. It will give off a smooth glide while the buttons are well laid out and easy to click. The rubber side grips allow a firm grasp during any gaming action. It won't slip off your hands.

Overview
The Harpoon is another Corsair wired mouse that has an excellent rounded shape. We feel it's a nice pick for gamers and boasts an accurate performance coupled with a comfortable design. The programmable buttons and DPI settings make it smooth enough.
Pros
Comfortable design
Lightspeed with Bluetooth modes
Nice build quality
Lightweight form
Cons
It doesn't feature extra buttons
The Katar Pro wireless mouse gives you a comfortable and intuitive feeling. It's designed to let you enjoy an immersive time playing games. You get the customary six traditional programmable buttons, and a low profile coupled with a symmetrical lightweight fingertip and claw grippers will appreciate.
Inside, a solid Pixart sensor adds to the quality DPI rating and works with channel-hopping "sub-1ms" Slipstream wireless dongle tech and Bluetooth. The switch makes it easy to move the mouse from your gaming rig to another device.
Shape and Design: Lightweight and Functional
While there's nothing so exceptional about this Katar Pro, it's a low-profile mouse that gives off a comfortable feeling in your hand. It has a rubberized, clickable scroll wheel, which has a ratcheting feel and just the right amount of resistance.
The side buttons are glossy, easy to press, and well separated. You'll like the matte plastic shell, which doesn't leave smudges and fingerprints behind.
Apart from the main mouse buttons and two small side clickers, the Katar Pro has some extra external features, including a hexagonal button above the scroll wheel. It has a small arrow-shaped light above, which lets you adjust DPI on the fly.
You also get a switch at the bottom of the mouse, below the sensor, to help you toggle between 2.4 GHz Slipstream wireless dongle tech and Bluetooth. That's awesome for productivity and casual titles. Setup is flawless with enough sensitivity allowing for precise mouse movements.
Gaming Performance: Fast-paced
The Katar Pro Wireless will give you a fast-paced gaming performance for many games. You'll have the perfect weapon to execute moves and a comfortable base that won't let you down at any moment.
You'll find the buttons where you need them to be when battles get tense without any complex pre-programmed macros. It allows you to get immersed in games without being intrusive or obstructive.
The software is the iCue from Corsair, which lets you make as many changes as you want, such as recording macros, adjusting sensor performance, and preset sensitivity profiles toggled with the top mouse button. On the whole, the Katar Pro is focused on performing well.
Battery Life: More Hours
The Katar Pro battery is rated at 135 hours using an AA variety. You can use the mouse as primary cursor control but expect the gaming hours you rack up to limit the hours from the battery.

Overview
This mouse is designed to give gamers an infant feel and comfort when grasped. If you love gaming, you'll enjoy the tweaks you can make and the wireless form with even better battery life.
Qualities of the Best Corsair Mouse
– Top Connectivity
The Corsair brand comes with both wired and wireless mice options. Each orientation has its benefits and downsides. However, wired mice are more affordable and give you a reliable connection to your PC, and you don't have to worry about battery life. Wireless mice are beautiful, expensive, and don't deal with wired.
They're portable and won't clutter part of your rig for the most part. You'll also have to choose a Corsair mouse that offers extended hours of operating time. We think a wired connection is much better for gaming.
– Programmable Buttons
Many gaming mice come with additional buttons, which you can program to perform in-game functions using macros and key binds. Corsair mice are no different and have buttons that exist in all forms and are positioned at various locations across the mouse. If you're a gamer, multiple buttons work just fine and add quality to your experience.
– High Sensitivity
You need high sensitivity for gaming, although anything from 6000 to 18000 DPI on a Corsair mouse should do for any game. If you want a Corsair mouse from here, consider the DPI of each before settling on one.
Conclusion
These are five of the best Corsair mice on display, boasting good connectivity options, programmable buttons, and affordable price points. That makes these mice attractive options in the wireless and wired space.
If you want an affordable wireless option from our Corsair mouse review, the Corsair Ironclaw Wireless RGB has a great battery and excellent sensor. It's fun tracking with it, and you will enjoy the premium comfort it provides.
On the flip side, the Corsair M65 RGB Elite is the foremost choice here. It gives you more programmable buttons and a high DPI set at 18,000. We feel it offers more for a wide section of gamers and regular users than other mice here.