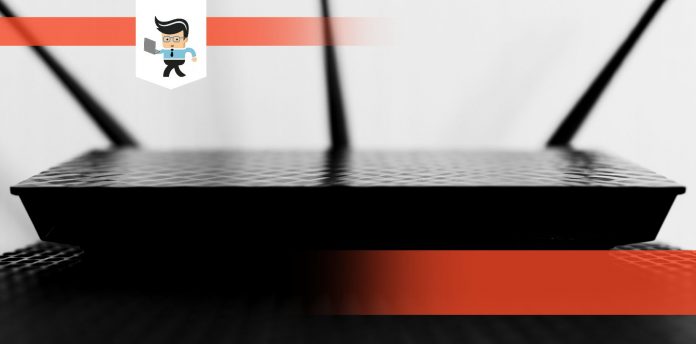 Deciding between the Asus AC3100 vs. Nighthawk X6 is not as easy as it seems, as they both rank at the top when it comes to excellent routers for a wide variety of purposes. For starters, both models are wireless-enabled, rocking the dual-band frequency, which forms the benchmark for modern-day routers.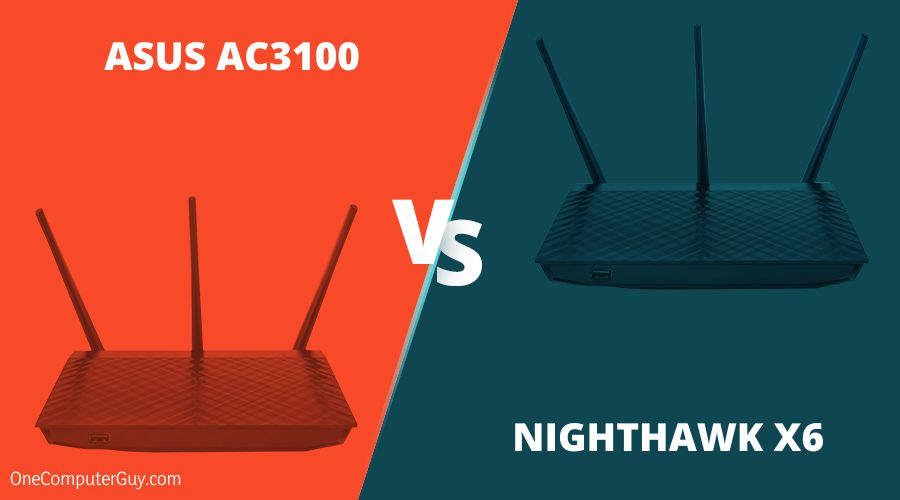 These routers also come equipped with superb data transfer rates that will come in handy for all users.
However, which would you rather have if you had to decide between the two?
Our review team has painstakingly put the routers to the test to find out which model has the edge, so read on to find out!
Top Specifications at a Glance 
Product
Key Specifications
Asus AC3100

Brand: ASUS

Security: WEP, WPA, WPA2, WPS

Max Data rate: 1000 Mbps

Ports: 4 Ethernet ports

USB: 2.0, 3.0

Frequency Band: Dual-Band

Antenna: Four

Nighthawk X6

Brand: Netgear

Security: WPA-PSK, WPA2-PSK

Data rate: 1000 Mbps

Ports: 5 Ethernet ports

USB: 2.0, 3.0

Frequency Band: Tri-band

Antenna: Six
Asus AC3100 and Nighthawk X6: A Deeper Look
A side-by-side comparison between two routers isn't an easy proposition when the two products have excellent properties and capabilities. The devices on review here are some of the best sporting network frequencies users will appreciate on the market. For example, you get top-quality security, fast data rates, extra ports for wired connections, and other specifications.
Our team takes a deep look at both routers before pitting them against each other to help you determine which model stands out. Read on as we compare the top features of both routers, including their performance, speed, coverage, and other specifications.  
Pros
 

Faster speeds and connection

 

AiMesh Wi-Fi system support

 

Easy setup and enhanced coverage

 

Security features including parental controls
Cons
 

The network can ebb on the 2.4GHz frequency
Asus routers have quality across different models, and the AC3100 is no different. It's a dual-band wireless Gigabit router. Moreover, it's under the enhanced 802.11ac networking standard and operates on both the 2.4 GHz and 5 GHz frequencies. Also, this router supports maximum wireless data throughout, reaching about 3167 Mbps. As a result, the Wi-Fi connectivity allows for low latency gaming, streaming of 4K multimedia content, downloading of large files, etc. 
– Design and Antenna: Faster Transmissions
The outlook of the RT-AC3100 is that of a sleek design. You get up to four adjustable antennas featuring AiRadar beamforming technology and supporting a transmission distance of up to 5,400 square feet. With beamforming technology, the wireless signal gets beamed onto the connected device. That way, you have a more focused, more reliable connection.
The best part of this device is that it can support more devices without experiencing lags, even with the beaming signals. The  MU-MIMO technology helps with that. 
– Gigabit Ethernet Ports: More Connection Options
A wireless connection sure helps, but sometimes, you'd want to use some wires to connect different devices. You can do that on this router with four Gigabit Ethernet ports. The dedicated link aggregation support will give you a bandwidth reaching up to 2 Gbps for a super-fast connection.
The router has a 1.4 GHz dual-core processor, 128MB flash memory, and 512MB RAM. That ensures the router operates well when being pushed to the max. 
– AiMesh Technology: Better Home Network
This router also supports ASUS's AiMesh technology to create a whole-home Wi-Fi system with a better performance. It's a technology that enhances your network over long distances and helps you cope with demanding tasks. Tasks like 4K UHD streaming at remote areas of your home won't experience lags. 
– Adaptive QoS: Boost Your Activities
Since the QoS (Quality of Service) boosts your bandwidth for different activities like gaming, you can prioritize gaming packets and other activities. That means you can assign full dedicated bandwidth to allow for excellent low latency while playing games. 
– Cross-Platform Compatibility: Switch and Enjoy
Since the RT-AC3100 delivers excellent bandwidth and coverage for all your gaming devices, it means you have ample support across different platforms and operating systems. You can switch between Windows, Mac OS, and Linux systems. 
– Security: Asus AiProtection and Parental Controls
You get the Asus AiProtection to protect you and your information whole online. That way, you're safe and secure when the system combines vulnerability detection, site blocking, and parental controls. 
Parental controls are essential and advanced on this router to help you prevent users from visiting inappropriate websites. Your kids and other guests will have restrictions imposed on their Internet access.

– Overview
This top-notch router is ideal for users who want high-quality features like a helpful UI, ports, fast network frequency bands, and robust safety measures.
Pros
 

Super fast and reliable connection

 

Easy to install and manage

 

Offers VPN support and parental controls

 

Automatic firmware upgrade 
Cons
 

Can suffer from daily random reboots
Whether you're gaming or doing something heavy internet-wise, Nighthawk wireless routers can give you an expansive and reliable connection. For good measure, the Nighthawk X6 is the ideal choice of routers if you're a pro gamer because it packs the AC3000 speed and performance. 
What's more, it has a powerful dual-core 1GHz processor coupled with three offload processors, which profile Wi-Fi speeds up to 3.0Gbps.
With the Tri-band frequency on this router, you can say goodbye to game lags and welcome an intense, immersive, and uninterrupted network. The X6 multiple is the entertainment factor for everyone connected to your network. Also, other connectivity options like the USB and Gigabit Ethernet ports give you more room for connections of the wired variety.
– Internet Connection: Reliable and Ultra-Fast
Don't we all love an ultra-fast Wi-Fi connection? You get that on this router thanks to the dual-core processor and 3Gbps speed. You won't get buffering signals while playing fast-paced games or watching movies online. The QoS and MU-MIMO feature ensure you have the best connection per activity.
– Ports: Extra Options for Connection
The Nighthawk X6 specs include four-gigabit ports to connect multiple wired devices for your gaming console, IPTV, and workstation. Thanks to the high-performance antennas, your range is also widened. So you can connect to your router from any position in your home area. 
– Security: Amazing Parental Controls
You can monitor your kid's Internet usage by limiting the websites they visit using a third-party control app. The Circle app filters websites for your kids all the time they spend online. You can also schedule an off time.
Other than that, the router has an excellent security system to keep intruders out. The WPA and WPA2-PSK give you some options to keep your connection safe. You can also set your PSK encryption for your network.
– Installation: Easy to Setup and Control
Install your Nighthawk router and get moving on the Tri-band Wi-Fi frequencies in an instant. Control is easy with the downloadable companion app on Google Play and AppStore. The X6 also works with Alexa to enable you voice-activate your router, and you can turn it off through the remote access feature when you're not at home.

– Overview
This router fit uses that demand a powerful signal throughput for their spade. It also has a powerful modem to go along with the router. 
Asus AC3100 vs. Nighthawk X6: Head-to-Head Comparison 
– Network Band Frequency
When you're trying to decide between an Asus or Netgear router, the frequency band is a vital concern. The Nighthawk uses a Tri-Band, 2.4GHz, and 5GHz Band1/Band4. That translates to a broader range of Wi-Fi connectivity with a seamless transmission.
The RT-AC3100 delivers some quality on the dual-band frequency.
– Ports and Extra Connectivity
There are major ports on the two routers that give you more options to connect. For example, you get four Gigabit Ethernet ports, one USB 2.0, and one USB 3.0 slot on the two routers.
– Signal and Range
While the two routers give superior range and quality, the X6 takes things further with a stronger signal over wide ranges. That's why it's the best choice for larger areas. However, the two routers have beamforming capabilities coupled with MU-MIMO and QoS features. The six antennas on the X6 add to its robust signal strength and network.
– Security
Security is essential, and you get a host of features to help you protect your network on both routers. The WPA, WPA2, and WEP feature is present in both devices, coupled with parental control measures and remote access control to prevent unauthorized access.
Conclusion
For anybody looking to get a wireless router, fast connection, security, and long-reaching coverage top the list of the most preferred features, and these are exactly what the Asus AC3100 and Nighthawk X6 routers bring to the table.
Both of these options deliver impressive connection range and quality, with superb security features.
However, we have to stick it out with theNighthawk X6 router, as it offers superior service and overall quality for your connection needs. Also, it's more primed for heavy Internet activities, thanks to stronger signals over more extensive ranges.