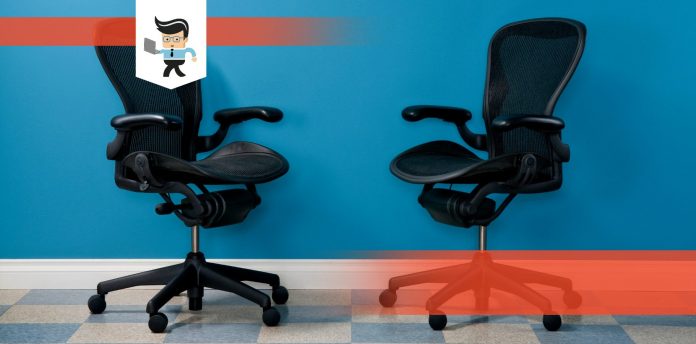 Our Workpro Quantum 9000 review showcases a mid-range chair hooked with features many gamers agree with. It's an elegant piece wrapped with different layers of ergonomic parts and structure to keep users comfortable.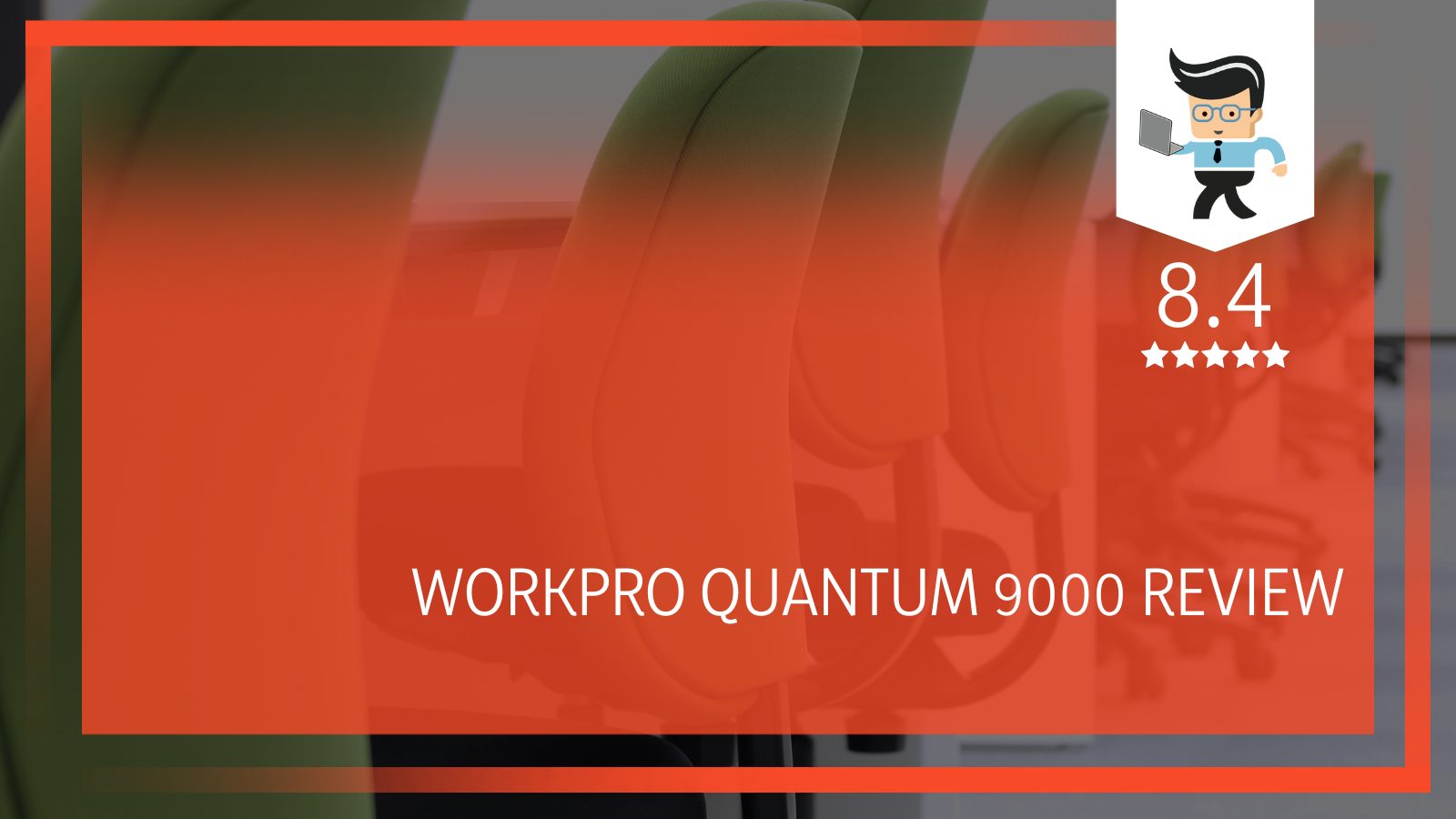 It comes with breathable fabric and adjustable features that make it quite the office and gaming chair option for adventurous users. However, we feel there's more to it, including the obvious benefits and a few of its drawbacks.
Our team has spent ample time trying out the features and capabilities of this chair to bring you the full review. Read on as we get on to it!
Key Specifications at a Glance
Product
Key Specifications
WorkPro Quantum 9000

Brand: WorkPro

Material: Mesh fabric

Frame: Metal, Nylon

Recline angle: 30 degrees

Max Weight: 275 pounds

Ergonomics: armrests, high-back

Adjustable: height, tilt
Workpro Quantum 9000: Top-Quality Option for Gaming and Office Use
If you're looking for an excellent option within your limit, many gaming chairs are out there to try. One of them is the Quantum 9000, which offers various features you'll find exciting and fit for different applications. Whether you're working on a project, having a meeting with colleagues at the office, or playing games, it offers max comfort levels.
The seat is of particular interest since it's covered with a mesh fabric that allows airflow. The same thing applies to the high-back coupled with a soft feel. As a result, you can stay on the chair for extended periods without feeling fatigued. Seat height and depth is an excellent feature to let you make viable adjustments depending on how you feel or the demands of your activity.
Setting up a chair should be seamless. You get that on this ergonomic high-back office chair which also offers a lumbar feature to support your lower back. That's an essential aspect of a top-quality gaming chair because you'd spend many hours seated in one spot. However, the dimensions are wide enough to form a convex-shaped back to give your body adequate support.
Your legs are also considered by the manufacturer thanks to the chair's design geared towards alleviating pressure on them. Besides that, you have a great frame and overall build that allows for an ideal weight load of more than 250 pounds. Despite its weight, you've got built-in casters that make it easy to move around to find your favorite spots.
A comprehensive review below explains why it's the ideal chair for you.
WorkPro Quantum 9000 Key Criteria
PROS
Solid and sturdy nylon structure
Comfortable mesh and high back
It offers plenty of support options
Stylish and breathable
CONS
Sensitive armrest pivot
Not ideal for tailbone pain
The WorkPro 9000 is an executive high-back desk chair that delivers enough support and comfort you need to focus. Those are vital considerations for gamers and regular enthusiasts to help them beat the odds while playing games. 
Along with those features, you get quality adjustable parts, including tilt and armrests adjustments. We all know how crucial it is to find the right angles for your arms and elbow. When that's settled, your back is the other primary concern. 
The high-back is also covered with a breathable mesh which further enhances the ventilation of the chair. That's why it's the ideal choice if you work or live in a hot environment. You won't have to get up most of the time, which is the case with uncomfortable chairs.
If you weigh about 275 pounds, you can sit down on this chair without hassles. However, the unofficial max weight gets near 400 pounds considering the broad convex-shaped back with lumbar support. Moreover, you get tension control on this chair. It helps you activate the back tilt pressure adjustments with a synchro-tilt 3-position tilt lock.
If you're asking whether your head gets some comfort, the answer is yes. There's a headrest attached for more convenience. All the performance standards are met, and you get an eco-conscious piece of furniture in your gaming space. Check out our breakdown of the essential parts of this quantum chair.
– Build Quality: Strong and Reliable Build
The build quality of any gaming chair is reflected in the structure and materials used to make it a unit. To that end, we found that this chair is solid and heavy thanks to a combination of quality materials. This WorkPro variety uses metal and plastic to good effect; however, nylon features as the most prominent material. That's why the chair is durable and gives off a secure feeling when users take a seat.
Thanks to the build, you have a chair that's designed to last. According to the manufacturer, it can reach upwards of five years. Also, at 60 pounds, you have quite the unit to move. No wonder it can contain more than 275 pounds of weight.
– Comfortable Seat: Waterfall Seat Cushion
Not all gaming chairs are made with comfort in mind, but this Quantum chair comes with a difference. It has a distinctive waterfall seat cushion design far from your standard office chairs. As such, the chair slopes downwards in the center to give you a comfortable feeling.
What this design also does is reduce any stress on your lower body and legs in particular. That translates to more prolonged moments without the threat of pain or fatigue.
– Keen Lumbar Support for More Protection
Whether you are gaming or working on some office tasks, it is important that you maintain a correct sitting posture if you don't want to experience chronic back pain in the long run. That's why this Workpro ergonomic chair comes with a lumbar feature to support your lower back. That way, you get to have more protection for the natural curve of your spine. It's also adjustable and has a mid-back chair. That means the chair is suitable for both short and tall users. 
If you have more than one user at home or in the office, it makes this chair ideal for such spaces.
– Tilt Mechanism: Opt for Some Relaxation
The backrest on this Quantum product doesn't tilt a long way, but it has a sufficient amount of recline. It will tilt about 30 degrees backward from an upright position. Along with that, you get a tension knob that's easy to reach from a sitting position. With it, you can adjust the amount of resistance you'd like to feel. While you relax, the 3-way synchro-tilt helps keep the proper balance on the chair.
Use the switch on the left to lock in your favorite tilt angle. That way, it doesn't bounce back. Either way, you get to decide how to maneuver this component.
– Sturdy Nylon Frame: The Structure You Deserve
To cope with the maximum weight limit on this Workpro office chair, this product features a 5-pronged base with a nylon frame that provides a sturdy foundation. As a result, you can be confident in how stable the chair is. What's more, the 5-pronged base supports a convenient 360 spin axis, while the wheels move in silence to maintain a quiet working space with no distractions.
– Mobile Casters: Move Unit With Ease
We have pointed out how heavy this chair is. However, the brand gets a thumbs up for including dual-wheel black casters made from rugged nylon material. These types of casters work great on different surfaces such as carpets or other soft surfaces.
If you have a hardwood floor, you can still roll this chair on it. If that's a little difficult, getting replacement casters is easy. In addition to the 5-pronged base and sturdy nylon frame, other vital parts of the structure are made of metal.
– Plastics: Too Many?
One of the most common drawbacks many users are quick to point out is plastic in the frame, which can often lead to breakages. Other than that, you might have to replace them regularly. For the base and links of the armrest between the seat and the backrest, Workpro uses metal.
It's a good combination of materials that can withstand regular use without issues.
– Mesh: All-Round Style and Comfort
Make no mistake about this chair – it packs a mesh fabric covering all through. You won't find the odd combination of fabric and leather-like on other products out there. So if that's your expectation, look away now. Besides that, if you want a mesh chair, this is the product for you. With such a material, you get top-to-bottom comfort and breathability.
The S-curve design will add to the back and lumbar support coupled with the tilt function to dial in the exact tilt and seat angle ratio for a very comfortable sitting position. For a mid-range mesh chair, that's quite the game-changer because you only see those features on high-end gaming chairs.
– Adjustable: Customize the Arms and Seat
Talking about adjustments and customizable parts, you get the ideal adjustable depth here. That's more than you can get on many chairs that have a fixed depth. When you push back the second right-hand side switch, you enable the seat to slide between 19-21 inches. After that, press the button forward to lock the position.
The max seat depth setting helps taller individuals who have longer thighs. That's what makes this chair a great fit for different users.
In addition, the armrests are 3D-adjustable and pivot around a central location. Besides that, the armrests are padded with firm cushions to not feel sore after extended periods. The arms will shift inwards and outwards to support your arms at different angles.

– Overview
This chair is ideal for users on a budget and who want the trappings of a modern top-quality chair. Its adjustable parts, fabric, and style make it the right fit for those who sit for prolonged hours.
Comparing the Quantum Lineup
The Quantum lineup comes up with about three varieties which include the Quantum 9000. It's important to note that each chair in the lineup offers a nice balance of modern ergonomics, functionality, comfort, and style for a workspace or game room. However, there are slight differences.
You'll notice that each upgrade gives you more options to customize and adjust, and we have clearly shown in this Workpro chair review that the seat dimensions are more expansive than the WorkPro 4000.
Frequently Asked Questions
1. What drawbacks are noticeable on the Quantum 9000 gaming chair?
There are no perfect chairs in the market because each product is built with specifications to fit customers. On this Quantum chair, a drawback we noticed was the limited recline angle. You can tilt it with the synchro-tilt feature to 30 degrees max. However, it will provide some balance while you lean back.
In addition to that, there's no neck support. You can get that on the upgraded version, though. At least, WorkPro compensates for that with a convenient headrest.
2. Is the Quantum 9000 ideal for gaming purposes?
The features and specifications of this chair make it an ideal choice for gamers. What you get is a nylon structure that's strong and sturdy and can withstand up to 275 pounds. Besides that, the mesh covering all over the chair means there's enough ventilation when things get heated.
The exceptional lumbar support to your waist area and waterfall seat design means you get to play games for prolonged periods without strain on your legs.

Conclusion
If you're thinking of getting a new chair and this product comes into your mind, you're in safe hands. You'll have very few regrets, if at all. That's because many gamers will give a lot to have mesh back chairs among their rigs. It's that comfortable and features components you can adjust to suit your needs and different applications.
The incorporation of a mesh by the manufacturer is a smart move. However, it doesn't make the chair any weak. The strong nylon frame and structure means you have a chair for the long haul. Again, it's a chair built to promote a healthy posture without any restrictive feelings. That way, you'll remain aligned with the computer screen.
The seat features a waterfall design many enthusiasts find interesting since it keeps leg strain at bay. Overall, this chair will keep you cool at all times, give you the proper support and protection for your back.