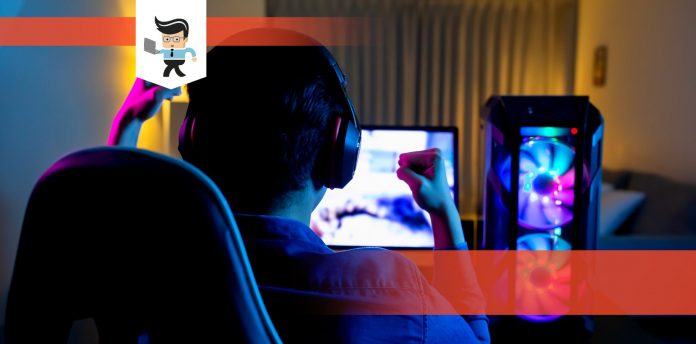 A comprehensive Arozzi Enzo gaming chair review goes a long way to guide you toward getting the right chair for your setup, especially if you are looking to get a decent model without hurting your pocket.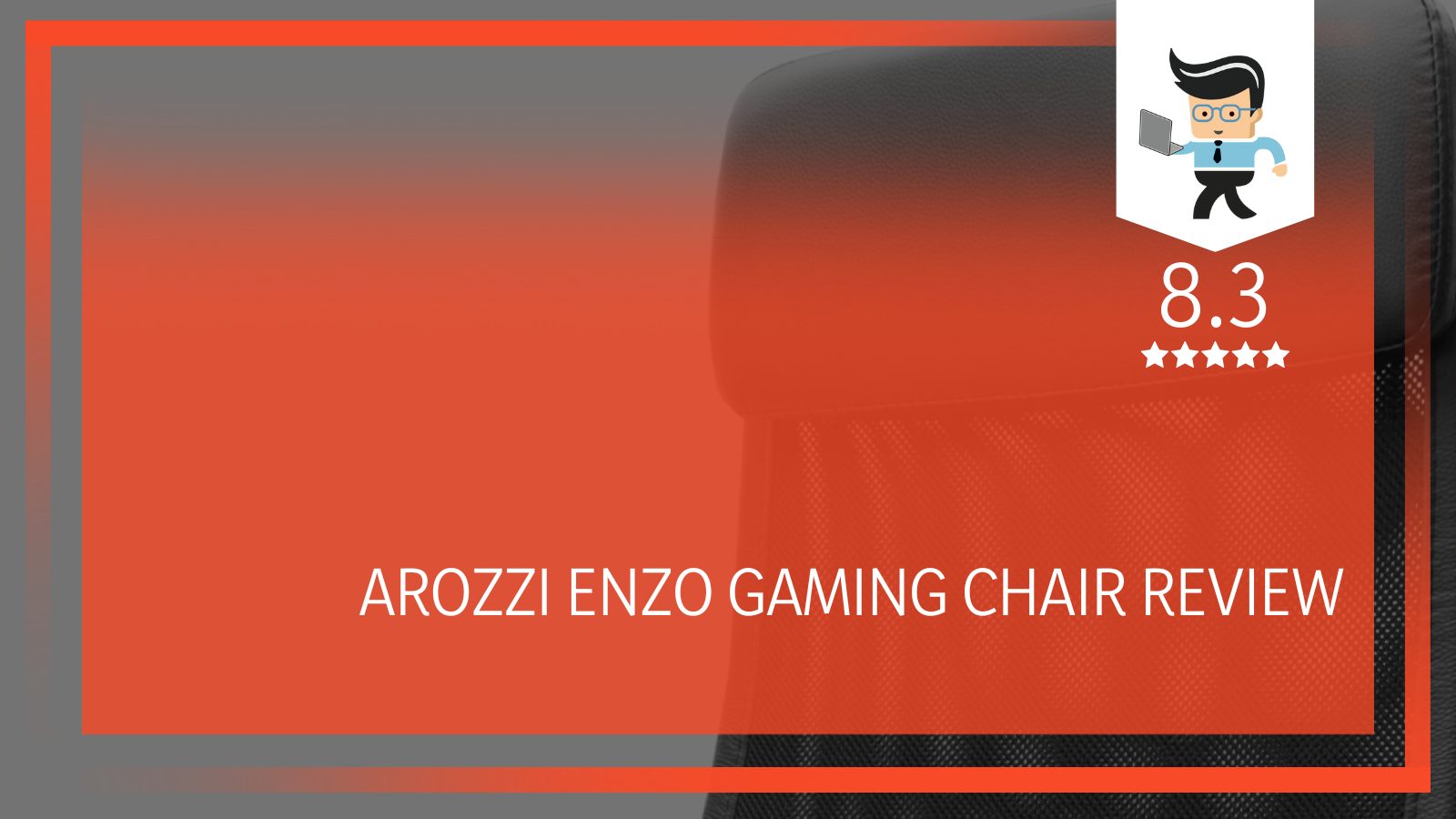 But because we know there are countless options out there, we have decided to help you decide easily by putting the chair to the test to see if it offers the much-needed flair that will help elevate your gaming experience. Now, let's get down to business!
A Look at the Key Specifications
Product
Key Specifications
Enzo WF-BKGY

Brand: Arozzi

Material: Textile, woven upholstery

Frame: Steel, metal

Max weight: 190 pounds

Recline angle: Tilt lock
Arozzi Enzo Gaming Chair: Designed With Your Comfort in Mind
Arozzi is a Swedish company founded as recently as 2013. However, the brand produces chairs built in the spirit of Esports and features an ergonomic design with optimized comfort levels. Now, Arozzi's portfolio features other markets that revolve around gaming desks, computer chairs, streaming-optimized microphones, a racing simulator, and more. We are concerned about the gaming chairs Arozzi makes.
A lot of consideration goes into choosing the perfect gaming chair. Many users and enthusiasts prefer a stylish option coupled with some solid parts and features. Others want a sturdy and durable chair they can customize in various ways. Whatever that case, you get a bit of both worlds from this improved Enzo chair with woven fabric.
The chair is one of Arozzi's more fundamental pieces because it incorporates all the essentials of an office chair and the capabilities of a gaming one. That means you can work and play for extended periods with no issues. 
Also, it's a product based on the original Enzo chair and has a woven fabric that's covered with smooth, high-quality upholstery fabric. With the covering, you get additional levels of comfort and a breathable base. 
With a name that sounds like a Ferrari, you get that racing feeling when sitting behind a desk or platform. Don't worry, and it won't speed away. It's built and designed to stay put so that gamers have a stable base to keep winning. Moreover, this chair is ideal if you're on a budget and still want a chair that helps you compete on a top level.
In addition, the chair gives you an affordable option backed up with a flat backrest and seat pan. Besides that, there's no hugging design here, but you still get to feel comfortable while sitting for prolonged hours. That also means you won't slip sideways when playing engaging games, thanks to the covering.
On the whole, comfort is what it offers because it feels like a racing chair. But the question is, does it provide premium materials and adjustable features like top-notch chairs? Our review is aimed towards seeing this question. One thing is clear, though, beginners and average users will appreciate the minimalist profile, subtle color insertions, and functional appeal.
Take a look at our comprehensive review of the chair's capabilities below.
Arozzi Enzo Gaming Chair Key Criteria
PROS
Extra padded armrests
Strong wheel nylon casters
Breathable woven fabric material
Tilting design, you can lock in an upright position
CONS
Made for smaller individuals
It takes some patience to put together
Chairs in the Arozzi Enzo series often come with the tag "affordable" in the description. That's not a bad thing, though, but your expectations about what the chair offers shouldn't get any lower. It's an excellent product to have if you're on a budget because the features support multiple uses.
To an avid gamer, a gaming chair is more than household furniture, thanks to modern upgrades from brands that make them fixtures for homes and offices. Such chairs also pack ergonomic features and customized specifications to fit a wide range of users. This Enzo chair is one of such options you can choose after reading our comprehensive review of its capabilities.
For starters, the Enzo WF-BKGY variety does have a sturdy frame and supportive build that could as well give some pricier models a run for their money. The whole unit measures about 33 pounds which is still a bit heavy, and it won't cause any problems to move. Also, the foam user is perfect for your body. That's due to the first-class dense cushioning on the seat and the backrest. As a result, you can sit in this chair for a long time with your back upright and well supported. The seat pan width is also wide enough to give you some wriggle room.
While the chair comes packaged for smaller individuals, it still sports a tall backrest. We noted that there is no hugging design, but you get 375mm cushioned armrests. That's enough padding to keep your elbow and arms in general safe and pain-free.
The rocking features aren't as prominent as you'd expect from a gaming chair. However, there's a tilt function that comes in handy. Settle on your favorite position and lock it in to enjoy.
– Appearance: Racing-Style Inspired Look
It's a theme across the gaming chair industry to have chairs made with a comfortable racing-style appearance. The Arozzi lineup takes it to another level because the Enzo is well-padded. That's the case on the arm, seat, and backrest. Also, the gray color looks good, while the seat itself is a little curved to give it a nice look.
The casters are pretty plain, but we're sure you can live with that since they're functional at best. This Arozzi gaming chair has colored variants across the body in small padded areas on the edges and other parts. The seat is also colored, while the stitching is exciting enough to leave a noticeable impact on your space. 
– Covering Material: Quality Textile Fabric
A woven fabric material of premium quality is used on this chair. The upholstery is just as sharp and soft, with a smooth finish that covers a soft foam that covers the frame of this Enzo chair. We like that the woven cover is breathable and gives you a shot at gaming for extended periods. That's a positive because chairs often get hot. The fabric is an excellent way to stay ventilated at all times.
– Thick Padded Armrests: Work and Play With Ease
Arms are essential parts of a gaming chair. You need a comfortable component to place your whole arms or elbows on while working or playing games. Without them, it isn't easy to focus. Arozzi puts some extra padding here covered in the same woven fabric used across the chair for additional comfort and breathability.
– Tilt Lock: Have Some Fun
The rocking function is another aspect of the chair users will like. That's because it can be locked in a fixed upright position, or you can unlock it to tilt back and forth with rocking motions. If you have a sedentary lifestyle, you'll find this feature ideal. It helps you have a slight movement or enjoy the rocking sensation.
When you have a comfortable playing position you can lean back into, it takes a lot of pressure off your spine. In line with that, the main advantage of this Enzo chair is the absence of thick side panels with a hugging design. Such designs cause a lot of discomfort when leaning back.
– Weight Capacity: Built for the Average User
The Arozzi Enzo dimensions are good enough for those familiar with gaming chairs. Of course, it's all designed on a frame that can take a max weight capacity of 190 pounds. It's a good figure for a racing-style gaming chair and is suitable for average-sized gamers.
If you want to enjoy this chair, use it within the stated dimensions. Go over the figures before you make a decision. That way, you don't have an item you can't use in your home or have to manage with many discomforts. Many reviews will point out that getting the perfect chair solution starts with the ideal weight capacity.
– Drawbacks: Some Issues With the Enzo WF-BKGY
This chair is excellent for many reasons, but we couldn't help but notice a few drawbacks. Sure, it's an affordable product like others in the Enzo lineup. However, the design is more practical than stylish. 
If you want a chair that gives off some glitz or fashion statement, look away now. On a cheerful note, gamers aren't after fashionable parts and appearances. What they want is a chair that gives them enough support, comfort, and protection. 
Secondly, we feel this chair doesn't have a complete ergonomic billing as the manufacturer suggests. Ergonomics is a keyword for gamers now, and many of them spend a lot of money getting chairs tagged with such titles. 
While this Enzo chair has its ergonomic features, we feel it's not quite enough here. For example, the lumbar support isn't adequate to help you stay relaxed for extended periods.

– Overview
After our Arozzi chair review, we feel it's much suited to gamers on a budget who need a solid choice. It's as functional as it gets with all the focus on being comfortable rather than stylish.
Comparing the Enzo WF-BKGY With Other Chairs in the Arozzi Lineup
To start things off, the recline function is present in other Arozzi gaming chairs. That's a sticking point for many gamers because they want moments where they can take some much-deserved rest.
The Arozzi Torretta, Inizio, and the Verona Pro V2 come with such relaxing systems and recline functions, with most sporting a rocking function. That's a standard feature on Arozzi chairs to help you tilt and rock your favorite positions.
Other things the lineup shared include the racing-inspired designs. You get to have the perfect shape to give your body protection. However, none of the chairs have a hugging feel.
The backrests on the chairs are also upright enough. But like the Enzo here, the paddings feature less than that on the seat. That's understandable since seating comes before other considerations on a chair.
The material, frame, covering, and upholstery on the Enzo BKGY compare well with other chairs in the lineup. Also, it's ideal for users who want to maximize their spaces.
Frequently Asked Questions
1. Does the Enzo WF-BKGY offer quality lumbar support to users?
Well, the fact is that this Arozzi Enzo suffers a bit in the department of lumbar support. As a gaming chair, it does have a typical curvature towards the lower part of the backrest, but it is not the most convenient in that department. Again, you do not get additional lumbar pillows to compensate for the lack of proper lumbar support. For this reason, many users think the chair leaves much to be desired.
There's not enough support, and Arozzi would have done better to make that available with additional support pillows or cushions.
2. Is the Arozzi Enzo BKGY ideal for gaming purposes?
Sure. We think it's good for gaming. You get features and specifications on this chair that strive to make it more comfortable for gaming. To that end, you have a good base and frame which feature a mixture of steel and metal to keep it durable and robust. That's about 190 pounds of weight.
Another thing that makes it ideal for gaming is the covering of the chair. It is a woven textile fabric upholstery that offers a breathable design to keep the chair ventilated all through. That's great if you intend to spend many hours playing games or working.

Conclusion
As a form of conclusion, we noticed that this chair offers stability. The manufacturer designed this chair to give you a solid platform to accomplish stuff. If that's gaming or working in the office, it will serve its purpose. Moreover, the five twin-wheel casters add to the stable feel of the chair and are suitable for any flat surface. However, they won't suit hardwood floors.
The chair's weight is just as impressive, even though it feels a little less than many gamers will appreciate. It's light enough to figure as one of the most lightweight options in the Arozzi lineup and gaming chair market as a whole.
At least, it's a way to move from side to side when cleaning or changing its position since it doesn't require serious strength. Average-sized persons, including women, children, and youths, can use this chair.
Overall, you can put this Enzo chair together with a bit more effort. None of the features or specifications stand out, but it is a functional chair and doesn't cost much. It's a good buy if you're a beginner.