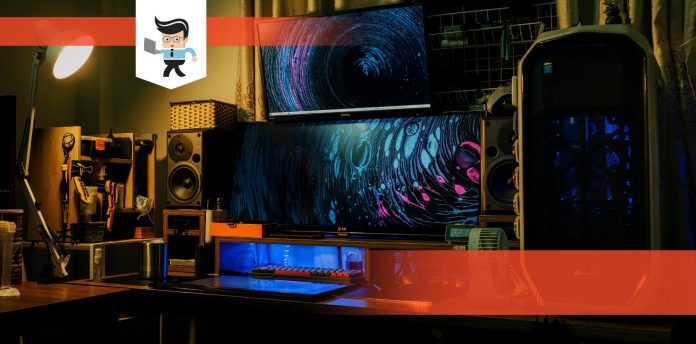 A shroud PC setup is inspiring and suitable for just any kind of game, but the truth is, you will need to put in some effort before you can get it right.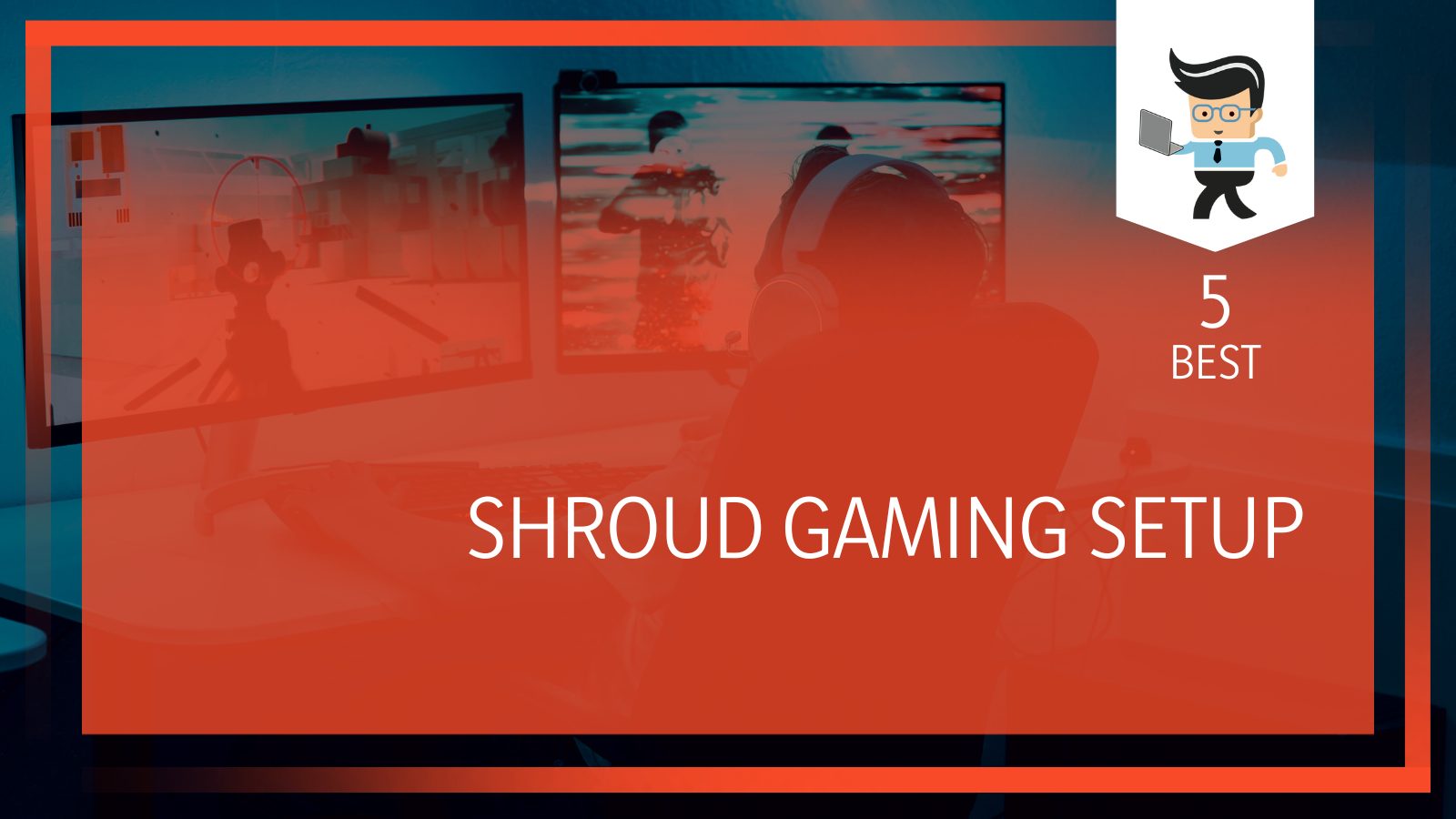 Shroud's choice of equipment is second to none and can make up an ideal gaming setup for all pro gamers and enthusiasts.
As we proceed, we will do our bit to unveil the secret behind shroud's unique gaming gear and tell you all you need to know to replicate that feat. Read on!
A Quick Glance at shroud's Gaming Setup and Their Key Features
What Headset Does shroud Use?
Pros
• Great audio performance
• Multiple microphone options
• Top-quality simulated surround imaging
Cons
• Can't work without a USB transmitter
• Normal bass
Shroud uses the Logitech G Pro X Gaming Headset and for good reason. It is reasonably priced, but all the better, nicely made and comfortable to use.
Also, there's a strong sound performance enabled with a USB sound card. This card provides 7.1-channel simulated surround sound and several audio customization options. You can put that down to Logitech's G Hub software.
Further, it is a wireless headset so getting them wired for the USB transmitter isn't necessary. The sound is very good and right up there with the best the market offers.
However, many would suggest adding a 3.5mm jack alternative to the wireless USB.
For design, the G Pro X has a great look and feel. As the main design elements, it features matte black plastics, earcups, and circular metal G logos on the back.
There are also memory foam earpads and headband padding covered in faux leather. What's more, the headset is light and presents a comfortable fit.
Having a good headset is a requirement for any gamer or streamer. This way, you get to hear clearly during communication or gameplay. You can tell the exact location of your enemies and always have the advantage.

Since shroud uses the Logitech G Pro X headset, it's obvious it will come in handy for you. The USB sound card will help you get the tournament-level audio quality you need. It's a great accessory for gamers aspiring to pro levels. Even if that's not the case, it's a piece of top equipment to have.
What Mic Does shroud Use?
Pros
• Offers a lot of versatility
• Delivers crystal clear and balanced reproduction
• Comes with a very effective pop filter and windscreen
• Shuts out any form of electromagnetic hum
Cons
• Pricey
Shure has been around the block for a while. Perhaps this is the reason they have cool stuff. One of them is the Shure SM7B Cardioid Dynamic Microphone used by shroud, which is an iconic microphone that will appeal to every audiophile.
There are many reasons shroud and other users appreciate this mic. One such reason is that it is flat and features heavily on radio shows. For instance, many popular artists have put it to great use.
It also offers a wider frequency response than most others. As a result, voices always come through clean and clear. You can also add warm and smooth to that description. All these make it the cream of the mics out there.
For the frequency response, you get 50 to 20,000Hz. This number is much better than most mics of comparable price and stature. Again, this mic has a very simple low end, and you can achieve more even with little proximity to it.
Whether you're a producer, streamer, or gamer, electromagnetic hum can be a problem. Such a sound is just as distracting as it is destructive. Moreover, it represents the low quality present in substandard microphones.
This won't affect the Shure SM7B. It comes with an optimized shield that prevents the hum, so there's no chance of it happening. Further, there's an internal shock mounting to stall mechanical noise transmission.
Searching for a pop filter for your Shure SM7B isn't necessary because it has one. In terms of equipment, this is up there with the best since it is highly effective. It doesn't matter how close you are to the mic.
Also, it is accompanied by an A7WS external windscreen. Both are premium components which permit close-talking into the mic. This way, plosive pops, hissing, and lisping are avoided.
You have a standard XLR connection for this mic, along with and excellent case to preserve your equipment. This is one dynamic mic you don't want to miss out on. Yes, the price tag is a tad daunting, but to beat the best, you've got to work with the best!

This mic is one of the most loved and powerful microphones in the world. There's so much all-around quality. We'll recommend this flawless and faultless microphone for whatever you do, as you can create your own shroud experience with it.
What Mouse Does shroud Use?
Pros
• Light and fast in movement
• Unique and flawless design construction
• RGB lighting provides more aesthetic appeal
• Full of innovations
Cons
• Big hands might struggle with it
The Logitech G Pro is as great as they come. It measures 80g, which makes it one of the lightest mice on the market. Don't take this for granted. This is because the light frame allows for a faster mouse movement. Also, you can pick it up and flick around without breaking a sweat.
The construction by Logitech was accomplished using a thinner exoskeleton. This is accompanied by a smaller than average LiPro battery that runs for a long period.
Putting it in perspective, Logitech claims this mouse can run for roughly 41 straight hours. This is not bad if you play games a lot or have to stream tons of content. There's a USB cable that connects to the mouse's front that you can use to charge it.
The weight is innovative in itself, but more features stand out here. For one, it is an ambidextrous mouse with buttons on either side or none at all. Also, inside the box, there are two extra buttons and two extra placeholders. This means you can opt to take out all the buttons.
You'll also find that the buttons are held in place with magnets. You can snap to remove and even swap to take them out.
As with any low-profile design, this mouse won't fit those with big hands or grips. However, this isn't an indicator of how smooth it is. Thanks to a black textured finish with handy grips by the sides. It's not without some controversy, though.
The DPI toggle button is underneath the mouse. Most mouses come with a button behind the mouse wheel or somewhere easy to reach. A thoughtful reason for this is that most people never use the toggle button. As such, it gets in the way.
Others just want them in conventional positions. One thing is true, though. It is an innovative way to design a mouse! Perhaps that's why shroud loves it.
Another feature you'll love is modern RGB lighting colors. You can even control the colors of the mouse's logo! What's more, there are three small lights above the logo to indicate the DPI being used. With more increase on the DPI, you'll notice more dots.

There's a lot of beauty on this mouse, and we see no reason why you shouldn't get one. It's light, well-constructed, and very fast. This will suit those who want a mouse they can always maneuver.
What Keyboard Does shroud Use?
Pros
• Compact TKL design
• Gamer mode lets you focus on games alone
• Customizable options
• Easy to use for different functions
Cons
• Lacks a carrying case
• A bit on the expensive side
By now, you should understand that Logitech is the prime brand for gamers. It doesn't matter the level at which you play, getting the right gear is pretty much important.
With the Logitech G Pro mechanical gaming keyboard, Logitech opts for a ten-keyless design. As such, there is no numpad anywhere in the keyboard, it maximizes usability and compactness—the hallmarks of a shroud desk setup.
Focusing on the board now, there's a button to activate gamer mode and disable some buttons on the keyboard, including the Windows key.
You can also toggle the RGB feature with the shutdown button and use the function keys to control some basic media. This keyboard also has programmable macros to help you assign functions to specific keys.
The bottom of the keyboard features five rubber pads and two keyboard feet. All of these help you to customize the angle of the keyboard. Also, the feet will keep the keyboard rooted so it won't slide off under any circumstances.
Inside the G Pro are Logitech's Romer-G Tactile Key Switches. According to Logitech, these switches have a lifespan of up to 70 million keystrokes. Also, they have a shorter travel distance and faster actuation.
Even if it's unlike many classics on the market, it's a great feel underneath those keycaps. The switches have a design that helps keep the keycaps stable, too. At least, there won't be any wobbles when you're gaming or typing.
There's a bit of noise, and a certain feel that's better experienced than written. Also, this keyboard has a 26-key rollover, which has to be some sort of record. This means you don't have to fret about ghosting or unregistered keys. You'd need 26 fingers for that!
Further, the G Pros will give you a wholesome gaming experience, much like shroud doing some damage on some FPS game.

The G Pro offers a lot and suits many purposes. If you deal with distractions, it will help you focus on the task at hand. As such, it is a perfect, easy to use gaming keyboard built with you in mind.
What Monitor Does shroud Use?
Pros
• Very fast response time
• Has low input lag
• Fully ergonomic design with quality connectivity
• Multiple gaming options, including MBR and Freesync
Cons
• Viewing angles can be narrow
This monitor packs a lot of quality which will appeal to many streamers and gamers. The BenQ ZOWIE XL2540 is based on the Twisted Nematic (TN) panel that has 400-nit peak brightness. There's also a 1000:1 contrast ratio and 8-bit color depth coupled to a quick 1ms response time.
In terms of viewing angles, you might feel there could be more. However, the picture will shift in color, brightness, and contrast when you view it from different angles. If you're comfortable in front of the screen, you'll hardly notice this.
Compared to other panel technologies like IPS and VA, the TN panels used here don't have the best color quality. What makes up for this is the fastest response time it boasts.
This monitor is all about performance rather than image quality. As part of shroud's streaming setup, it's great for those who want a winner. Also, the panel covers a good amount in sRGB color space, but you'll need calibration for the best picture quality.
Further, the 1080p resolution provides a good pixel density. What you get is a crisp detail and a fair amount of screen space. The BenQ ZOWIE XL2540 input lag performance is the most impressive here.
In addition, at just below 4ms, it will take just 1ms for the pixels to change from one shade of gray to another. This is a good enough time to deal with the ghosting of rapid objects. If you want the best response time performance, this is the monitor you need.
Further, the BenQ ZOWIE XL2540 offers the S. Switch external device. This way, you can navigate through the OSD settings and remotely change picture presets. In there, you have two FPS modes: RTS and Movie.

The design of the BenQ ZOWIE XL2540 is superb enough. You can adjust it to different heights and levels.
It's great for a raft of functions, chief among them being gaming. With connectivity options like DisplayPort 1.2, HDMI 1.4, and headphones jack, it's all the more worthwhile. Think of it this way: you can plug in your shroud headset and enjoy your favorite games without any distraction.
Frequently Asked Questions
1. Who is shroud?
Most individuals want to know who's really behind this popular name. Well, you're not alone. Shroud, previously known as mEclipse, is the gaming name of Michael Grzesiek. He was born on June 2, 1994, and is a Polish-Canadian citizen. He hails from Mississauga, Canada.
Shroud started his CS GO career playing with some eSports ESEA teams. This shined some light on his talent, and he was recruited as a reserve by CompLexity Gaming and was also signed up with Cloud9.
Overall, he has achieved some good feats. He was part of a first-place team title win at the 2016 ESL Pro League Season 4. He also earned second place with Cloud9 in the 2017 ESL One Cologne challenge.
2. Should I buy a gaming PC or set one up?
Some personal computers come ready for the games you want to play, but sometimes you have to do it the hard way and set up your own. Most times, all you need is the right equipment (just like shroud) to have a great time.
Further, it's probably cheaper to set one up with better specs around, and you can use this article as a base to check out what you'd love to have.
Along with the stuff mentioned here, you'll want to get the right video card. This can either boost your settings and gameplay or leave things hanging. Moreover, you'll like the aesthetic appeal that comes with some of this equipment.
There are some benefits to buying a gaming PC. You'll get what you pay for. You'll still need some support with additional equipment you'll have to pay for.
What's more, the thrill of setting up what you so much desire will serve as a source of motivation. If you're an avid gamer, there's no better person to imitate than shroud, whose impressive gaming setup will inspire you to go beyond your limits.
Conclusion
For such an ideal and high performing gaming gear, you would expect shroud's gaming setup to cost an arm and a leg, but it is actually quite affordable.
Shroud's PC build includes a number of top accessories that will motivate you to create your style and general gaming rig. There's nothing bad in trying to mimic the master, though. Also, you don't have to do it all at once.
Just set up a budget and get one item at a time. We suggest starting things off with the gaming mouse reviewed here. It's a great way to begin your streaming career if you want to be like shroud.