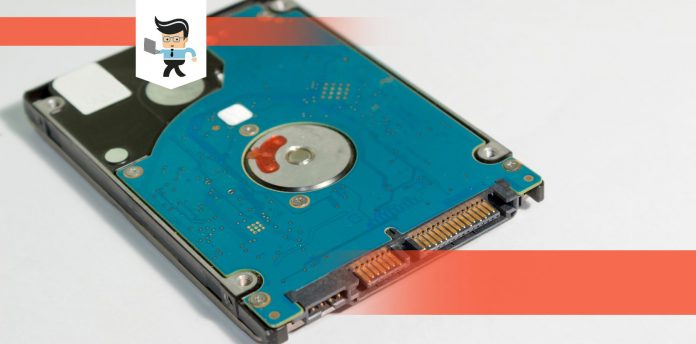 We bring you the Seagate BarraCudareview of a product that is fast, reliable, and affordable, and it comes in a variety of sizes to suit your needs. If you are in the market for a new hard drive, you'll definitely want to take a look at the Seagate BarraCuda line of HDDs. In this article, we'll take a closer look at BarraCuda and compare it to some of its competitors.

We'll also discuss some features that make this drive stand out from the rest. So if you're ready to buy a new hard drive, keep reading!
Product Highlights
The Seagate BarraCuda is a top-of-the-line, reliable hard drive that is well-suited for use on a desktop computer.
It offers a number of features that make it an attractive option for many users in comparison to others on the market, such as Western Digital, Samsung, Kingston, and more.
Size: Comes with 3.5" and 2.5" versions for desktops and laptops, respectively.
Usability: Perfect for anyone seeking Direct-Attached Storage aka DAS.
Build: The overall case is sturdy enough. You can expect fewer damages
Operational Overview: It features a Multi-Tier technology that enables these HDDs efficiently sustain burst workloads.
Processing Ability: Fast and swift performing.
Range: Wide capacities.
Storage Capacity: 25GB, 500GB, 1TB, 2TB, 3TB, 4TB, 6TB, 8TB, 10TB, 12TB, and 14TB
Write Speed: 520 MB/s
Read Speed: 550 MB/s
Weight: 0.92 pounds
Interface: SATA 6GB/s
Revolution Speed: 4,500 and 7,200 RPM SATA
Dimensions: 5.79 x 4 x 0.79 inch hard drive
Seagate BarraCuda Key Criteria
PROS
The device features a fascinating sustained transfer rate of up to 250 MBps.
Offers a strong HTPC.
Brilliant Gaming performance when compared to other non-hybrid HDDs.
Seagate BarraCuda comes with an excellent warranty and support. The company also offers two years of data recovery.
CONS
Lacks consistency in performance
A bit expensive, to be honest
Are you in the market for a new hard drive? If so, you'll want to take a look at the Seagate BarraCuda line of HDDs, we're here to help.
The Seagate BarraCuda is a hard drive that offers a good blend of performance and features. Available in both 2.5-inch and 3.5-inch form factors, it has a maximum capacity of 14TB internal storage and uses standard SATA interfaces.
Speaking of the design and available storage, Seagate BarraCuda is already a 9 out of 10.
The device also comes with a robust software suite that includes data recovery, encryption, and backup tools.
In terms of performance, the BarraCuda is capable of maintaining an average speed of up to 520MB/s, which is good but not great enough. This is the reason it bagged a score of 8 out of 10 in this department.
However, thanks to the list of features it is home to, Seagate BarraCuda ends up being well-suited for applications such as video editing and gaming.
Also, the support for advanced power management technologies is appreciable. What it does is present this storage solution as one of the most energy-efficient drives on the market.
The Seagate BarraCuda is one of the most popular HDDs on the market, and for a good reason. It offers excellent speed, sturdy construction, and a wide range of capacities. Additionally, its multi-tier caching technology ensures that your data is always accessible.
Overall, the Seagate BarraCuda is a brilliant choice for anyone looking for a high-performance hard drive.
– How Has Seagate BarraCuda Evolved Over the Years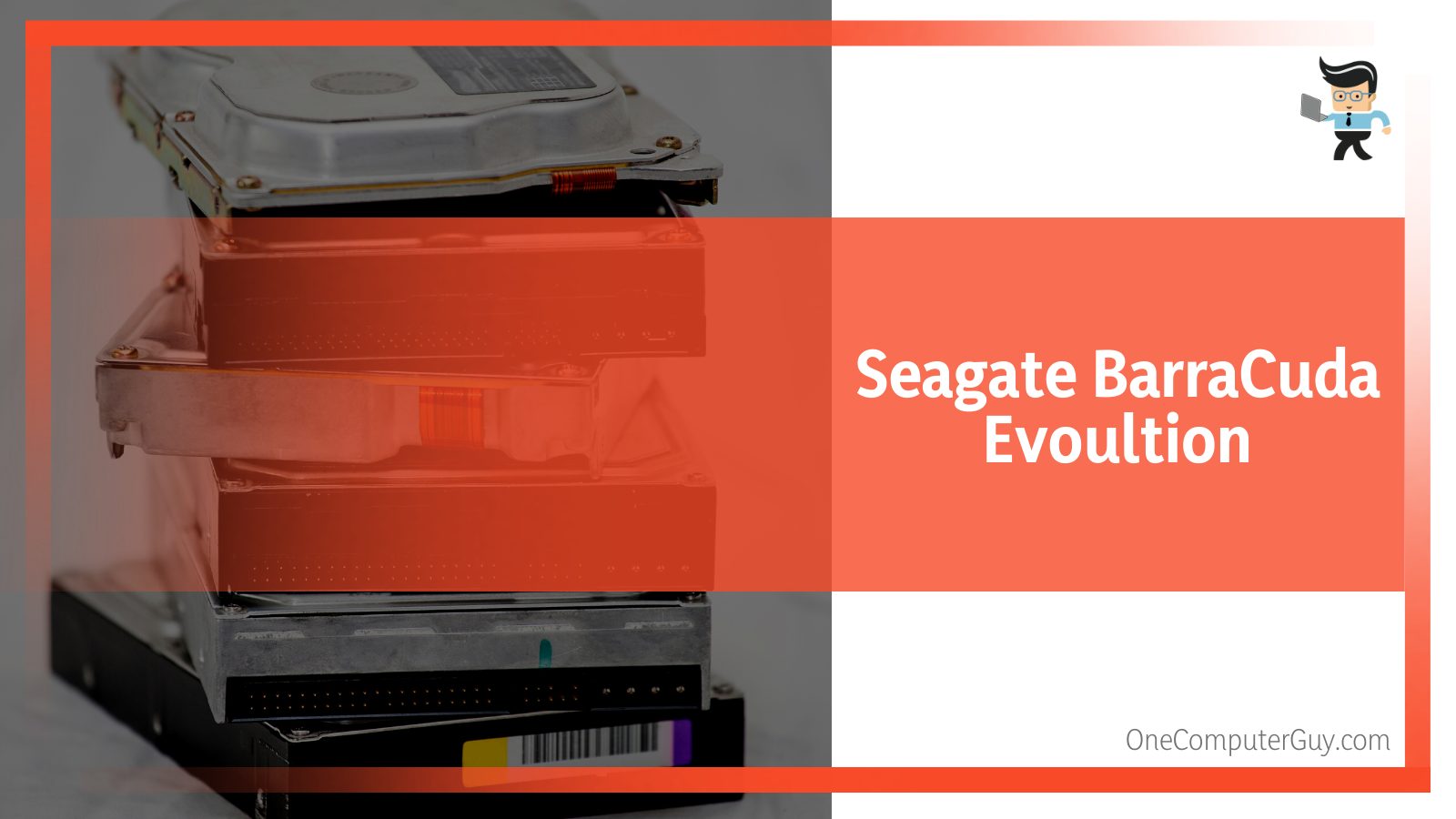 Seagate's BarraCuda hard disk drives have come a long way since they were first introduced in 1993. The original drives were 3.5″ disks with a capacity of 2.03 GB (1.69 GB formatted).
Later in 2006, the company marked the introduction of then-new technology called perpendicular magnetic recording.
Today, BarraCuda drives are available in both 2.5″ and 3.5″ sizes, and they boast capacities of up to 14 TB. They also use various technologies to achieve higher data densities, including shingled and heat-assisted magnetic recording.
In addition, Seagate has developed a number of enhancements to the BarraCuda platform, such as disk pooling and automatic drive-scrubbing.
As a result, the BarraCuda has evolved from a simple storage device into a robust and feature-rich platform that is well suited for a wide range of applications.

Product Features Breakdown
The Seagate BarraCuda is a versatile internal hard drive ideal for home and office use. It has a large capacity of up to 14TB of hard drive storage, making it perfect for storing large files such as video and audio.
Let's dedicate some time and understand the features that actually make this hard-drive solution a promising one.
– Design: Fitting As Per Your Needs
One of the first things about the BarraCuda lineup that catches attention is its design. The company that started off with desktop models now features a storage solution for laptops as well.
Home to 3.5″ HDDs, Seagate BarraCuda, ensures seamless suitability for desktop computers.
Not just that, the hard drives from BarraCuda feature the 2.5″ variant, which is perfect for laptop users all around the globe who're willing to sort out their storage needs.
Speaking of BarraCuda HDDs, these devices serve the need for home usage and even some offices alike.
When we mention small home offices, we're considering the ones seeking DAS aka, Direct-Attached Storage. In case you don't know what DAS is all about, let us help you with that.
Direct-attached storage (DAS) is a type of computer data storage connected directly to the computer. It usually takes the form of an internal SATA hard drive or an external desktop hard drive.
DAS is often used in contrast to network-attached storage (NAS), which stores data on a server that can be accessed over a network.
DAS offers several advantages over NAS, including faster data access and lower costs. However, DAS is less flexible than NAS, as it can only be used by the computer to which it is attached.
Owning the Seagate BarraCuda hard drive, you won't have any issue installing it on your computer.
Whether you seek a storage solution for your desktop or laptop, the available options will make sure all the requites are well served.

– Storage: Versatile and Enormous
When you decide to buy a SATA hard drive, the most crucial thing that sits at the top of your list of requirements is probably storage capacity. And rightly so; after all, you're looking to ramp up your device's ability to store files. Thankfully, Seagate BarraCuda doesn't disappoint.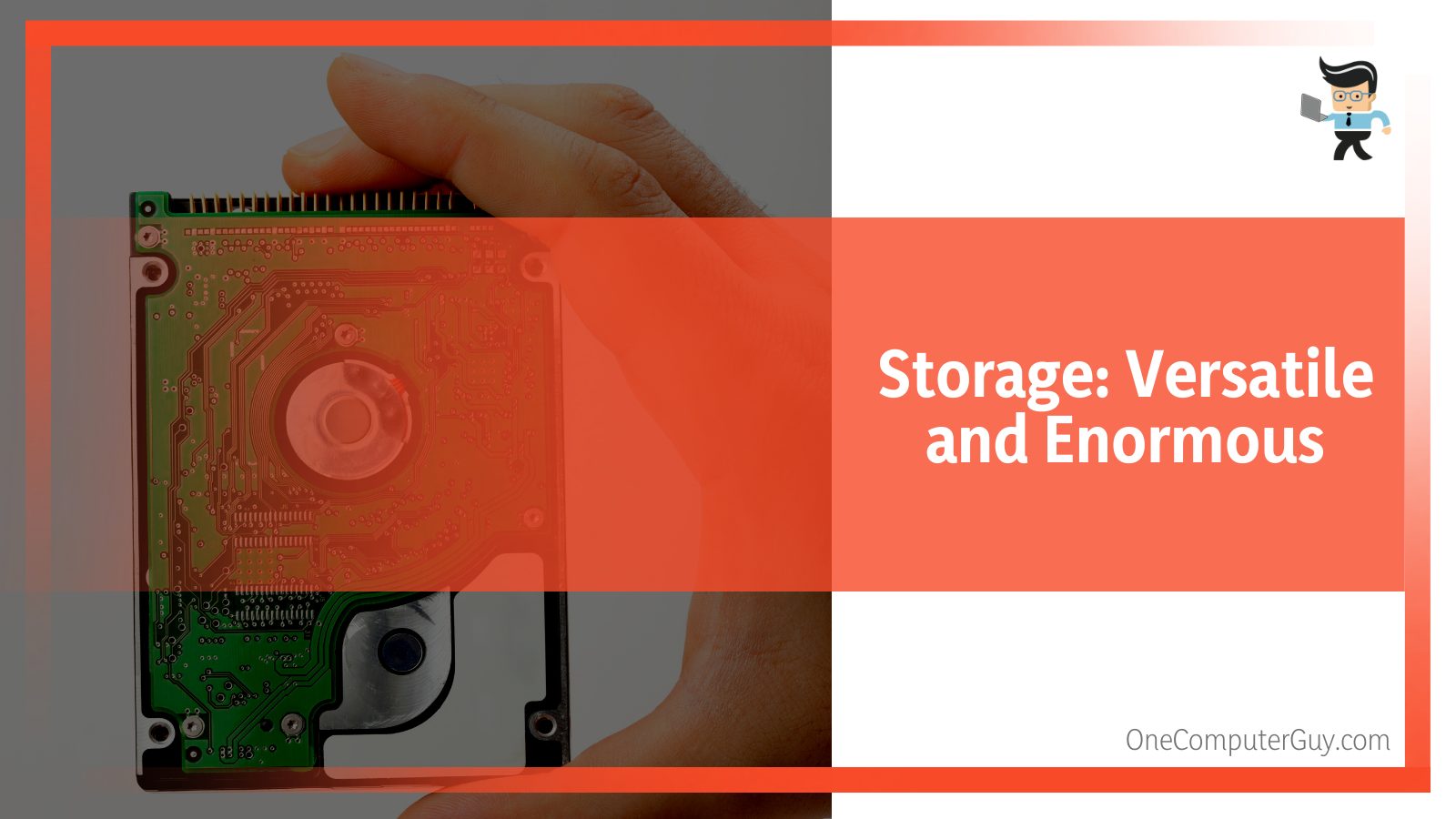 Offering a wide range of availability where the size of storage reaches an enormous margin of 14 TB, you know Seagate BarraCuda hard drives are already a one-stop solution for you. However, the scenes of limitless possibilities are somewhat exclusive for the desktop version.
Yes, you've read that right; Seagate BarraCuda doesn't have as many capacities for the 2.5" variant. The only available options include 500GB, Seagate BarraCuda 1TB, and Seagate BarraCuda 2TB.
The piece of good news, though, is that both feature the same robust pair of technologies. So in case, you're someone who desperately needs some quality storage solution for your desktop, preferring Seagate BarraCuda won't be a bad deal.
– Built Quality: A Promising End Product
Are you worried about durability? Well, you don't have to, as the Seagate BarraCuda hard drives excel in this department. Not just the drive, though; the case is also promising.
Being sturdy enough, the hard drive case is capable of reducing any kind of external damage. The same helps shield the device from harm caused by the poor handling of shipping companies.
Needless to say, the external damages are often responsible for many common HDD failures. With Seagate BarraCuda HDDs, you don't have to fret about all these, though.
A close look at the BarraCuda Series Pro model, and you'll get to understand that it comes with bare metal. The same is properly maintained and avoids any covering with paint. Moreover, the overall build seems brilliantly calculated as it sets home for a large number of platters. What these platters do is efficiently increase air resistance inside the drive.
Does durability list on your list of preferences? If yes, Seagate BarraCuda is the answer.
– Performance: Nothing Major to Complain About
Seagate BarraCuda makes you look at one of the biggest consumer HDDs on the market, and majorly for good reasons. The company has been operating for more than 20 years, and users have always appreciated the level of performance their devices can assemble.
Heads up, Seagate promises quality performances together with faster transfer speeds and no surprises; user tests end up dictating the same terms. No doubt you'll find some complaints here and there, but the average result for a series of performance tests sits on the positive end.
Considering the trials conducted by several users online, the fact that BarraCuda series HDDs bear a seamlessly acceptable performance together with a rapid speed is justified.
– Multi-Tier Technology: A Thing of the Future
Another noteworthy element that dictates Seagate BarraCuda's performance capability is the featured Multi-Tier technology. Seagate's BarraCuda line of drives is one of the market's most popular and widely used drives.
The reason for this popularity is largely due to Seagate's use of multi-tier technology in their drives. This technology allows for more efficient use of space on the drive and increased performance.
Multi-tier technology works by storing data in multiple layers or tiers. This allows for more data to be stored in a smaller area, which increases the efficiency of the drive.
Additionally, this type of technology can also increase the performance of the drive, as data can be accessed from multiple tiers simultaneously. While multi-tier technology is not a new concept, Seagate has been able to perfect it in their BarraCuda drives.
This has allowed them to become one of the most popular drives on the market. Seagate's BarraCuda line is worth considering if you are looking for a high-performance and efficient drive.
Next gen tech lovers, the multi-tier technology ensures Seagate BarraCuda is the perfect pick for you.
– Service and Support
Nothing is fruitful without promising after-sale service, and Seagate BarraCuda seems like it has already mastered this respect.

After-sale service and support are important for any product you purchase, and the scenes are no different with computer accessories. Speaking of Seagate, it offers its users two years of recovery service. The same covers any form of compensation for any failure, regardless of the cause.
Yes, it would have been better if the support term was a bit more. Still, you can't complain about what Seagate has to offer.
– Cache Buffer Size
Cache buffer size is an important consideration when purchasing an HDD. Cache makes you look at a type of memory that stores frequently accessed data so that it can be quickly retrieved.
A larger cache buffer size means more data can be stored in the cache, leading to faster data access speeds. In general, a hard drive with a larger cache buffer size will be more expensive than one with a smaller cache buffer size.
However, the performance benefits of a larger cache buffer may outweigh the cost difference for some users. When choosing an HDD, be sure to consider your needs for speed and capacity in order to find the best balance of performance and cost.
You'll be pleased to know that Seagate BarraCuda wins in this department with a 256 MB cache size. Yes, you can expect it to serve the requirements for a faster and smoother transfer.
– Speed: The Decider
If you're looking for a new hard drive, one of the most important factors to consider is read/write speed. That's because your HDD's speed can greatly impact your computer's overall performance.
A faster hard drive will boot up more quickly and allow you to access files and programs faster.
A fast hard drive can make a big difference if you're a power user who relies on your computer for demanding tasks. Thankfully Seagate BarraCuda prospers here as well. With a maximum read speed of 550 MB/s, and that too for the write speed being 520 MB/s, you can expect seamless operation.
Also, the benchmark tests and many real-life tests prove the Seagate Barracuda HDDs are worthy of your investment.
In general, HDDs with a higher read/write speed will be more expensive than those with a lower speed. However, it's worth paying for a high-speed HDD if you're looking for the best possible performance. We will talk about that in a couple of minutes. Stay Tuned.
– Pricing: The Only Pain, But Justified At Times
If you've been involved in some sort of research regarding Seagate BarraCuda, the fact that the pricing of the devices sits in the upper range is no stranger.
But you know what, a quick comparison with a number of popular names in the industry will help you understand that it is still surprisingly listed among the most affordable SATA hard drives.
The calculation is pretty simple; if you need a promising HDD solution and are willing to pay the perfect price for it, go for Seagate BarraCuda. Keep in mind that the 14TB Pro variant currently has the highest price-to-storage ratio.
FAQ
1. Are Seagate BarraCuda Any Good?
Seagate is a well-known brand when it comes to computer storage, and the BarraCuda line is the most popular.
The company offers a variety of storage solutions, from external HDDs to internal drives for laptops and desktop computers. But are Seagate BarraCuda any good? In short, yes.
The drives are reliable and offer good performance for the price. Seagate also offers a wide selection of capacities, from 25GB to 14TB, so you can find the perfect drive for your needs. And if you're looking for even higher performance, Seagate also offers the BarraCuda Pro line, which is designed for gamers and other power users.
So whether you're looking for a basic external hard drive or a high-performance internal drive, Seagate has a BarraCuda option that will meet your needs.
2. How Long Do Seagate Barracudas Last?
Seagate Barracudas are one of the most popular types of HDDs on the market, known for their reliability and performance. But how long do they actually last?
There is no simple answer, as the lifespan of a SATA hard drive can vary depending on a number of factors, such as how often it is used and how well it is cared for.
However, most experts agree that a Seagate Barracuda can last for several years with proper care.
With that said, it is always a good idea to back up your data in case of any unforeseen problems. After all, even the most reliable hard drive will eventually reach the end of its lifespan.
Conclusion
We hope our Seagate BarraCuda series review has helped you in your decision-making process. The BarraCuda is an excellent option for those looking for a well-performing storage device with, of course, plenty of space.
With its large capacity and good enough data transfer speeds, the BarraCuda is perfect for backing up your files or storing multimedia content. The only considerable downside is that it can be a touch bit costly, so if you're looking for a storage device that doesn't hurt your budget, Seagate BarraCuda is not the best option.
Also, the read-write speeds could have been better considering the price for which it is tagged. But overall, the end result with Seagate BarraCuda is never disappointing.