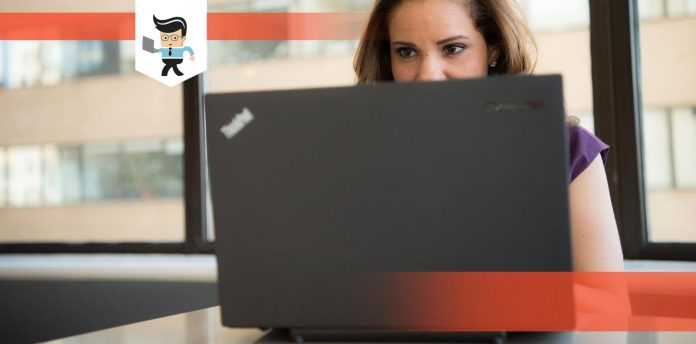 When it comes to Lenovo laptops, the ThinkBook vs ThinkPad are two series that battle it out for the title of the best work laptop. However, you'll need to remember that these two types of computers offer different features that make them suitable for various users.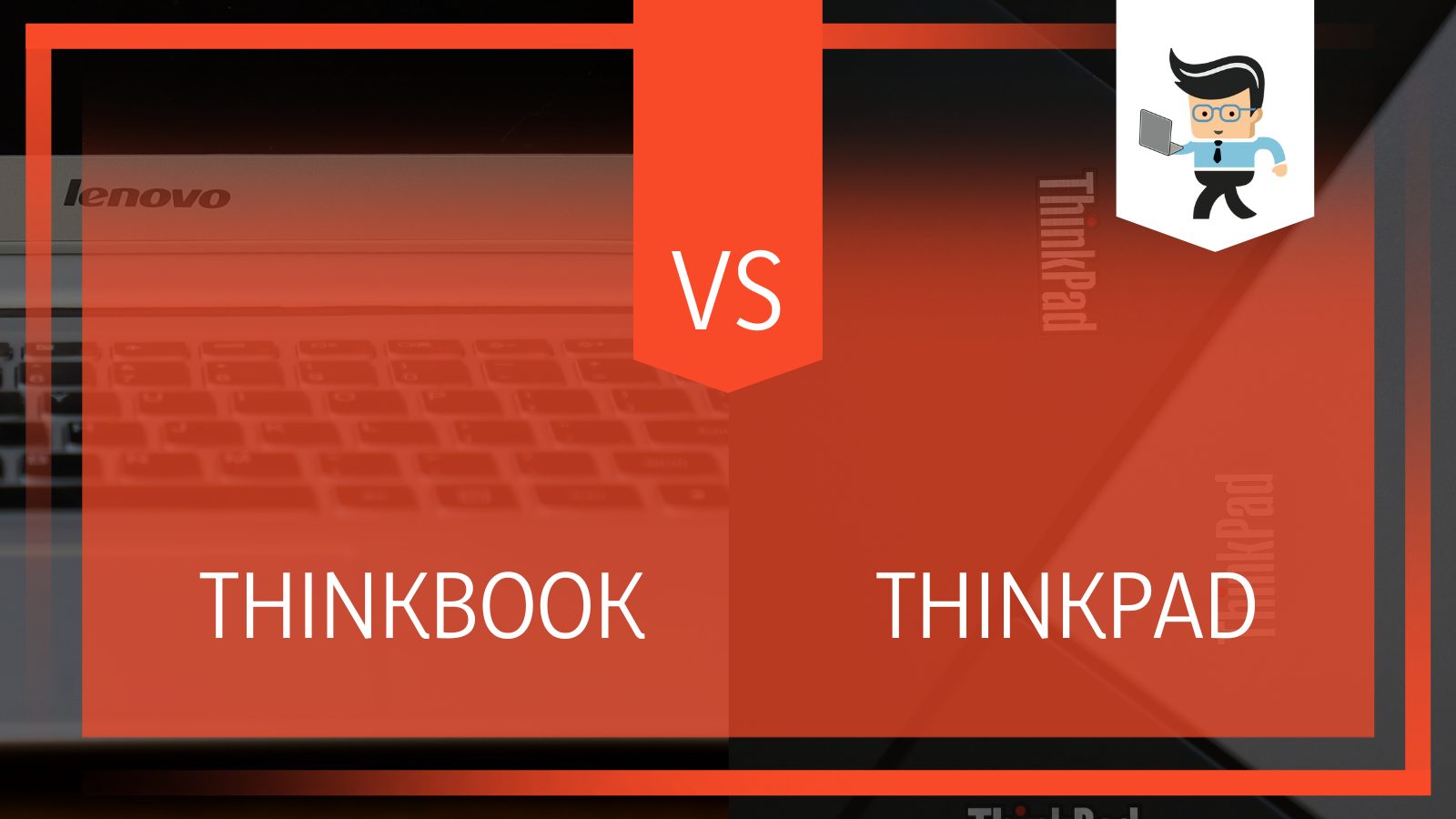 In this complete guide, we will compare the ThinkBook and ThinkPad series in terms of their design, performance, and other features. So, if you're unsure about which laptop is right for you, read on for our experts' thoughts on the ThinkBook vs ThinkPad debacle.
Comparison Table
| | | |
| --- | --- | --- |
| Features | ThinkBook | ThinkPad |
| Processor | ThinkBook's processing capacity is sufficient to handle light tasks | The processing power is great and can perform multiple tasks at once |
| Graphics and Gaming | Developed with students, security, and business executives in mind | Best for gaming or other design-intensive tasks |
| Design | More stylish and lightweight but not good in terms of durability | Soft-touch keys and amazing build quality with long life |
| Security | Comparatively, ThinkPad is more secure than ThinkBook. | More desirable for mobile workers handling sensitive information |
| RAM | Provides a sizable amount of RAM for high-quality | Both share the same 16GB HDD which allows them to do multiple tasks |
| Hard drives | Not as good as a ThinkPad | Considerably outperforms in terms of its 1TB hard drive |
| Connectivity  | You will not find so many ports in a ThinkBook for its compact size | ThinkPad has a wide range of connectivity choices, including an HDMI port, USB port, and micro-SD card reader |
| Battery performance | It offers you a battery life of between 5 to 9 hours | ThinkPad gives you an excellent backup that lasts for 9 to 12 hours |
| Cost Value | ThinkPads are somewhat pricey considering their excellent performance | In comparison to ThinkPads, ThinkBooks are not very pricey |
| Display  | ThinkBook doesn't offer as much screen space | Bigger screen between 11 inches to 15 inches |
ThinkBook vs ThinkPad
The main difference between the ThinkBook and ThinkPad is that the former is better suited for users who want to use their laptops for personal use or to run small businesses, while the latter is best for users who want to use their laptops to run middle-sized or large-scale businesses.
– Features
Winner: Lenovo ThinkPad
When comparing ThinkBook vs ThinkPad laptops, you should keep in mind that the ThinkPad laptop range is frequently regarded as the industry standard for laptops used in the business world. The ThinkPad range is made to fulfill the needs of corporate users and is packed with features as well as being tough and secure. Lenovo's ThinkPads are frequently the go-to goods for the demanding modern office user, while the ThinkBook range happens to be more of a consumer-focused laptop.
When evaluating laptops, everyone lists mobility and productivity as two of their top priorities. No matter the location or connection, devices must be quick and functional right away (i.e. wireless network). The Windows 10 and Office 365-optimised ThinkPad and ThinkBook notebooks both run on this operating system. Intel Core i5 or i7 processors are used in both product lines, giving them comparable performance and power.
The ThinkPad does, however, offer an advantage in terms of other features, such as the touchscreen, longer battery cycle, less weight, and compatibility with the TrackPoint. Additionally, the ThinkPad offers a greater variety of upgrade choices.
– Processors
Winner: Lenovo ThinkPad
The processing speed is a crucial aspect to observe when comparing ThinkBook vs ThinkPad models. Some ThinkBook models include an eight-thread 2.4GHz processor, which might be sufficient to handle light tasks without any issues. A Core i5 processor is found in both ThinkBook and ThinkPad laptops. The CPU clock speed of the Lenovo ThinkBook notebook is 1.6 GHz, which is slower than the 1.7 GHz clock speed of the laptop model ThinkPad X1 Carbon. Both laptops have a 6 MB CPU cache.
ThinkPads are designed with business users in mind, they have more powerful CPUs that can easily perform many activities at once or finish projects like video editing. Of course, you may buy a quality ThinkPad for the same price that has more functions to enjoy, but your choices will, in the end, determine this. These laptops also tend to be a fantastic pick for video games.
– Graphics and Gaming
Winner: Lenovo ThinkPad
When it comes to graphics-intensive tasks like engineering, web design, and gaming, ThinkPad P Series mobile workstations are the best out of all ThinkBook vs ThinkPad laptops. ThinkPads are the best for gaming or other design-intensive tasks, even if the ThinkBook's specifications are intended to deliver a practical and reasonably priced laptop.
Either way, the two are generally considered better for the job than IdeaPad gaming performance, which is subpar.
– Design
Winner: Lenovo ThinkBook
The ThinkBook appears slightly more attractive and contemporary than the ThinkPad from a design standpoint. Both devices are portable, lightweight, and small, but because the ThinkBook is aimed at consumers, it has a bit more style than the tough ThinkPad.
The ThinkBook has a 180-degree viewing angle and a keyboard that is quite comparable to the ThinkPad's in terms of quiet operation, backlighting, and the presence of a top row of hotkeys. But some people may prefer the ThinkPad because it features soft-touch keys and a TrackPoint.
– Security
Winner: Lenovo ThinkPad
Security is not compromised in the ThinkBook. Customers have learned to expect Lenovo to include several extra security features. This includes the webcam shutter and the power button for the fingerprint reader.
However, the ThinkPad has additional security protections, including the PrivacyGuide screen protector, that make it more desirable for mobile workers handling sensitive information. So we can safely say that when comparing ThinkBook vs ThinkPad, ThinkPads are much more secure.
– RAM
Winner: Lenovo ThinkPad
Some models in the ThinkBook series are an excellent place to start if you're looking for a RAM capacity that fits your needs because they contain up to 16GB of RAM. Given that it enables you to manage many tasks without taxing your laptop, this RAM quantity is good.
The ThinkPad series will come out on top in terms of RAM. It is, as you are aware, a performance-based series. Due to the availability of laptops with 16GB of RAM, the ThinkPad series provides suitable alternatives. Running numerous processes at once could cause devices with less than 16GB of RAM to overheat.
So better RAM was employed in the ThinkPad series to produce improved performance. However, ThinkBook also provides a sizable amount of RAM of high quality. They both share the same HDD.
– Storage Options
Winner: Lenovo ThinkPad
Both input and output must be quick for professionals. The ThinkPad series employed a high-quality hard drive as a result. Though not as good as a ThinkPad, ThinkBook nevertheless provides you with a good hard drive. You can purchase a ThinkBook without any worry if you're a regular user.
Not to mention disc capacity, which the ThinkPad considerably outperforms the ThinkBook in terms of thanks to its 1TB hard drive. Save all your work-related documents and projects without worrying about running out of room. The Lenovo ThinkBook may be the greatest option for those who don't want a lot of local storage because it can significantly save your costs for unnecessary storage space.
– Connectivity
Winner: Lenovo ThinkPad
Consider the connectivity of each of these different laptop kinds as well. While both of these laptops provide customers with a respectable level of connection, the ThinkPad outperforms the ThinkBook by a significant margin.
Multiple connectivity options are available on ThinkPads, including HDMI ports, USB 3.0, an RJ45 port, a MicroSD card reader, and more. The ThinkPad can be a terrific option and a lot simpler to use as a laptop for people who need to stay connected because of all of this built-in connection.
– Battery Performance
Winner: Lenovo ThinkPad
Battery life is something to consider while deciding between the ThinkPad and the ThinkBook. Depending on the precise model you select, the battery duration can vary considerably; nonetheless, there are some general guidelines to remember.
Because of its portability and battery longevity, the ThinkBook is a fantastic choice for independent contractors. It can operate without a plug for up to 6 hours, although over time the battery usage cycle may get shorter. If you have to work long hours without access to a power outlet, it might not be the best situation.
On the other hand, the ThinkPad is a fantastic option for people with heavy workloads because it provides up to 12 hours of screen time. Additionally, the ThinkPad provides additional settings to aid in battery conservation. Due to this, it has a longer battery span than the ThinkBook.
– Value for Money
Winner: Lenovo ThinkPad
The hardware that is designed for business and capable of intensive processing that we see in the ThinkPad is not present in the ThinkBook because it was historically cheaper and intended with casual users in mind.
Because of its high-end features and advanced specifications, the ThinkPad series happens to be more expensive. However, the ThinkBook can more effectively suit your demands if you run a small or medium-sized business because it is more portable and cost-effective. You won't be sacrificing value for money if you don't use the laptop for demanding workloads because this series has the same security features.
The ThinkPad line, on the other hand, sets the bar for excellence in business computers. Longer battery life, Privacy Guide screen covers, TrackPoint support, and various device ports are all features of ThinkPad variants. ThinkPads are more expensive since they are designed to provide professionals and students with powerful capabilities. If you need your laptop for a lot of work, a ThinkPad is financially a better alternative.
– Display
Winner: Lenovo ThinkPad
There are several options available when it comes to selecting the display size of these laptops. ThinkPad screens typically range from 11.6 to 15.6 inches with a full HD Anti-glare display, whereas ThinkBook panels fall between 10 and 14 inches.
Compared to the 14-inch screen of the ThinkPad X1 Carbon, the screen size on the Lenovo ThinkBook 15 laptop is 15.6 inches. The Lenovo ThinkPad X1 Carbon laptop has an LCD Screen type, whilst the Lenovo ThinkBook work laptop has an IPS Screen type. The PPI for both is 157. A laptop with a larger screen can be a good idea if you plan on doing a lot of work on it, but if portability is your first need, you might be better off selecting a laptop with a screen that is only 10 inches or 11 inches in size.
– Pros:
Provides a significant battery backup
Perfectly sealed to preserve its hardware and has a robust case for durability
More sustainable than other brands with comparable features
– Cons:
Heavier than other brands, on average
Major components are sealed and are hard to open
Loses power faster in the hot atmosphere
One of the most sought-after systems for offices and businesses are Lenovo ThinkPad laptops because of their characteristics. The ThinkPad was made to fit in a small space and be portable. Its specifications were created primarily for use in an office environment, making it simple and efficient to use. For usage in offices and businesses, these are some of the most sought-after systems.
When in use, the ThinkPad was created to occupy the least amount of space possible. Its features make it simple to use because they were created specifically to function effectively and efficiently in an office setting.

The ThinkPad P Series mobile workstations are the greatest option for people who have severe workloads due to their advanced technologies. The laptops in the P series come with a variety of display options and a ton of RAM. Additionally, the product range has earned ISV certification, ensuring compatibility with the greatest video editing, engineering, and design programs. For those seeking a workhorse, the ThinkPad line of laptops is ideal.
– Pros:
Lighter in weight compared to other brands
Stylish design with greater features
A laptop that can be used as a tablet when you want because it is easy to carry anywhere
– Cons:
Has a nicer body but is not a sustainable laptop
It has not a good battery life
Its a tablet type, so it does not have physical buttons
The features that come standard on ThinkBook laptops from Lenovo make them perfect for use at home or the office. The ThinkBook variants feature a slim design that not only makes them look fashionable but also makes them comfortable to carry about because they can fit comfortably in any bag. Along with being fashionable, the ThinkBook series' body is also quite durable. Thus, the likelihood of the device being damaged when it collides with another surface is lower.

The ThinkBook business model is geared toward independent contractors and small businesses. If you work from home or don't have a dedicated office space, these laptops are perfect for you. Because the ThinkBook's inch size is less than 15 inches, you can easily carry it everywhere you go. You may easily take the ThinkBook with you everywhere you go because its inch size is no greater than 15 inches.
It also boasts a spill-resistant keyboard, a TPM chip to encrypt your contents, and a strong aluminum body. You can sign into Windows 10 Pro swiftly and securely with the help of the fingerprint scanner.
FAQs
– Why Is ThinkPad More Expensive Than IdeaPad?
The Lenovo ThinkPad series has more powerful processors, RAM, displays, and other components, which is why it is more expensive than the IdeaPad. It is pricey since the series is performance-based.
The Lenovo ThinkPad is the undisputed champion in terms of sustainability when it comes to a business laptop. To make the series more sustainable and performance-oriented, the price is a little bit steeper.
– Which Is Better ThinkBook or ThinkPad?
Based on our thorough review, the ThinkPad rates higher on almost all categories including processors, graphics, storage options, battery performance, and more.
The ThinkPad series has a relatively straightforward, boxy appearance. A sizable, high-quality display may be found on the ThinkPad line of laptops. However, the Lenovo ThinkBook has a more upscale and fashionable look. The ThinkPad series has a larger display than the Think book series.
– Which Laptop Is Best for Office Work?
The best laptop for office work is the Lenovo ThinkPad series, and because they are aware of the powerful performance offered by the ThinkPad series, many IT organizations and corporate offices employ it. Specific users are the focus of the ThinkPad line.
The ThinkPad series offers excellent craftsmanship and a large display for greater output. Numerous industries use the ThinkPad series in their offices for the best performance.
Conclusion
Both the ThinkBook and ThinkPad laptop models from Lenovo are good choices for small and large business owners. Although they could seem to have comparable requirements depending on your daily responsibilities, each line may be more appropriate for a different person. The new ThinkBook range can readily manage these activities for everyday needs including web browsing, light word processing, spreadsheet use, and sporadic Zoom or Teams meetings.
The ThinkBook is a fantastic business device if you're on a tight budget and don't need to run any intensive programs on regular basis. The ThinkPad, on the other hand, is recommended if you have the money to spare because of its higher performance, robustness, and battery performancce. The ThinkPad remains the best option for corporate users that have higher demands and who require enhanced security, speed, networking, and multitasking.