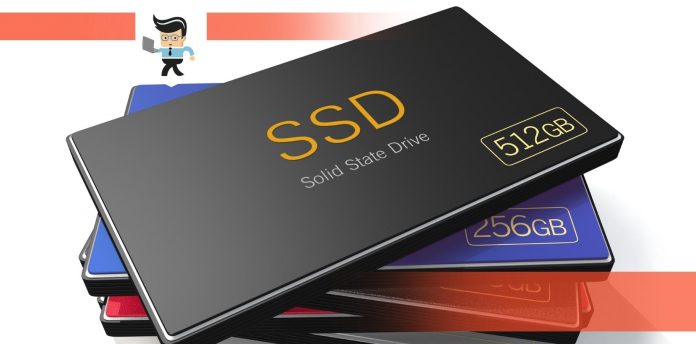 WD Blue SSD vs Samsung 860 Evo is an informative and comprehensive comparison between two products if you want to upgrade or replace a hard drive. There are many solid-state drives on the storage market, but you can't just pick anyone.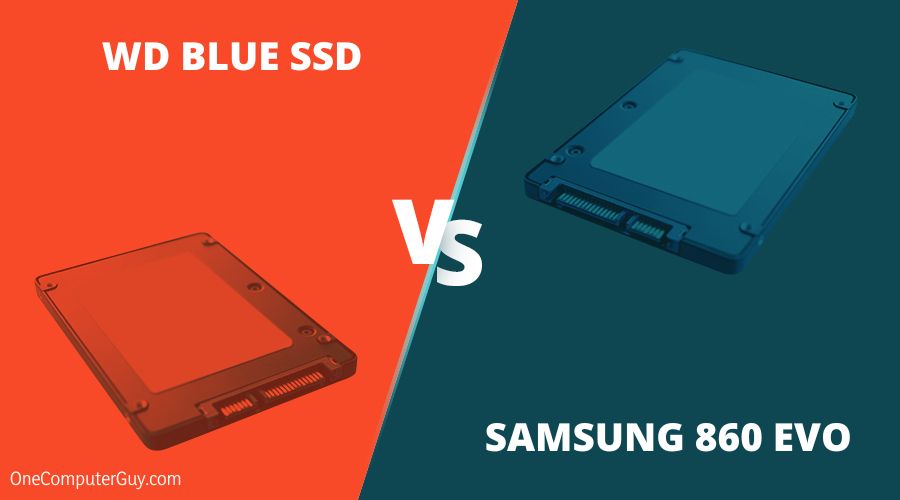 The Blue SSD and 860 Evo from Samsung are two solid options you can choose from. We review both before comparing their key features to select one winner. Read on to discover what our experts have to say about them!
Comparison Table
| | | |
| --- | --- | --- |
| Features | | |
| Digital Storage Capacity | 1 Terabyte | 500 Gigabyte |
| Read Speed | 560 Mbps | 550 Mbps |
| Write Speed | 530 Mbps | 520 Mbps |
| Performance | 8 | 8.5 |
| Data Transfer | 8 | 8.5 |
Western Digital Blue SSD vs Samsung 860 Evo Comparison
The main difference between the 860 Evo and Blue SSD from Western Digital is that the former is more durable. Samsung's SSDs can go on for many years, longer than some typical products.
If you have a computer running slow even with a high RAM inside, strong CPU, and more, it won't work perfectly.
– Interface and Form Factor
Winner: Both
In this SSD comparison, we noticed that the WD Blue has a SATA 3 interface with an external size of 2.5-inches or more. Also, there's an M.2 2280 form factor, which is suitable for PCs and laptops. But if you have an ultra-thin device, the M.2 2280 is not practical.
On the other hand, the 860 Evo has a size of 2.5-inches like its counterpart. It's also equipped with an M.2 2280 form factor, best used in a laptop or PC. The Samsung brand also provides an mSATA option for users looking to install this SSD on ultra-thin devices. That quality makes it slightly different from the WD Blue, but everything else, including the SATA 3 interface, appears the same.
– Data Transfer Rate/Speed
Winner: Both
Data transfers are essential and part of why SSDs are used in computers. The WD Blue specs and that of the 860 Evo aren't different for this feature. You get up to 6 Gpbs for data rate on the two drives.
For the read and write speeds, you'll get a sequential read speed of 560 Mbps on the WD Blue, and the sequential write speed is up to 530 Mbps. For the 860 Evo, the sequential read speed is 550 Mbps, and the sequential write speed is 520 Mbps.
These two are very close, and even though the Blue SSD does a bit better than its rival, other factors affect reading and writing speeds. For example, the actual use of these parameters is much more efficient on the 860 Evo.
– Memory Capacity
Winner: WD Blue
Memory capabilities are essential when selecting solid-state drives. One main difference is that the WD Blue posts 1TB for storage, while the 860 Evo gives you 500 GB. However, the two brands offer five years limited warranty for their SSDs.
– Performance
Winner: Samsung 860 Evo
While the Samsung 860 Evo specs bear many similarities with the WD Blue drive, its performances are a step ahead. Its storage capacity may be lower at 500 GB, but make no mistake about its actual speed and capabilities. That is why it's ideal for heavy users than regular PC enthusiasts.
– Pros
Excellent overall performance
Competitive pricing
Fast read and write speeds
– Cons
Not built for heavy tasks
Getting the WD Blue SSD from a proven brand is a step in the right direction for PC enthusiasts. It's a solid-state drive with different colors and is designed as the primary hard drive in laptops and external cases. The SSD is equipped with a large-capacity hard drive that allows you to install the system, and store high-resolution photos, 4K videos, music, and other important files.
– Overview
With this WD Blue review, it's clear that it remains an excellent choice for a wide range of users. If you're a PC enthusiast or creative pro working with graphics, it's the best for you. Moreover, it falls in the budget SSDs category.

– Build and Form Factor: Quality Design
This device has a SATA 3 interface and a 2.5-inch or a 7mm form factor. There's also an M.2 2280 form factor inside, which makes it ideal to be used in PCs and laptops. However, it's not the proper fit for ultra-slim devices.
– Data Transfer Rate: Fast Read and Write Speed
The WD Blue internal SSD has a data transfer rate of 6 Gbps, which is pretty good considering this is a budget SSD. Also, the read/write speeds are competent enough, including a sequential read speed of up to 560 Mbps and a write speed of 530 Mbps. The lineup starts from 250GB and goes all the way to up to 4TB for some great flexibility. However, this particular one provides 1TB.
– Storage Capacity: Ample Space for Different Applications
We already mentioned how there are a variety of sizes or storage options. With 1TB of storage space, you have enough to work with. Besides, the WD Blue comes with up to five years of limited warranty from the manufacturer.
– Performance: Enough Speed and Output
The Blue SSD delivers a quoted 560MB/s reads and 530MB/s writes, but it will exceed those numbers on some tasks. Thanks to the TLC memory model, prepare to enjoy a good performance over time. Even when the internal cache is saturated, the performance won't decline to a terrible level.
– Pros
Latest V-NAND technology
Fast and durable performance
Excellent for gaming
– Cons
The Samsung 860 Evo SSD is one of the most sought-after SSDs globally. It's designed for mainstream PCs and laptops and has the latest V-NAND technology. There's a robust algorithm-based controller inside this drive coupled with its wide range of compatible form factors.
Like the WD Blue above, the Evo SSD series comes in five available capacities – 250GB, 500GB, 1000GB, 2000GB and 4000GB. If you're among the many users willing to install this drive for more disk space, here are its capabilities.
– Overview
Our Samsung 860 Evo review points to the top features this SSD can produce. It's excellent for gaming purposes and 3D rendering. You'll get a durable form factor, multiple compatibility options, and fast speeds.

– Interface and Form Factor: Multiple Compatibility Options
This drive has the exact 2.5 inches or 7mm form factor compared to its rival above. An M.2 2280 form that makes it suitable for use in laptops or PCs. Samsung also offers the mSATA option if you want to install this SSD in ultra-thin devices.
– Data Transfer Rate: Speed and Quality Performance
You'll get up to 6 Gbps of transfer rate and a comfortable read and write speed. The for we has a speed of about 550 Mbps and a write speed of up to 520 Mbps. That's why it promises a solid performance you can count on.
– Storage Drive Capacity
The storage space is another aspect that makes this drive quite the catch. For starters, you can select from the multiple size options available. However, this one deals with that 500 GB that has the potential to reach 4 TB. It also has a limited warranty of five years, like its counterpart above.
– Performance: Fast and Durable
The 860 Evo will perform well, considering its speed and overall quality. Unlike the WD Blue above, the Evo SSD can be used to play games. The performance won't decline as well. Instead, you get ample space to complement your computer's in-built memory. Professional computing and 4K videos will run smoothly with this drive.
FAQs
1. How Do I Clone a System from HDD to SSD?
You can do that with a clone to migrate from HDD to SSD. Having gotten either the WD Blue or 860 Evo drive, you might want to replace the traditional hard drive to improve the computer's performance. You'll have to move from HDD to SSD.
If you don't want to experience any data loss on either SSD, use the clone tool, such as professional cloning software. We recommend the MiniTool ShadowMaker. It is a competent clone tool that makes it possible to evolve your HDD into an SSD.
2. What's the Lifespan of an SSD?
Five to Fifteen years. While there's a general expectation for HDDs to fail because they're mechanical, SSDs won't last forever because they have fewer moving parts. Flash memory, the technology behind SSDs, can also fail or wear out after prolonged use. Manufacturers peg the lifespan of an SSD on terabytes written (TBW), and most SSDs are rated for approximately 600 TBW.
In line with that, 1TB SSD with 600 TBW will give a typical user can about five years (on average) based on daily write volumes of around 336 GB/day.
3. Is WD Blue SSD Fast?
Yes, WD Blue SSD is very fast. Actually, it's perfect for not only productivity but also is ideal for gaming. Although it's very pricey compared to its competitors in the market, but WD lists outstanding endurance as one of the key factors for its last-generation WD Blue drives.
4. Is 860 Evo Good for Gaming?
860 Evo is good for gaming as it's very fast and offers incredible performance when using it in gaming, especially in terms of loading time.
5. How Long Will a Samsung 860 Evo Last?
An SSD's longevity and endurance are measured in the number of rewrites, not years. But to have an idea, Samsung 850 EVO's 1TB model can have up to 114 years of life span.
Conclusion
Our review has gone over the specs, features, and capabilities of these two SSDs to know that they're worth it. If you want a small-sized SSD with non-professional or casual computer work, the WD Blue is the cheaper option. You'll get enough speed and storage space to make the best out of your applications with it.
For more intensive activities like gaming and professional applications, the Samsung 860 Evo is what we'll recommend. It offers more premium performance for its kind of specifications and will bring out the best in your computer. But what you settle for will depend on your computer type and personal requirements. The Samsung Evo is the more durable and faster option if you prefer quality.