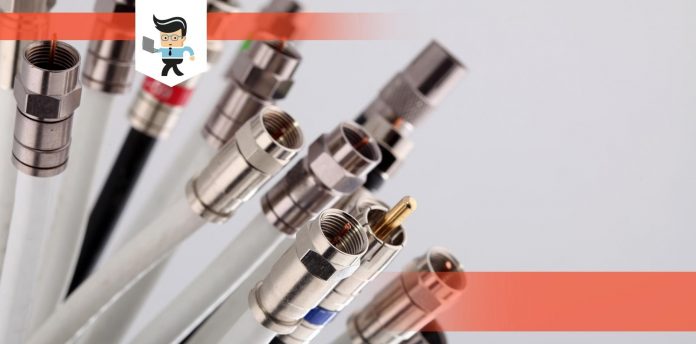 When stacked against each other, the RG174 vs. RG316 cables look like the same products. However, both offer a variety of differences that could significantly affect the outcome of any application.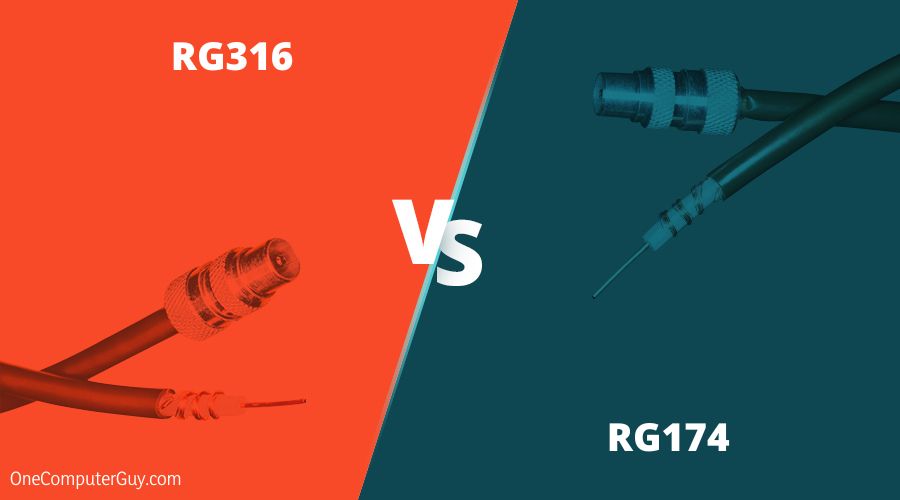 Keep in mind that these are two high-temperature, high-performance coaxial cables, and our review team has done well to outline their specs and provide direction for their high-temperature applications. Read on!
Comparison Table at a Glance
Products
Key Specifications
Eightwood RF RG316

Temp: -70C-+200
Jacket: FEP
Shield: 20-40dB
Dielectric: PTFE

Eightwood RF RG174

Temp: -50C+85C
Jacket: PVC
Shield: 20-40dB
Dielectric: Polyethylene
Common Applications
Whether at home or in the office, short coaxial cables have their applications. They are used for cable television, home video equipment, amateur radio equipment, and measuring devices.
Some time ago, coaxial cables were also used as an early form of Ethernet that supports up to 10 Mbps speeds. However, coax has been supplanted by the use of twisted pair cabling.
Even with that change, coax cables are still widely used for cable broadband internet. Such cables are also used in automobiles, aircraft, military, and medical equipment. They will also connect well to satellite dishes, radio, and television antennae to their respective receivers.
To that end, the RG178 and RG316 coax cables can be used in radio frequency communications and data transmission.
Both cables are excellent for wireless communication and direct burial. For more specific purposes, their applications include GPS systems, PDAs, security equipment, mobile phones, broadcast equipment, remote controls, etc.
RG316 vs RG174: Similar Yet Distinctively Different
These cables are very similar; however, some things set them apart. Here is a closer look at their specs and capabilities.
Pros
High-performance cable
Exceptional in a high-pressured environment
Excellent for many applications
Top-quality materials
Cons
The RG316 is available at many cable shops. The best part is that the RG316 coax cable can be used in direct burial, radiofrequency, and telecommunications applications.
It's also a frequent figure mainly used to transmit radio frequency signals and wireless communication. Broadcasting and the military have ample support from RG316 coax cables.
Further, these cables are a fixture in high-frequency interconnections between PCB in telecommunications equipment. That makes the cable an excellent choice for applications that demand good performance and stability, especially in high-temperature environments.
Also, if you're in a challenging environment battling minimal installation space, the RG316 is the ideal cable for you.
You can count on the RG316 as a high-performance coaxial cable with FEP jacketed covers capable of operating in temperatures up to 200°C, while the cable's stranded silver-coated CCS inner conductor coupled with silver-plated copper braid provides superior shielding and low attenuation losses.
To that end, many users rank it as the preferred accessory/patch cable over similar 2.5mm cables like RG174.

Overview
For many applications and activities, you can put the RG316 to great use. It'll be beneficial in places with high temperatures.
Pros
Good shield and jacket
Flexible diameter
Great temperature range
Cons
The RG174 coax cable is a 50-ohm coax cable with a reputation for use in a vast array of commercial applications, including sending data signals in GPS and WAN/LAN networks.
This cable also features a small, flexible diameter. It comprises a bare copper-clad steel conductor, solid low-density polyethylene insulation, and a PVC jacket.
In addition to that, this cable is ideal for high-frequency signal transmission and features a jacket with non-contaminating PVC Type IIA per MIL-C-17.
While the Mil-Spec equivalent has a temperature range of -40°C to +85°C, the commercial RG174 cable has a maximum temperature of +80°C.

Overview
If you need a coaxial cable for commercial operations, the RG174 cable's superb signal transmission capability will come in handy for you.
RG316 vs. RG174: Head-to-Head Comparison
The two coaxial cables reviewed here have a lot in common. However, some specs set them apart when it comes to construction and some real-life applications.
– Construction
Winner: RG316
It's true that both RG174 and RG316 feature stranded, copper-clad steel conductors, silver-plated copper braid shields, PTFE dielectric materials, and an FEP jacket. But one stack difference between the two of these cables is in the center of each.
It all begins with the diameter of the conductors. The RG316 is almost double the size of RG174 due to the dielectric diameter. The overall diameter of the RG316 is larger and contributes to a difference in weight and size.
– Electrical and Temperature Specifications
Winner: RG316
When it comes to electrical specifications, RG174 and RG316 are a bit far apart. That's because there's a difference in the minimum and maximum temperature ranges. There's also a discrepancy in voltage rating and capacity.
Further, we have to state that the conductor material cannot cause the difference in attenuation between RG174 and RG316 since they are both composed of a silver-coated, copper-clad steel conductor.
Even with the similarities, the RG174 has almost twice as much attenuation as RG316. Also, you can put that down to the sizes of the RG174 conductor, which is smaller than the RG316 conductor.
In many cases, the smaller a conductor is, the more likely it is for a cable to experience loss.
Factors To Consider Before Buying
– The Frequency Used by the Cable
When choosing a cable, the first question you want to ask is, "What frequency does the signal send over the cable?" Also, "Is the signal digital or analog?"
Digital signals are summations of sine waves and have the highest frequency, thus giving the digital square wave its edge.
If the system gets sensitive to sharp edges or fast rise times, consider this fact.
– Dielectrics
Maxwell's equations bind cables, and every coaxial cable must follow a set of parameters and ratios to set the proper impedance. That said, the lowest loss for a dielectric would be air which is a waveguide.
If you want to mimic the waveguide and be more practical, you'd have to develop a dielectric. The dielectrics are different from the cables.
– Shielding and Material Covering
Shielding has a lot to do with outside signals and how much the cable will radiate. Coaxial cables often vary from 15 dB to over 100 dB of shielding.
The construction of the shielding can be very different in coaxial cables. For example, there's a braided shield, foil shield woven wires, and much more. The foil shield will give off high-quality shielding but is subject to breakage at the crimp. Braids are not as good for shielding. However, they are much better at crimp attachment.
Some coaxial cable manufacturers combine both variations for more significant shielding. The major disadvantage of this combination is the cost.
– Temperature
Things are bound to get hot because the materials the cable is made from, determine the temperature. PTFE –200 to +250C will record the largest temperature range. On the flip side, PVC has a very modest range standing at -50 to +85C. What PVC gives is a very inexpensive material, and that temperature range is suitable for indoor applications.
Under temperature, you should consider how sunlight and cables deal with UV resistance. The PVC jacket will last about half as long as polyethylene with a black carbon jacket. That is why some top manufacturers make their cables black jackets with polyethylene. Such coverings are designed for the outdoor cellular tower.
– Frequency Response
How high is the frequency that a cable can go before modding? Size matters, and the smaller the size, the higher the frequency. However, the cost is a higher loss. That said, larger cables have a lower loss.
– Loss per Meter
On the whole, the larger the cable, the lower the loss. Another thing that's worth considering is the dielectric material that the cable is made from. Foam dielectric gives a lower loss because the dielectric properties are much closer to air.
The downside of foam cables is water adsorption. They can get bad pretty quickly. Further, many foams cannot tolerate soldering temperatures. In line with that, the connector must be crimped for attachment.
– Fire and Cables
By now, it's easy to understand that the materials used will determine how susceptible the cable is to fire. PVC is a standard cable material that top brands use. For example, the RG174 cable specifications come in as flame-resistant, which means if the fire is removed, the jacket should stop burning.
Other brands of cables won't offer that guarantee. You can always do a burn test to that effect. Use a lighter at the end of a cable (outdoors) and observe if the cable continues to burn after the flame is removed.
We found that about one in four cables will continue to burn even. Doing a burn test will help you understand what you're paying for.
Conclusion
If you are a bit skeptical about what coaxial cable you need or that meets the needs of your application, it's okay to weigh your options and decide the right type for your needs.
Notably, there are many types of coaxial cables to choose from, including hard-line coaxial cables that rely on round copper tubing and a combination of metals as a shield, such as aluminum or copper.
Other options include a triaxial cable that comes with a third layer of shielding grounded to protect signals transmitted down the cable. You could also opt for a rigid-line coaxial cable made up of twin copper tubes that function as unbendable pipes, which come in handy if you do a lot indoors.
Sorting through the options, the RG316 offers transmit data seamlessly in places with high temperature and will come in handy for a wide range of operations and applications. The RG174 coaxial cables, on the other hand, are preferable for large-scale operations like in a commercial setting.