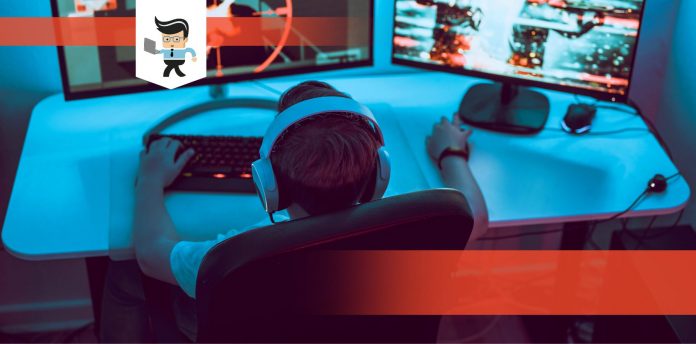 Our Respawn 110 gaming chair review focuses on the popular RSP 110 chair. With an appealing, plush design, and integrated footrest, the chair strikes a perfect balance between comfort and usability—all at a reasonable price.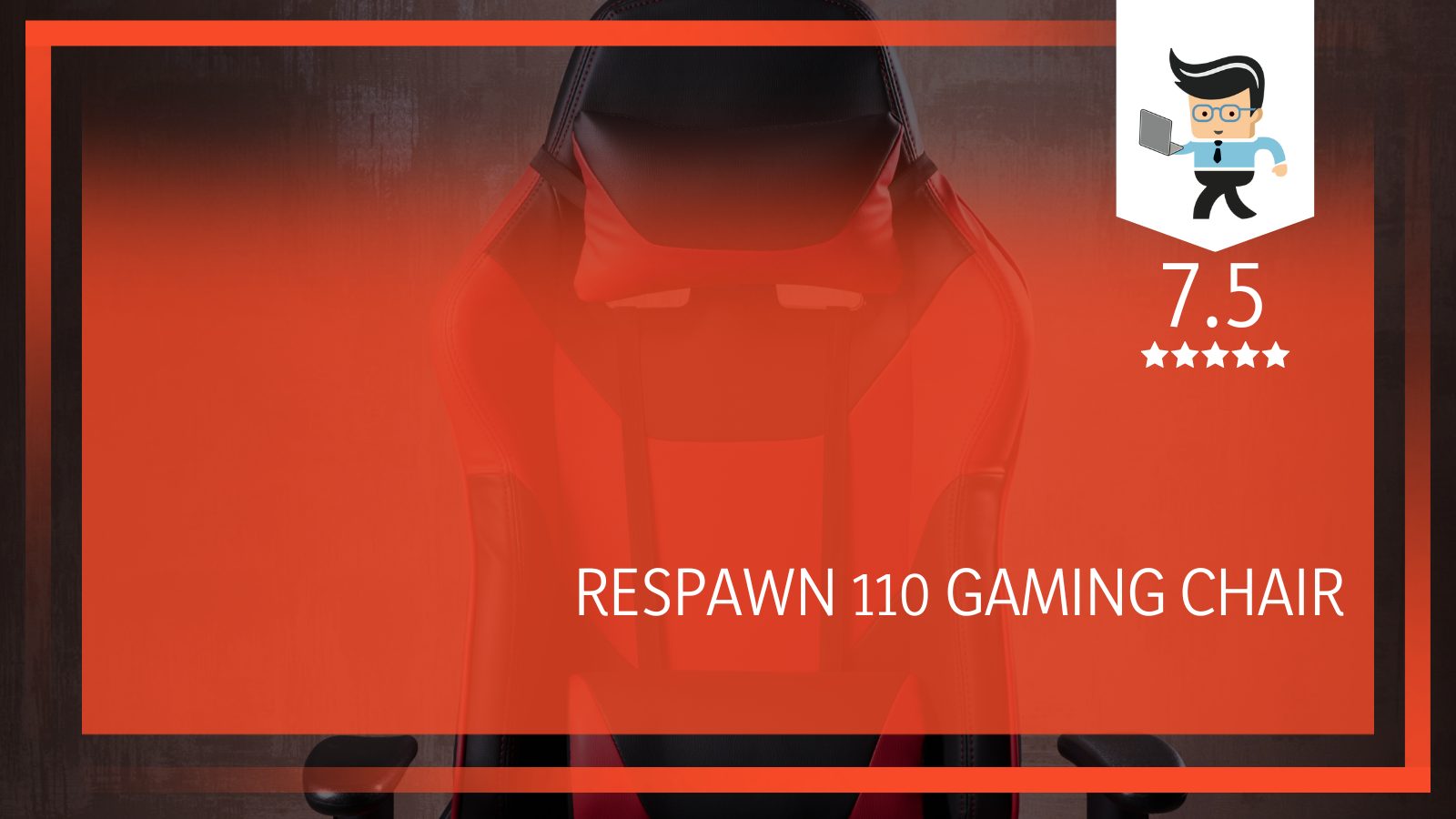 With this RSP 110, Respawn has created one of the most distinctive chairs in the market, and our review team aims to demystify every bit of it.
But away from all that, does the chair really has what it takes to meet the needs and demands of an average gamer? What about its performance and durability? We will answer these and many more so that you can know exactly how the chair holds up and decide if it is the right fit for you.
Respawn 110 Gaming Chair: Key Specifications at a Glance
Product
Key Specifications
Respawn RSP-110

Material: Bonded leather

Frame: Metal

Recline: 90 – 155 degrees

Max weight: 275 pounds

Ergonomics: Foot, head, lumbar

Armrests: 4D adjustable
Respawn 110 Gaming Chair: How Does It Hold Up?
The first thing we noticed about the RSP-110 is its demand. The chair ranks as one of the top-selling gaming chairs on the internet. It's more prevalent in North America and features a plush racing-style design, integrated footrest, and doesn't cost an arm and a leg.
One of the things or specifications that make it stand out is the armrests. We have reviewed many chairs and can say that not all of them have adjustable armrests. At least, not like this Respawn. Also, you can give the chair a bend when you recline at perfect angles that suit your need per time.
You can always lounge in your computer room, gaming space, or even in the office. When you don't feel comfortable enough, pull out the integrated footrest, which is held together by two metal poles and is retractable. 
For some users, putting up two legs for rest does feel strange. Not to worry, the footrest is strong enough to hold your feet. It's more fun when you use this feature when the chair is reclined at its full 155 degrees. 
The gamified and premium look of this chair makes it a must-have. But we don't expect you to just up and buy it. That's why we have put out a comprehensive review of this unique chair to help you make a choice.
PROS
Built for gaming
Stylish racing-style design with thick padding
It has a retractable footrest
Versatile and mobile
CONS
Above-average materials
Questions linger about its durability
If you're an avid gamer, a regular one, or even an enthusiast, you wouldn't want to spend so much getting a gaming chair. If you already have most parts for your rig and need a chair to round things off, that's the case. 

You might want to make an exception, though, because the RESPAWN 110 delivers comfort and budget savings in one package. In addition to that, the brand creates this chair to give users a total body experience with almost every part playing a vital role. 
There are tilt and lift levers located on the right and underneath this chair so you can make some changes. Also, you get fixed but adjustable armrests that feature padding for elbow relief.
For covers, Respawn uses a bonded leather to give this model a stylish look. The covers are easy to clean, while extra pillows add to your comfort and protection. To that extent, Respawn included an adjustable lumbar and head pillow which works wonders for extended gaming sessions.
When you put your feet up and relax, you get a deep feeling of satisfaction, which enables you to face opponents with confidence. That's a vital part of gaming because the wrong chair leaves you fidgeting and uncomfortable. Moreover, a seat should have firm foams that still give users some measure of comfort. You'll get that on this Respawn chair.
The frame is strong and gives you assurances as long as you stay within the recommended limit. With that in mind, you'll have a reason to always be at your best when sitting in the RSP-110.
– Assembly
Like every chair that comes in a package, you'd have to unbox and put together this one. When you get this Respawn gaming chair, you'll notice from the off that it's straightforward to assemble. Why? The chair comes in pre-assembled pieces along with the tools you need to set it up.
According to Respawn, you'll need about ten to twenty minutes to put everything in place. The instructions are clear enough to help you avoid making mistakes. At least, the casters won't appear on the seat of the chair.
When you spend more time setting up a chair than playing games or working, you've got the wrong furniture. Respawn makes things easy for you so you can get started in time.
– Size and Dimensions: Suitable for Small and Average-sized Gamers
There are tons of gaming chairs out there that fit a wide range of audiences or users. As such, it's normal to opt for one that suits your body type. If you think this Respawn is for you, it's important to note that it's not ideal for big and tall users. The weight capacity is set at 275 pounds, so check the market for what fits if you weigh above that.
If you're on the big side, check for alternatives with a weight limit between 300 to 400 pounds. That way, you get the best support for your body.
That's not to say that this RSP-110 is a small gaming chair. For example, you get a seat width of 21 inches on dimensions, while the adjustable seat to floor height stands between 19 to 23 inches.
– Stylish and Comfortable: Boosted Performances During Every Gaming Session
What would you give to have a comfortable base and seat to work with? A lot, many gamers will answer. Respawn responds with padded lumbar support, padded headrest, and a contoured shape to leave you comfortable. These additions all do their jobs well so that you don't experience back and neck pain during long gaming sessions.
In addition to those features, you get a double-thick, extra-wide seat that comes with segmented padding to provide better support. What's more, the whole thing is upholstered in bonded leather. As a result, it's easy for you to clean the plush and lavish covers. The leather material is inviting to the skin and gives you the edge while playing games.
It's a great chair with a racecar style that provides luxury and comfort, whether it's used for intense gaming sessions or long workdays.
– Ergonomics and Adjustments: Different Customization Options
Respawn understands quite well that no one likes the feeling of being stuck in one position because things get sore fast. That is why this Respawn racing-style gaming chair has been designed to offer improved comfort levels on every side. With the plush and padded seat, headrest, and lumbar cushions, you have nothing to worry about, and you can wrap yourself in comfort and convenience without stress.
The chair also comes equipped with some adjustable features that you can use to your advantage while gaming or relaxing. For starters, you can use the recline feature to give your back some much-needed rest or to play games. Sometimes, you need that pose with the relaxation it brings to better view your gaming screen. The max angle you can achieve with this feature is 155 degrees.
You'll appreciate the fact that you can keep them moving until you find a comfortable spot for the arms. This Respawn chair's arms can move in four different directions depending on your requirements. Since the arms are padded, you'll have fewer issues with your elbows and shoulders.
– Added Footrest for Extra Comfort
Part of the ergonomics and adjustable features in this chair is a retractable footrest. Not all gaming chairs come with one, but the Respawn brand includes it to give you more comfort. Along with the recline feature, you can pull out the footrest to complete a bed-like set. With that, your body assumes a full, restive mode for a nap or to continue gaming. 
The versatile make of this chair also means that you can enjoy a full 360-degree swivel rotation of dynamic movement. It's a perfect choice if you want a chair you can hop on and make changes as you go on.
– Build Quality: Is This Chair Strong and Durable Enough for You?
A lot of work goes into constructing a gaming chair, and this RSP-110 is no different. Comfort is essential and often looked at as the most vital part of a gaming chair, but build quality and durability matter.
Having a good chair you can count on while gaming or working is a good feeling. That's why you wouldn't expect any chair you get to fall apart within a short time. Well, this chair gives you quite the assurance with its build and design.
It's a chair built to last a long while, thanks to the materials on display. We talked about the leather covering and the metal parts used in vital areas, including the footrest and mainframe.
One thing we have to mention is that some users question just how long the chair will last. That's because, during assembly, some parts don't tighten up as they ought. If that happens, expect the chair to shake and come apart after extended use. Other than that, all chairs, even the best, will wear down over some time of use.
– The Leather Offers a Lot
The make of the chair gives us hope that the chair can go more than a few rounds. Respawn presents this chair upholstered in binder leather in bold and contrasting colors. However, the chair still retains a professional look all users will be proud of. With the 275 weight limit, we expect smaller users to maintain its build quality.
– Overview
If you are looking to make a bold, powerful statement with your gaming setup without breaking the bank, the unique racing car design will make it a worthy addition to your rig.

Frequently Asked Questions
1. Can the RSP-110 be used as an office chair?
Yes. You can use this chair in the office because it's built for comfort. Also, if you spend extended periods sitting in one spot, it's essential to get all the support you need. While the RSP-110 comes designed for gaming, you can place it at your work desk.
2. Should I buy a Respawn chair for gaming

?
Respawn is one of the best gaming chair brands in the business. However, like other top brands, it has its critics and those that believe in its products.
It would help if you trusted them enough to buy their chairs with their commitment to user satisfaction. What's more, Respawn offers Warranties to its customers.
Conclusion
This Respawn 110 chair is worth getting for gamers who love parts they can tweak. It's a chair that remains versatile in many ways and gives you adequate support and protection. The remarkable level of comfort is excellent for those not looking to spend too much.
Overall, we think it's a worthwhile investment, as it comes equipped with many interesting features geared towards giving gamers a pleasant and comfortable time without breaking the bank. Whether you're a gamer or regular worker in need of a suitable chair, the material and racing-style design appeals.
At the end of our Respawn 110 chair review, we can say this is an excellent gaming chair perfect for gamers who love to personalize items on their rig. You can feel comfortable reclining the back, extending the footrest, and rotating the arms to your favorite positions.