In our Respawn gaming chairs review, we've put the best chairs from Respawn to the test: researched and analyzed their top features, specifications, and possible drawbacks to help you find the right fit for your lifestyle.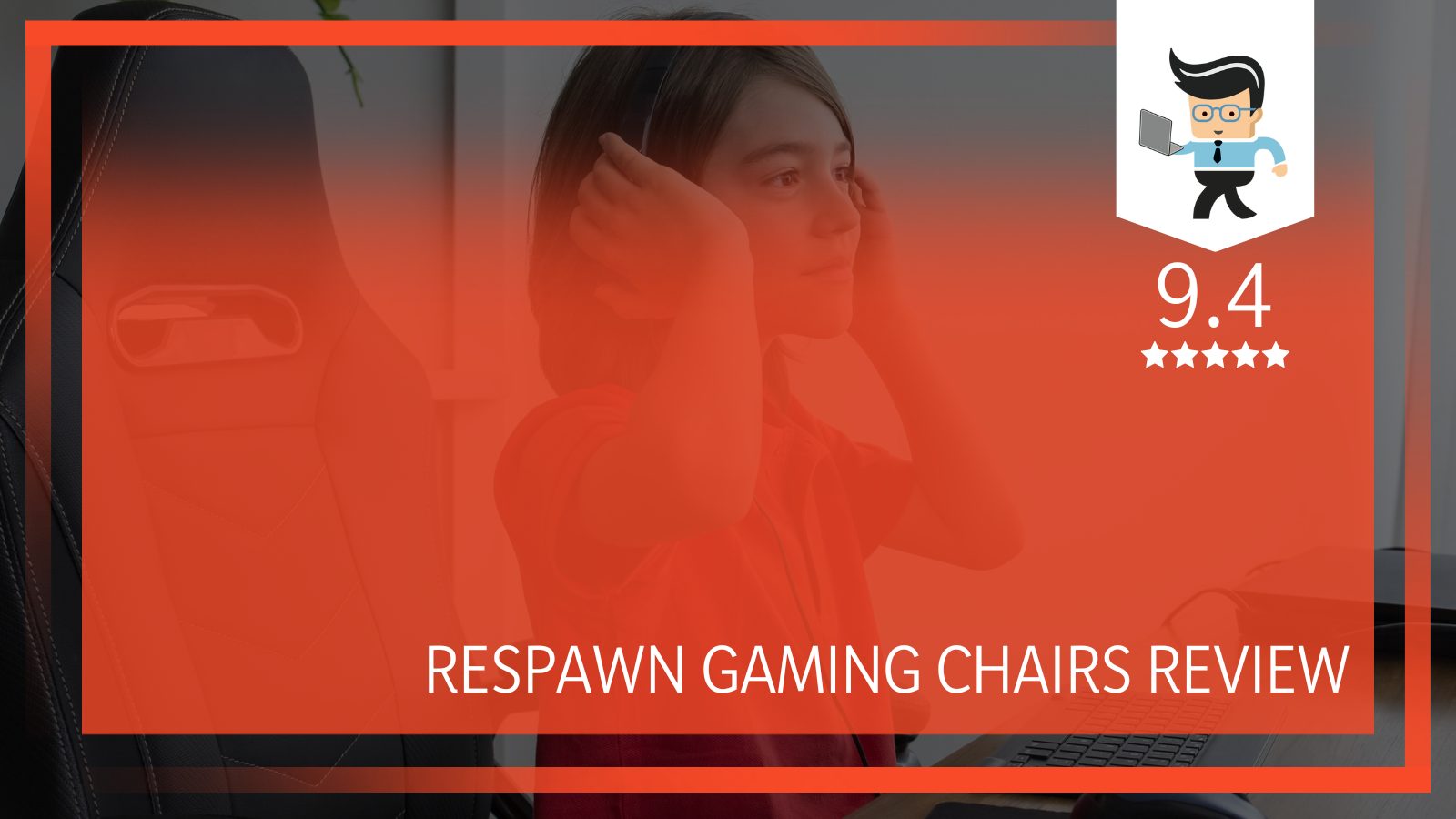 The products here are comfortable, last for seasons, and are fit for different purposes, including for gaming and office use.
Read on to discover our expansive details outlining the positives and negatives of each Respawn chair reviewed here.
Top Specifications of the Best Respawn Gaming Chair
Products
Key Specifications

Recline: 90 – 155 degrees
Max weight: 275 lbs
Style: Race Car-style

Recline: 90 – 130 degrees
Max weight: 275 lbs
Adjustable: 4D armrests

Recline: 90 – 130 degrees
Material: Leather upholstery
Max weight: 275 lbs

Style: full mesh
Material: PU leather
Adjustable: height and tilt
Here's Our Top Four Respawn Gaming Chair Options
These days, getting a gaming chair is pretty straightforward, especially with the plethora of top models and brands available on the market. However, you must pay attention to some vital issues if you are looking to find the right fit for your tasks, activities, and lifestyle.
Even though Respawn hasn't existed for a long while like other household names, it has established a reputation for comfortable products built on solid and modern materials.
Notably, Respawn chairs are designed to offer maximum comfort during the most lengthy gaming sessions. That's why the chair comes equipped with features such as a reclining function, height adjustment, lumbar and neck pillows, and many other user-oriented features that provide additional cushioning and support.
When it comes to materials, users get to enjoy a vast array of quality parts to keep them safe and comfortable. From easy-to-clean synthetic leather to breathable and skin-friendly mesh covering, you have a soft, breathable fabric that allows the free circulation of air for cooling purposes.
Overall, Respawn's chairs are suitable for many functions and purposes, which is why the lineup is too good to ignore. However, how do products under this brand compare against each other? Based on features that matter, such as quality, comfort, and lasting durability, here are the best Respawn chairs available.
Respawn Gaming Chairs Key Criteria
PROS
Great for Fortnite
Multi-use gaming chair
Recline to relax and footrest
Strong base
Don't let the fact that this chair was advertised for Fortnite players dissuade you from getting it. If you're a gamer, you can still use it for other games or as part of your office rig. Whether that's an action game or something less intensive, you're guaranteed a good performance.
Further, take out the name "Fortnite," and you've got a chair that goes long yards to keep you comfortable.
– Suitable for FPS Games and Fortnite
If you're ready to play like a Fortnite gaming legend, the Omega chair is for you. In addition, it's a race car-style kind of chair which provides more than enough luxury and comfort. That is why you can depend on this Omega chair during intense gaming sessions. That way, you get a fast run climbing up the leaderboards.
– Styled With Your Comfort in Mind
Taking a closer look shows how awesome yet practical this chair is. That's because you get to use the recline feature. With it, you can recline anywhere between 90 to 155 degrees in a matter of seconds.
As gamers or regular users, we all know how important it is to be comfortable when gaming for long periods. Also, avid gamers spend more time seated than the average chair user. The Respawn OMEGA-Xi enables you to lay back a little and relax while waiting for your game to load.
If you have a screen set up on your wall, you can also get comfortable playing games. The footrest on this chair gives you more reasons to put your feet up and relax.
– Impressive Padding and Covering
The materials used to set the tone for the level of comfort this chair gives users. To that end, the OMEGA-Xi is armed with a high back and segmented padding. Users also get an integrated headrest because you don't need to feel like you've been gaming all day. The armrests are padded round to keep your arms and elbow comfortable.
– Solid Base Strength and Support
A top feature of Respawn gaming chairs includes sturdy base support. With the structure, you can find your optimal position when you recline. You also get full 360 degrees of swivel rotation that enables dynamic movement. The durable and comfortable frame will hold users that weigh up to 275 lbs.

– Overview
This fantastic chair is robust and suited to several uses, including for gaming. It's ideal for those who have comfort as a top priority.
Pros
Appealing race car-style
Nice ergonomics
Adjustable professional grade
Durable parts
Cons
This chair comes with a shape and design that gets a lot of attention. It's more eye-catching than other Respawn chairs out there.
We think that's good for gamers who love a stylish look to go with their entire rig. Let's not forget that an attractive look further decorates your space. Moreover, the scene helps to keep you relaxed.
Apart from the visuals, you'll not get preoccupied with symptoms sitting in this chair all day. It's built to offer more support and provides a cool mesh covering.
– Gamified Seating for Users
A gamified seating option is a welcome choice for gamers. As one of the Respawn racing style gaming chairs, you get enough luxury and comfort all day long. If you spend long hours trying to be the best at games or work long hours, this chair is for you.
– Smart Ergonomic Design and Comfort
The word ergonomic gets thrown around while describing many products. However, that word is not out of place here because this chair has a steel tube frame design encased in molded foam. As a result, it allows for highly ergonomic and contoured support, coupled with an open back seat structure. It's an arrangement that allows for additional heat control.
To relax your head and body after intense gaming sessions, the Respawn 200 comes with an adjustable headrest. It follows that up with pivoting lumbar support that delivers long-lasting comfort.
– Customizable Parts and Angles
The Respawn 200 offers you 4D adjustable parts to help you settle on the best position for your activities. To that end, you can raise or lower your chair, tweak the armrests' height and depth, and do a lot of reclining.
It sure helps when you can recline between 90 and 130 degrees. Also, the infinite angle lock enables you to achieve 360 degrees of swivel rotation for dynamic movements.
– Professional Grade Material Components and Cover
The part that many brands get wrong with gaming chairs is keeping users cool enough to go on for hours. No one enjoys a hot chair because it's irritating and affects performance.
With the Respawn 200, you can stay cool and in control without losing track of your gaming activities at all times, thanks to the reinforced mesh backing. With it, there's increased airflow that helps to regulate your body temperature.
This chair also enables lightweight support use, whether for gaming or doing some work in the office. That will help when you consider that this chair can hold gamers weighing up to 275 lbs.

– Overview
If you desire a chair that can stand up to the pressure of those intense gaming sessions and keep its cool for long hours, this Respawn 200 chair is for you.
Pros
Quality ergonomic comfort
Custom and adjustable parts
Strong and durable
Tough upholstery
Cons
The Respawn 100 needs no introduction as a racing car seat. That profile is as comfortable it looks, thanks to a distinct design contributing to its appeal. Unlike the 110 chairs, this one doesn't come with a footrest. So if you don't need one, you'll find this chair useful. The chair also focuses on gaming needs to help you relax in front of any screen before you.
Many users prefer a chair that can constantly adjust to their styles and postures as priority changes, and this is one of them.
– Superb Racing-Style Design
Racing-style chairs are attractive because you can use them for any game. When you add proper ergonomics to this feature, it's easy to see why the Respawn 100 represents an excellent choice for avid gamers. You get improved comfort and aesthetics. The lateral support featured on the seating plan makes it a step above the rest.
– Neat Upholstery and Stitching
With leather sticking, this gaming chair lets you have a premium-looking design. The durable stitching also makes it a better choice over similar designs.
– Adjustable Parts for Improved Support
It's almost expected for gamers and long-term users of gaming chairs to develop back problems. For this reason, many brands, including Respawn, provide chairs with better support. This particular chair comes with a reclining system and added support from extra pillows. That makes the backrest adjustable and supportive.
The recline comes with a wide angle between 90 to 130 degrees. When you find your favorite spot, you can always lock it in place. Also, when you go further back on the backrest, it takes the pressure off your spine, which makes it a chair suitable for posture readjustment.
– Rotatable Arms
Adjustable armrests are features of gaming chairs. Your arms can get tired fast, while sore elbows mean you can't concentrate well enough. However, the Respawn 100 can be adjusted by height and depth. You can't adjust the angles, though. Users with different heights will struggle to fit in.

– Overview
This chair packs an exciting design and colors to meet your taste. If you love comfort and relaxation without much need for a footrest, then this gaming chair will come in handy for you.
Pros
More adjustable features
Mesh and PU leather covering
Superb discrete design
Synchro-tilt function
Cons
The Specter is an excellent choice for users who need a more discreet chair to work with. It has a more subtle look among all the chairs here, but it's still handsome and mostly comes in two colors – black or grey.
In addition, the adjustable headrest happens to be the only part covered in synthetic leather. Other features of the Respawn Specter gaming chair use a mesh covering.
If you don't fancy traditional gaming chairs, this is a better alternative with enough adjustment features to adapt to a wide range of people.
– Full Mesh Cover for Ultimate Comfort
A full mesh gaming chair is an advantage for any user. That's the case if you spend a great deal of time on a chair. It keeps you cool, whether that's during team meetings or playing games online.
For the Specter chair, you also get headrests adjustments in height and tilt, covered in PU leather. This leather will give you a soft yet solid spot to rest.
– 3D Armrests to Suit Your Height Preferences
With the full mesh keeping you cool in challenging settings, you can also use the 3D adjustable armrests. The three directions let you personalize height, arm pivot, and front/back placement. There's a standard built-in lumbar area that allows for targeted support for all-day gaming sessions. That way, you can spend a lot of time hitting different levels.
A Respawn ergonomic gaming chair like this one promises touches like synchro-tilt that keep the front edge of the seat closer to the floor. As such, it opens the angle of the torso for improved circulation and better spinal alignment. In addition, the seat slide adjusts the seat's depth to help account for users of varying heights.

– Overview
If you want an all-action chair that can accommodate different heights and sitting positions, this Respawn variant gives you a five-star base with a 360-degree swivel and pneumatic height adjustment. That's great for users sporting different heights.
Buying a Respawn Chair: What You Need to Look Out For
Weight capacity: A vast number of households have some form of gaming console in their home. It only makes sense to get the most effective chair to play games with. That includes getting the ideal Respawn chair to hold your weight or at least allows other users to sit on it.
Back support: Sitting all day or for long periods often leads to backaches and similar complaints. Ensure the Respawn chair you get has lumbar support that's adequate to keep your body from back pain. For many enthusiasts, this is the most critical aspect to consider when buying a gaming chair.
Design and customization: It's not enough to get a gaming chair. You need one that meets your aesthetic taste. On another note, a critical factor is the level of customization your Respawn chair allows. A suitable mechanism should be available in the chair to adjust critical areas such as the height, tilt, recline, footrest, headrest, and more.
Material/Upholstery: Leather is a standard material used for many gaming chairs. PU leather upholstery is an excellent choice because they last longer and are easier to clean. Other chairs are often upholstered in synthetic webbing or microfiber.
Overall, breathability is an aspect you need to consider, which can only come from quality material. When gaming for long, sweat and a lack of air can affect your performance, it would help if you had a chair that keeps you comfortable with a mesh material.
Build/Frame quality: As with any gaming chair, build quality is an important consideration. The fact is that some materials won't hold up well over some time. For the best frames and bases, look out for metal, steel, and aluminum build materials. Also, consider that the wider the caster, the more durable the build and smoother swivels in all directions.
Frequently Asked Questions
1. Can Respawn chairs be useful as office chairs?
Quick answer, of course, they can! The fact is that these chairs are built to keep users like you comfortable during a long period of use. To that end, with these chairs keeping you comfortable for marathon gaming sessions, it makes sense to use them in the office.
2. Is the Respawn brand of chairs worth it?
Yes. There are quite some chair brands out there to choose from. However, Respawn makes things easier for users to select from their vast collections. You can choose from quality, ergonomic gaming chairs for different applications.
Respawn chars lack a lot of features and are known to have long-lasting durability. Further, eye-catching designs and a remarkable level of comfort make them the go-to choice for many gamers.
Conclusion
We hope our review team has been able to help you decide which Respawn chair is the best or most ideal for you. Whatever the case, we strongly recommend that you identify your preferences before buying any of the chairs here. That way, you get a chair that's fitting for your body type and applications.
On the whole, gamers looking for a comfortable chair with impressive designs and quality can pick any of these chairs. However, we feel the OMEGA-Xi stands out with clear-cut ergonomic and adjustable parts.