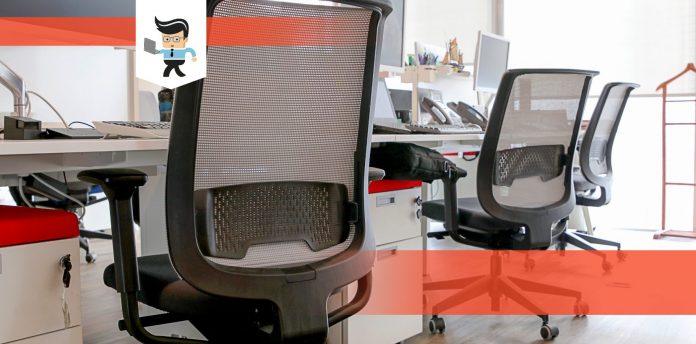 This AKRacing onyx review by our team of experts is filled with every information you need about the chair to aid you in deciding whether it's a good fit for you or not.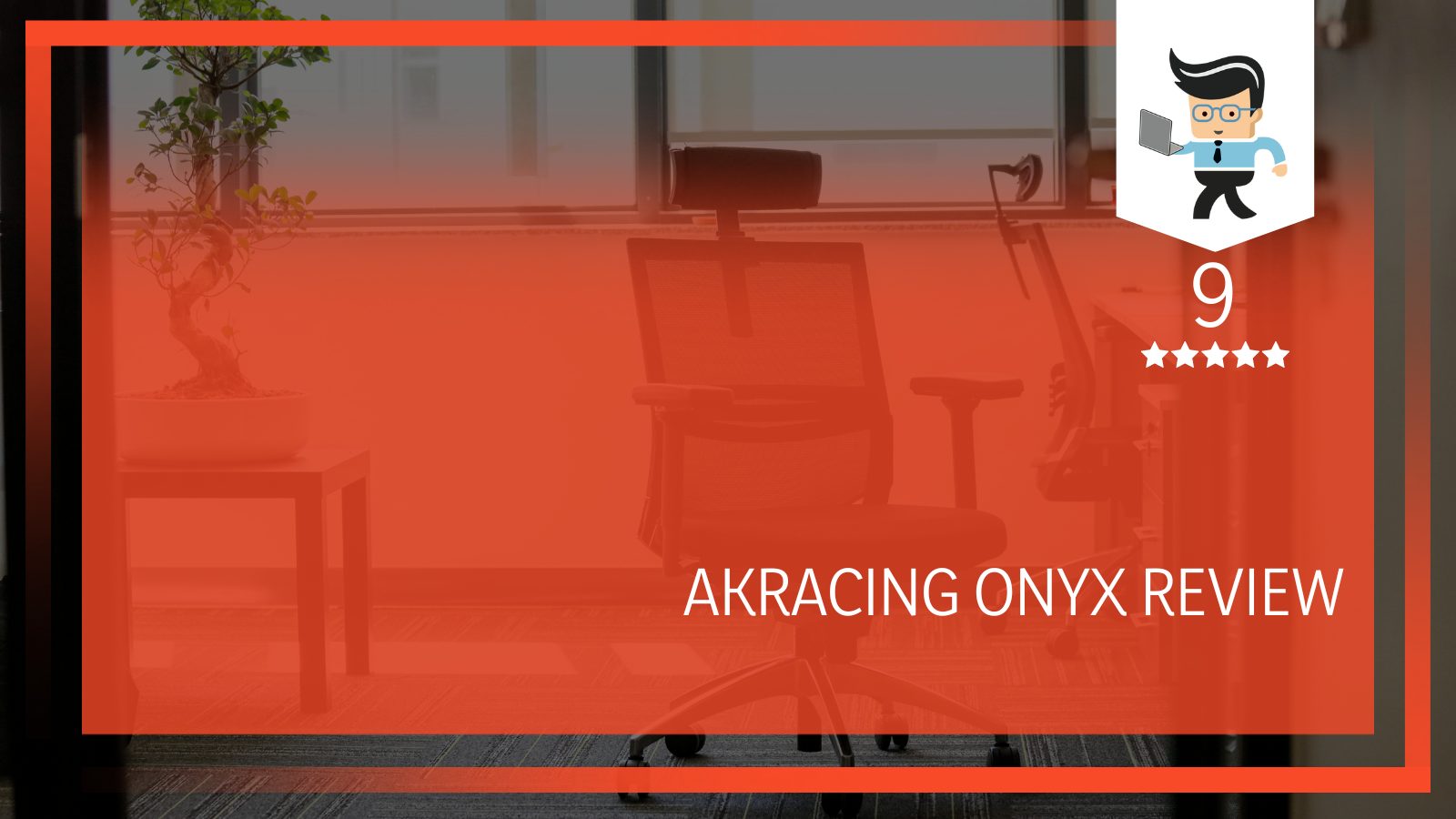 As a brand, AKRacing offers an impressive lineup of racing-style and office chairs. With such chairs, it is easier for users to have fun playing their favorite video games or have an efficient time working.
Whatever the case, this Onyx review explains why it's an excellent option for several applications. In the end, we hope it helps you make an informed decision when shopping for an ideal gaming chair for your lifestyle.
AKRacing Onyx Review Specifications Table at a Quick Glance
Product
Key Specifications
AKRacing Onyx

Frame material: Metal

Covers: Real leather and Pleather

Max weight capacity: 330 lbs

Recline angle: 90 – 180 degrees

Base type: Aluminum

Foam: High-density mold

Gas lift class: Class 4

Tilt lock: Tilt and angle lock
AKRacing Onyx: Key Specifications and Features
If you're one of those who spend countless hours every day in front of your PC screen, either at home or at work, you need a chair that will make a great difference when it comes to your posture and health.
To that end, an ergonomic gaming or desk chair like the Onyx from AKRacing will suffice.
Back and neck pain are common when you sit for extended periods.
Back then, conventional chairs didn't have protective components and were mostly covered in materials that caused more discomfort than convenience.
Today, the story is no longer the same, as there are far more advanced chair options to fit various users without sacrificing comfort and convenience.
Gamers and regular users can get their hands on big and tall chairs like the AKRacing Onyx on review here. It boasts many qualities and key features, including a high back, adjustable arms, good recline, and high-density foam.
It is a model that excels both in design and structural appearance.
For covers, you have a mixture of real leather and PU leather. Both leather types feature on different parts of the chair and are simple to clean.
Moreover, the foam embedded inside has an excellent combination of soft and robust features. Our review team will give you an insight into how the Onyx functions along with its benefits and drawbacks. Read on!
AKRacing Onyx Key Criteria
PROS
Extra soft design
Adjustable head, lumbar support
Advanced rocking function
Strong and durable
CONS
No lumbar pillow strap
Expensive chair
We have jotted that the AKRacing brand is one of the world's leading gaming chair manufacturers. They produce the highest quality products with a focus on ergonomics, design, and functional appeal.
As a result, the chairs have become the smart choice across the eSport and administrative scene.
The Onyx AKRacing gaming chair is a true king of the AKRacing Office Series. In terms of aesthetics, it is about as sophisticated as it gets. It comes available in PU leather and top grain leather (Onyx Deluxe) upholstery.
Besides that, this chair offers the executive look and feel and has extended features users will appreciate.
For example, it sports a wider frame than most, a flat seat, 4D armrests, and the "Rock It and Lock It" function.
The Onyx also features a high tensile strength molded aluminum base. That's a handful to understand. Well, the brand doesn't compromise on the strength or the durability of its products.
You get exclusive stitching designed for maximum coverage and comfort.
Moreover, this chair contains more original molded foam than other AKRacing chairs. It's built with overall quality and comfort as the keywords.
A look at the top features of this large chair will give you more insight into why it's an exciting choice for you.
– The Size and Dimensions
Onyx gaming office chairs come with flat, wide seats and spacious dimensions to fit average to above-average-sized adults.
Also, you can liken the dimensions to other large pro eSports chairs, except for the floor to seat range. Compared with other chairs, the Onyx sits around two inches lower when set at its lowest.
– Top-Quality Covering
Covering is a vital aspect of any office or gaming chair. It plays a crucial role in keeping users comfortable and at ease.
AKRacing dresses this chair in high-quality real and PU leather upholstery on the front and back, making the whole chair easy to clean.
The stitches put the chair together powerfully and seamlessly.
Besides that, the cover is billed to last for at least five years. It's difficult to find another chair that offers such aesthetic, function, and style.
– Strong and Improved Frame
AKRacing has a lineup of essential chairs and other models under its brand.
However, they all can't boast a frame as improved as that on the Onyx chair. The medal is wide and sports an anti-corrosive coating.

The steel frame also adds durability and support to the chair. Additionally, you get a Class 4 gas lift that can support over 300 lbs, including the upper chair.
Underneath, 2.6-inch caster wheels and a 5-star aluminum base add strength and mobility to the Onyx chair.
Mind you, the 5-star advanced high tensile strength molded aluminum base is about 10 times stronger than steel. In addition to that, it features 2.5-inch PU wheels that roll easily on all kinds of surfaces.
– Extra Comfortable Foam
The interior makes this an expensive AKRacing chair. That's because as a brand, AKRacing is famous for using a superb blend of cold-cured foam padding and other resilient materials.
Whenever you get out of the chair, the foam will pop back into its original shape. According to the manufacturer, even after five years of use, the foam will feel new. Foams are built to offer quality resistance.
– Expert Functions for More Comfort
Every chair has some essential functions to boost the comfort of users. The Onyx chair is no different. First of the lot is a 4D armrest on the chair.
That means you can adjust it to four different directions.
For example, you can take it up and down, back and forth, in and out, and rotate to the sides. That way, your arms and shoulders stay active while you sit.
You get a lumbar support pillow and an extra-large headrest cushion for added comfort. You can adjust their placement depending on your favorite position.
Besides, the main point of having these functions is to provide comfortable posture support for long periods.
– Recline and Tilt Lock Function
Sitting for long hours with the perfect posture isn't enough. Ease of movement is also essential. When using this Onyx chair, it's simple to move your body when you adjust the backrest forward or back by a few degrees.
Note that you can recline this chair between 90 to 180 degrees. That's a perfect scenario for gamers who might want to rest after a while.
The multifunction mechanism also provides the option to tilt and lock the seat at a chosen angle. You can use the rocking option for further relaxation, while the chair's Class 4 gas lift will support up to 330 lbs or 150kg weight capacity.
AKRacing Onyx: Frequently Asked Questions
1. Does this chair lay back flat?
Of course, it does. It can get to an angle reaching 180-degrees. That's a bed-like angle to help you get max rest and comfort. Lock your position and use the rock function for more relaxation.
2. Does the Onyx chair have grain leather or faux leather?
The beauty of the Onyx chair is that it comes in both leather types. Our AKRacing chair review points out that the chair uses real top grain leather for the front and PU leather for the back.
However, the choice is yours when ordering an AKRacing Onyx chair. The real leather material will cost more, though.
3. Are the armrests padded and comfortable?
Unfortunately, the armrests aren't padded on the Onyx chair.
Armrests are pivotal aspects of a gaming and office chair. They add to your overall balance. That means the cold cured foam used in the seat doesn't extend to the arms.
While they are not padded, we noted that the armrests are still comfortable to use. This is because you get a semi-rigid foam and vinyl coating inside.
The 4D direction also compensates for the lack of padding. At least, you get to try out different directions.

Conclusion
The Onyx chair is another top-quality office-style gaming chair from AKRacing. The colors are fantastic and adorn clean, symmetrical lines to give it a polished, professional look.
As for other features, AKRacing offers users a wide range of adjustable components.
Compared to other top-end eSport and office chairs, it provides life-changing comfort.
If you are a full-time worker or play games for extended periods, the thick layers of cold foam padding on the back and seat will help you remain comfortable.
Either way, its recline and lock options will promote good posture, and you can adjust the arms in four different directions so that your whole body is active and mobile.
Overall, the wide flat seat on this AKRacing Office Series Onyx desk chair makes it perfect for big and tall people.