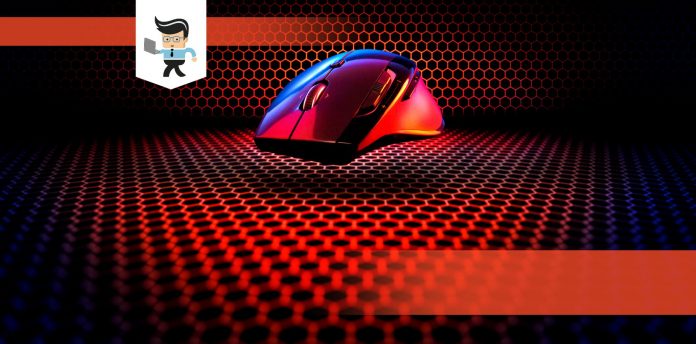 Redragon M601 is the gaming mouse that is the much younger brother tagging along at the heels of the Razer Naga, the Logitech G600, and other names that have the same general design and feel, though the Redragon comes with significantly stripped-down features.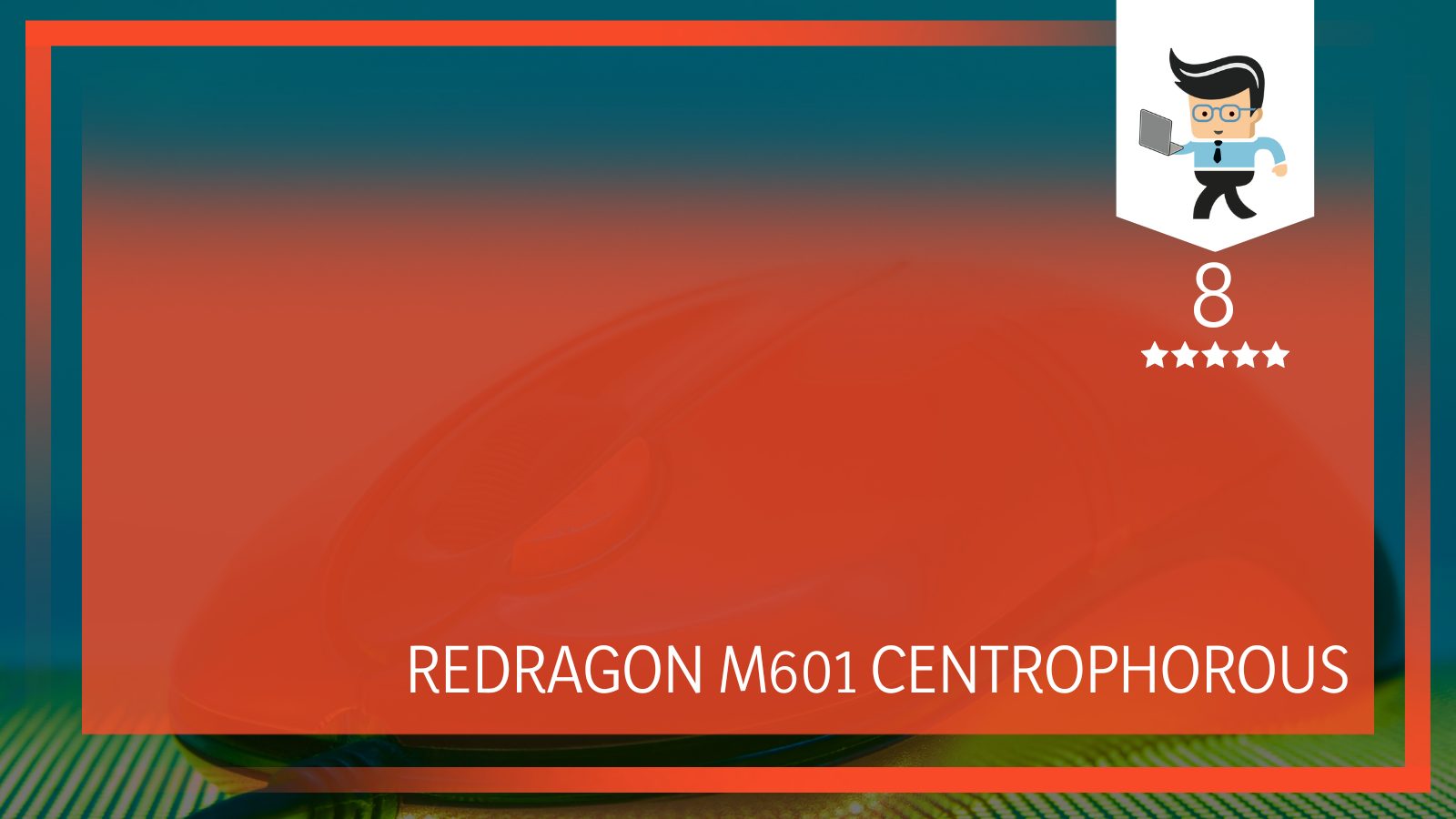 If you are on the low end of the mouse market and need a gaming mouse that will get the job done, the Redragon is a good option for you to consider.
ReDragon M601 Key Criteria
Connectivity Options (Wired or Wireless)
7.5
Lightning and Customizations
8
PROS
Solid performance
Very affordable
Moderate sensitivity settings
Elegant and ergonomic package
Eight-piece weight tuning system
Durable micro-switches on each of its buttons
CONS
Not the best sensor on the market
Slight jittering
Mouse acceleration feature
Not optimal for FPS games
– History
Redragon is king when it comes to budget gaming peripherals; mice in particular. This company has been operating in the United States since 1996 and at first, they started building electronic components for other companies; quietly building their fame by delivering quality products. Due to the scope of their work, odds are that you may have at least one product on your desk that has Redragon-manufactured components.
At the turn of the 21st century, this organization decided it wanted to conduct business directly with the consumer, instead of dedicating their trade solely to fulfilling outsourced component manufacturing. Consequently, the Redragon line of gaming peripherals was born.
We're not quite sure what sort of wizardry and black magic goes into Redragon peripherals, but these guys build some of the most sturdy and reliable gaming products, at a fraction of the cost that items from other companies go by.
– Design
Most of their products are modeled after more expensive versions created by other manufacturers. For instance, the Perdition Redragon gaming mouse is modeled after the Razer Naga (and so is the G600, but no one seems to mind when Logitech copies higher end designs), and the M601 is as generic as generic can be.
The M601, also known as the Centrophorus M601 is a mouse that delivers solid performance, despite the meager price tag that would suggest otherwise. Now, because we can't quite end the review on that statement and call it a day, let's get started on the aspects that set this peripheral apart from the competition.
For general purpose mice such as the Centrophorus M601, we need to create our evaluation based on certain aspects that allow this entry to perform admirably on a wide range of tasks; from regular office work, to multi-genre gaming. That being said, we usually construct our reviews taking into account aspects such as the amount of additional buttons, the build quality, the design aesthetics, and the type of sensor.
– Specifications
For a budget gaming mouse, the M601 goes far beyond the call of duty and delivers tremendously on all the categories mentioned above. The moderate sensitivity settings, coupled with a pair of extra buttons, all wrapped into an elegant and ergonomic package make this mouse a force to be reckoned with, even compared to the high-end models. The possibility to adjust this mouse's sensitivity, weight, and center of mass is just the icing on the Redragon cake.
This mouse is sporting a sensor that gives the Redragon centrophorous DPI in a realistic range. It goes as low as 800 DPI, and as high as 3200 DPI– which is a respectably DPI range given the price point, and most people with ridiculous sensitivities like 8000 or 16000 DPI will almost never set their mice that high.
It also has an eight-piece weight tuning system, with each weight weighing in at 2.4 grams, for those who prefer lighter or heavier resistances when gaming.
Unfortunately, the rather limited sensitivity ceiling makes the Redragon M601 Gaming Mouse ill-suited for faster-paced games that rely on twitch actions and quick reflexes. However, in all honesty, when it comes to gaming or office work, sensitivity limits are seldom a deal-breaker for most users. The 2,000 CPI offered by the M601 will be more than enough for most games.
– User Comfort
What's more important than CPI, in my opinion, is ergonomics. For those who rely on their mouse to put food on the table, or to have some fun during those long gaming sessions, comfort is an absolute necessity.
An ergonomic mouse can save you from wrist strains or hand injuries, product of excessive or improper mouse use. The M601 is equipped with finger rests on both sides, which assists your thumb, ring, and pinky fingers when holding and sliding the mouse across the tracking surface. Furthermore, the sides are coated with a rough texture that feels good to the touch and provides an extra amount of grip.
The teflon pads installed on the bottom of the M601 ensure that your slide is as smooth as it can be, even after years of use. And speaking of years of use; the redragon M601 Centrophorus is equipped with durable micro-switches on each of its buttons which are tested to last for up to 20 million clicks; this is one mouse you won't be replacing any time soon.
Unfortunately, there were a few bumps along the road when playing around with the Redragon M601. There's not much to hide when a mouse is at such a low price point – sacrifices had to be made somewhere.
Unfortunately, Redragon doesn't get too much into detail about the two most important factors of a gaming mouse – the sensor and the switches – and we're very certain that Redragon cut back costs in those departments in order to get the price so low.
On most high-end gaming mice, and even on the mid-tier ones, you can expect Omron switches that are graded for millions of clicks, as well as, either a TrueMove 3 sensor or 3366 Optical sensor.
While we can't necessarily test the amount of clicks the mouse can endure in such a short period time of reviewing, we can at least test the sensor during gaming sessions and provide our opinions on its performance.
– Drawbacks
When playing FPS games, it's clear that Redragon cut back on a high-quality sensor. When you need high accuracy in FPS games, the sensor will let players down due to the jittering. The Redragon M601 also features mouse acceleration; those who are actually transitioning from another mouse will probably overshoot their aim because of the feature – especially when flicking.
While it's not optimal for FPS games, it's by no means a bad choice. Just have your expectations set when you get into a gun fight or are trying to headshot someone with a sniper.
As for MOBA games, this is probably where players would get the best performance out of this mouse. The clicks are reliable, and due to how MOBAs – like League of Legends and Smite – are played, mouse acceleration probably won't affect them as much as FPS players. MOBA players also don't need pinpoint accuracy when it comes to mouse sensors.
And in our final category, I think it's quite safe to say that the M601 wouldn't be a good mouse for the MMORPG players. Any dedicated MMORPG player would much rather prefer multiple programmable side buttons – which ReDragon offers a budget solution for that, as well.

With this mouse, you only get two useable reprogrammable buttons – definitely not enough for the average World of Warcraft or TERA player. Mouse acceleration and sensor jittering might become an issue when dueling in PvP modes, but it shouldn't be a problem during PvE.
Conclusion
The Redragon M601 Centrophorous isn't a disappointment, but it also isn't a very expensive mouse. It honestly isn't the most recommendable mouse that Redragon has to offer. Redragon's products are known for their affordability and their performance at those price points, but you can only go so cheap before the sacrifices become too much – which the M601 is an unfortunate victim of.
Redragon cut back a lot, and it's clear that they did so just by looking at the price of this mouse. But there's no shame in starting off with this mouse until the opportunity presents itself to pick up something better.

Despite all that, the Redragon M601 gaming mouse is a passable gaming mouse with a decent sensor, but the company would be well served in terms of quality to cut back on the red LEDs, braided cable, and carrying case, so they can funnel the savings into a better sensor.
The marginal return on investment is very high when you start off that low on the price spectrum. What that means is, while a mid-tier mouse could perform very close to a high-tier mouse, a budget mouse will not come anywhere close to a mid- tier mouse. So, the extra money you can spend at the lower-tiers will have a noticeable effect on competitive gaming.