For most gamers and PC owners, deciding between razer goliathus control vs. speed could go a long way to enhance their productivity and make their tasks smoother and faster.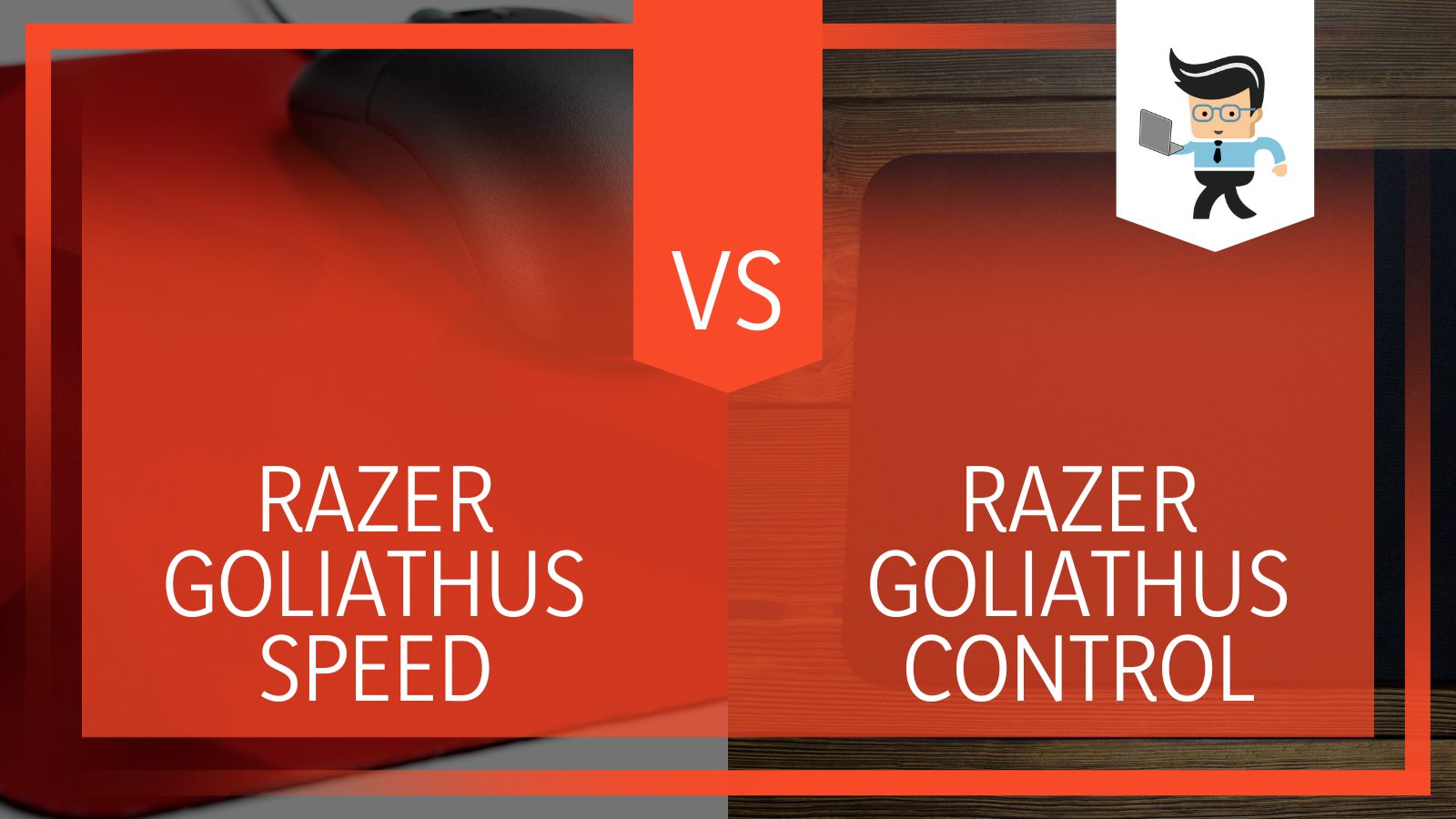 However, you have to dig deep to learn about their top features, specifications, and similarities before you are able to find the right fit for your style.
Luckily, our team has gone all the way to bring you a detailed comparison between the two devices. If you plan on getting either of the two devices, follow us as we highlight the positives and drawbacks of these great mousepads.
A Closer look at the Key Specifications
Products
Specifications
Goliathus Speed

Texture:  Slick weave
Design: Speed-oriented
Surface: Smooth
Optimization: All mice

Goliathus Control

Texture: Textured weave
Design: Tracky
Surface: Rough
Optimization: All mice
How Does the Razer Goliathus Control Compare to the Razer Goliathus Speed?
For an avid gamer, getting the perfect accessories for PC gaming is a top priority. For example, gamers or enthusiasts know a keyboard, mouse, CPU, and other devices boost performances. There's one more thing, though—a mousepad to compliment it all.
Many people have ignored this bit, with most paying attention to hardware and accessories. The fact is you can't depend on your desk surface to place your mouse. Sure, it'll work somehow, but you won't get that far using an unstable surface. Besides, the whole process will get tiring and eventually leave you frustrated.
With the two mice on review, a desk surface or general rubber mousepad won't accomplish much. That's why Razer has created these able companions to give your mice quality traction. To that end, you have the Goliathus Series Control and Speed options. Both these editions have unique specifications and advantages.
Read what we think about them individually and how they stack up against each other.
Pros
• Fine slick weave design
• Suitable for speed gamers
• Optimized for all sensor types
• Durable stitched finish
Cons
• Not very thick
• Mice can go off in high engagement
A razer goliathus speed review reveals one of the best signature mousepads Razer has created. As a brand, Razer has lasted this long making top-quality products only. The Speed is one of them and makes up part of the Goliathus Mouse Pad Family.
This is one excellent mouse pad many professionals and general users love. It demonstrates high-end quality to keep your mouse doing its bit. Besides, it's aptly named 'Speed' because it enables a super-fast movement of any mice on it.
When gaming, you're going to reach stages that demand some quick turns, speed shoots, and a lot of running. As such, it's only regular to have a component like the Speed pad to help you out. It's crafted with speed-gamers in mind.
– Wonderful Gaming Surface Design
The surface of the Speed Goliathus comes manufactured out of a smooth and seamless material. That's why it has a skimming surface and why gamers love it. There's zero-hindrance when gliding on any surface, which is excellent, and a good reflection of Razer quality.
The surface is also slick and tautly woven to deliver outstanding performances. It's not overly stiff or too soft. It's just the right blend to keep any mouse moving ideally. You'll find it's good to the touch but designed for faster gliding experiences of your mouse.
– Cloth-Based Design and Finish
If you look closely at other top mouse pads, you'll notice a pattern. Well, it's there for a reason. For example, the Speed has nicely-stitched sides, including the corners. The entire perimeter is also covered with a quality stitched finish so that the weave doesn't peel off.
The stitches form a good part of the razer goliathus speed specs. To understand why this makes sense, you only have to use a stitchless mouse pad for comparison. To that end, the stitched finish on the Speed pad will multiply the lifespan of your mousepad. The finish also acts as a bit of a border to keep your mouse in place.
Another positive of it provides to a lot of gamers is portability. That's because the cloth-based design is bendable. A hard surface would likely break off. However, the Speed pad can easily roll-up. That way, you can take it anywhere.

B01LWWXKWG
– Enhanced Visual Appeal
The surface visual design of the Speed Goliathus comes with different and beautiful surface pattern designs. Terra, Cosmic, and Gravit are some of the designs on offer.
If you're a gamer who loves playing fast-paced games where you have to make sharp turns and get involved in a lot of action, you need this mouse pad.
Pros
• Anti-fray stitched frame
• Anti-slip.base
• Highly optimized for all mice
• Well-textured weave
Cons
• Can pick up dirt
Depending on what you want, the razer goliathus control dimensions can include a length of 294mm and 3mm in height. That's quite a lot of space to achieve excellent performance, whether you're gaming or doing another task.
If the Speed represents a super-fast platform, this one will give you a good measure of Control. The woven and stitched materials suggest your mouse won't get off by accident. That's due to the 'rough' make of the pad.
With it, you get more feel for the actions you perform. You don't have to worry about your mouse skidding off the track.
In terms of size, the razer goliathus speed weight doesn't measure up. The Control gives you a wide area to work with with all kinds of sensor mice.
– Complete Build and Design Quality
This mouse pad is large to fit a keyboard and a mouse. Don't be surprised if there's some extra spade left! At the bottom, you have a rubber base that comes coated with a nice color. That base also prevents the pad from slipping off a surface.
The Control lays flat without any fuss or straightening out needed. What's more, it never looks out of place during game sessions and contributes to your overall performance.
At the top of the surface, you get micro textures to give friction to any mouse. It's well-designed, carries the Razer logo, and makes your rig all the more beautiful.
– Exceptional Fabric and Finish
The fabric weave of the mousepad is a great advantage for users. You can use this surface to rest your wrists during extended gaming sessions. With a rough top, we feel the only downside with the micro-texture material is dust picking.
Other than that, you get a top-quality build designed to last for a long time yet. The edges won't fray or fuss even when you move it around.
– Top Quality Visual Appeal and Performance
In a razer mouse comparison, visual appeal and performance take the forefront of considerations. It's no different for mouse pads because they're just as important. This Control pad has a great color combination and build.
Speed is still a factor with the Control, but you have a good grasp and connection between the mouse and pad. You won't struggle to get a precise movement.

If you want a mouse pad that gives you the best of both worlds – Speed and Control, pick this one.
Control and Speed: How Both Razer Mousepads Compare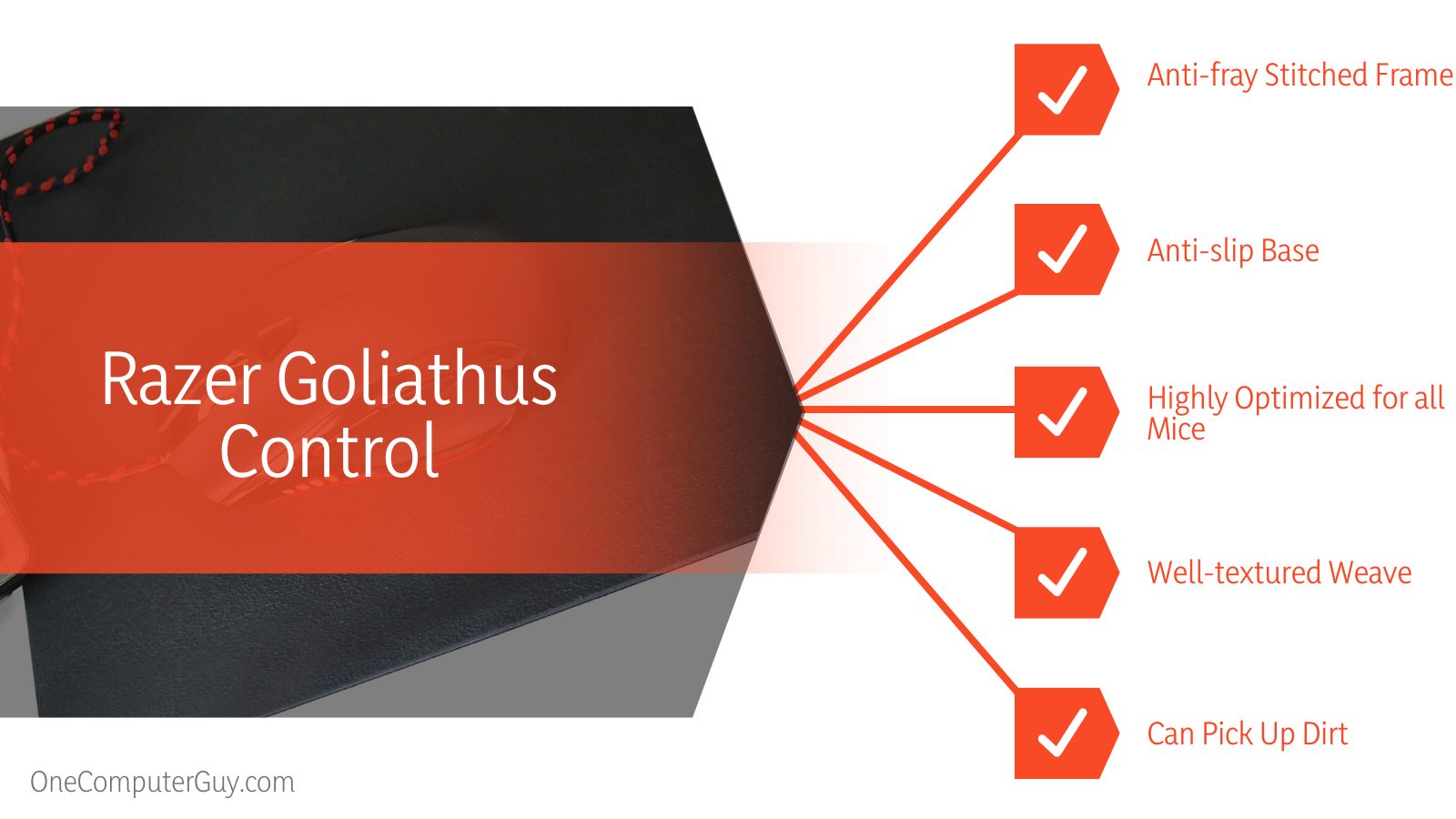 The main difference between Razer Goliathus Speed and Control is, Razer Goliathus Control provides excellent textured feel, stitched edges, and control over your movements while Razer Goliathus Speed has a very smooth surface that gives users a super-fast glide.
Size
To get the ideal razer goliathus control dpi, size ultimately matters. With the extended scope of the Control mouse pad, you get a generous area to work with. When a mouse pad is smaller, you'll have to make adjustments per time. What you don't want is a mouse falling off and getting damaged.
We have gone with the Control mouse pad thanks to its larger dimensions.
Texture and Fabric
Navigating on a micro-texture surface will give you a balanced result. The Control mouse pad features such fabric high in sensitivity settings and will do well than generic pads.
We have also to mention that the Speed has a similar texture but is overly smooth. As such, we think the surface on the Control will offer you a more hands-on solution.
Both of them have stitches at the edge, too.
Speed
For obvious reasons, the Speed comes up tops. It has a very smooth surface that gives users a super-fast glide. That's a perfect scenario for gamers who engage in high-precision battles and actions.
The Control will give you a speed and control measure; however, Razer Speed takes fast movements to the next level.
Performance
The most significant difference between Speed and Control is on the performance front. The Control Goliathus allows your mouse to detect more delicate movements thanks to the rougher surface. That will help if you play games that require pinpoint accuracy.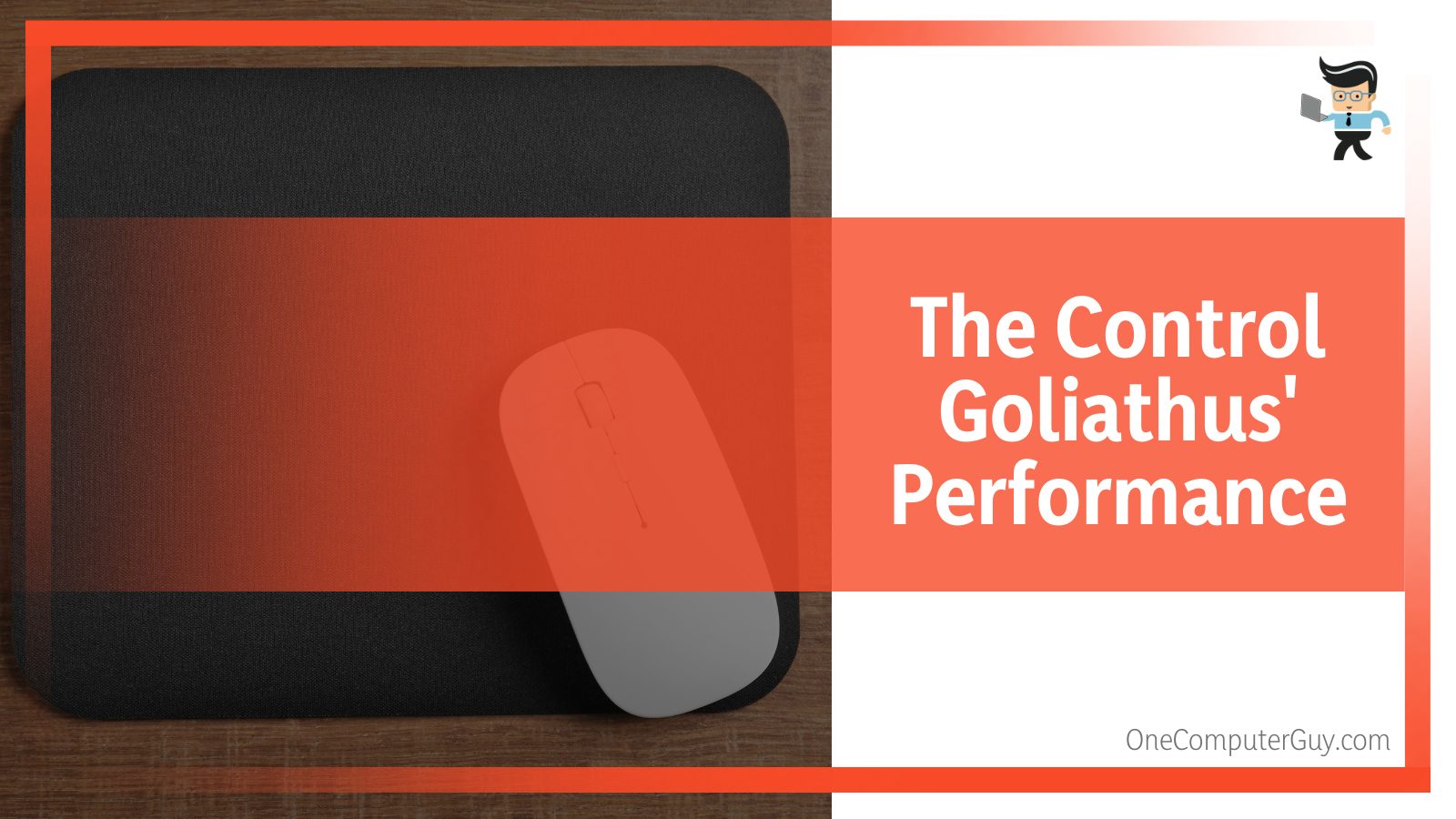 For the Speed Goliathus, you get a smoother surface that catches less dust. The Control will get dirty fast and is often difficult to clean.
Conclusion
Overall, what users want in a mouse pad is an excellent platform to place their mice on. That's why we feel that the Control Goliathus stands as your best bet here. It will give you an excellent textured feel, stitched edges, and control over your movements.
The choice is yours to make, though. If you prefer a mouse pad with all the speed in town, the Speed Goliathus appeals.