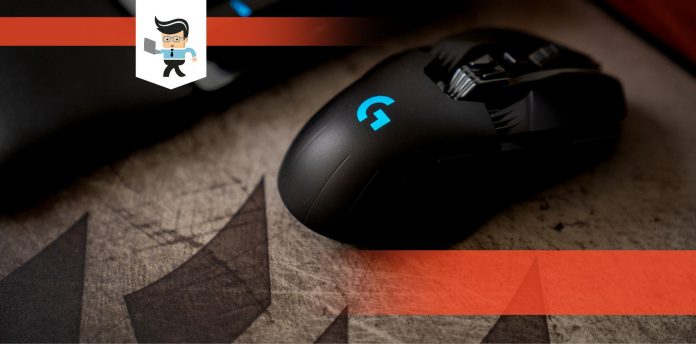 Our Logitech G Pro vs. G203 comparison features two popular mice from a popular and influential brand in the industry – Logitech. A mouse is one vital device you can add to any rig as it is a standard component of your PC.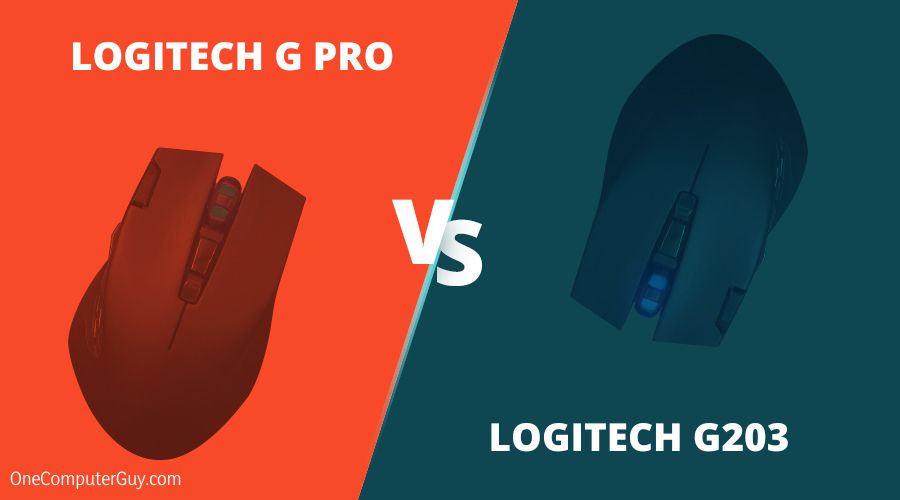 Whether you need one for gaming or doing your daily tasks, a mouse makes things much easier as it carries out your commands on the screen.
Our review team has set out to outline the key features of these two mice and discuss how they compare to each other:
G Pro and G203: Key Specifications
Model Name
Key Specifications
Logitech G203 Prodigy

Sensor: Optical
DPI: 6000
Buttons: 6
Connectivity: Wired
Latency: 11ms

Logitech G Pro

Sensor: Hero 25K
DPI: 25,600
Buttons: 4-8
Connectivity: Wireless
Latency: 9ms
Logitech G Pro and Logitech G203: Comparing Their Top Features
The G203 is a mouse that comes off as a budget-friendly device fit for all types of applications, including gaming. That's why we feel that comparing it to a premium model like the G Pro seems a bit unfair.
However, it's worth knowing that these two mice are known to offer top performances and fast responsivity.
The G Pro is a wireless alternative built for lovers of esports. It packs enough speed and consistency to handle a wide range of applications. With these two devices facing each other, it's up to our review team to help you make a choice.
To that end, we'll start things off with a review of the individual products before checking out their key specifications.
Pros
Nice shape and comfortable design
It has functional lights and quality software
Lightweight design
Excellent sensor
Cons
Too light for some user's grip style
The Logitech G203 dimensions effectively make it a small mouse. It's as modest as they come, affordable, and has features that enable you to play your favorite PC games and perform regular tasks.
You also get a good experience and performance from the six programmable and customizable buttons on this mouse. The software is created to make your activities seamless, coupled with a body that offers a willing grip and just enough ergonomics.
– Build and Design: Classic Mouse Look and Feel
The design is a beautiful one. Logitech makes it with an above-average look and is a rip-off of the Logitech G100S mouse, a favorite device gamers and esports pros can count on.
However, the G203 comes optimized for gaming and offers unique and versatile capabilities suitable for applications other than gaming. Overall, the design is comfortable.
– Speed and Accuracy: Top-Notch Sensor
When you want speed and faster response times, it's easy to pick up any mouse that shows the first signs of those features. However, this one is a Prodigy Series device that's made for advanced gaming-grade performance with about eight times the response of your regular mice.
With each click and movement on the mouse, you get an almost instant response from hand to the PC screen.
– Buttons: Programmable With Advanced Tensioning
Logitech creates this mouse to produce advanced button tensioning to reduce the force needed to click any buttons. You get six buttons here that carry an excellent feel on the click, quick response, and consistency for any application.
– Sensor: Functional
With the Logitech G203 sensor, you get a smart 6000 dpi that you can always count on for incredible accuracy, tracking speed, consistency, and control on a wide range of games and applications.
It doesn't matter what function you're using the mouse for because it is designed to guarantee top-level performance.

– Overview
The Logitech G203 weight may only be three ounces, but it's capable of excellent performance any day. That's why it's suited for gamers who want a quick response for each click and movement.
However, its build and design also mean it's ideal for those with smaller palms.
Pros
Quality Hero 25K sensor and report rate
It has customizable RGB lighting and DPI settings
Lightweight build and ambidextrous design
Excellent battery life
Cons
Difficult DPI button placement
If you're a competitive gamer, this Logitech mouse promises to be your match. There's a lot to write about this G Pro Wireless device because few products can match up to its simplistic, intuitive design.
As a result, it has earned the tag "the ultimate gaming mouse for esports professionals." It's that good, and even new gamers will find the features smooth and exciting to use.
Unlike other G-Series flagship mice like the Logitech G903, this one is a simple wireless device featuring some necessary components and a number of thumb switches (zero, if desired). You get a scroll wheel, three almost indistinguishable DPI LEDs, and a single RGB logo lighting zone on the palm. However, the design is something to behold.
In addition, we observed that no DPI toggle switch made it into the user's immediate vicinity, but instead, it's relegated to the mouse's underside. Underneath this mouse, you get features like the PowerPlay adapter support, a nook to store the USB wireless adapter, four slick mouse feet, and the On/Off switch.
– Build and Design: Built for Your Gaming Pleasure
If ever there was a mouse built and designed for gaming, this is it. It boasts an ultra-lightweight and innovative endoskeleton design so that users enjoy a super-thin but solid and durable outer shell. That's why the body of the mouse weighs in at a maneuverable 80 grams.
The Logitech g pro size is built to carry an ergonomic, ambidextrous design. That makes it tournament-ready with specifications developed for esports gamers since it has maximum comfort, control, and fifty million click durability.
It's made with pro gamers in mind with a combination of advanced technologies and up to four removable side buttons for supreme customization.
– Speed and Accuracy: Superfast Responses
Speed is always a concern for a gaming mouse, and this G Pro grade gives you a unique performance free from the traditional limitations of wireless latency. It offers smooth connectivity and power to deliver a rock-solid, super-fast one-millisecond report rate connection.
– Software: The Latest Update
While you get the Mercury software on the G203, this G Pro has a Hero 25K sensor, which is free for all players.
It's rated as Logitech's most accurate sensor yet with about 25,600 DPI and ten times the power efficiency of the previous generation. As a result, you get the ultimate in wireless gaming speed, accuracy, and responsiveness.

– Overview
If you're an avid PC gamer, this mouse is for you. It sports the sensor, software, speed, accuracy, and responsiveness to give you a smooth and super-fast experience.
G Pro and G203: A Closer Look at Their Stand Out Features
The main difference between G Pro and G203 is, G Pro offers a wireless connection, while G203 comes with a non-braided power cable.
Build and Connectivity
One of the significant differences between the G Pro and G203 lies in their connectivity. While the G Pro offers a wireless connection, the G203 gives you a non-braided power cable.
Both choices from Logitech impact their overall use because the G Pro is more portable and less movement-restrictive, while the G203 won't be bothered by battery issues. Also, they both have a balanced, ambidextrous design, even though there's more of an oval shape on the G203.
The G Pro Wireless squeezes a bit in the middle.
Buttons
Another difference lies in their button count. For the G Pro Wireless, you get four removable side buttons that give you up to eight customizable inputs.
Meanwhile, the G203 Prodigy has six buttons, with all of them programmable and customizable.
Features
When it comes to features, we have to hand it over to the G Pro Wireless mouse. It's that good and can cycle through five DPI presets using its buttons.
The G Pro Wireless even has a much more comprehensive CPI range. That means it can now be set to up to 25,600 CPI. Compare that to the G203's 6,000. During competitive gameplay, misclicking the DPI button can result in unfortunate scenarios, which is why Logitech moved the DPI button on the G Pro to its underside.
In addition, the G Pro's modular design lets you customize the gaming mouse's feel and functionality. That way, you can prevent incorrect pressing of buttons during critical moments when you remove unnecessary side buttons.
Also, you can have more skill shortcuts on easy access by having all buttons on. There's also a profile switching button to help you set up different configurations based on games or usage.
Just like the G Pro, you get onboard memory on the G203, which comes in handy for saving configured profiles on the gaming mouse.
Performance
At its first release, the G Pro Wireless had a Hero 16K sensor which provided CPI ranges from 100 to 16,000 DPI with zero smoothing or acceleration.
What's more, with speeds up to 400 IPS, the G Pro was created to deliver super-fast mouse flicks and precision targeting that made it excellent for FPS and other competitive genres.
However, the G Pro's sensor can now be updated to the latest and most advanced gaming sensor from Logitech – the HERO 25K. This new sensor takes up to 25,600 DPI and further improves power consumption.
Further, in this Logitech mouse comparison, the G203 has a good enough polling rate and a good click latency. Still, the G Pro goes a bit higher with its top-notch wireless connection, making it portable for any movement.
G203 vs G Pro Wireless: Verdict
Having gone through both mice and their features, we have concluded that the Logitech G Pro offers premium wireless control and the Logitech G203 is a fantastic budget gaming mouse.
Indeed, you won't worry about the battery life of the G203, but the G Pro gives you up to 60 hours of non-stop gaming. That is an excellent upgrade courtesy of the power efficiency improvements in the latest firmware update.
The G Pro Wireless simply has more durable mechanical clicks and a super-fast report rate, which makes it ideal if you're playing intense games that require fast reflexes, pinpoint accuracy, and smooth gliding.