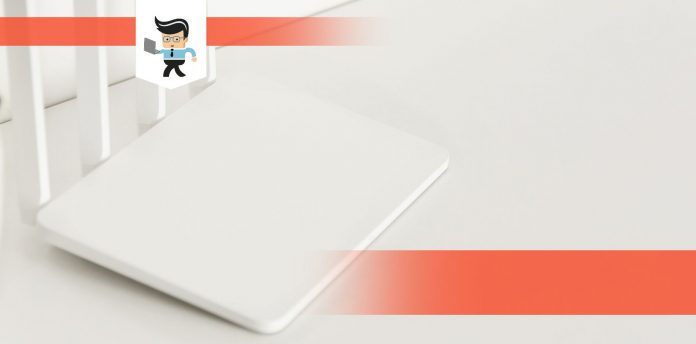 A review of the Netgear Orbi AC3000 vs. AC2200 shows two similar but distinctive routers. They're both from the same brand and sport features that avid Internet users will appreciate. Additionally, both devices are still part of recent upgrades by Netgear.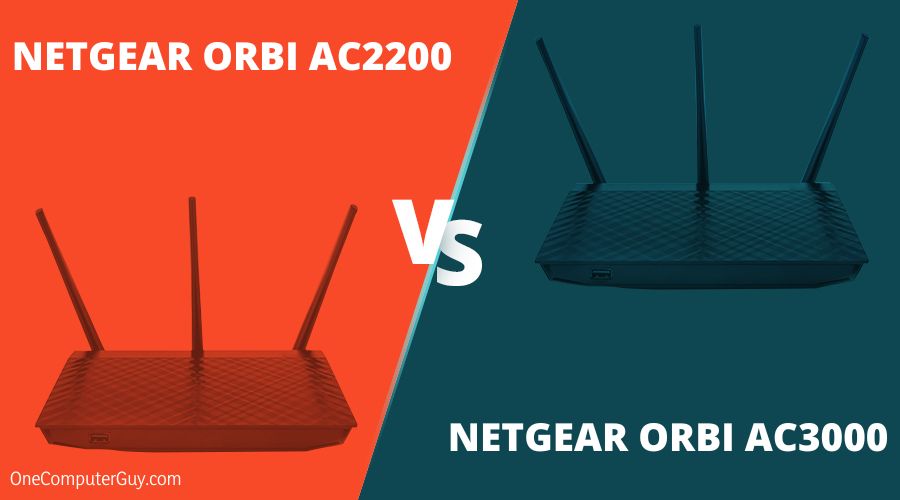 But the thing is, they aren't exactly alike, and they come with features that might benefit a particular group of users more than others. 
Let us help you understand how they work and which one is best for you. 
Netgear Orbi AC2200 vs. AC3000 Top Specs
Products
Key Specifications
Netgear Orbi AC2200

Security: WPA, WPA-PSK, WPA2, WPA2-PSK
Connectivity: Wi-Fi 5 (802.11ac);
Throughput: 2200 Mb/s
Units: 2

Netgear Orbi AC3000

Security: WPA, WPA-PSK, WPA2, WPA2-PSK
Connectivity: Wi-Fi 5 (802.11ac); Tri-Band
Throughput; 3000 Mb/s
Units: 3
Comparing the Netgear Orbi AC2200 and Netgear Orbi AC3000
We all want the latest devices that are capable of elevating our online experience, and these Netgear products have been equipped with top features and specifications that guarantee a stable and reliable connection for all sorts of online activities. 
Notably, the Orbi High-Performance AC3000 Tri-Band Wi-Fi has a lot in common with the Orbi AC2200. Both devices offer whole-home Wi-Fi solutions consisting of a router and one or more satellites to enhance the user's experience. 
These routers are very easy to install and manage, with impressive throughput speeds. The AC3000 packs Multi-User Multiple Input Multiple Output (MU-MIMO) simultaneous data streaming. 
However, they offer a lot more management options than other Orbi routers. Let's have a more in-depth look at each router. 
Pros
Straightforward installation 

Solid throughput 

Many advanced settings 

Supports Multi-User Multiple Input
Cons
Bulky satellite 

It lacks a USB slot
The Orbi Wi-Fi System AC2200 is one of the latest additions to Netgear's line of Wi-Fi systems. It joins the original Netgear Orbi High-Performance AC3000 Tri-Band Wi-Fi System in featuring a plug-in satellite, Multi-User Multiple Input, Multiple Output (MU-MIMO) data streaming, and a dedicated 5 GHz band. 
It's a good performer and even has the backing of the Orbi app to give you a balanced performance. 
– Whole-Home Design and Features
This device consists of a router and a satellite, but you can buy additional satellites for it. There's a squashed, cylindrical shape and soft-white finish, as well as the same LED light ring on top. You'll notice how it glows red when there is an error, magenta when the WAN port is down, and amber when the router is rebooting. 
At the back of the router, you get about three Gigabit LAN ports, a WAN port, a reset button, a power button, and a sync button. One downside is the fact that it lacks USB connectivity.
– Plug-in Satellite
The plug-in satellite is white, and going by the dimensions, it is a little bulky and juts out around two inches from the wall. That said, it won't block the second socket if used in a two-socket outlet.
At the back, it has a three-prong plug coupled with reset and sync buttons on the left side. There's an LED light ring on the top that glows blue when the connection between the router and the satellite is good. 
You'll get an amber color when the connection is fair and magenta when the satellite cannot connect to your router.
– Top-Performing Connections
A tri-band AC2200 system, this Orbi device has two 5 GHz bands capable of speeds of up to 867 Mbps. There's one 2.4 GHz band that can reach 400 Mbps. 
Like the Netgear Orbi RBK50, one of the 5 GHz bands is dedicated to backhaul all communications between the router and the satellite. The other two bands are controlled using automated band-steering technology. As a result, you have one SSID for both bands and cannot dedicate a specific band for a specific purpose. 
We also noticed that the router and the satellite have four internal antennas and support MU-MIMO data streaming. In keeping in touch with current trends, the system supports Alexa voice commands. That allows you to have Alexa do things like enable and disable guest networking or reboot the router. 
– Easy Installation and Quality Performance
We can't finish up this Orbi AC2200 review without stating how easy it is to put together. Orbi has made things simple by providing the mobile app or the web console for installation. When connected to the app, follow the instructions to connect the router to the Internet and power it up. 
Plug the satellite into a wall outlet and connect to the Orbi SSID before supplying the keyword. The router will be recognized within seconds. Overall, it takes minutes to set up and enjoy the connections. 
Performance-wise, this Orbi uses automatic band steering, which means it can choose the best band. It also has a good range and is fast enough over distances or over 30 feet.

– Overview
This router will do well for those who love the additional support a satellite gives a router. 
Pros
High-speed throughput 

MU-MIMO capabilities 

Quick setup time 

Highly configurable
Cons
Having an excellent router like the Netgear Orbi AC3000 will surely enhance your overall online experience, whether that's browsing the Internet, playing your favorite games, and live audio and video streaming. 
This Netgear Orbi AC3000 review will shed more light on the router's top features, specifications, and how it performs against the AC2200 up there.  
– Wholesome Design and Quality Features
This Orbi system is designed to have a router and one satellite; they are identical in appearance and are encased in a white, soft-touch enclosure. 
Also, the dimensions are pretty large, which gives it a bulky personality. It's not unattractive, but you can't get that here if you were looking for a sleek aesthetic build. 
The Orbi system is available as a two-piece kit that offers 4,000 square feet of coverage for a tri-band device. 
In addition, this router has six internal antennas and can deliver theoretical throughputs speeds of 1,266 Mbps to users. That's 400 Mbps on the 2.4 GHz band and 866 Mbps on the 5 GHz band. 
– The Game Changer
This router comes with a third band that separates the Orbi from the competition. It's a feature that's considered a backhaul band because it is dedicated purely to communications between the router and the satellite. 
The additional 5 GHz band can reach maximum speeds of 1,733 Mbps. Other dual-band systems do not use a dedicated band for router-to-satellite transmissions.
– Lighting Options and Indicators
Each component has an LED light ring at the top. On the router, you have a ring that's solid white when booting up and blinks amber when it loses its Internet connection. A blinking blue and magenta light shows you've reached your Internet traffic threshold, and when the light is out, it simply means everything is working correctly. 
At the back and base of the router, users get three Gigabit LAN ports, a WAN port, a USB 2.0 port, and Sync, Power, and Reset buttons. We think there's more to be desired from the USB connection, though.
– Satellite Connection
There's also a light ring that blinks white on the satellite component while the satellite is booting up. It turns solid blue when the connection to the router is excellent and amber when it's fair. When it shows the magenta color, it's losing its connection. 
The lights play an excellent role by making it easy to place the satellite in a central location that will provide a solid link to the router.
– Extra Help and Connections
This Orbi uses a Web-based console and a mobile app. You'll find that the console is easy to use. It's different from the competition because it offers basic and advanced settings that you get with a traditional router. 
You get tabs for Basic and Advanced settings and displays for basic status information for the Internet, Wireless, Attached Devices, and Parental Controls on the home page. It also means that you can access essential Internet and Wireless settings and set up guest networks.
– Advanced Settings
With the advanced wireless settings, you can adjust, transmit power, and enable beamforming and MU-MIMO. The router can also serve as an access point to help you configure things like Static Routing, VPN Service, and Port Forwarding.
As part of the advanced settings, there's a Traffic Meter that lets you view Internet traffic statistics and place limits on monthly upload and download capacities. You can also enable the meter to shut down Internet access when it has reached its threshold. 
Another advantage of the Advanced settings includes using it to configure things like IPv6 tunneling, view system logs, and update the router's firmware.
– Installation and Performance
The Orbi system is straightforward to install when you plug the router into your modem and connect it to your PC. Power it on and go to the address bar in your browser to launch the setup wizard. It'll. Connect to the Internet within seconds. On the whole, don't expect to spend more than 10 minutes setting up the Orbi AC3000 router. 
The same goes for installing the satellite. Place it around 30 feet from the Orbi router in your space. It will take a couple of minutes to sync with your router. You'll see the light ring blinking white and magenta and then turn solid blue to indicate a good signal with the router.

– Overview
If you have ample space to work with, the Netgear Orbi AC3000 is a capable Wi-Fi system that delivers speedy wireless networking across a wide area. 
Netgear Orbi AC2200 vs. AC3000: Head-to-Head Comparison
The main difference between Netgear Orbi AC2200 and AC3000 is, Netgear Orbi AC3000 has faster speeds and a tri-band feature while Netgear Orbi AC2200 offers a dual-band standard.
How do these two Orbi devices stack up against each other? Here's a comparison of the top features in both routers. 
Security

 
One crucial aspect you can find on the AC2200 and Netgear Orbi AC3000 specs is top-notch security. It's an important feature to have, considering there are thousands of threats posed by hackers and the likes out there.
Also, malware and other viruses could compromise your network. Again, you wouldn't want unauthorized individuals having access to your network. Both these routers offer maximum security options, including WPA, WPA-PSK, WPA2, and WPA2-PSK. 
Throughput

 
Throughput is an essential part of the process because it delivers speed. It involves how fast your connections get at a particular time or its peak performance. 
These two Orbi models have fast throughputs, but the AC3000 stands out, thanks to its faster speeds reaching 3000 Mb/s total. The AC2200 is a 2200 throughput. 
Design

 
There's no hiding the fact that the Netgear Orbi AC2200 and AC3000 will be instantly recognizable to anyone familiar with the original Orbi. The routers and satellites look almost identical but have different dimensions.
They both have bulky measurements, which makes for a less intrusive router and satellite system. The designs on both look nicer when shrunk down, though. 
You also get lights and Gigabit ports on the routers. You only need a convenient and safe place to put them while you can keep their satellites some good feet apart. 
If you have a small space to work with, both routers might seem too big and probably get a lot of attention. Whatever the case, they both have an above-average design and physical appeal. 
Connectivity

 
Having a tri-band feature does put the AC3000 above the AC2200. It's that simple, especially when you can connect to two variations of the 5 GHz band on much faster connections. On the other hand, the Orbi AC2200 offers a dual-band standard like many regular routers. 
Further, the AC3000 uses beamforming technology, which ensures you are able to get data signals where it is needed most.
Frequently Asked Questions
1. How Do These Orbi Routers Connect With Their Satellites?
The Orbi routers use a dedicated Wi-Fi band to communicate with their satellite. As we all know, hybrid routers come equipped with Wi-Fi systems that provide an easy way to keep your home connected without the need for additional wiring, range extenders, or access points.
For some users, setting up an access point is out of the question, as it requires running cables. While range extenders' wireless capability and easy configuration process make them a decent alternative, their weak signal output means they come nowhere near a router with a full Wi-Fi system when it comes to performance and range. 
For the Netgear Orbi AC2200 and AC3000, they come equipped with Wi-Fi systems, which use extension nodes or satellites to extend your Wi-Fi signal and provide coverage throughout your space. 
The best thing about the Wi-Fi systems is that they perform better than range extenders. That's because the satellites are all part of the same network and provide seamless connectivity as you roam through your space. 
Unlike many range extenders, which create a secondary Wi-Fi network that requires some degree of management, these Netgear routers require nothing of such, which makes them more preferable for different groups of users. 
Conclusion
Reliable wireless coverage can go a long way to boost your online activities and enhance your productivity. Both the Orbi AC2200 and AC3000 Tri-Band Wi-Fi System offer extensive coverage and deliver solid performance that every Internet user will come to appreciate.  
Comparing both models, the Orbi AC2200 comes equipped with some dynamic features that will appeal to a modern user, but it just pales a little to its counterpart here. With the AC3000 model, you get an incredible throughput and other modern connectivity options that give you a chance to effectively complete tasks without any hassle.
There's also the Orbi's MU-MIMO performance in the AC3000. Add the beamforming to that, and you've got an excellent choice for a smooth Internet connection. 
Sure, it's going to take some space on your desk or wall, but that's nothing compared to the Orbi home Wi-Fi systems.